How to Comply with Ban the Box in California: Adverse Action, FCRA and More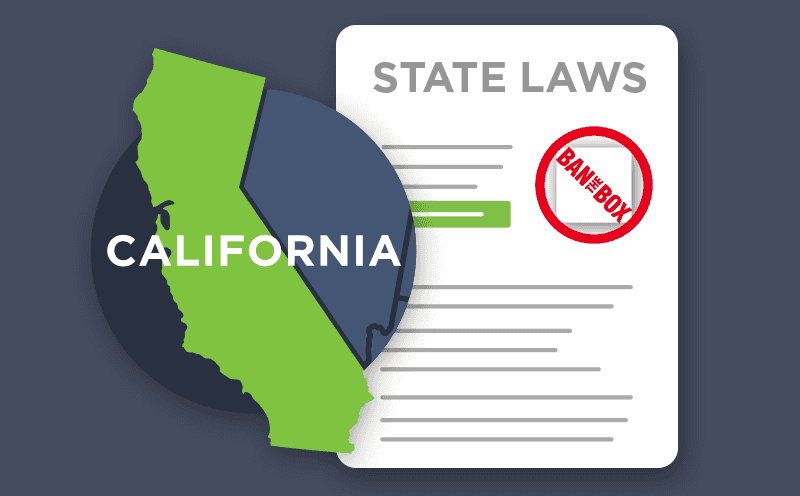 Effective beginning in 2018, California's Ban the Box law prevents California employers with at least 5 employees from inquiring into a candidate's criminal history until a conditional offer has been made. What changes does this require for your background check process?
GoodHire explains how the law affects background screenings, including individual assessments, consideration of records, and adverse actions.
---
You've likely heard about California's new Ban the Box law (AB 1008). Here are the basics:
When does the law go into effect? 
January 1, 2018
Who is affected? 
California employers with at least 5 employees
When can an employer make a criminal history inquiry? 
An employer may not inquire into a candidate's criminal history until a conditional offer has been made.
There are other more complicated requirements around what kinds of criminal history information can be used to inform an employment decision, and what adverse action procedures an employer must follow when it intends to reject a candidate based on criminal records.
A casual reader of AB 1008 may think that this law is sweeping reform that will require a tremendous amount of adjustment by employers and background screeners alike.
But the fact is, many of the requirements of AB 1008 are already legal requirements under separate statutes or regulations.
Let's take a look at questions you may have about these changes.
How does it change consideration of records?
AB 1008 states that employers using conviction history information in employment decisions may not inquire into or consider:
An arrest not followed by conviction, except in the circumstances as permitted in paragraph (1) of subdivision (a) and subdivision (f) of Section 432.7 of the Labor Code.
Referral to or participation in a pretrial or post trial diversion program.
Convictions that have been sealed, dismissed, expunged, or statutorily eradicated pursuant to law.
But this limitation already exists. California Labor Code 432.7 already prohibits employers from using this information in any hiring decision.
Further, California Civil Code 1786.18 prohibits employment screening agencies from providing this information to California employers. If you're an employer using GoodHire for your employment background checks, you can be sure this information is never provided to you. Consequently, this section of AB 1008 should not disrupt employer or employment screening operations.
Are there changes to individualized assessment requirements?
There has also been much buzz around the required individualized assessment. AB 1008 requires an employer who intends to deny an applicant a job because of the applicant's conviction history "to make an individualized assessment of whether the applicant's conviction history has a direct and adverse relationship with the specific duties of the job that justify denying the applicant the position."
As part of this assessment, the employer must consider all of the following:
The nature and gravity of the offense or conduct.
The time that has passed since the offense or conduct and completion of the sentence.
The nature of the job held or sought.
In other words, nature, time, nature—sound familiar? The EEOC already recommends that these three factors be considered in every employment decision that takes criminal history into account, and provides guidance on how to do so in its 2012 Enforcement Guidance.
Further, California's Fair Employment & Housing Council (FEHC) issued regulations earlier this year that impose similar requirements on employers whose background screening policies are alleged to create disparate impact discrimination against a protected class.
Long story short, individualized assessments are not a new concept to HR professionals and are likely already being performed in-house. AB 1008 makes it clear that employers are not required to commit these assessments in writing.
But GoodHire strongly encourages it, as documented assessments can provide invaluable defense to an FEHC or EEOC disparate impact claim. Not to mention, some municipalities in California require this assessment be performed under localized ban the box laws.
If you're looking for a background screener that provides individualized assessment tools directly within the adverse action flow, consider GoodHire. And if you're already using GoodHire, good news— this workflow is already built-in the platform! Not only does this save you valuable time, but GoodHire stores your assessments and adverse action notices in your account, allowing quick retrieval in the event you need proof of documentation.
What are the implications to adverse action?
What is trickier about AB 1008 are the adverse action implications. Should an employer decide to initiate the pre-adverse action process due to conviction history, it must ensure the pre-adverse action letter includes the following:
A copy of the conviction history report (already required by FCRA)
An indication of what conviction(s) may lead to adverse action
An explanation of the applicant's right to respond to the notice before the employer's decision becomes final
The deadline for that response, and
A statement that the response may include evidence challenging the accuracy of the conviction history and evidence of rehabilitation or mitigating circumstances.
To ensure compliance, employers will need to update their pre-adverse action templates accordingly, or use a trusted background screening service like GoodHire that incorporates these requirements directly into the adverse action flow.
What's more challenging, however, is the law's requirement that the employer hold the job open for five business days after providing the pre-adverse action notice. This is not a requirement under the FCRA or California's Investigative Consumer Reporting Agencies Act, and may require a change to an employer's hiring operations in order to ensure compliance.
Disputes to a conviction history report will also require an employer to tweak hiring procedures. Should a candidate dispute the accuracy of the conviction history report and indicate that he or she is taking action to have information corrected, the employer must wait an additional five business days from receipt of that notice before taking final adverse action. That means this could create a maximum 10 business day period in which an employer must hold a job open for a candidate.
In the event an employer does decide to formally deny a candidate a position due to criminal conviction history, it must send a compliant final adverse action notice. While this requirement already exists under the FCRA, AB 1008 requires a bit more information to be included in this notice than what is required under existing law.
As of January 1, 2018, the final adverse action notice must inform the applicant of:
Any existing procedure the employer has to challenge the decision or request reconsideration, and
The right to file a complaint with the Department of Fair Employment and Housing
Not as Many Changes as You Thought
In summary, California's AB 1008 will definitely require employers to tweak their hiring procedures. But, when viewed in context with existing law, the degree of change required may not be as significant as you may have anticipated. Especially for employers already using GoodHire's localized adverse action feature.
GoodHire's compliance expertise is unparalleled. Try GoodHire for your business, get started here.
disclaimer
The resources provided here are for educational purposes only and do not constitute legal advice. We advise you to consult your own counsel if you have legal questions related to your specific practices and compliance with applicable laws.
---