California Background Checks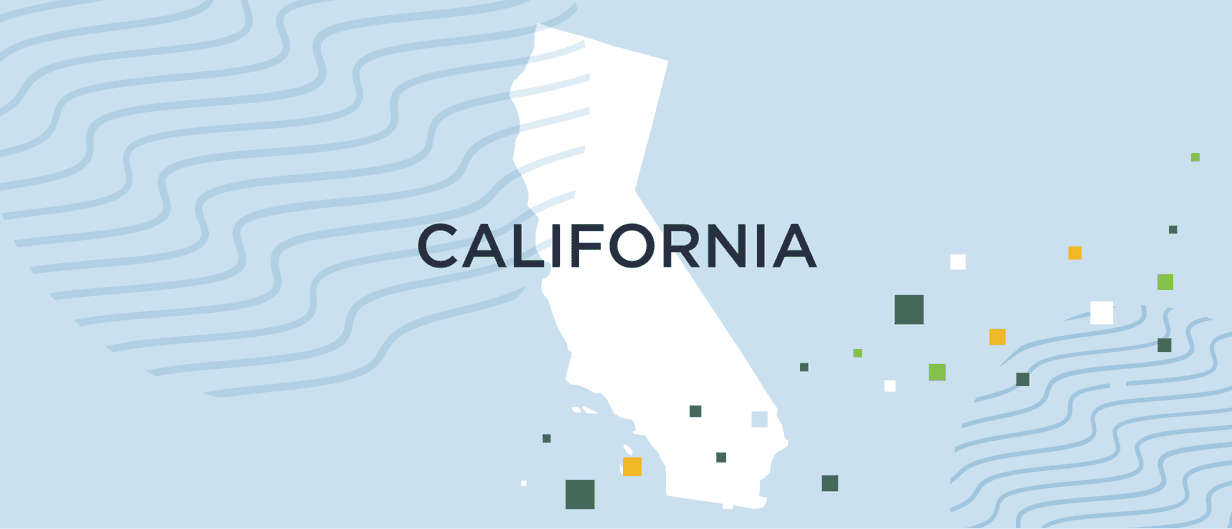 Conducting pre-employment background checks can help employers make better hiring decisions by uncovering important information about a candidate's work experience, education, licenses and more. Background checks can also help safeguard your company, your assets, and your employees. However, employment background checks in California are strictly regulated, and employers must maintain compliance with federal, state, and local laws when conducting background screenings. 
---
In this guide to California background checks, we'll explain the different types of background checks California employers use, the kinds of information background checks can reveal, and the various federal, state, county, and city laws your organization must follow when conducting employment background screenings. 
What Is A California Background Check?
Depending on the industry and the position a candidate is applying for, as well as federal, state, and local regulations, California employers may conduct a wide variety of background checks. Here are some of the most common employment background checks in California: 
Criminal background checks can search national, federal, state, and county records to see if an applicant has a criminal record. 
Civil court checks can search the records of federal, upper, and lower civil courts, looking for civil disputes and bankruptcy filings. These screenings are typically used for management or financial positions. 
Employment verification can confirm an applicant is telling the truth about their work history.  
Education verification can prove an applicant is telling the truth about the schools they attended, the degrees they earned, and dates of attendance. 
Drug screening tests for the presence of specified drugs and is often used for jobs that involve working with the public, driving, or operating dangerous equipment. 
Driving records checks provide state motor vehicle records and may be used by employers to determine an applicant's suitability for jobs that involve driving.  
Healthcare sanctions checks search for disciplinary actions and sanctions for healthcare professionals. 
What Does A Background Check Show In California?
What might an employment background check in California reveal? Depending on the type of screening, results can show:
Criminal history: A criminal background check in California may show misdemeanor and felony convictions, pending criminal cases, active warrants, and infractions. It can also show whether the candidate is a registered sex offender and any history of incarceration as an adult. A federal criminal background check can reveal violations of federal criminal law, such as federal tax evasion, mail fraud, embezzlement, and identity theft. 
In California, consumer reporting agencies may not report non-conviction records (including non-pending arrests, indictments, and misdemeanor complaints) and convictions that are more than seven years old. Additionally, employers may not consider non-conviction records or misdemeanor marijuana convictions that are more than two years old.
Employment verification checks can show dates of past employment and job titles. 
Education verification checks confirm dates of attendance at educational institutions, degrees earned, and professional license status.
Driving history screenings search motor vehicle reports (MVR) in California to show the applicant's driver's license class; the license status; any driving-related felony and misdemeanor convictions such as DUIs; accident reports; and any moving violations, suspensions, or restrictions. 
Drug use: Both medicinal and recreational marijuana use are legal in California. California employers can conduct pre-employment drug tests, but only after the applicant has received an offer of employment that is conditional on passing the test. 
Healthcare sanctions checks reveal any penalties, suspensions, or punitive or disciplinary actions taken against a healthcare professional.
Employment credit checks could reveal an applicant's credit and payment history, past bankruptcies, and any accounts in collections. In California, employers can only use credit reports to make employment decisions for certain types of job roles.
California state law regulates the use of criminal background checks, credit checks, drug testing, and salary history in employment. There are also several local laws that may be stricter than California state laws. (See "California State Background Check Laws" and "State Ban-the-Box Laws," below, for details.) 
How Long Does A Background Check Take In California?
A California background check can take anywhere from a few minutes to a few days to a month. Although most checks can typically be completed within a few days, the type of background check, the information needed, the source of that information, and whether you search for records yourself or use a background check provider all affect how long a background check takes in California. 
As a general guideline, here are average time frames for various types of background checks: 
Criminal background check: One to three business days, or longer 
Criminal background checks can search a wide variety of sources, including county, state, and federal criminal records; terrorist watch lists; and sex offender registries. The time a specific criminal background check takes can vary depending on which database is being searched, and whether court records have been digitized. Many county courts don't have digital records, so searches must be done manually, which can take as long as 30 days. 
Making matters more difficult, recent legal decisions regarding consumer privacy mean California is now redacting date of birth information from court records accessed via public access terminals. Without a DOB, it's harder for background check providers to verify that criminal records belong to the correct person. Screeners may have to visit the courthouse in person to get the data they need.  
International background check: A week or more  
Depending on the specific country's privacy laws and cooperation with the US, international background checks can take as long as 20 days. 
Employment verification and education verification: Three to five business days
Time needed to complete a background check can vary depending on  the responsiveness of the employer or school, but generally averages less than five days. 
Drug testing: One to six business days
The type of drug test affects the turnaround time for results. For example, a saliva drug test can deliver results within three days; additional testing and review to confirm a positive test can take another three days.
Motor vehicle records (MVR) checks: One business day to a few weeks 
States that have electronic databases and process MVR requests online can often deliver results in one day. However, if a state still uses paper-based records or if you need a certified copy of a document mailed to you, the process can take much longer. 
Employers can help ensure a background check is completed as quickly as possible by taking the following steps:
Make sure the check request form is accurate and complete.
Collect the candidate's full name, including middle name and any other names they have used in the past. 
Obtain the necessary written consent from the job applicant as required by the Fair Credit Reporting Act (FCRA).  
Start the background check process as early as laws allow in order to accommodate possible delays. 
California State Background Check Laws
The following background check laws apply throughout the state of California. 
Criminal Records 
Under CA Civil Code 1786.18 (a) (7), the following cannot be reported by consumer reporting agencies:
Arrests, indictments, misdemeanor complaints, and convictions of crimes older than seven years 
Any full pardon that has been granted 
Any arrest that did not lead to a conviction 
Pending criminal charges, however, can be reported.
Under CA Labor Code 432.7, employers cannot ask a job applicant about, or make employment decisions about an applicant, based on: 
Criminal charges that did not result in a conviction
Pretrial or post-trial diversion programs
Dismissed or sealed convictions
Employers are permitted to ask applicants about pending criminal charges.
Under CA Health and Safety Code 11361.5, misdemeanor marijuana convictions more than two years old cannot be reported by a consumer reporting agency (CRA). 
Employer Use of Consumer Credit Reports
Under CA Labor Code 1024.5, Part 2, Division 2, California employers can use credit reports to make employment decisions only if the position in question is: 
A managerial position
A position in the State Department of Justice
A law enforcement position
Required by law to include a credit report
One which involves working regularly with individuals' sensitive personal information
One in which the applicant will have fiduciary responsibilities on behalf of the employer
One in which the applicant will have access to trade secrets and other valuable business information
One in which the applicant will have access to $10,000 or more in cash
Under CA Civil Code 1785.20.5, employers cannot run a credit report on a job applicant until they first: 
Inform the applicant that a credit report could affect the hiring decision
Reveal the source of the credit report
Allow the applicant to request a free copy of the report. If the applicant wants a copy, the report must be sent to the applicant and the employer at the same time.
Drug Screening 
Under CA Labor Code 222.5, employers cannot require job applicants to pay for an employment drug screening or deduct any costs of the drug screening from their compensation. 
Salary History
Under Senate Bill AB 1676, employers cannot request salary history from an applicant or use an applicant's salary history as a factor in determining a) whether to offer employment or b) what salary to offer. If requested, employers must also give the candidate a "pay scale" for the position to which they are applying.
Redaction of Birthdates on Court Records
CA Rules of Court, Rule 2.507, forbids dates of birth and/or driver's license numbers from being used to identify individuals when conducting electronic searches of court records. The California Court of Appeals upheld the rule in All of Us or None of Us v. Hamrick. Instead, verifications of DOB or driver's license numbers now require visiting a courthouse in person. 
California State Ban-The-Box Laws
Public sector employers in California cannot inquire into a candidate's criminal history until the candidate is deemed qualified to meet the minimum requirements of the position.
California employers with at least five employees, regardless of those employees' work location, cannot use criminal history in employment decisions if doing so would adversely affect individuals, and
the employer cannot prove such use is job-related and consistent with business necessity; or
the screening and hiring policy must be the absolute least discriminatory method for achieving the business need
Employers are specifically prohibited from considering the following criminal records:
An arrest or detention that did not result in conviction
Referral to or participation in a pretrial or post-trial diversion program
A conviction that has been judicially dismissed or ordered sealed, expunged, or statutorily eradicated pursuant to California law
Juvenile records
A non-felony conviction for possession of marijuana that is two or more years old
Employers must send a pre-adverse action notice to inform candidates of a specific offense or offenses that could lead to an adverse hiring decision. The pre-adverse action notice must:
Explain the applicant's right to respond to the notice before the employer's decision is final,
State the deadline for that response
Tell the applicant that the response can include evidence challenging the accuracy of the conviction history, mitigating circumstances, and/or evidence of rehabilitation 
Employers must also conduct an individualized assessment that considers the nature and seriousness of the criminal offense, time passed since the offense and completion of the sentence, and the nature of the position.
Employers must hold the job open for five business days to give the candidate time to respond to the pre-adverse action notice. If a candidate disputes the accuracy of information during the waiting period, the employer must wait an additional five business days from the date of dispute before sending a final adverse action notice. 
The final adverse action notice must inform the applicant of:
Any existing procedure the California employer has that the applicant can use to challenge the decision or request reconsideration
The right to file a complaint with the Department of Fair Employment and Housing
Local Ban-The-Box Laws
Many cities and counties in California have fair hiring and ban-the-box laws that may apply to you and your candidates, depending on location.
For example, two of California's most populous cities have some of the strictest ban-the-box laws in the country. These laws aim to give all candidates a fair chance at employment. 
San Francisco Fair Chance Ordinance: This law, which applies to all city businesses with five or more employees, prohibits employers from considering:
An arrest not leading to a conviction, except for unresolved arrests
Participation in a diversion or deferral of judgment program
A conviction that has been dismissed, expunged, otherwise invalidated, or inoperative
A conviction in the juvenile justice system
An offense other than a felony or misdemeanor, such as an infraction
A conviction more than seven years old (unless the position being considered supervises minors or dependent adults)
Los Angeles Fair Chance Initiative for Hiring: Under this law, private employers and city contractors in the City of Los Angeles:
Cannot include any inquiries into a candidate's criminal history in job applications or postings
Cannot inquire about a candidate's criminal history until after a conditional offer of employment is made
Must give a candidate an opportunity for the Fair Chance Process if an offer of employment is withdrawn due to criminal history 
Federal Laws
Employers in California must also comply with the FCRA. This federal law sets standards for when background checks can be used, how to disclose and obtain consent for a background check, how to share results with the job candidate, and what to do if you decide not to hire someone due to findings from a background check. However, the state, county, or city may have laws more stringent than the FCRA. When in doubt, follow the strictest law that applies. 
County Resources
The following resources can help you learn more about a specific county or city's background check laws. 
Los Angeles County
The 4,083 square miles of Los Angeles County are home to mountains, beaches, Hollywood, and a diverse population. With more than 10 million residents, it's the most populous county in the US and the third largest metropolitan-area economy in the world. Its biggest city, Los Angeles, has a population of nearly 4 million; Long Beach is the second biggest city. 
Public Information & Records: 
There are ban-the-box laws in three cities within Los Angeles County: Carson, Compton, and Los Angeles.
San Diego County
South of Los Angeles County, San Diego County is in the southwestern corner of California, bordering Mexico. Its 4,260 square miles range from the sunny coast to the inland mountains and are home to over 3.2 million people, making it California's second-most populous county. Major cities include San Diego, Chula Vista, Oceanside, and Escondido. 
Public Information & Records: 
Orange County
Nestled between Los Angeles and San Diego Counties, Orange County is famous for Disneyland and surfing, with over 40 miles of coastline. At 948 square miles, it has a population of over 3.18 million; the biggest cities are Anaheim, Santa Ana, Irvine, and Huntington Beach. 
Public Information & Records: 
Riverside County 
Birthplace of the California citrus industry, this inland county is 948 square miles in size and reaches from the greater Los Angeles area to the border of Arizona. The population is over 2.41 million; the biggest cities are Riverside, Moreno Valley, Corona, Temecula, and Murrieta.  
Public Information & Records: 
San Bernardino County
At a whopping 20,105 square miles, San Bernardino County isn't just California's largest county—it's the biggest county in the world, geographically speaking. Reaching from Los Angeles County to the Nevada border, it's home to over 2.18 million residents ranging from sparsely populated deserts to growing suburbs. The biggest cities are San Bernardino, Fontana, Rancho Cucamonga, and Ontario.
Public Information & Records: 
Santa Clara County
Located on the southern coast of San Francisco Bay, Santa Clara County has the third highest GDP per capita in the world, thanks to the booming tech industry. Measuring 1,304 square miles with a population of over 1.93 million, its primary cities are San Jose, Sunnyvale, and Santa Clara.
Public Information & Records: 
Alameda County
Bordered by the San Francisco Bay on the West, Alameda County is 821 square miles in size and is home to many tech workers, as well as the prestigious University of California, Berkeley. The county's population is over 1.68 million; its largest cities are Oakland, Fremont, Hayward, and Berkeley.
Public Information & Records: 
There are ban-the-box laws in two Alameda County cities: Berkeley and Oakland.
Sacramento County
Home to the state capital, Sacramento County covers 984 square miles in the middle of California's Central Valley, which is the state's prime agricultural region. Its biggest cities are Sacramento, Elk Grove, Arden-Arcade, and Citrus Heights; its total population is over 1.58 million. 
Public Information & Records: 
Contra Costa
Part of the San Francisco Bay area, Contra Costa County's 804 square miles border the San Francisco Bay on the west. Concord, Antioch, Richmond, and San Ramon are the largest cities in this county, many of whose over 1.16 million residents work in the tech industry.  
Public Information & Records: 
The city of Richmond has a ban-the-box law.
Fresno County
This Central California county is at the center of California's major agricultural area and is the most agriculturally rich county in the US. More than 1 million residents are spread across Fresno county's 6,011 square miles; Fresno and Clovis are the biggest cities. 
Public Information & Records: 
Kern County
Situated at the southern end of California's Central Valley, Kern County's economy relies on agriculture, petroleum extraction, aviation, and military operations. Its 8,161 square miles are home to 909,235 people. Bakersfield is the largest city, far outstripping the next-largest cities of Delano and Oildale. 
Public Information & Records: 
San Francisco County
San Francisco County has only one city: San Francisco. A tourist destination known for cable cars, fog, liberal politics, and the technology industry, it is the fourth most populous county in California. With 873,965 residents packed into 46.9 square miles, it's also the second most densely populated large US city. 
Public Information & Records: 
The City of San Francisco has a ban-the-box law.
Ventura County
This coastal community located between Los Angeles and Santa Barbara counties is a popular destination for outdoor recreation thanks to its 43 miles of beaches. A population of 843,843 is spread over 2,208 square miles; Oxnard, Thousand Oaks, Simi Valley, and Ventura are the largest cities. 
Public Information & Records: 
San Joaquin County
This inland county in Northern California's Central Valley is rapidly growing as people leave the San Francisco Bay area seeking more affordable housing. San Joaquin County has 779,233 residents in 1,426 square miles. Stockton, Tracy, Manteca, and Lodi are the major cities; the city of San Joaquin is actually located in Fresno County.
Public Information & Records: 
San Mateo County
This coastal county situated directly south of San Francisco covers most of the San Francisco Peninsula. A largely suburban county, it's home to many tech workers and is a relatively high-income area with a population of 764,442 people in 455 square miles. San Mateo, Redwood City, and South San Francisco are its major cities.
Public Information & Records: 
Stanislaus County
Located east of the San Francisco Bay, Stanislaus County includes many bedroom communities for people who work in San Francisco. The county's 1,515 square miles also include a large agricultural community west of the San Joaquin River. The population is 552,878, with Modesto, the largest city, far surpassing the next-largest cities of Turlock and Ceres. 
Public Information & Records: 
Sonoma County
Sonoma County is the largest producer in California's famous Wine Country region, which also includes Napa, Mendocino, and Lake Counties. Home to many wineries, Sonoma County is a popular tourist destination with a population of 488,863 in 1,768 square miles. Santa Rosa is the largest city, followed by Petaluma and Rohnert Park. 
Public Information & Records: 
Santa Barbara County
Located about 100 miles north of Los Angeles, this coastal county is often considered the northernmost part of Southern California. Santa Barbara County's 3,789 square miles boast mountains, coastline, parks, and beaches, making it a popular tourist destination. Its population is 448,229; the biggest cities are Santa Maria, Santa Barbara, Lompoc, and Goleta. 
Public Information & Records: 
Monterey County
Monterey County's 3,771 square miles feature the longest coastline of any California county and some of the world's most beautiful scenery, including Big Sur, Pebble Beach, and Monterey's 17-Mile Drive. Tourism and agriculture are the major industries. The county has a population of 439,035; Salinas is the biggest city, followed by Seaside and Monterey. 
Public Information & Records: 
Get A California Background Check With GoodHire
Conducting an employment background check is a vital step in the hiring process. But with so many laws regulating background checks in California, a DIY approach could lead to missteps that can put your company at risk of legal liability. Using a third-party background check provider like GoodHire can streamline the California background check process while giving you peace of mind. 
GoodHire delivers fast, accurate, FCRA-compliant background checks to help you make fair, informed hiring decisions. We offer multiple background screening options and compliance features to automate key steps such as background check review workflows, initiating adverse action, and gathering information for the individualized assessments California laws require. Our in-house compliance experts help to ensure your background screenings follow all applicable federal, state, and local laws, making California state background checks easier for your company and your candidates.
Disclaimer
The resources provided here are for educational purposes only and do not constitute legal advice. We advise you to consult your own counsel if you have legal questions related to your specific practices and compliance with applicable laws.