Federal Background Checks: A Complete Guide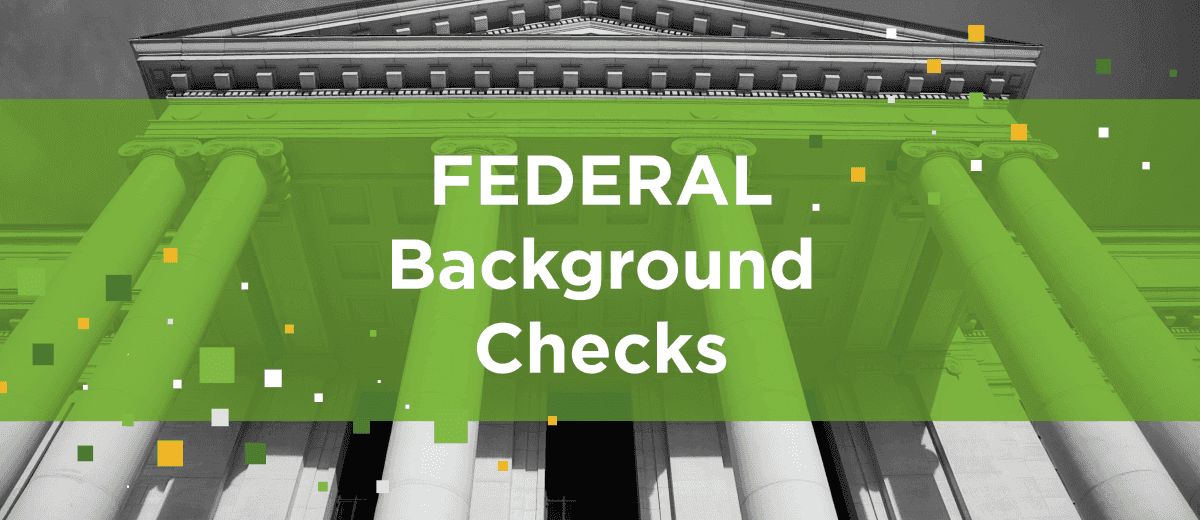 Before bringing aboard a new employee, particularly someone in a position where they're handling finances, you may want to conduct a background check that includes a federal criminal background check. This check searches the federal court system to look for convictions and pending cases tied to federal crimes. 
---
A federal background check provides important information about a candidate's criminal history that can be used when making a hiring decision. Perhaps most importantly, a federal background check, also called a federal criminal background check, may help protect your workers and customers, along with your business' reputation, and can help you comply with federal laws and regulations.
What Is A Federal Background Check?
Federal background checks, or federal criminal background checks, search across 94 federal US district and appellate courts to uncover convictions and pending cases of federal crimes. For example, identity theft, tax evasion, counterfeiting, and kidnapping are all federal crimes. So are crimes against federal employees like TSA agents and forest rangers, crimes involving banks, and those committed on federal land like national parks. 
A federal criminal background check is frequently used by companies in financial industries, as well as for executives and CPAs, to surface incidents involving fraud and embezzlement or identity theft. Note that this search is different from an FBI Background Check or Federal Employment Background Check (more on that later).
What's The Difference Between Federal & Nationwide Background Checks?
These two background checks sound similar, but are actually quite different. Federal criminal background checks search for violations of federal law, including embezzlement, illegal firearms sales, and crimes against federal employees like TSA agents and postal workers. By contrast, a Nationwide or National Criminal Background Check searches nationally across multiple state databases—such as Administrative Offices of the Courts and Departments of Corrections—for any convictions at the state or county level where records have been digitized. 
When it comes to employment background screenings, a National Criminal Background search is often the starting point of a criminal records search; if the search returns results of a local criminal conviction, you may wish to pull detailed records from that jurisdiction through a county-level search.
Job Requirements
Among the sectors that might benefit from—or require—a federal criminal background check on prospective candidates include law enforcement, education, finance and banking, healthcare, and jobs in the federal government and defense industry. 
Jobs for which federal background checks may be required include:
Banking executives
CEOs and other C-Suite executives
CPAs and other high-level positions in accounting and finance
Law enforcement officers
Healthcare administrators and professionals
Service providers caring for children, elderly people or disabled people
What do these jobs and industries have in common? People in these positions handle sensitive information, deal with high-value assets, or work with vulnerable people.
Crimes Revealed
A federal criminal background check uncovers criminal records that are not available at the state or county level. It may reveal that the candidate has committed federal crimes such as:

Tax evasion: Illegally attempting to avoid paying taxes
Identity theft: Using another person's personal identifying information (e.g. name, Social Security number, etc.) without their permission to commit fraud or other crimes
Counterfeiting: Creating fake currency with the intent to pass it off as real 
Kidnapping: Confining and/or transporting a person against their will 
Embezzlement: Withholding something of value from its rightful owner without their consent with the intent to appropriate it
Interstate trafficking: Unlawfully importing goods, often controlled substances, across state lines
What Does A Federal Employment Background Check Consist Of?
Every person hired for a job with the federal government must submit to a federal employment background check. These checks typically cover criminal histories and credit histories. However, the elements of a federal employment background check vary among federal agencies and may be more extensive, depending on the position. For example, a background check at an agency that deals with national security might be more in-depth than a background check at an agency that handles environmental matters. 
A more in-depth federal employment background check may also include:
Searching the FBI's fingerprint database
Checking a candidate's residential address history
Interviewing spouses, relatives, friends, roommates, coworkers or acquaintances
Examining a candidate's social media profiles
A federal employment background check isn't necessarily the same as a traditional pre-employment background check in the private sector. A traditional background check often includes reviewing a candidate's criminal history, verifying their employment and education, contacting references, and ordering a drug test. A traditional background check may also include a review of a candidate's federal criminal records, depending on the industry and position.
Federal vs. FBI
A federal background check is different from an FBI background check. Federal criminal background checks involve searching federal criminal courts for convictions and pending cases and are often used by organizations when hiring for executive-level roles, and positions where the person is handling highly sensitive information. FBI background checks, on the other hand, go even deeper and often are limited to certain kinds of jobs in the federal government or at companies that contract with the federal government. This in-depth check digs up all interactions an individual might have had with law enforcement, such as all felony and misdemeanor criminal convictions, arrests, traffic violations and even parking tickets.
Unlike a federal criminal background check, an FBI check relies on fingerprints supplied by the job candidate. Those prints then are run through the FBI's Integrated Automated Fingerprint Identification System (IAFIS), a storehouse of fingerprints collected by law enforcement agencies, immigration agencies and previous employment screenings. The IAFIS database connects a person's data to fingerprints collected as part of both criminal and non-criminal circumstances.
In addition, the fingerprints are run through the National Crime Information Center (NCIC) database. This database contains a wealth of information about criminal histories and wanted criminals. The prints also are checked against databases of sex offenders and terrorists.
How To Run A Federal Background Check
Running a federal background check requires you to set up an online account with the Public Access to Court Electronic Records (PACER) system, an online public access database run by the federal government. You'll fill out a short form and select a user name. A credit card is not required to sign up, but you will need one to buy access to certain information.  
Once you're set up, the PACER tool lets you search all federal courts for criminal cases. In addition to the time you'll spend sifting through records, you'll pay a small fee for each document you access (up to $3 per document).  
To save time, you might consider letting a third-party, accredited screening provider like GoodHire handle your federal criminal background checks as part of a more comprehensive pre-employment screening package.
Either way, checking your candidates' federal criminal history can give you peace of mind and help you make informed decisions during the hiring process.
How To Stay Compliant
If you use a screening provider to conduct pre-employment background checks, you must comply with the Fair Credit Reporting Act (FCRA).
First, the candidate must be notified that you intend to run a background check. This is known as a background check disclosure. 
Then, the candidate must give their permission for the background check to be conducted. This acknowledgment should be provided in a self-contained document.
A job candidate must be told in writing that any information uncovered in a background check can be used in decisions concerning employment eligibility and hiring. The same is true if information revealed in a background check is used to screen a current employee (for example, for a promotion, or for annual re-screening). This information must be provided in a written document.
If a background check leads to a decision against hiring, retaining, or promoting a candidate, you must follow the FCRA's adverse action steps. ​​GoodHire helps streamline the adverse action process through an automated workflow that guides you through the steps.
How To Get A Federal Background Check On Yourself
If you're a job candidate, you may be wondering what might show up in a federal criminal background check on yourself. If so, it's pretty simple to find out. Just sign up for a PACER account, as described earlier in this article, and conduct a search on yourself. If you've been convicted of a federal crime, or your case is pending, your record will be available in this database.
You can also hire a private investigator to dig into your federal criminal background or use a third-party service to see what shows up.
To find out what else might show up, you can run a personal background check on yourself with GoodHire. Running a personal background check lets you see what employers see, and if you spot any inaccuracies, you can dispute the records, as well as add context about criminal records on your report.
While GoodHire does not offer federal criminal record searches as part of our Personal Background Check options, a personal background check from GoodHire can uncover information about criminal records at the state and county level, as well as sex offender registry status, Domestic Watch List status, and employment and education verification.
Order
Save yourself the time and compliance worries of a more comprehensive background screening by having GoodHire conduct federal criminal background checks for your candidates. Most importantly, employment screening and background checks can give you peace of mind about the hiring decisions that you make. GoodHire offers hundreds of background screening options, including Nationwide criminal background checks, State criminal background checks, and County criminal background checks, and we help you maintain compliance wherever you're hiring.
Disclaimer
The resources provided here are for educational purposes only and do not constitute legal advice. We advise you to consult your own counsel if you have legal questions related to your specific practices and compliance with applicable laws.
---