Adverse Action: How GoodHire Simplifies A Tricky Process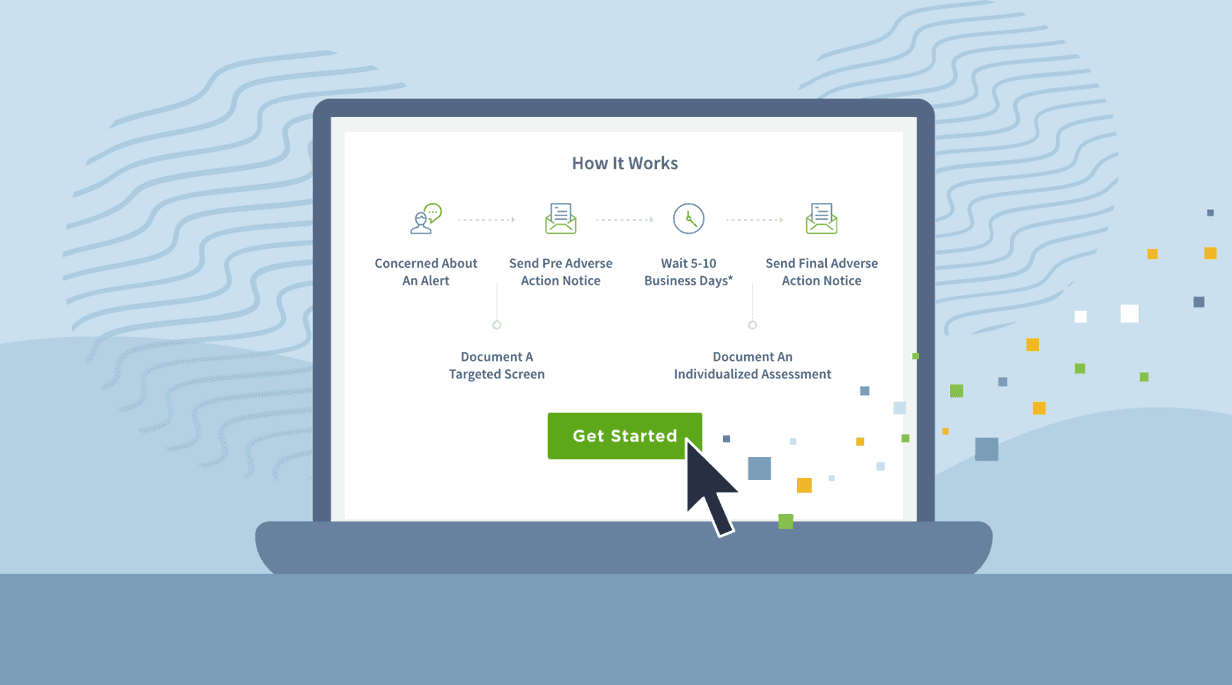 When employers decide against hiring a candidate due to information discovered in a background check, federal law requires furnishing that information in an adverse action notice. Learn how GoodHire's built-in compliance workflow simplifies and streamlines the process for you. 
---
If you're an employer who is considering taking unfavorable action against a job applicant or employee– such as not hiring or promoting, or firing the individual–because of information found in a background check, you must follow a legal process called adverse action. Whenever such a decision is based on information from a background screening, employers are required to comply with steps laid out in the federal Fair Credit Reporting Act (FCRA). 
Steps for Providing Notice of Adverse Action 
Pre-adverse action notice: This document, which can be delivered in hard copy or electronic form, states that you are evaluating the results of the background screening and may decide not to hire the person based on what you've found. You must include a copy of the person's background check report and a summary of his or her rights under FCRA. (You can download a GoodHire pre-adverse action notice sample here.)
Allow time for candidate response: After sending a pre-adverse action notice, you'll need to give the candidate a reasonable amount of time to respond to the notice and clarify any information in the background check report. No specific waiting period is specified under FCRA, but courts and FTC guidance suggest that five business days is a reasonable period of time. . Once the candidate responds, carefully review the new information to see if it affects your decision. 
Final adverse action notice: If, after considering the candidate's response, you still decide against hiring them, you must send them an adverse action notice that explains your decision. It should also explain that the candidate has the right to dispute any inaccurate information on the background check and to obtain another copy of their background check results within 60 days from receipt of the notice. If your background screening was conducted by a Consumer Reporting Agency (CRA) or other third party, you must specify that your company, not the vendor, is responsible for the hiring decision, and include the vendor's name, phone number, and address. (You can download a GoodHire adverse action letter sample here.)  
Not only are these steps required under the FCRA, but many states, cities, and other jurisdictions have their own laws governing adverse action. Failing to comply with adverse action rules is a major cause of employment lawsuits. Each willful violation of the FCRA can cost an employer up to $1,000 in statutory damages. For large organizations that hire at high volume or in multiple states or cities, the price of running afoul of adverse action laws can quickly add up. 
GoodHire's Built-in Adverse Action Workflow Guides You Through the Process
Considering adverse action laws in both your location and the candidate's location can be challenging for any HR team. Ban-the-box laws vary by jurisdiction, so it's critical to understand whether these laws may affect your organization (and how). For example, some local ban-the-box laws require longer waiting periods than the 5 day minimum required by the FCRA. 
To simplify compliance with complex geographic requirements, GoodHire's Integrated Adverse Action automatically incorporates laws from more than 30 states and 180 municipalities. We even send you an alert when you can legally take the next step in the process. By following these built-in steps, you can help ensure fair hiring decisions while protecting your company from liability. You may also wish to consult with your own legal counsel regarding your adverse action process.  
Here's a closer look at GoodHire's Integrated Adverse Action workflow:
Step 1. Targeted screening 
Our Targeted Screening feature enables you to evaluate the specific record(s) that prompted you to consider pursuing adverse action. Start by selecting from the list of potential records, by varying levels of severity and amount of time passed since the crime was committed. Next, specify the position you are looking to fill and the nature of the job in question. Lastly, you have the option to send a customizable message to the candidate requesting additional information about the record(s) in question. 
Step 2: Additional documents 
If state or local adverse action laws require specific forms for adverse action compliance, GoodHire will provide the necessary forms for you. Simply download, complete the required fields, sign, and re-upload.
Step 3: Pre-adverse action notice. 
GoodHire provides a pre-adverse action notice that includes A Summary of Your Rights Under the Fair Credit Reporting Act, a copy of the background check results, and an explanation of what the candidate should do next. Review and send!
Step 4: Individualized Assessment 
Once the applicant has had sufficient time to respond, you'll need to make a final decision. Use any additional information or context that the applicant provided to conduct an Individualized Assessment, which the Equal Employment Opportunity Commission (EEOC) encourages and many state and local fair hiring laws require. This includes providing supplementary information to explain your decision.
Step 5: Final adverse action 
Upon completing an individual assessment, employers have the opportunity to review and send their final adverse action notice to the candidate. 
Improved Candidate Experience
Employers can speed time-to-hire with customizable templates and automated alerts, while also enjoying peace-of-mind knowing they're mitigating legal risk with built-in geographic compliance and a digital paper trail. But, candidates benefit too:
GoodHire's built-in workflow supports fair hiring by ensuring that adverse action rules are followed consistently for every job applicant.
Our online dispute tool allows candidates to dispute background check results they believe are inaccurate. 
Comments for Context makes it easy for applicants to provide more information about background check results and even include supporting documents.  
GoodHire Is a Leader in Compliance
GoodHire's built-in compliance features go beyond adverse action, and also include:
Digital consent: Mobile-optimized, electronic candidate consent for background screening reduces risk of litigation
Record filtering: Customized background check results specify the records to show or hide 
Automated adjudication: Custom status and adjudication rules automate background check review workflows
At GoodHire, we know it can be difficult to stay on top of constantly changing employment laws. By streamlining the adverse action process and guiding you through each step, we help you reduce risk, save time, and provide a positive candidate experience. Our adverse action workflow is just one of the ways we help you make smart, compliant hiring decisions. To learn more about how GoodHire is your compliance partner, contact our sales team.
disclaimer
The resources provided here are for educational purposes only and do not constitute legal advice. We advise you to consult your own counsel if you have legal questions related to your specific practices and compliance with applicable laws.
---