Illinois Background Checks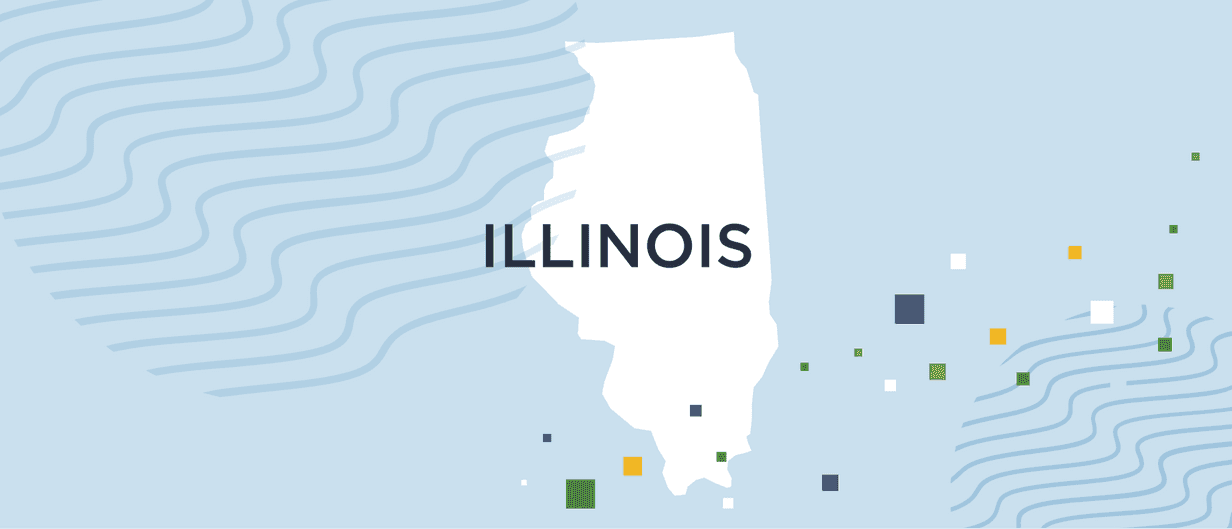 A pre-employment background check in Illinois can help verify a candidate's qualifications by providing a look into their education, employment history, criminal records, and more. Employers may use background check information to make informed hiring decisions, mitigate risk, and create safer work environments. 
---
Illinois background checks can play an important part in the hiring process, but navigating federal, state, and local hiring regulations can be complex, particularly when employers choose to conduct screenings on their own. This guide will cover how to conduct a background check in Illinois, what types of reports are available, and the benefits of partnering with a third-party background check provider. 
What Is An Illinois Background Check?
An Illinois background check is a search into many different types of public records and databases to provide employers with information about a job candidate or volunteer's history. They are often used during the hiring process to confirm a candidate's qualifications and eligibility for the role. Commonly used screenings may check criminal records, credit history, or driving records. 
Under Illinois law certain industries may require more comprehensive fingerprint-based criminal background checks, including:
What Shows Up On A Background Check In Illinois?
What shows up on a background check in Illinois will depend on the type of screenings being conducted, along with the employer's background check policy and the specific role. Here's a closer look at what shows up on common types of employment background checks: 
What Will Disqualify A Candidate From An Illinois Background Check?
Disqualification from a role often depends on an employer's hiring policy and requirements for the job. Certain employers may choose to have a drug-free workplace, while others may enact a policy including criminal offenses that would disqualify a candidate. 
For example, in Illinois licensed private security contractors cannot have felony convictions in any jurisdiction or at least 10 years must have passed since being discharged from a felony sentence. Should an employer choose to disqualify a candidate based on the results of a background check, the adverse action process should be followed. 
How Long Does A Background Check Take In Illinois?
Illinois state background check turnaround times can vary, depending on who is conducting the search, the types of records requested, and the overall scope of the search. Organizations that choose to conduct searches in-house may have a more time-consuming background check process than employers that partner with a consumer reporting agency (CRA). Certain screenings, like a national background check, access digitized records so reports are returned within minutes, while other types of checks, like education verification, may take several days or longer. 
Employers that choose to perform background checks on their own often need to take a hands-on approach which typically involves requesting information about a candidate from many different public record sources, including criminal and court records from the Illinois State Police and motor vehicle records from the Illinois Department of Motor Vehicles (DMV). Non-public records, like employment verification and professional reference checks, generally require even more legwork such as phone calls to past employers. 
Employers that partner with a CRA, like GoodHire, can benefit from a more streamlined approach and faster turnaround times. GoodHire has access to many types of public records, specialized databases, and courthouses across the US. And, with GoodHire's wide range of screening options, hiring managers can easily perform multiple checks at once. 
How Far Back Do Background Checks Go In Illinois?
How far back an employer can look into a candidate's history during an Illinois background check for employment depends on who is conducting the search, the scope of the background check, and the type of screening being conducted. In addition, federal, state, or local laws and regulations can also play a role in how far back background checks go. 
Employers that choose to partner with a CRA, like GoodHire, are required to comply with the federal regulations of the Fair Credit Reporting Act (FCRA). Under this act, reporting on non-conviction information is limited to a seven-year lookback period. This includes most credit report information, civil judgements, and tax liens. Bankruptcies are excluded and may be reported for up to 10 years while criminal convictions may be reported indefinitely.
If an employer conducts searches themselves or if a candidate's expected salary is $75,000 or higher, FCRA limitation may not apply. 
How To Get An Illinois Background Check
Employers can choose to conduct state of Illinois background checks themselves or partner with a trusted CRA, like GoodHire. While it is possible to conduct some Illinois background checks online, many screenings can require manual searches which can be time-consuming for hiring managers and human resources teams. 
For example, criminal records can be ordered online through the Illinois State Police's Criminal History Information Response Process (CHIRP) and Circuit Clerk Web Interface shared web portal. Illinois motor vehicle reports need to be requested from the Illinois DMV at a Driver Service Facility in person using the Driving Abstract Request Form. Or, requests can be mailed to the Illinois Secretary of State.
When employers partner with GoodHire, however, they can benefit from a more streamlined background check process, faster turnaround times, and more accurate results. GoodHire's user-friendly workflows and tools to support compliance can help employers save time and company resources. 
How Much Does A Background Check Cost In Illinois?
The cost of a pre-employment background check in Illinois often depends on who is conducting the search, the type of reports that need to be ordered, and the frequency of background checks needed. When Illinois employers choose to perform background checks directly, they will typically need to pay for the cost of each record individually. For example, fees can vary for the many types of criminal background checks in Illinois, ranging from $10 to $26.25. 
Partnering with a CRA is often more cost-effective for employers—and saves the hassle of a DIY approach. With GoodHire, now a Checkr company, employers can benefit from customizable and comprehensive background check packages starting at $29.99. 
Illinois Background Check Laws
Employers must be sure to comply with all Illinois employment background check laws when conducting screenings. Illinois has two statewide ban-the-box laws that apply to public and private sector employers, and there are also city- and county-specific regulations that may apply depending on jurisdiction. To help avoid potential legal liability, Illinois employers may choose to follow the strictest laws and regulations.
Ban-the-Box Laws
In Illinois employers must follow two statewide ban-the-box laws as they apply to both public and private sector employers: 
Executive Order 2013-1: Under this law, State of Illinois public sector employers are not allowed to ask about criminal history on job applications. In the event a candidate is not hired due to information found on criminal records, employers are required by law to first conduct a series of assessments before sending a final adverse action notice. 
Illinois House Bill 5701: Private sector employers with at least 15 employees must wait to ask about criminal history until a candidate has been selected for an interview. If there is no interview, employers must wait to inquire about criminal history until after a conditional offer has been made. 
Under the IHRA, which includes 775 ILCS 5/2-103 and Senate Bill 1480, using arrest or conviction records as a basis for denying employment is a civil rights violation. Some exclusions may apply for employers that are authorized or required by law to conduct criminal background checks in Illinois. 
Employers can only consider conviction records during the hiring process if a "substantial relationship" exists between the job and the offense or if the candidate could be an "unreasonable risk" to workplace safety or property. The act requires employers to evaluate certain factors when reviewing conviction records, including number of convictions, circumstances of the conviction, length of time since the conviction, safety relevance, and any rehabilitation efforts since the conviction. 
Notice of any preliminary adverse action must be provided to the candidate, along with the opportunity to challenge any negative information found on the criminal history report. In the event an employer decides not to hire someone based on the information found in the criminal background check, the IHRA requires employers to provide the candidate with a written explanation. 
Under the UCIA, conviction information collected and maintained by the Illinois State Police must be made accessible to individuals requesting the information, such as employers. Requests for conviction records must be made directly to the Illinois State Police and include a signed release from the individual in question. The requester must also provide the individual with a copy of the report from the State Police and allow them seven days to challenge or correct any incorrect information. 
This statewide act restricts employers from discriminating against candidates based on their criminal history. In addition, employers cannot consider arrests that do not have conviction information. In the event an individual has a conviction, employers are required to conduct an individualized assessment of the information on the report as it relates to the job before making a final decision about hiring the candidate for the role. If an employer chooses not to hire a candidate based on information found in the report, they must follow an adverse action process. 
This statewide act (820 ILCS 70), prohibits employers from asking about a candidate's credit history or checking their credit report during pre-employment background checks. Exceptions apply if the candidate's credit history is a "bona fide occupational requirement" for the job. For example, roles with access to confidential financial information or company assets may be exempt from this law. 
Employers that choose to partner with a CRA to conduct background checks must follow the steps outlined in the federal FCRA. These include sending a candidate notice in writing of the intent to conduct a background check. Then, the employer must receive written permission from the candidate to proceed with the background screening. Finally, in the event an employer decides not to hire a candidate based on information included in the report, they must follow the adverse action process.
County Resources
Use the resources below to learn about ban-the-box laws and public records in some of Illinois' largest counties:
cook county
Nearly 5.3 million residents call Cook County home, making it the second most populous county in the US. It encompasses Chicago and many of its surrounding suburbs. Chicago itself is a diverse and vibrant city with strong economic roots in manufacturing, transportation, insurance, publishing, food processing and more. It's also home to a thriving arts and food scene and the University of Chicago.
Public Information & Records
Local ban-the-box laws apply to both public and private sector employers in the city of Chicago.
DuPage County
DuPage is one of the collar counties surrounding Chicago. With 932,877 residents, it's the second most populous county in Illinois, with Chicago suburbs Naperville and Oak Park among the well-known cities in DuPage. The county also has two national laboratories: Argonne National Laboratory, one of the US government's oldest and largest science and engineering research facilities and Fermilab, which has one of the world's largest particle accelerators.
Public Information & Records
Lake County
Situated along the shores of Lake Michigan, Lake County is the third most populous in Illinois with 714,342 residents. Other notable cities include Mundelein and Highland Park, site of the Ravinia music festival and the summer home of the Chicago Symphony Orchestra. Lake County is also the site of the Great Lakes Naval Station.
Public Information & Resources
McHenry County
Its suburbs may be booming, but McHenry County also retains a bit of historic charm. Its county seat and largest city is Woodstock, recognized as a Distinctive Destination by the National Trust for Historic Preservation. McHenry County is one of the five collar counties of the greater Chicago area with thriving suburbs like Fox River Grove and Lakewood.
Public Information & Records
Will County
Located north of Chicago, Will County is a major hub in the US natural gas pipeline grid and the site of ExxonMobil's Joliet Refinery; it's also home to a growing number of Chicago commuters. Once known for the two correctional facilities that called it home, Joliet is now familiar as the site of the Chicagoland Speedway and the Autobahn Country Club. Along with Joliet (population 147,433) Bolingbrook, Lockport, Romeoville and New Lenox are some of Will County's larger cities.
Public Information & Records
Get An Illinois Background Check Today
Illinois employers can partner with a qualified CRA, like GoodHire, for a more efficient background check process that provides faster turnaround times and more accurate reporting. GoodHire offers more than 100 screening options and an easy-to-use online platform with automated workflows—all while helping hiring managers navigate complex federal, state, and local compliance regulations. Get started with an Illinois background check. 
Disclaimer
The resources provided here are for educational purposes only and do not constitute legal advice. We advise you to consult your own counsel if you have legal questions related to your specific practices and compliance with applicable laws.