Illinois Background Checks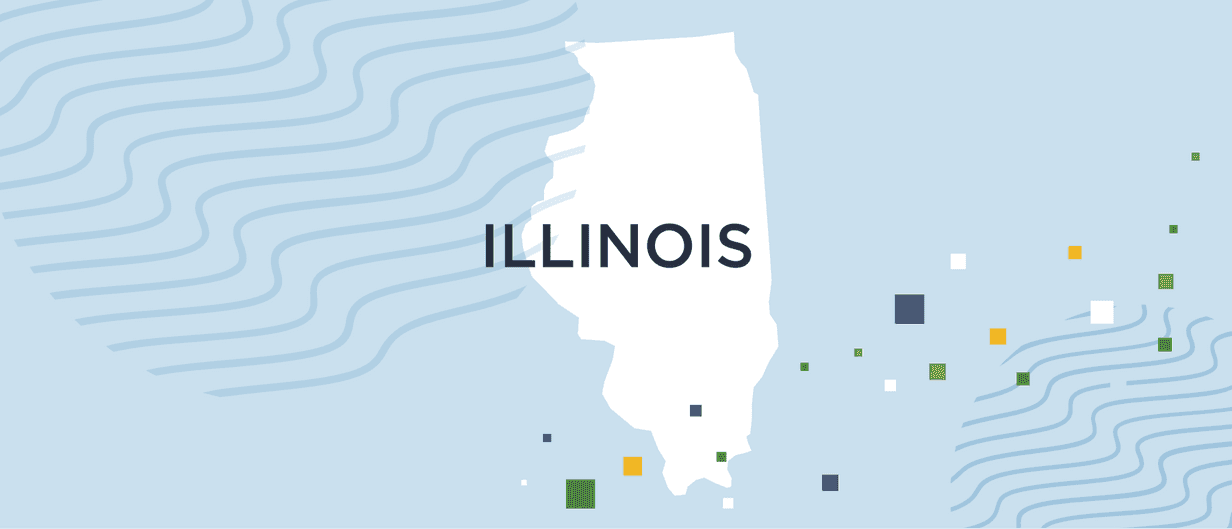 Employment background checks can help Illinois employers make informed hiring decisions. Understanding a robust regulatory environment and navigating court record access can be a challenge without the help of a trusted third party service provider. Read on to learn about using background checks as part of your hiring process in Illinois.
Employers use background screening to learn more about a job applicant's work experience, criminal history, driving record, licensing status, and more. Pre-employment screening reports can be invaluable, helping Illinois employers ensure candidate qualifications are valid and workplace safety is uncompromised.
Illinois is home to the third largest city in the US, Chicago. The state's economy is powerful and diverse, with state and local laws that protect workers from hiring discrimination–and, in turn, affect employers' rights to obtain and use background information as part of your hiring decisions. Illinois employers who plan to integrate background checks into their pre-employment screening process should stay apprised of applicable state and local fair-hiring laws and consider partnering with a consumer reporting agency (CRA) to help navigate the process.
What Is An Illinois State Background Check?
Employers may use a variety of different reports as part of an employment background check in Illinois. The results of these checks speak to different aspects of an applicant's history:
A criminal history check searches an applicant's criminal record at the national, federal, state or county level.
An employment or educational check verifies past employment, degrees, or credentials.
A motor vehicle records check provides an abstract of an applicant's driving record, including license status and moving violations; often used for jobs that require operating a motor vehicle.
A drug screening tests for the presence of prescription or illicit drugs; often used for safety-sensitive positions.
Illinois limits the information employers may access as part of an employment background check. For example, some employers may want to check an applicant's credit history to learn about past bankruptcies or collections. In Illinois, employers are only allowed to use credit history checks for positions where financial responsibility is a key feature of the job.
Illinois also restricts the use of some criminal background information. For example, the Employee Background Fairness Act, amending the Illinois Human Rights Act (IHRA), bans employers from using criminal convictions in employment decisions unless the employer demonstrates that there is a "substantial relationship" between the criminal offense and the position or the employer can show that employing the individual would create an "unreasonable risk" to property or the safety of others. Additionally, the IHRA already states that employers are not allowed to consider a candidate's arrest record when hiring. 
For certain positions, however, Illinois law mandates fingerprint-based criminal background checks. Among these positions:
Childcare workers: Employers must conduct fingerprint-based criminal background checks through the Illinois State Police and FBI checks if the applicant has lived outside Illinois during the last five years or if an Illinois criminal records check returns a record of criminal activity. Applicants must also be screened for inclusion in national and state sex offender registries.
Licensed and unlicensed school workers: School districts must conduct fingerprints-based criminal history records checks, as well as scans of the Illinois State Police Sex Offender Registry and the Statewide Murderer and Violent Offender Against Youth Database.
Healthcare workers: The Illinois Health Care Worker Background Check Act requires health care providers to complete fingerprint-based criminal background checks on new hires using the Illinois Department of Public Health web portal. This regulation applies to hospital staff, home health aides, people who work with the disabled, nursing home employees, and more, although physicians and volunteers are excluded. By law, employers must also check the Illinois Sex Offender Registry, the Department of Corrections' Sex Offender Search Engine, the Department of Corrections' Inmate Search Engine, the Department of Corrections Wanted Fugitives Search Engine, the National Sex Offender Public Registry, and the website of the Health and Human Services Office of Inspector General to determine if an applicant has been adjudicated a sex offender, has been a prison inmate, or has committed Medicare or Medicaid fraud.
Carnival workers: Owners of traveling amusement rides must provide documentation that they have conducted a criminal history records check and sex offender registry check for all operators, attendants, and assistants. They must also implement a substance abuse policy that includes random drug testing.
Private security: Licensed private security contractors cannot have felony convictions in any jurisdiction or at least 10 years must have passed since being discharged from a felony sentence.    
How Long Does A Background Check Take In Illinois?
Turnaround times vary depending on the type and scope of a search–as well as whether you choose to work with a qualified CRA or handle the process on your own. 
The more manual effort a background check requires, the longer it's likely to take. Contacting former employers, schools and universities, or licensing boards to verify past employment, degrees, credentials, or licenses can take days or even weeks. Searching county court records in person–as may be required in Cook, DuPage, and Will Counties–can also add significant time to your efforts. Searching for multiple records may require visits to several courthouses, extending the timeline even further.
Working with a trusted CRA significantly reduces the time to receive search results. In addition to providing the personnel needed to contact employers and references and utilizing their network of court runners, CRAs also have access to specialized databases that can streamline and speed the process. GoodHire, for example, curates and hosts more than a billion individual records from more than 2,100 regularly updated sources to shorten turnaround times and deliver accurate reports. National, federal, and state criminal background checks are typically complete in one to three business days; county checks may take longer if in-person visits to the courthouse are required.
Online searches typically return results faster: Many online searches done through a CRA are completed in one business day, including motor vehicle records searches, credit history, and sex offender registry searches. Occasionally, online searches will take a few days or longer to complete, whether you work through a CRA or on your own. Common reasons include technical delays or incomplete information on authorization forms. 
How Far Back Do Background Checks Go In Illinois?
The lookback period for an Illinois background check depends on the type of background check. In some cases, employers can go back as far as needed to check an applicant's background. Employment and educational verification are two examples of this (though if provided by a CRA, these may be limited to seven years of history). In other cases, federal, state, or local laws may limit the amount of time an employer can look back at an applicant's history. 
When working with a CRA, the federal Fair Credit Reporting Act (FCRA) restricts how far back search results can be reported. Background checks are limited to seven years for arrests that did not lead to convictions, liens, collections, and civil judgments, and ten years for bankruptcies. These FCRA limits do not apply to positions that pay $75,000 or more annually or when conducting background checks without the help of a CRA. Pursuant to Illinois state law, employers aren't allowed to consider arrest information at all, regardless of the age of the record.
In some states, state laws prohibit employers from looking back into a job candidate's criminal history beyond seven years. Illinois does not place this type of time limit on criminal history checks. However, Illinois has multiple laws that regulate the information employers may consider during the hiring process, regardless of time: 
Unless expunged or sealed, felony and misdemeanor convictions remain part of a person's criminal record in Illinois indefinitely.
Convictions for DUI remain indefinitely.
Juvenile records are sealed to the public. 
Records of traffic violations on an applicant's motor vehicle record are typically removed within four or five years; seven years if the violation results in a suspension or revocation of the driver's license.
How To Get A Background Check In Illinois
While it is possible to conduct background checks in Illinois yourself, many employers choose to work with a CRA, like GoodHire, instead. Tracking down references, navigating state and county records systems, and complying with Illinois' many regulations can be difficult and time consuming on your own. A qualified CRA can simplify the process while ensuring the information you receive is accurate and compliant with federal, state, and local laws.
Business entities that are required to  conduct fingerprint-based criminal background checks, as listed above, should work directly with the Illinois State Police. These employers may still wish to work with a third-party background check provider to conduct preliminary searches or supplement the check with additional screening information.
Exceptions aside, many employers find working with a CRA saves time and improves the candidate experience–while providing a range of screening options to meet your business needs. 
Illinois Background Check Laws
Employers must observe several state laws that regulate the use of pre-employment criminal background checks in Illinois. These include: 
Employers are prohibited from inquiring into or using a candidate's arrest record, or any expunged, sealed, or impounded record, as part of the pre-employment background screening process. 
Unless you're following guidelines that specifically authorize (or require) you to check an applicant's criminal history, you may consider conviction records during the hiring process only if there is a "substantial relationship" between the criminal offense and the position being offered, or if the applicant poses an "unreasonable risk" to property or workplace safety. Employers must make individualized assessments that consider the length of time that's passed since the conviction occurred, the number of convictions, relevance to safety, circumstances surrounding the conviction (such as the age of the candidate at the time of the offense), and possible evidence of rehabilitation.
Employers must provide written notice of preliminary adverse action and an opportunity for the applicant to challenge information contained in a background check report. If an employer decides not to hire based on an applicant's conviction record, the IHRA requires the employer to provide written notice that specifies the disqualifying conviction along with an explanation.
All criminal record information collected and maintained by the Illinois State Police must be made available to the public. This information is limited to convictions only.
Employers are prohibited from inquiring about an applicant's credit history or ordering their credit report as part of an pre-employment background check in Illinois, except where credit history is a "bona fide occupational requirement" of the position, such as for jobs that involve custody or unsupervised access to cash or assets, or access to personal or confidential financial information.
Illinois has statewide laws that apply to both public and private sector employers:
Executive Order 2013-1: Public sector employers for the State of Illinois may not inquire into criminal history on an initial employment application. Employers must conduct an individualized assessment on a candidate's background prior to sending a final adverse action notice.
HB5701: Private sector employers with 15 or more employees may only inquire into criminal history after an applicant has been selected for an interview or, if there is no interview, after a conditional offer of employment is made.
Illinois employers who work with a CRA must also comply with the FCRA, which requires employers to notify candidates that they will use background checks as part of the hiring process, obtain written consent from candidates before conducting background checks, and follow guidance on adverse actions, such as deciding not to offer a job.
Finally, cities and counties in Illinois may have local screening laws that apply to you and your candidates based on location. Local ban-the-box laws are noted in the county resources listed below. When in doubt, employers may wish to comply with the strictest laws to avoid potential penalties, fines, or lawsuits.
County Resources
Champaign County
Champaign County is the tenth most populous county in the state with 205,865 residents. Twin cities Urbana (the county seat) and Champaign (the largest city with a population of 86,096) are home to the University of Illinois at Urbana-Champaign, known internationally for its innovation and research on global problems and societal change. The university's 51,000 students hail from 50 states and more than 100 countries. 
Public Information & Records: 
Cook County
Nearly 5.3 million residents call Cook County home. It is the second most populous county in the US after Los Angeles County, encompassing Chicago and many of its surrounding suburbs. Chicago itself is a diverse and vibrant city with strong economic roots in manufacturing, transportation, insurance, publishing, food processing and more. It's also home to a thriving arts and food scene and the University of Chicago.
Public Information & Resources
Cook County does not provide online access to official criminal records. Public access terminals to conduct court records searches are available at the six Cook County Circuit Court district courts:
A city-wide ban-the-box law applies to both public and private sector employers in the city of Chicago. Learn more.
DuPage County
DuPage is one of the collar counties surrounding Chicago. With 932,877 residents, it's the second most populous county in Illinois. County seat Wheaton, and Chicago suburbs Naperville and Oak Park, are among the well-known cities in DuPage. The county also has two national laboratories: Argonne National Laboratory, one of the US government's oldest and largest science and engineering research facilities and Fermilab, which has one of the world's largest particle accelerators and is located in both DuPage and Kane counties.
Public Information & Resources
DuPage County does not provide online access to official criminal records. The following link provides information on public information terminals that provide access to Circuit Court records.
Kane County
With a population of 531,756, Kane County is Illinois' second most diverse county after Chicago's Cook County, according to neighborhood ranking site Niche.com. Its county seat is Geneva and its largest city is Aurora, known as the "City of Lights" because it was one of the first US cities to install electric lights on its streets. 
Public Information & Resources 
Lake County
Situated between Chicago and Milwaukee, along the shores of Lake Michigan, Lake County is the third most populous in Illinois with 714,342 residents. Its county seat, Waukegan, has a population of 85,000 and sits along  the shores of Lake Michigan. Other notable cities include Mundelein and Highland Park, site of the Ravinia music festival and the summer home of the Chicago Symphony Orchestra. Lake County is also the site of the Great Lakes Naval Station.
Public Information & Resources
Madison County
This Southern Illinois county is part of the greater St. Louis metropolitan area. Madison County has a population of 264,776. In addition to established suburbs like Glen Carbon and Edwardsville, Madison County is home to a UNESCO World Heritage Site, Cahokia Mounds, a pre-Columbian Native American city. Madison County's largest city is Granite City, named for Graniteware enamelware pots and pans.
Public Information & Resources
McHenry County
Its suburbs may be booming, but McHenry County (population 310,229) also retains a bit of historic charm. Its county seat and largest city is Woodstock, recognized as a Distinctive Destination by the National Trust for Historic Preservation. It was also the location for the movie Groundhog Day. McHenry County is one of the five collar counties of the greater Chicago area with thriving suburbs like Fox River Grove and Lakewood.
Public Information & Resources
St. Clair County
St. Clair is the oldest county in Illinois with a population of 257,400. Located across the Mississippi River from St. Louis, St. Clair County is home to Scott Air Force Base, which employs more than 13,000 people and contributes about $2 billion annually to the local economy. St. Clair County's most populous city and county seat is Belleville with just over 40,000 residents.
Public Information & Resources
Will County
Located north of Chicago, Will County is a major hub in the US natural gas pipeline grid and the site of ExxonMobil's Joliet Refinery; it's also home to a growing number of Chicago commuters. The county seat, Joliet, straddles both Will County and Kendall County, and is the third-largest city in Illinois. Once known for the two correctional facilities that called it home, Joliet is now familiar as the site of the Chicagoland Speedway and the Autobahn Country Club. Along with Joliet (population 147,433) Bolingbrook, Lockport, Romeoville and New Lenox are some of Will County's larger cities.
Public Information & Resources
The Will County Circuit Clerk provides online access to limited case information. See the link below for information on where to find public terminals with access to official court records.
Winnebago County
Named for the Winnebago Tribe of Native Americans, Winnebago County is the state's seventh most populous county with 285,350 residents. Its county seat, Rockford, is also its largest city with a population of nearly 145,000. According to the county's website, this region is home to the nation's sixth-largest concentration of aerospace production workers and has manufactured parts for every contemporary passenger airplane in the sky today. 
Public Information & Resources
Get An Illinois Background Check With GoodHire
Conducting pre-employment screenings is a common hiring practice for employers in Illinois. Partnering with GoodHire enables you to conduct streamlined, accurate, and compliant background checks. GoodHire offers 100+ screening options for employers, using an easy-to-use online platform with FCRA-trained support. To learn more about background checks with GoodHire, reach out to our sales team.
Disclaimer
The resources provided here are for educational purposes only and do not constitute legal advice. We advise you to consult your own counsel if you have legal questions related to your specific practices and compliance with applicable laws.