State Background Checks: A Complete Guide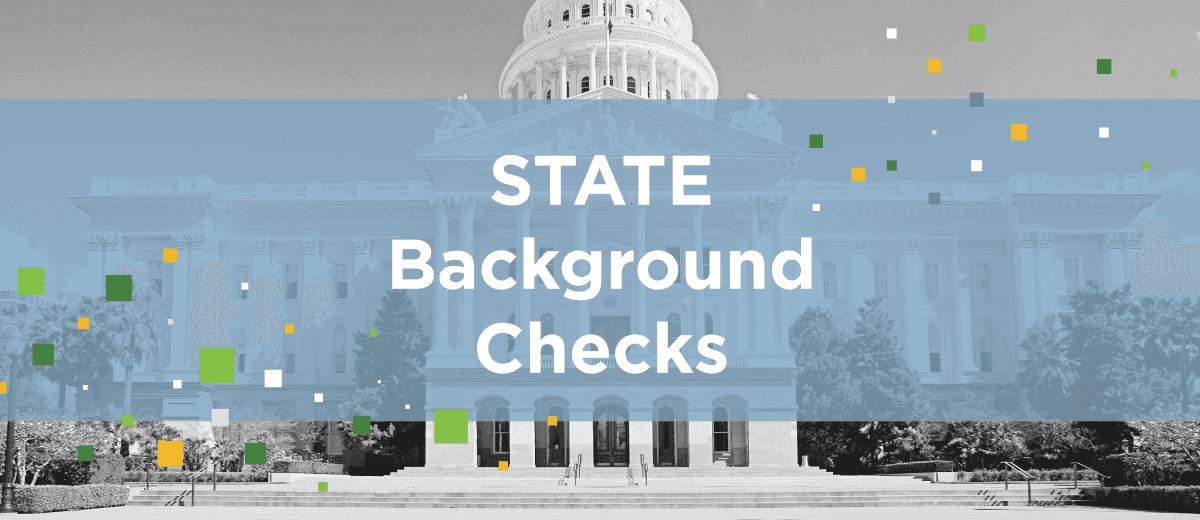 Running a state criminal background check can help you get a window into a candidate's criminal history. Working with a qualified service provider can speed the process while helping you stay compliant with local, state, and federal guidance.
---
National, federal, state, and county criminal background checks together provide a comprehensive view into a candidate's criminal history. A state criminal background check focuses specifically on state-level crimes, which may include felonies and misdemeanors ranging from traffic violations to robbery, embezzlement, or murder. Running a state criminal background check can help you make an informed hiring decision by sizing up the risks involved in bringing a candidate onto your team.
In this article, we'll cover the information that's typically included in a state criminal background check, along with some of the guidelines and timelines that may affect your search. Fair-hiring and ban-the-box laws vary by state, so we'll also discuss how to navigate compliance seamlessly when running state criminal background checks, potentially in multiple jurisdictions. 
What Is A State Background Check?
State-level background checks reveal criminal charges and convictions that are brought against an individual at the state level, including police and law enforcement reports. This includes convictions for misdemeanors like disorderly conduct and felonies such as burglary, as well as pending cases. Laws and courts vary considerably from state to state, so offense severity and dispositions are not necessarily equivalent across various states.
State background checks do not typically show out-of-state criminal history. For candidates who have moved frequently, you can run state criminal background checks in each of the most recent states where they've lived. You can determine this list of locations by running a Social Security number (SSN) trace through your background check provider.
How Far Back Does A State Background Check Go?
Seven years is a typical scope for a state background check, but records may go back indefinitely, depending on state and local laws. To encourage fair hiring practices that promote diversity and inclusion and offer a fair chance to candidates who may have a criminal history, some state laws may limit the look-back period on background checks. This ensures employers aren't confronted with old criminal histories that may no longer be relevant to a candidate's qualifications or character.
7-Year Background Check States
The following states limit criminal background checks to a period of seven years:
California
Kansas
Maryland
Massachusetts
Montana
New Hampshire
New Mexico
New York
Washington
Additionally, Hawaii limits felony convictions to seven years and misdemeanor convictions to five years.
In addition to limiting the time period that may be reported, state and local fair hiring and ban-the-box laws may also regulate the types of information you receive and the processes you may use when evaluating candidates. In California, for example, employers may not consider arrests that did not result in a conviction, referrals to diversion programs, juvenile records, or non-felony convictions for marijuana possession that are more than two years old. The New York City Human Rights Law requires employers to conduct non-criminal background checks prior to making a conditional offer of employment, but to delay asking about criminal history and running criminal background checks until after an offer is made.
10-Year Background Check States (& Beyond)
Background checks in the remaining states, listed below, may go back indefinitely—for 10 years and beyond. And, though federal Equal Employment Opportunity Commission (EEOC) guidance and the Fair Credit Reporting Act apply across all states, the absence of ban-the-box laws in states like Texas and Florida generally means less regulation around how employers can consider criminal records in the hiring process.
| | | | |
| --- | --- | --- | --- |
| Alabama | Georgia | Michigan | North Dakota |
| Alaska | Idaho | Minnesota | Ohio |
| Arizona | Illinois | Mississippi | Oklahoma |
| Arkansas | Indiana | Missouri | Oregon |
| Colorado | Iowa | Nebraska | Pennsylvania |
| Connecticut | Kentucky | Nevada | Rhode Island |
| Delaware | Louisiana | New Jersey | South Carolina |
| Florida | Maine | North Carolina | South Dakota |
How Long Does A State Background Check Take?
The typical turnaround time for a state background check is one to two days. Reports that don't return any records may come back quickly, while any case that requires additional searching or manual review may take six business days or longer. Several factors go into how quickly a criminal background check can be completed.
Timing varies by state
The amount of time needed to complete a criminal background check can vary by state, but working with a consumer reporting agency (CRA) that specializes in background checks can reduce your turnaround time. With immediate access to up-to-date, high-quality data from local, state, and federal sources, a CRA can cut through bureaucratic delays. If a database search returns an alert, signaling that a record has been found, a service provider may have live agents ready to review results, cross-reference data, and verify it for accuracy.
The scope of your search also affects timing
Additional searches are another factor that can add time, especially if they're added after the initial search is completed. If your search extends to county criminal court records (which may not be digitized), or includes verifications such as employment or education, your background check may take a little longer.
Accuracy is also key to avoiding delays. If a candidate provides incomplete or incorrect information, it may slow the process down. Inaccurate results can also cause hiring delays, as disputes may hold up the screening process.
How To Run A State Background Check
You may be able to work directly with your state to obtain criminal records. However, working with a trusted third-party service provider can speed the process and help you navigate complicated compliance issues seamlessly. 
How To Stay Compliant
Considering the many variations in state and local law—along with federal laws like the FCRA and guidance from the EEOC—compliance can be a challenge. A qualified CRA can keep you on track with processes that are up-to-date and compliant at the federal, state, and local levels. Broadly speaking, think about the following steps to build a compliant process:
Apply background checks fairly: Remember that your policy must be consistent: Candidates for similar roles should be screened using a similar screening package. 
Check guidance on timing: Consider state and local laws that may require you to hold off on requesting a background check until after the first interview or until after a conditional job offer is made.
Get written consent in advance: The FCRA requires employers to notify candidates of their intent to run a background check and to obtain written consent from a candidate before conducting one. The candidate also has the right to see a copy of the report and to dispute any incorrect information.
Mind the rules on adverse action: If you decide against hiring or promoting a candidate, you must follow federal rules on adverse action to ensure compliance with the FCRA.
Your background check provider may be able to help by providing processes that help keep you compliant from consent to consideration, all the way through to a final job offer or a thoughtful decline.
Get A State Criminal Background Check With GoodHire
A state criminal background check can provide valuable insight into a candidate's criminal history, which in turn allows you to hire with greater peace of mind. State criminal background checks are among hundreds of background screening options GoodHire offers employers and candidates, including federal background checks, national background checks, and county background checks. If you'd like to learn more about adding state background checks to your hiring process, reach out to our team.
Disclaimer
The resources provided here are for educational purposes only and do not constitute legal advice. We advise you to consult your own counsel if you have legal questions related to your specific practices and compliance with applicable laws.
---