What Shows Up On A Sex Offender Background Check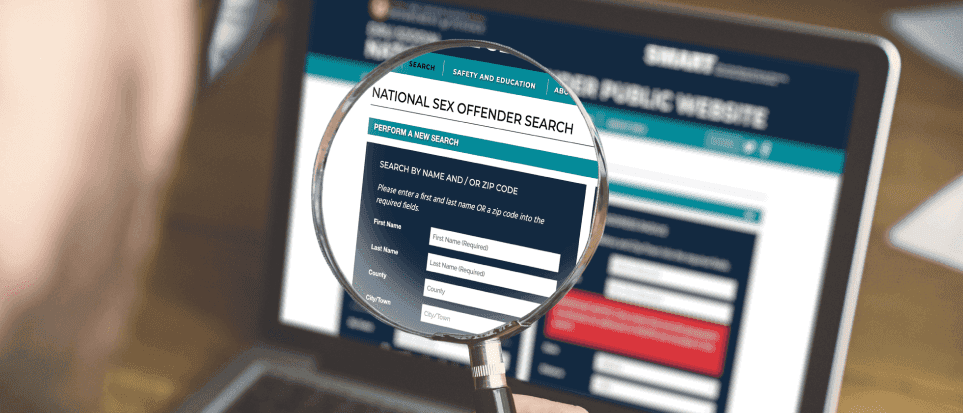 Criminal background checks can help protect your company from legal liability. But do they reveal sex offender status or specific sexually-based crimes—and can you use that information to make a hiring decision?
Here's what you need to know about criminal and sex offender background checks, what these screenings can uncover, and how to comply with relevant laws when making a hiring decision.
---
Conducting criminal background checks has become a critical step in the hiring process for many organizations. Investigating whether potential hires have a criminal history can help to protect your company from legal liability and safeguard your employees, customers and business assets. 
When you run a comprehensive criminal background check on a job candidate, a lot of information may be revealed. For example, criminal background checks will return information about felonies, misdemeanors and infractions; court dispositions, and in some cases sentencing information; pending criminal cases; incarceration history; active warrants and more. But what about registered sex offenders and sexually-based crimes? Do specific crimes show up on a criminal background check? Can employers use the information to make a hiring decision?
In this article, we'll break down everything employers need to know about criminal and sex offender background checks and what information these screenings can uncover about registered sex offenders. 
What Shows Up On A Sex Offender Criminal Background Check?
When you use a consumer reporting agency (CRA) to conduct employment background screenings, you typically have the option to invest in different types of criminal record checks, including a sex offender registry search. This screening typically covers a multi-state registry, which is important because each state has and manages its own sex offender registry. If you search only the state where your company or the candidate is located, you may not get full details of a candidate's background. 
When a sex offender registry search is included as part of a GoodHire background check, and the report shows that the individual is a sex offender, the actual offense is reported in the criminal records section. When conducted as part of a nationwide criminal check, for example, the associated sex offender offense typically appears in the report as long as it can be reported compliantly. In some states, criminal background checks can cover only the past seven years; in others, they can go back indefinitely. 
If the offense occurred before the searchable time frame, a GoodHire background check report won't show the associated criminal offense, but will indicate that the person is on the active sex offender registry. 
In addition to the information revealed in a criminal background check, a sex offender registry search may provide details such as:
The state where the individual is registered
Identifying physical characteristics, such as scars and tattoos
The individual's address, as provided for registration purposes
Although risk information usually won't appear on a criminal background check or sex offender registry search, sexual-related offenses are typically classified by risk levels 1 through 3. Sex offender risk levels are determined by the nature or seriousness of the sexual crime, any previous crimes, and any other circumstances that may increase the individual's risk of re-offending. 
Risk level 1 sex offender: Lowest risk of a repeat offense and lowest risk to the public
Risk level 2 sex offender: Moderate risk of a repeat offense and a slight risk to public safety
Risk level 3 sex offender: Highest risk of repeat offense and a possible threat to public safety
Can Employers Hire A Registered Sex Offender?
There is no easy answer to this question, and will depend on several factors, including the job type, geographic location, and industry, such as those that serve vulnerable populations like child care and elder care. But there's more to it. In some states, using information to make hiring decisions based on information from sex offender registries is complicated, and can lead to serious consequences for hiring managers and companies.
Megan's Law, established in 1994, requires all states to have sex offender registries and make them available to the public. However, some states, such as California, prohibit employers from using sex offender registry data when making hiring decisions, subject to certain exceptions. 
The consequences for misusing sex offender registry information can be steep, costing businesses tens of thousands of dollars in penalties and fines. When faced with a situation where a sex offense turns up on a criminal and sex offender background check, it's crucial to take the right steps to ensure compliance and fair hiring practices. 
Consult your state's laws to determine whether you can use sex offender registry data in your hiring decisions. 
Find out if there are any exceptions or exemptions in your state. These exceptions usually include businesses that work with children, the elderly, or people with disabilities (like adoption agencies, childcare centers, and community care facilities) or public-facing businesses (like governmental agencies, humane societies, and financial institutions). You may also be allowed to use sex offender registry information if another law requires it. 
If you are considering hiring a candidate who has a sexually-based offense on their record, perform an individual assessment based using the Equal Employment Opportunity Commission's (EEOC) "nature-time-nature" approach:
Determine whether any of your employees or clients would be at-risk if you hired this candidate.
Evaluate additional background information and work history, such as how much time has passed since the crime was committed and whether there's evidence of rehabilitation. 
Consider who the individual will interact with within their role. 
Document your risk assessment process.
Before making a hiring decision, review your company's hiring policies and consult with legal counsel to ensure you're not misusing criminal background check information or overlooking any additional factors. 
Ensure you adhere to additional fair hiring and nondiscriminatory laws, such as the Federal Fair Credit Reporting Act (FCRA), EEOC regulations, and Ban The Box laws. 
Turn To GoodHire For In-depth, Comprehensive Criminal Background Checks
Conducting a sex offender registry search as part of your criminal background checks can uncover valuable information about job candidates, and it can be helpful to understand how to read background check results. However, complying with fair hiring and nondiscrimination laws when using this information can be tricky. A potential misstep could put your company, employees, and customers at risk. 
With GoodHire, you can access accurate and comprehensive reports about your candidate, including national, federal, state and county criminal background checks as well as a Sex Offender Registry Search. Our easy-to-use dashboard includes built-in compliance tools to help you follow fair hiring practices if you decide not to hire based on the results of a background check. As a trusted and accredited CRA, we can help you navigate complexities around sexually-based offenses on criminal background checks. 
Disclaimer
The resources provided here are for educational purposes only and do not constitute legal advice. We advise you to consult your own counsel if you have legal questions related to your specific practices and compliance with applicable laws.
---