How To Do A Background Check For Employment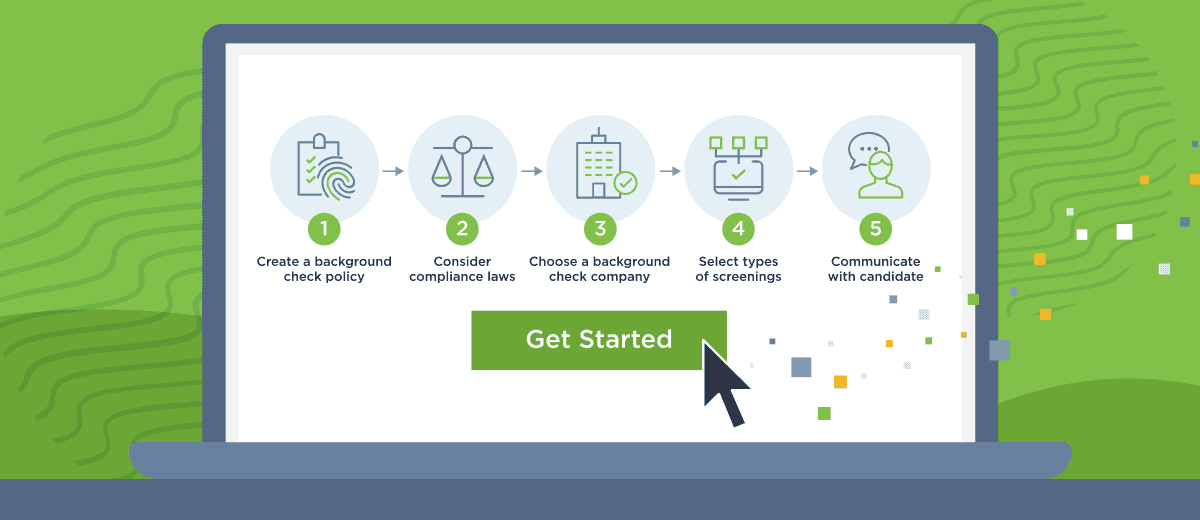 A background check can verify someone's work history, experience, and education; uncover resume lies or omissions; and reveal a criminal history. Conducting employment background checks helps you make smarter hiring decisions, but it's important your background check process is consistent, legal, and fair.
Here's everything you need to know about running employment background checks.
---
Your workforce is the lifeblood of your company. You need qualified, trustworthy employees in order to hit your business goals — but building a high-quality team is no easy feat. More than half (56%) of the people in a recent survey lied on their resume, mostly around work experience, education, skills, and job duties. While a small fabrication may not be a big deal in some industries, it could be downright dangerous and irresponsible in others. 

Candidate omissions can be just as bad — if not worse — than simply stretching the truth. For instance, someone with a recent history of violence may not be forthcoming about their past. An incident in the workplace could put customers and other employees in danger, which could lead to negligent hiring lawsuits and permanent damage to the company's reputation.

Running a background check can help you mitigate these risks and improve your quality of hire.
Step 1: Create An Employment Background Check Policy
A background check policy documents the details of your screening program, so it can be applied consistently across your organization. It should include three things:
Which types of background checks will be conducted, and for whom. It's a best practice to implement background screening across your entire organization, but tailor the employment screening packages by position. For example, you may wish to require credit checks for positions that manage money, and driving record checks for positions that involve operating motor vehicles.
How background check results will affect employment decisions. Your background check policy should specify what types of information you will consider in employment decisions. It's considered a best practice to take into account the nature of the position sought, the nature of the crime, and the amount of time since the conviction occurred.
When background checks will be conducted. Decide the recruitment process stage in which you plan to screen candidates, and the intervals at which you plan to screen current employees. Federal law allows an employer to conduct employment screening at any point after getting the candidate's consent, but state and local laws may be more restrictive.
A written background check policy helps you ensure a fair and transparent process, prevent discrimination, and avoid litigation and enforcement from federal agencies.

Step 2: Compliance: Background Checks For Employment & The Law
Background checks are governed by federal, state, and local laws and regulations. The employer is ultimately responsible for compliance, and failure to do so can result in costly fines, settlements, and lawsuits. 

Here are four potential violations to be aware of:

Consent forms: The FCRA requires employers to inform applicants in writing that a background check will be run for employment purposes. This disclosure needs to be clear and conspicuous and provided as a stand-alone document.
Adverse action: The FCRA also requires employers to follow the three-step adverse action process when they intend to take an unfavorable action based on the results of a background check. Employers must send a pre-adverse action notice with a copy of the background report and a Summary of Rights. Then they must give the candidate reasonable time for the candidate to respond (typically five business days) before sending an adverse action notice.
Ban-the-box: Ban-the-box regulations vary among states and municipalities, but usually require that a background check be delayed until after the first interview or after a conditional offer is made. Ban-the-box laws may also affect the adverse action process, so be sure to check applicable laws.
Title VII: The EEOC enforces Title VII of the Civil Rights Act of 1964, prohibiting employer discrimination based on race, color, religion, sex, or national origin. Some background screening policies may result in disproportionate adverse treatment toward a protected group, especially minority populations that are arrested at disproportionate rates.
Step 3: How To Choose A Background Check Company
Every business is unique, and it's important to choose a background check provider that best fits your specific hiring and screening needs. The best background check service for your company will depend on your hiring volume, business size, number of locations, size of your HR team, budget, background screening policy, and in-house legal counsel. Some features to consider are:
Built-in Compliance: Go beyond FCRA compliance to mitigate risk of unfair hiring practices, as well as lawsuits and penalties related to EEOC, ban the box, and local regulations — particularly if you hire across multiple locations.
Integrated Adverse Action Workflows: Ease compliance with built-in, localized adverse action workflows that alert you when to send pre-adverse and final adverse action notices.
Individualized Assessments: Reduce scrutiny by the EEOC with a built-in way to inform you when individualized assessments are recommended or required.
Flexible Packages: Avoid over-screening candidates and reduce processing times with the right level of background check for your industry, position type, and county.
A Good Candidate Experience: Mobile-friendly workflows and digital consent make starting a check quick and easy. Provide a transparent process for candidates with the ability to log in and see their own background check status and report, from any device.
Integrations: Reduce manual workflows with a seamless integration to your ATS.
Step 4: What Are The Different Types Of Background Checks?
You should be familiar with the different types of background checks and what's included so you know what to expect and how each type of check can help you make timely and informed hiring decisions based on your industry and the positions for which you're hiring. These include:

Criminal record checks: National criminal background checks, as well as state, federal and county criminal checks, report felony and misdemeanor convictions and current pending court cases. Depending on your provider's policies, dismissed charges within seven years may also be reported. Examples of charges that may appear include vandalism, public intoxication, disorderly conduct, violent or sex crimes, fraud, and embezzlement. Employers use criminal record checks to assess whether a candidate could pose a threat to customers or create an unsafe work environment.

Civil court checks: County and federal civil court checks can help you learn about non-criminal suits, claims, and judgements where the candidate is listed as a respondent. These may include small claims, restraining orders, violations of civil rights, and bankruptcies, and may be especially important for positions where employees will have financial or management responsibilities.

Credit checks: An employment credit report shows a candidate's full credit history (but not their credit score), including payment history, civil judgements, tax liens, bankruptcies, unpaid bills in collections, and recent credit inquiries. Reviewing credit history may be required for some jobs, and may be particularly important for positions where access to financial assets, transactions, and decisions are a primary responsibility.

Driving record checks: Motor vehicle reports (MVRs) confirm license validity and provide insight into a candidate's driving history, including DUIs, suspensions, and moving violations. This may be important for positions where employees, volunteers, or contractors will operate motor vehicles for business purposes.

Drug screening: Drug testing provides evidence of recent use of specific prescription and illicit drugs. Routine employment drug testing may help employers maintain a safer, more productive workplace.

Employment verification: Validate your candidate's employment history and job-related experiences. Employment history verification can confirm the information provided by a candidate is true; the work experience is sufficient to meet the position's requirements; and past titles, achievements, or responsibilities are valid. 

Education verification: Verify your candidate's school attendance dates, majors, and degrees, diplomas or certificates earned are valid. An Education Verification search can help to mitigate the risk of hiring a candidate with false credentials, and help you comply with federal, state, local and industry regulations.

Healthcare sanctions checks: An OIG search and healthcare sanctions background check provides insight into a healthcare professional's medical background, including any penalties, suspensions, or punitive or disciplinary actions. This helps you comply with federal regulations and confirm your healthcare practitioners are in good standing.

International background checks: Different types of international background checks can provide international criminal records, education credentials, and employment history for candidates living in the US who have previously lived, worked, or studied in other countries.

Step 5: What Do You Communicate To The Candidate?
It's important to communicate with candidates about your background check process so they know what to expect. Be open with your candidates about why you're conducting the background check, and encourage openness in return. Let the candidate know that they're welcome to see their background check results, dispute any inaccurate information, and add comments in writing, or speak with you, to explain any alerts.

Candidates have rights under the FCRA, laid out in the document A Summary of Your Rights. When you use a background check provider to screen a candidate for employment, you must:
Notify the candidate that you will conduct a background check and that the results could influence your decision to hire them.
Get the candidate's written consent to conduct employment screening through a background check company.
Notify the candidate through a pre-adverse action notice if the results of the background check make you consider not hiring them. You must also provide the candidate with a copy of the background check results; a copy of their rights under the FCRA; and the name, address, and phone number of the background screening company that ran the check. Then you must allow time (typically five business days) for the candidate to file a dispute about inaccurate results. Only then may you send a final adverse action notice in writing if you've decided not to hire them.
The EEOC also recommends considering individual circumstances and context around a candidate's criminal record. These include the nature and gravity of the offense, the time that has passed since the offense, and the offense's relevance to the job sought. An individualized assessment allows the candidate to provide additional context about the offense, and gives them an opportunity to explain.

Other Considerations for Employers
If you're planning to run an employment background check for the first time, there are some additional things you should know:
Hiring for remote positions
Remote work has become much more common, resulting in fewer in-person interviews and more video interviews. To start, it's a good idea to add an identity verification check to add an extra layer of security to the process. To help improve your remote hiring process, we've assembled a step-by-step guide to hiring remote employees.
Delivery times for background checks vary
How long a background check takes varies depending on the types of searches run. Some background check providers can provide basic background checks almost instantly or within the same day. Other screening services, such as county criminal record checks in counties where records aren't digitized, or employer and education verifications, can take up to five days or more to complete.

The FCRA requires company verification
Per FCRA regulations, you must verify that your company is a legitimate business before you can order a background check. The company credentialing process with a background check provider typically takes between one hour and one day to complete.

Use free background checks at your own peril
It's possible to conduct a background check on your own, but it's time-consuming and carries inherent risks. You may have to visit each jurisdiction's courthouse in person, fill out record response forms, and wait for responses. Then you run the risk of losing your candidates to other employers or, worse, not getting the correct results back and basing your hiring decision on incorrect or incomplete information. Or if you use social media to screen your candidates, you run the risk of seeing restricted hiring criteria — like religion or race — and making biased hiring decisions.

You may want to conduct a reference check
Some background check providers can conduct employment and education verification checks, as well as professional reference check services. Reference check interviews that use a series of in-depth, open-ended questions may help you gauge a candidate's character, learn how they might align with your company values, and understand how they may fit into your company culture.

Consider conducting post-hire background checks
Background checks are not a "one and done" thing. It's common to conduct post-hire background checks annually — or more often in certain industries and positions. If you do, be sure to include an "evergreen clause" in your background check consent form, where allowed by state law.
Frequently Asked Questions
How do you run a background check for employment?

There are 5 important steps to follow when performing a background check on someone.

Step 1) Create a Background Check Policy
Step 2) Ensure You Comply With The Law
Step 3) Choose a Background Check Company
Step 4) Choose the Right Types of Background Checks
Step 5) Communicate the Results of the Checks
Get Detailed Step-by-Step 'How To' Instructions
How do you create an employer background check policy?
Are background checks governed by federal, state, or local law?
How do you choose a background check company?

The best background check services for your company will depend on hiring volume, business size, number of locations, size of your HR team, budget, background screening policy, and in-house legal counsel. Some features to consider are:

Built-in compliance
Integrated adverse action workflows
Support for individualized assessments
Flexible packages
Candidate experience
Integration with your HR tech
What do different types of background checks show?

Background checks vary widely and can show an employer a wealth of information about a candidate. Common types of checks include criminal records, civil court records, driving records, drug screening, employment verification, education verification, healthcare sanctions, and international background checks. To learn more about which checks are right for you, read "Step 4: What Are The Different Types of Background Checks?".
How do you communicate background check results to an employment candidate?

It's important to communicate with candidates about your background check process so they know what to expect. Be open with your candidates about why you're conducting the background check, and encourage openness in return. Let the candidate know that they're welcome to see their background check results, dispute any inaccurate information, and add comments in writing, or speak with you, to explain any alerts. Candidates have rights under the FCRA so be sure to comply with these requirements. Read More
Make More Informed Hiring Decisions By Performing A Background Check
A background check is a worthwhile investment to build a high quality workforce that will help you reach your business goals. Tailor your screening policy to your industry and positions, and find a provider that can deliver the data you need — while helping you stay in compliance. With informed hiring decisions, you can improve your quality of hire and mitigate risk.
GoodHire makes employment screening easy. Our US-based support team can provide expert recommendations on which packages work best for your screening needs, while also saving you money by not paying for screens you don't need. Plus, GoodHire's compliance expertise is unparalleled. Find out how we can help.
---
More Than 100,000 Employers Trust GoodHire For Better Background Checks
Disclaimer
The resources provided here are for educational purposes only and do not constitute legal advice. We advise you to consult your own counsel if you have legal questions related to your specific practices and compliance with applicable laws.
---