The Best Background Check Services & Companies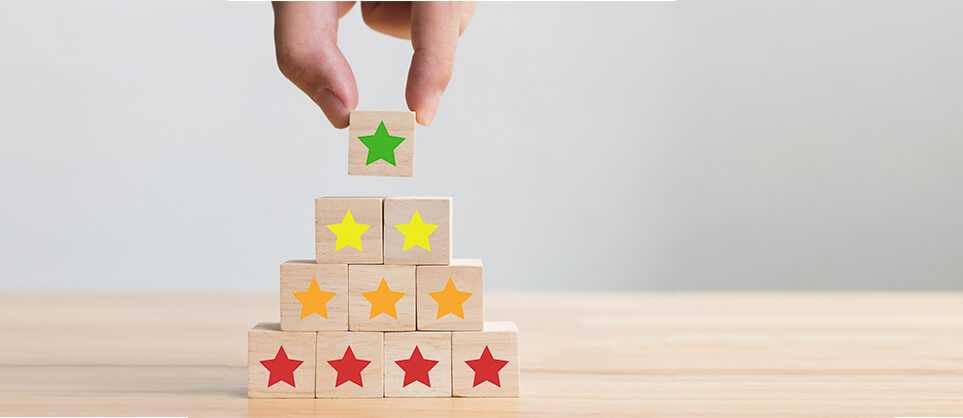 To help you find the best background check service for 2023, we've compiled reviews from leading review publications to create this comprehensive resource. With this guide, you can easily compare the best background check sites for your employment screening and personal needs based on a collection of third-party reviews.
---
What Are The Best Background Checks Services?
Employers that conduct pre-employment background checks as part of their hiring process can choose to handle the screenings directly or work with a consumer reporting agency (CRA). To help you find the right partner for your company's employment screening needs and budget, we've rounded up our top picks for the best background check services of 2023. 
To provide transparency, let's take a look at how we developed our analysis of the best background check services in 2023. First, we compiled recent background check reviews from seven leading third-party review sites and publications. Then we listed all of the background check vendors that were analyzed by these sources and added their scores across all seven reviews to the chart, essentially creating a comprehensive meta analysis so you can easily compare background check companies.
Here's how we calculated and charted the scores: Companies that are named "Best" in the category, or are ranked #1, receive +10 points; companies that were ranked #2 or #3 receive +9 or +8 points, respectively, and so on. (Similar methodologies are used by statistical analysis sites, such as FiveThirtyEight and Metacritic.) Finally, we added the points for each vendor across all seven reviews for the Total Score in the right column.
The Best Background Checks For Employers
Employers that choose to partner with a CRA to conduct pre-employment background checks typically save time and money compared to performing background checks directly, thanks to a more streamlined process, API technology, customizable workflows, and analytics tools. Plus, CRAs generally have more accurate reporting. However, when working with a CRA, employers do need to stay compliant with federal, state, and local fair hiring laws, including the Fair Credit Reporting Act (FCRA) so it's important to partner with a trusted FCRA-compliant background check service provider.
Here's a closer look at some of the best background checks for employers:
In April 2022, Checkr acquired GoodHire. Together, they are among the best criminal background check sites with screening options to help scale your business and an excellent experience for both customers and candidates alike. Checkr is FCRA-compliant and accredited by the Professional Background Screeners Association (PBSA). 
Found at the top of the "best background check service" list, Checkr offers more than 100 background screenings for companies of all sizes, as well as international background checks and industry-specific options. You can easily add extra searches to tiered packages or do custom checks; there's no monthly minimums or subscription fees so you can order as few or many as you need. Compliance, communication, and convenience make Checkr the best background check site for employers. Checkr's technology automates background screening workflows and integrates with popular applicant tracking solutions, while background check results can be filtered in accordance with applicable laws. Plus, there's no charge for sending pre-adverse and adverse action notices through its built-in workflow. 
Key features: Built-in compliance tools, easy-to-use interface, customizability
Pricing: Pre-set packages start at $29.99 per check, with the option to customize with add-ons. You can also get a quote for volume pricing.
2. First Advantage
First Advantage offers a wide range of background checks for employees, volunteers, and tenants that may comply with federal FCRA regulations. First Advantage serves a variety of industries, including insurance, financial services, professional services, transportation, oil and gas, and others. The company offers scalable screening solutions for employers of all sizes – from small business to global organizations. 
In addition to standard pre-employment background checks, First Advantage also offers checks for contractors, freelancers, and vendors. They promise an "applicant first experience" with a mobile app, plus data analytics and diagnostic dashboards to help employers create a more efficient background check process. The First Advantage website offers few specifics about pricing aside from small business checks, while larger companies must contact First Advantage for a quote. 
Key features: Scalable solutions; global capabilities; compliance tools; tenant checks
Pricing: Small business packages start at $29/candidate; larger businesses, contact First Advantage for a quote
3. Sterling
Sterling has been in business since 1975 and offers FCRA-compliant pre-employment background checks for job candidates and volunteers. In addition to general screenings, such as motor vehicle reports and criminal background checks, the company offers other services like credit reports and ongoing monitoring for medical licenses.
Sterling conducts background check services globally and offers solutions for multiple industries, including construction, education, financial services, energy and utilities, and transportation, among others. The company provides both a candidate and client hub as well as reporting and analytics that help hiring managers make data-driven decisions. Sterling's API offers a wide range of integrations with popular HR tech solutions and is scalable to grow with your business. Employers can customize their background check workflow through progressive ordering to save on costs and create more efficiencies. 
Key features: Global capabilities; compliance tools; API integration
Pricing: Contact Sterling for a quote
4. AcccurateNow
AccurateNow is an affordable FCRA-compliant pre-employment background check service designed specifically for small and mid-sized businesses. It offers on demand background checks and makes it simple to get started with pay-as-you-go packages with no monthly fees or minimums. The entry-level package includes an SSN Trace and address history, national criminal check with county verification, and search of the national sex offender registry. 
While the premium package offers a bit more, including a 7-year criminal history, it's still quite limited. Additional screenings can be added, including education and employment verification,  federal criminal search, and motor vehicle reports, but the costs can add up quickly. Sending pre-adverse and adverse action notices is not included with any of the packages, but is available for a fee. AccurateNow offers API and ATS integrations, along with a candidate portal and client ordering dashboard, but does not offer analytics or ongoing monitoring. It's worth noting that larger companies cannot use this service and must work with Accurate, instead.
Key features: DIY options; pay-as-you-go; ATS integrations 
Pricing: Packages range from $30.99 to $77.57 per screening, with a one-time $25 set-up fee
5. HireRight
HireRight provides FCRA-compliant pre-employment background checks for companies, from small businesses to global organizations. It specializes in checks across a wide range of industries, including education, energy and utilities, manufacturing, and technology. Industry-specific packages are available which can be tailored as needed. In addition, the company operates a self-service background check solution on its sister site, Backgroundchecks.com, for small and medium-sized businesses looking for a more affordable option. 
HireRight offers many types of background screenings, including criminal history searches, drug testing, DOT employment verification, and health care sanctions checks. In addition, HireRight offers tools to manage compliance and analytics to help companies create more efficient hiring processes. The company offers an API integration to streamline workflows as well as a user-friendly candidate portal on their mobile app. 
Key features: Global capabilities; industry-specific packages; mobile app 
Pricing: Self-service small business packages through sister company, Backgroundchecks.com start at $33.15; larger businesses contact HireRight for a quote
6. ShareAble
ShareAble is owned by TransUnion, the credit bureau, and offers FCRA-compliant pre-employment background check services for small businesses. It is simple to sign up and companies can choose from three different packages. The basic package is just $25, but offers a very limited set of screenings focused on criminal backgrounds, while the pro package has a more comprehensive list of screenings that include a credit report from TransUnion SSN match, and reported prior employment. 
Additional types of screenings typically conducted during the hiring process, such as motor vehicle reports, employment verification, and drug tests, are not available through ShareAble – limiting the comprehensiveness of the reporting. However, there are no membership subscriptions or monthly fees, and ShareAble provides reports just minutes after a candidate verifies their identity. While there is an online portal that employers use to sign up and run a screening, ShareAble does not provide a candidate platform, API or other integrations, or any kind of analytics data. 
Key features: Pay-as-you-go; results in minutes; limited screening options
Pricing: Packages range from $25 to $60 per screening
7. Certn
Certn is a Canadian background check service that offers FCRA- and GDPR-compliant pre-employment background checks for global enterprises and property management companies. They also offer a self-service option, CertnLime, for small businesses. A range of screenings are available, including criminal record searches, credit checks, and education verification. The company also has a proprietary real-time public records database search option, called Sofcheck.
The company's solution for large enterprises provides quick turnaround times and easily integrates with many ATS providers, while a mobile app is available for candidates to submit their information. CertnLime is more limited than the company's enterprise solution, offering small businesses a pay-as-you-go and a mobile-friendly screening platform that delivers quick results. Its property management solution provides reports for prospective tenants, including credit checks, identity verification, and background checks. 
Key features: Global capabilities; small business option; tenant checks; mobile app; ATS integration
Pricing: Contact company for a quote; Certn Lime: varies
The Best Background Checks For Individuals 
Background checks are not always used for employment. Individuals can choose to run background checks on people for a variety of reasons, including searching for a potential date, new roommate, or long-lost friends and relatives. 
Since these types of consumer background checks are not typically FCRA-compliant, it's important to note that they cannot be used for purposes such as employment or tenant screenings. Here are the best background checks for individual use:
1. Instant Checkmate
Instant Checkmate is not FCRA-compliant but offers individuals the ability to search public records and databases. It includes a people search feature to look up individuals and check for a range of records, including social media, addresses, properties, and employment history. Instant Checkmate's reverse phone number and email lookup can help users identify unknown callers and email addresses. 
The site can be less user-friendly as there are numerous pop ups that appear while you're searching. Pricing information is not the easiest to find and there are many complaints on the Better Business Bureau from people who inadvertently signed up for recurring subscriptions. Before registering for an account, it's a good idea to check the fine print first.
Key features: People search; inmate search; reverse phone and email lookup
Pricing: Pricing starts at $35.12 a month for the people search option, while phone reports start at $5.99 a month
2. Truthfinder
Truthfinder is a consumer background search service that can be used by individuals to search millions of public records and social networks. Truthfinder looks into a range of personal information, including criminal records, employment history, property records, and possible relatives. It also offers a reverse phone number search. If you choose to search your own records and come across inaccurate information, you can update or delete anything that's not correct. 
Unfortunately, Truthfinder is a bit vague about its pricing. Plans are available in one-month and three-month memberships for less than $30 a month. Or, you can pay $2 a month for unlimited phone number searches. Once you start a plan, subscriptions automatically renew unless you cancel before the next billing period. Truthfinder is not FCRA-compliant.
Key features: People search; phone number lookup; ability to correct your personal data
Pricing: From $2 to approximately $30 per month, depending on package
3. PeopleFinders
PeopleFinders can be used to find a person by name, phone number, or address. It includes information found in public records such as criminal records, court records, and civil matters like bankruptcies and foreclosures. It also features a reverse phone number lookup feature that can help identify the name and address of the caller along with their public and criminal records. 
Searches can be conducted online or with the mobile app. There are two levels of membership, which both start at $9.95 for the first month, then jump to $24.95 and $29.95 for the automatic subscription. Before signing up, be sure to check your contract about how to cancel and what you will be charged each month. While PeopleFinders does offer an Enterprise subscription database plan, it's not FCRA-compliant so cannot be used for employment or tenant background checks. 
Key features: People search; reverse phone search; mobile app 
Pricing: Consumer membership starts at $9.95 for the first month, then jumps to $24.95 or $29.95 per month, depending on the plan
4. Intelius
Intelius is a consumer search site that searches for people, addresses, phone numbers, and criminal records. Intelius uses a data search engine to aggregate results from many different public record databases. While it cannot be used for employment or tenant purposes because it's not FCRA-compliant, Intelius can help you search for people you know or review your own background report. 
Intelius has an A rating on the Better Business Bureau and mobile app that makes searches easy, but its costs are highly variable. Pricing starts at just $0.95 for a 6-day trial of their reverse phone number or address lookup subscription, but jumps to $34.95 a month after that. Their people search tool is $42.25 per month. Add-ons are available for extra fees, including downloadable reports and identity protection. 
Key features: People search; reverse phone number lookup; mobile app
Pricing: It's complicated
5. Verified Credentials
QualifiedFirst is Verified Credentials' consumer-friendly background check solution. While Verified Credentials has a separate offering for employers, QualifiedFirst is intended for individuals to "see what employers see" on their background checks. With QualifiedFirst, people can check their own reports in order to make sure that their information is correct and up-to-date. 
The site can be used to enter and manage your own personal information, including qualifications, certifications, and licenses. It also allows users to view public information, such as county criminal records and sex offender searches, as well as driving records, employment, and education histories, depending on the plan. Plans start at $32 a month, or you can build a plan customized to your needs. It is unclear if you can use QualifiedFirst to check someone else's report. 
Key features: Self-check; customizable plans
Pricing: Monthly plans start at $32.00, $46,50, or $85.50 with the option to customize plan features
How Do You Choose The Best Background Check Service?
If you're an individual looking for the best background check service, you'll likely only need to consider your budget and the type of information you need to research. However, if you're an employer there is more to consider to ensure you select the best fit your specific hiring and screening needs. Here's what you need to know about choosing a background check provider for employment purposes. 
Hiring Volume: Think about how many background checks you'll need. If it's only a handful at a time, you may consider providers that offer checks on an as-needed basis which can help you avoid being locked into a subscription fee. But if your hiring volume is high, you'll want to select a provider that enables you to scale efficiently. 
Business Size and Number of Locations: If your company needs to screen candidates across multiple locations, you'll likely need to comply with local regulations, along with state and federal laws. Look for a background check service that can automatically take location into consideration, including any local laws. 
Size of Your HR Team: Companies with a small HR team might want to find a provider that can support the background check process from start to finish. This might include help with selecting the right packages, providing up-to-date forms, and responsive customer support. If you have a larger HR team, a provider that supports both centralized and decentralized teams might be a better fit. To better manage your screening program across locations, departments, subsidiaries, and users, look for a background check service that makes it simple to add multiple users and offers account hierarchy.
Budget: No matter the size of your company, paying for extra screenings or services you don't need or use can affect your bottom line. Choose a provider that offers transparent pricing, plus flexible billing and payment options. 
Background Screening Policy: If you plan to conduct pre-employment background checks, it's important to have a company screening policy in place to help create consistency in the way you assess candidates. Choose a provider that allows you to customize screening packages based on the positions you're hiring for with options to filter results according to your background check policy. 
In-house Compliance Team or Legal Counsel: If you're a smaller organization, you might not have the capacity to stay on top of the legal landscape of background checks, which could put you at legal risk for compliance problems. Working with a compliance-minded background check provider that keeps you up-to-date on the laws and helps support compliance not only provides peace of mind but helps mitigate legal concerns. Larger companies with high volume candidate screening needs may want to look for a provider that can maintain compliance at scale through automated workflows and processes like adjudication and adverse action. 
How Much Do Background Checks Cost? 
Cost can be a deciding factor when choosing the best background check site. It's important to keep in mind that the price of a background check can depend on a wide variety of factors, including the service provider you use, the type of screenings selected, and the number of searches needed. 
For example, GoodHire, A Checkr company, one of the best background check services for employers, offers packages starting at $29.99. This cost includes several basic searches, along with access to compliance tools and simplified workflows for efficient hiring. On the other hand, a service like Truthfinder, which is designed for individual use and not FCRA-compliant, starts at just $2 a month but is much more limited in scope.
Are There Free Background Checks? 
If your budget is limited, you may be looking for the best free background check option since both background check services for employers and individuals typically charge a fee. While it may be possible to conduct a free background check on your own, the process is often time-consuming and tedious. There's also room for error and potential legal consequences if the search isn't conducted according to federal, state, and local laws.
You'll need to have a strong understanding of the types of records you need to check, such as federal, state, or county criminal court records, and how to access the information (e.g. online, visiting a courthouse, etc.). Keep in mind that doing the legwork yourself might be free, but you may have to pay a fee to get a copy of certain records, such as motor vehicle reports. You may also likely need to have the candidate's personal information, including their date of birth and possibly their Social Security number, to locate the correct records. 
What Do Employers Need To Know About Compliance?
Employers that partner with a consumer reporting agency for pre-employment background checks must comply with the Fair Credit Reporting Act (FCRA), a federal law that requires employers to follow regulations to ensure that background checks are done fairly. Under the FCRA, employers must provide candidates with written notice of the intent to do the background check, obtain consent in writing, and provide a summary of rights. Should a candidate not be hired due to information discovered on a background check, employers are required to follow the adverse action process. If you choose to go to the county courthouse yourself, or investigate candidates through online public court databases, then the FCRA does not apply.
In addition to the FCRA, employers must also comply with state and local fair hiring policies, commonly known as "ban-the-box" laws. These laws are designed to protect candidates from discrimination during the hiring process by prohibiting employers from asking questions about an individual's criminal history until they've reached a particular point in the hiring process, typically until after a first interview or a conditional offer of employment. The best employment background check will be conducted by an FCRA-compliant service provider that can support compliance with all applicable laws and provide resources to help you follow regulations.
Get A Background Check Today
The best background check services can help you speed and your screening process. When evaluating and choosing a background check vendor in 2023, it's important to do your due diligence. Check the Better Business Bureau and PBSA for recommendations and accreditation status, and read real user reviews on sites like Capterra and G2 Crowd.
GoodHire, A Checkr company, delivers simple end-to-end employment background checks, offering more than 100 screening options to meet the needs of your company's recruiting. Whether you're a large company managing screening for multiple locations, or a small business needing to run a background check occasionally, we've got you covered. Plus, you can enjoy peace of mind with built-in compliance features, faster turnaround times, and more accurate results. Want to know more? Get in touch with our sales team.
*Website images and pricing mentioned in this article are accurate as of date of publication.
Disclaimer
The resources provided here are for educational purposes only and do not constitute legal advice. We advise you to consult your own counsel if you have legal questions related to your specific practices and compliance with applicable laws.
---