HR Best Practices: The 3 Cs of Background Check Policies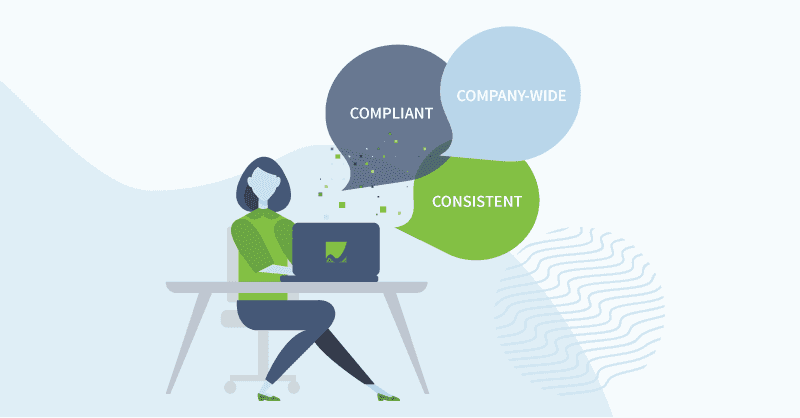 Whether you're setting up your company's background check policy for the first time or updating your policy to stay current, it's important to make sure your policy is fair and complies with federal, state and local laws.
Our guide to best practices will help you ensure that your background screening policy follows the "3 C's" of background checks: company-wide, consistent, and compliant.
---
Background check policies are among the most important to review, and should be done on a regular basis, such as every six months or when a change to the policy is made. Employment screening helps companies hire the right person for the job and protect your employees, customers, and reputation.

Yet, a human resources background check policy must be implemented fairly, and with consideration for all applicable laws. This holds true throughout checks of criminal records, driving records, drug screening, employment credit checks, education and employment verification, and other applicable checks.

To help ensure you're following background check best practices, we've compiled the three C's of background check policies: Company-wide, Consistent, Compliant. Appropriate background check policies should be written with these characteristics in mind.
1. COMPANY-WIDE
Create and apply background check policies across the whole company, even for executive management, and determine whether you want to screen only prospective hires, only current employees, or both. Conducting routine, post-hire background checks is becoming increasingly common and can help you remain compliant with any industry-specific regulations or contractual obligations and aware of any new issues that may develop during the employee's tenure with your company. 

The Equal Employment Opportunity Commission (EEOC) recommends a policy that says all prospective employees will be screened after a conditional offer is made and all current employees will be screened at predetermined intervals. That way, all candidates and employees are treated fairly and consistently.

Assuring that every person you hire has the correct qualifications saves time and effort, while preserving company morale. Even high-level executives have falsified career details that both damage and embarrass their companies. In 2012, Yahoo's CEO left the company due, in part, to revelations that he embellished his education on his resume.

Company-wide policies can (and should) be role specific. Many employers choose different report packages based on the role the job candidate will play once hired. For example, you might construct your policy to require employment verification and education verification for all senior management roles, but not for certain entry-level roles.

Similarly, you might choose to require employment credit checks for senior management or for other positions that have access to significant amounts of money (if allowed by your local laws), but not for positions where credit history is less relevant.  

Obviously, if you're considering candidates for roles that involve driving, it makes sense to check their driving history.

2. CONSISTENT
Pre-employment background screening must also be consistent. Negligence lawsuits may stem from inconsistency in applying HR policies. Inconsistent enforcement opens the door to discrimination charges, and background screening is no exception.

Set up guidelines for the type of screenings your company will conduct for different employee levels, and keep this process consistent across all candidates within those levels. Two candidates applying for the same position should get the same background checks run on them. Screening all potential candidates according to your established policy within each level can help ensure you're treating all candidates fairly and applying policies consistently.

It's also important to consider your criminal background check policy and how criminal records affect your hiring decisions, and be consistent. The EEOC recommends that you consider only convictions that are directly related to the responsibilities of the job.

The safest approach is to avoid policies in which a certain type of crime always leads to rejection. Instead, create a policy to consider all adverse information returned along with these three factors:
The nature of the position sought
The nature of the crime
The amount of time since the conviction occurred
Then allow candidates to provide context about the adverse information that might lead to rejection or termination, and take their statements into consideration.

The EEOC has stated that this process will establish a "business necessity and job relatedness" defense to discrimination claims. It's also fair and rational to get both sides of the story—and it can keep qualified candidates in your talent pool.
3. COMPLIANT
The final, and perhaps most critical, aspect to incorporate into your employee background check policy is compliance with federal, state, and local laws. 

When hiring a new employee, all background checks conducted must be compliant with federal Fair Credit Reporting Act (FCRA) guidelines as well as state and local ban-the-box laws. 

Your employment screening policy should outline when you will run background checks, which can vary depending on your needs and preferences. Under federal law, an employer can conduct employment screening at any point after getting the candidate's consent. However, if you or your candidate is in a city, county, and/or state where a ban-the-box law restricts the timing of a background check, you'll need to comply with those rules as well. 

If you're not covered by a ban-the-box law, it makes sense to screen only the final few candidates or only those who have received a conditional offer. This way, you balance the costs with the benefits of background check information in the hiring context.

The FCRA requires that employers get candidates' consent before running background checks and mandates a specific set of steps employers must follow if the background check returns information that will affect the hiring decision. 

If your background check policy includes post-hire background checks on employees, you may wish to include an "evergreen clause" in the background check consent form that notifies employees and gets consent for periodic screening throughout their employment with your company.

GoodHire's compliance team ensures that our processes are FCRA and ban-the-box compliant and provides our customers with information and resources to help them understand regulations that apply in their states. Further, each GoodHire background check includes integrated adverse action to help guide you through the process.
Review & Update Your Policy Regularly
The reality is that businesses—not to mention government regulations—rarely stand still. Chances are good that your screening needs have changed over time. It's also possible that you're setting up your employment screening policies for the first time.

At GoodHire, we offer national criminal background checks, state, county, and federal criminal checks, motor vehicle records checks, drug screening, credit reports, and ongoing alerts, among many other screening services, to give you the flexibility to customize your screening program to your industry and the specific roles you're trying to fill.

If you need to check those records, you can easily add these searches to any GoodHire employment screening packages. If you're not interested in those searches, you can spare yourself the expense.

Of course, before you update or create any screening policy, make sure to review it with your legal counsel.

You already know that employment screening can help make sure you're seeing a clear picture of your job candidates. Now you know how to create an employment screening policy that is company-wide, consistent, and compliant.

Disclaimer
The resources provided here are for educational purposes only and do not constitute legal advice. We advise you to consult your own counsel if you have legal questions related to your specific practices and compliance with applicable laws.
---