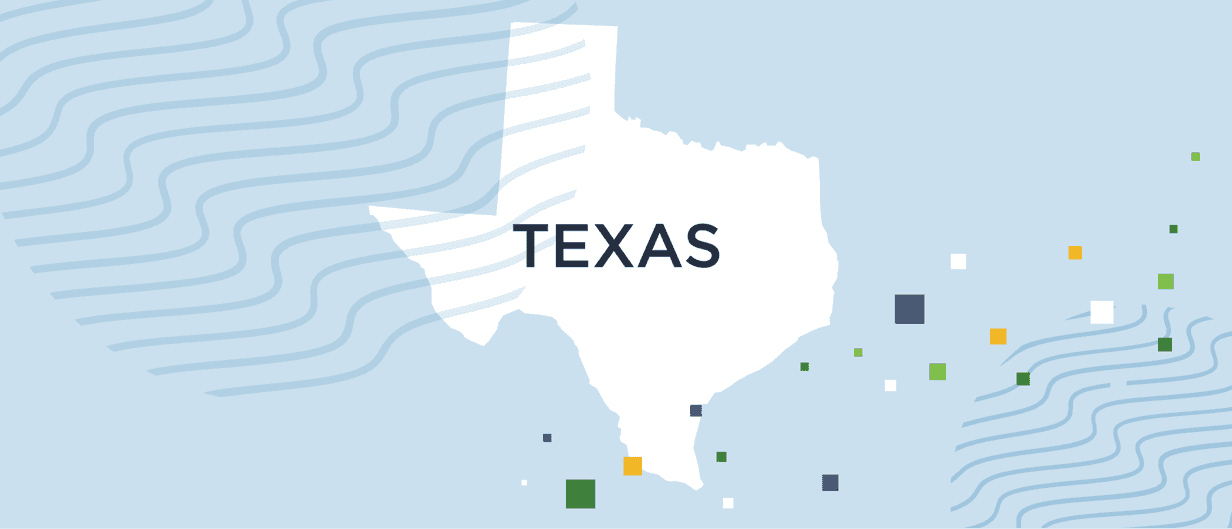 In Texas, employers can use a range of screening options to learn more about a candidate's background, from their criminal history to their past employment. Though Texas doesn't have statewide fair hiring restrictions, following federal guidelines and best practices can help you get the information you need while maintaining a fair and compliant hiring process. Read on for more about employer background checks in the state of Texas.
---
As an employer, you may find background checks helpful to verify information and gain insight into a candidate's criminal, credit, and employment histories. In this article, we'll look at the types of background checks employers typically conduct in Texas: what they show, how far back they go, and how long they might take. We'll also dig into fair hiring laws and practices that can affect how you run background checks. 
Employers may conduct a variety of checks as part of their screening process for new hires or candidates for promotion. Background checks can help verify the information in a candidate's educational and work history. They can also screen a candidate's criminal record, driving record, or credit history. Checking a candidate's background can also provide insight into whether or not they pose a risk to safety, particularly in jobs where they manage people, drive vehicles or operate machinery, handle finances, work with children, or interact with the public. 
What Is A Texas Background Check?
Background checks are sometimes required for specific jobs in Texas. Examples include fingerprint-based criminal records checks for certified educators and non-certified employees in Texas public schools, and employees and volunteers with the Texas Department of Family and Protective Services. Additionally, Texas employers may choose to conduct pre-employment background checks as part of their hiring process.
Whether you're looking into specific job or licensing requirements, or determining a candidate's general qualifications for a job, a variety of screenings are available. Here are some of the employer background checks commonly conducted in Texas:
What Does A Background Check Show In Texas?
What you see in a candidate's Texas background check may depend, in part, on whether you search criminal records yourself or use a consumer report agency (CRA) to obtain reports. Typically, either will show offense information and court records, along with the date of the offense, date of disposition, and prison time or probation, if any. Additionally, some CRAs will report arrests or acquittals. In an effort to support fair chance hiring and reduce unconscious bias, GoodHire excludes arrests and non-convictions from our criminal background check results.
The Texas Department of Public Safety (TXDPS) manages criminal background checks in Texas, including fingerprint-based checks through the FACT Clearinghouse. TXDPS also operates the state's Computerized Criminal History (CCH) system, which acts as a statewide repository for criminal history record information reported by local criminal justice agencies. 
In addition to running state and county criminal background searches within the state of Texas, you may also want to search nationwide and federal databases to view a candidate's criminal history in state and county records nationwide, or to look for a history of federal crimes. 
Criminal records of minors (juvenile records) are usually sealed when they turn 18 years old as long as they don't have felony convictions or pending charges. By Texas law, a candidate does not have to disclose a conviction that has been sealed or expunged by court order. If you encounter sealed or expunged records while doing an employment background check in Texas, you should not use this information when considering a candidate for a job.
How Far Back Does A Background Check Go In Texas?
When conducted by a CRA, the scope of a background check is limited to a specified timeframe based on the type of search. The standard for employment-related background checks in Texas is seven years, except for criminal convictions, which may be reported indefinitely. The seven-year limit applies to tax liens, suits or judgments, and most credit history. Records of bankruptcies may go back as far as 10 years. Texas companies that employ in-home repair people and delivery drivers who enter people's homes must conduct felony criminal background checks going back 20 years and misdemeanor checks going back 10 years on prospective employees before they are hired.
Employers may extend the look-back on non-criminal records if the candidate is applying for a job with a salary of more than $75,000. In this case, records may be searched going back as far as the candidate's 18th birthday. 
Texas motor vehicle record (MVR) reports generally go back three years. 
Employers conducting their own criminal records search (e.g., not using a CRA) are not limited by the seven year scope. 
Finally, there are no time restrictions for looking into employment and education history information in Texas. 
How Long Does A Background Check Take In Texas?
A state criminal background check in Texas typically takes one to three business days to process. County checks vary by jurisdiction and may take longer if, for instance, records are not digitized and must be searched or verified manually. Civil court searches in most Texas counties average seven to 10 business days. Motor vehicle records are usually available within one business day. Turnaround on employment and education verifications can vary widely, with one to five business days serving as the normal range. 
Digital access to records greatly reduces turnaround time. When records are not digitized, the speed at which you receive results will be slower as you or a court runner must visit the courthouse to conduct a search. Additionally, working directly with government agencies by mail can add considerable delay. Receiving a motor vehicle report by mail, for example, takes three weeks after a request is received. 
Efficiency is a good reason to use online resources or work through a qualified consumer reporting agency, like GoodHire, to quickly gain access to millions of records in public and proprietary databases, reducing your turnaround times on common background checks.
Texas Background Check Laws
Although there are no specific Texas background check laws restricting the use of criminal history when making employment decisions, federal fair hiring guidelines still apply. Under the Fair Credit Reporting Act (FCRA), employers must notify candidates in writing and obtain their consent before conducting criminal background checks in Texas. If the information found in a criminal background check causes you to take adverse action, such as rescinding a job offer, you must provide the candidate with a pre-adverse action notice (including a copy of the background check report) and wait five business days before taking final adverse action.
As of December 2021, federal ban-the-box restrictions prevent federal agencies and federal contractors from inquiring about a candidate's criminal history prior to making a conditional offer of employment, unless the job involves national security, classified information, or is subject to another law requiring early screening. 
Further, some counties and cities in Texas have enacted their own ban-the-box restrictions, as listed in the county resources below. Employers conducting background checks in Texas across local jurisdictions should comply with laws in both their own city and county and the city and county where the candidate lives. When in doubt, employers may wish to comply with the strictest laws to avoid potential liability.  
County Resources
The following resources can help you learn more about obtaining background check information in some of the largest counties in Texas.
Bell County
Located in central Texas, Bell County is a short drive to Austin, Dallas, Houston, and Waco. Nearly 380,000 people live in Bell County. Its largest city, Killeen, is home to the US Army's Fort Hood, one of the largest military bases in the world.  
Public Information & Records: 
Bexar County
Home to San Antonio and the Alamo, Bexar County is located in south Texas. With a population of just over 2 million people, it's the fourth most populous county in Texas.
Public Information & Records: 
A local ban-the-box law applies to public sector employers for the city of San Antonio.
Brazoria County 
Brazoria County, just south of Houston, was the first capital of the Republic of Texas. Now home to growing suburbs like Pearland and Manvel, many of its nearly 380,000 residents work at Fortune 500 companies based in the Houston area. 
Public Information & Records: 
Brazos County
Near the center of the Texas Triangle connecting Houston, Dallas, and San Antonio, Brazos County is named for the Brazos River that forms its western border. Its largest city, College Station, is home to Texas A&M University, one of the nation's largest public universities. Its second largest city is Bryan, the county seat. More than 237,000 residents call Brazos County home.
Public Information & Records: 
Cameron County
This southernmost county in the state of Texas is home to the SpaceX Starbase, a private rocket production facility, test site, and spaceport in Boca Chica. Cameron County has a population of just over 423,000 people. Its county seat and largest city is Brownsville, which borders Mexico and the Gulf of Mexico. 
Public Information & Records: 
Collin County
Collin County estimates 80 people move to the county each day, contributing to a growing population of more than 1 million residents. Just northeast of Dallas, Collin County's largest cities include Plano, Frisco, and the fast-growing suburb of McKinney, the county seat. 
Public Information & Records: 
Dallas County
Dallas County includes the state's third largest city, Dallas, and represents the eastern portion of the sprawling Dallas-Fort Worth (DFW) metroplex, the most populous metro area in Texas with more than 2.6 million residents. Dallas County is the headquarters for Fortune 500 companies including AT&T and ExxonMobil. 
Public Information & Records:
Local ban-the-box laws apply in both Dallas County and the city of Desoto.
Denton County
With more than 900,000 residents, Denton County spans the northern portion of the DFW metroplex, encompassing the county seat, Denton, and parts of Dallas, Fort Worth, Plano, Frisco, and Carrollton. It's also home of the University of North Texas and Texas Woman's University.  
Public Information & Records:
El Paso County
Located on the US-Mexico border, El Paso County is home to more than 800,000 residents, 83% of whom identify as Hispanic or Latino. El Paso County is the westernmost county in Texas and one of only two Texas counties in the mountain time zone. El Paso is the county's largest city, followed by Socorro and Horizon City.
Public Information & Records:
Fort Bend County
With more than 858,000 residents, Fort Bend County is among the most populous in Texas. It includes parts of Houston within its borders and its largest cities are the thriving suburbs of Sugar Land and Missouri City; its county seat is Richmond. 
Public Information & Records:
Galveston County
Along the Texas Gulf Coast, Galveston County includes the city of Galveston, founded in 1839 on Galveston Island, and its largest city, League City, a suburb of Houston. Just over 350,000 residents call Galveston County home.
Public Information & Records:
Harris County
Houston is the star of the most populous county in Texas, and it's home to a flourishing, multicultural metro area with more than 4.7 million residents. A vibrant cultural and dining scene, higher than average wages, a low cost of living and a booming job market make Harris County a center of growth for the state.
Public Information & Records:
Hays County
Located in the beautiful Texas Hill Country, Hays County is part of the Austin-Round Rock metropolitan area. Its 2020 population of 241,000 marked a 53% increase over 2010, making it one of the state's fastest growing counties. San Marcos and Kyle are its largest cities.
Public Information & Records:
Ban-the-box laws apply to both public and private sector employers in the city of Austin.
Hidalgo County
Near the southern tip of the state, Hidalgo County is located in the Rio Grande Valley on the US-Mexico border. Its largest city, McAllen, is a popular retirement destination for snowbirds looking to escape the cold weather. More than 880,000 residents live in Hidalgo County; the county seat is Edinburg.
Public Information & Records:
Jefferson County
Beaumont is the county seat and the largest city in Jefferson County, located in the Gulf Prairie region of southeast Texas. Jefferson County's population is nearly 254,000. The county's Sabine Neches Waterway is the third largest port by tonnage in the US, serving deep-water ports at Beaumont, Port Arthur, Orange, and Sabine Pass. 
Public Information & Records
Lubbock County
Lubbock County is home to the largest contiguous cotton-growing region in the world, Texas Tech University, and the city of Lubbock, a regional economic, education, and healthcare hub. Its population is more than 314,000.
Public Information & Records:
McLennan County
The largest city in McLennan County, Waco, is home to Baylor University. Waco accounts for 138,000 of McLennan County's nearly 261,000 residents. 
Public Information & Records:
Montgomery County
Montgomery County belongs to the Houston metropolitan area and includes parts of Houston itself. This fast-growing county includes the master-planned suburban community The Woodlands, which is only slightly smaller than Montgomery County's largest city, Conroe. Nearly 650,000 residents live in Montgomery County.
Public Information & Records:
Nueces County
Nueces County faces the Gulf of Mexico to the east and includes the city of Corpus Christi, its county seat. In addition to having a billion-dollar tourist business and one of the largest US ports, Corpus Christi houses a naval base and an army depot. It is the largest city in Nueces County, home to more than 350,000 residents county-wide.
Public Information & Records:
Smith County
Smith County is located in northeast Texas and has a population of just over 237,000. Its largest city, Tyler, is home to the University of Texas at Tyler and is widely regarded as a world capital of rose cultivation. 
Public Information & Records
Tarrant County
With more than 2 million residents, Tarrant County is the third most populous county in Texas. Its county seat, Fort Worth, anchors the western portion of the DFW metropolitan area and is home to American Airlines corporate headquarters. Tarrant County's other large cities include Arlington, Mansfield, and North Richland Hills.
Public Information & Records:
Travis County
Nearly 1.3 million people live in this county in south central Texas. Its county seat is Austin, the capital of Texas and home to the University of Texas at Austin, the SXSW festival, and a thriving tech sector. Sometimes billed as a more affordable alternative to California's Silicon Valley, the Austin metro area is also a cultural hub with a thriving music and restaurant scene.
Public Information & Records:
Local ban-the-box laws apply in Travis County and to both public and private sector employers in the city of Austin.
Webb County
Webb County is the largest county in South Texas and the only US county to border three foreign states: Coahuila, Nuevo Leon, and Tamaulipas in Mexico. Its county seat and largest city, Laredo, is the top inland port along the US-Mexico border. Webb County's population is nearly 268,000.
Public Information & Records
Williamson County
Sometimes known as Wilco, Williamson County is part of the greater Austin metropolitan area, with more than 643,000 residents. Its largest city, Round Rock, is the headquarters for Dell. Georgetown, Cedar Park, and Leander are other up-and-coming suburbs.
Public Information & Records:
Local ban-the-box laws apply to both public and private sector employers in the city of Austin.
Get A Texas Background Check With GoodHire
Although Texas offers many state and local resources for employers conducting background checks, working with a trusted CRA, like GoodHire, can streamline the process and deliver the results you need with speed, accuracy, and service. GoodHire offers 100+ screening options for employers, allowing you to bypass multiple points of contact and bureaucratic details so you can focus on hiring quality candidates. Working with GoodHire not only saves you time and effort, but also helps you maintain compliance from start to finish. To learn more about background checks with GoodHire, reach out to our sales team.
Disclaimer
The resources provided here are for educational purposes only and do not constitute legal advice. We advise you to consult your own counsel if you have legal questions related to your specific practices and compliance with applicable laws.