New Fair Chance Act Amendments Mean Two-Stage Background Checks for New York City Employers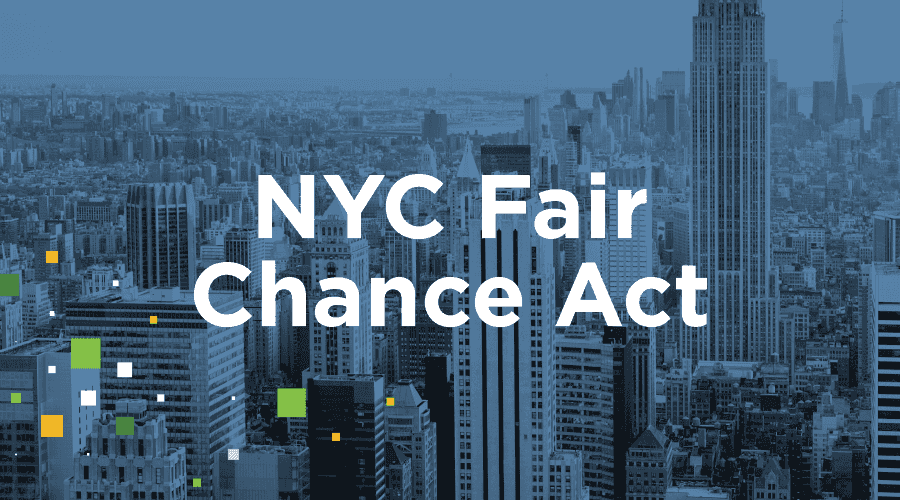 If your business is based in New York City or you have employees who work there, amendments to the New York City Fair Chance Act (FCA) that took effect July 29, 2021, may affect how you conduct background screenings for job candidates. Failure to comply with the new guidance could expose your business to liability. 
In this blog, we'll explain how the FCA has been amended, whether your business is affected, and what to do to stay compliant when running background checks. 
---
Expanding Protections for Job Candidates With Criminal Histories
The New York City Human Rights Local Law 4 of 2021 amended the New York City Fair Chance Act to provide new protections for job candidates with criminal records. Under new guidance issued by the New York City Human Rights Commission (NYCHRC), which enforces the FCA, criminal background checks must now be the very last step in the hiring process. 
According to the new guidance, employers must conduct all non-criminal background screenings, such as employment verification, education verification, drug testing, reference checks, and civil checks such as credit reports or bankruptcy searches, before making a conditional offer of employment. 
Once you've made a conditional offer based on information in non-criminal background checks, you can ask about the person's criminal history and get their permission to conduct a criminal background check. Because motor vehicle records checks may include criminal offenses, such as driving under the influence, they must also be delayed until after a conditional offer is made. 
Similar to existing ban-the-box laws in many states, New York City's FCA already required delaying criminal background checks until after a conditional offer of employment. To simplify the background check process, many employers do not conduct any background checks until after they make a conditional offer. Now, best practice for employers in New York City will be to use a two-stage background screening process.
Watch this short video for a brief overview.
How the New Law Affects the Background Screening Process
Employers who use third-party Consumer Reporting Agencies (CRAs) like GoodHire to conduct background checks typically receive all background check results in one report—including criminal background checks and motor vehicle checks. For employers affected by the new guidance, it's now best to conduct background checks in two separate stages: 
Conduct non-criminal checks first (such as employment and education verification checks that don't reveal criminal records)
After extending a conditional offer, conduct criminal records checks next (such as national, federal, state and county criminal searches, as well as motor vehicle record checks)
The NYCHRC notes that getting background check data in two stages helps protect the employer from liability for discrimination. If you disqualify a candidate who has a criminal history at the first stage of the hiring process—before you know about their criminal history—you can show that the decision was not based on a criminal record.
How GoodHire Helps You Comply With the New Guidance
Employers who use GoodHire for their background checks can design a two-step screening process by creating two screening packages: one that includes all non-criminal checks and allows you to review those results first, then a second package that includes criminal history searches and MVR reports. 
You'll perform the non-criminal package on the candidate first, and if you decide to make a conditional offer, you'll run the criminal package after that offer has been made.
Please reach out to our Support Team or your assigned Customer Success associate for assistance; new customers can have a Sales Associate set this up for you when a new company account is created. 
While the NYCHRC hasn't banned "all-in-one" background checks, it has added some requirements that make them time-consuming and risky. If you conduct all of a candidate's background screenings at once, when results come back, you must segregate the results of criminal and motor vehicle record checks from other results so that decision-makers can't see any criminal history information until after a conditional offer is made. 
You'll need to develop an internal system for segregating criminal information and, in case of a lawsuit, be able to prove that the information was unavailable to decision-makers before the conditional offer was made. Clearly, it's a lot easier to simply move to a two-stage process for background checks. 
Who Is Affected by the New Law?
If you employed four or more people within the past year (including yourself, paid or unpaid interns, and any full-time, part-time or temporary workers), and at least one of those employees work in New York City, the law applies to your business. The four employees don't have to work in the same location, as long as one of them works in New York City. 
There are some exceptions to the law. If an existing state or federal law prohibits people with criminal records from working in a particular occupation, that law supersedes the New York City law. However, if the existing law allows the employer to use their discretion when evaluating criminal records, the employer must follow the New York City law. 
How to Rescind a Conditional Offer After a Criminal Background Check
After receiving the results of a criminal background check or motor vehicle report and assessing the candidate in accordance with New York City's Fair Chance Process, you may decide to rescind the conditional job offer. Conditional offers may be withdrawn based on criminal record information, or, in the case of a motor vehicle report, either criminal or non-criminal information included in the driving record.
If withdrawing a conditional offer, be sure to follow the two-step notification process required under the Fair Credit Reporting Act (FCRA). Send the candidate a pre-adverse action notice that includes a written copy of the background check results and a written copy of your Fair Chance Analysis, and give them time to respond to your concerns. 
Previously, New York City's FCA required employers to keep a job open for at least three business days after sending the pre-adverse action notice. The new guidance extends that waiting period to five business days. 
GoodHire simplifies the pre-adverse action process by automatically sending candidates a copy of their background check results and providing interactive tools candidates can use to respond to employer concerns or dispute inaccurate information. Since waiting periods vary based on local regulations, the correct waiting periods between each step is built-in to the workflow based on your and your candidate's locations, and GoodHire will alert you when you're legally allowed to perform the next step. 
Giving Job Candidates a Fair Chance
Affected employers should review their hiring process, background check process, and adverse action process to make sure you comply with the NYCHRC's new guidance. If you use a third-party screener to handle your background checks, contact them to find out how you can adjust your process to more easily follow the new guidelines. GoodHire's Support Team is available to help.
While the NYCHRC's guidance may add complexity to the hiring process, the end results are meant to benefit both employers and employees. Giving job candidates with criminal histories a fair chance at employment helps them re-enter society and break the cycle of recidivism; further, there is evidence that former offenders may be more loyal employees. 
By properly adjusting your background screening process to meet the requirements of the new law, you can protect your business and give job candidates who've interacted with the criminal justice system a fair chance. As a leader in compliance, GoodHire is closely following this and other developments in employment law to help keep our customers in the know … and in compliance. 
Disclaimer
The resources provided here are for educational purposes only and do not constitute legal advice. We advise you to consult your own counsel if you have legal questions related to your specific practices and compliance with applicable laws.
---