GoodHire's Platform is Built to Optimize Turnaround Times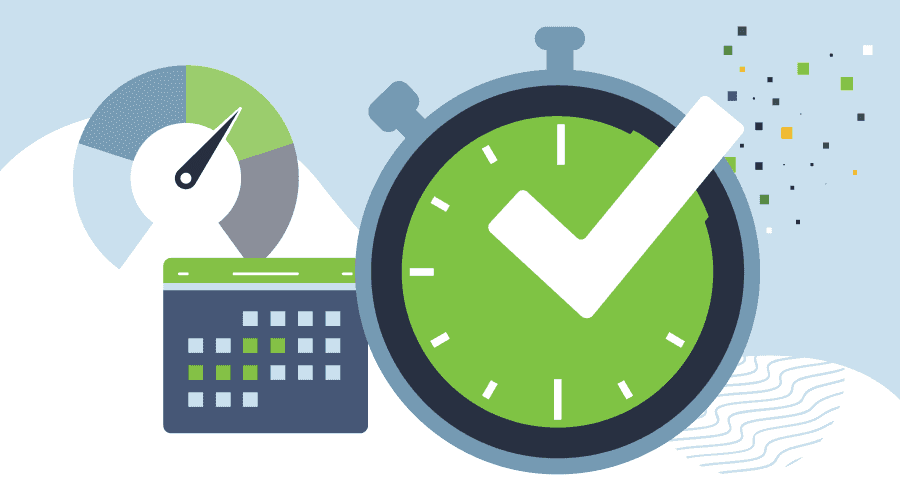 All background check turnaround times are not the same. GoodHire uses innovation, automation, and advanced technology to continuously decrease turnaround times while providing accurate results.
Learn what GoodHire is doing to speed turnaround times, and get the median turnaround times for GoodHire's most common background checks.
---
You may think background check turnaround times are the same, no matter which provider you use. However, your provider's platform, process, and data engine play a critical role, and not all providers actively work to decrease turnaround times through continuous innovation, automation, and advanced technology. 
How GoodHire is Different
At GoodHire, we work to reduce turnaround times by finding new data sources and automating access to them. We curate and host over a billion records from over 2,100 different sources, which gives us instant access to up-to-date, high-quality data from local, state, and federal sources. 
Our Data Team regularly evaluates and adds new data sources to our offering to continually improve our coverage and turnaround time. Over time, this means our turnaround times get faster.
Our most recent update to GoodHire's data engine has reduced turnaround times by 93% for our most common county criminal database search, for results with no alerts.
GoodHire's Background Check Turnaround Times
Background check turnaround times vary depending on the type and number of searches ordered; geographic location of candidates; and county courthouse operations (for example, some county court records are not digitized, requiring a court runner to manually obtain the record).
Many background checks with "clear" results—a database search where no record is found—will be completed much faster, some almost instantly. In fact, 85% of background checks are returned within one minute.
Background checks with "alerts"—a database search where a record is found—will take slightly longer. Why? To assure maximum possible accuracy, our process uses both automation and human intervention to provide reliable results you can trust. GoodHire's US-based FCRA-certified quality assurance team reviews results with alerts, cross-references data, and verifies it for accuracy. Reliable results delivered the first time not only mitigates potential legal risk, but also means it's less likely your candidate will file a dispute and slow the screening process. GoodHire's industry-leading dispute rate is <.05%.
Following are GoodHire's median turnaround times for the most common criminal background checks. (Note: the clock starts as soon as your candidate provides consent.) 
Type of Background Check
Median Turnaround Times for "Clear" Results
Median Turnaround Times for Results with "Alerts"
Nationwide Criminal Databases Search
Instant
Median: <1 day
Range: 3 hours – 3 days
Statewide Criminal Records Search
Median: 6 hours
Range: 1 hour – 2 days
Median: 6 days
Range: 3-8 days
County Criminal Court Search
Median: 2 hours
Range: Instant – 1.5 days
Median: 6 days
Range: 3-10 days
Sex Offender Registry Search
Instant
Median: 3 days
Range: 1-7 days
Domestic Watch List Search
Instant
Median: 2 hours
Global Watch List Search
Instant
Median: <1 hour
MVR Search
Median: 1 hour
Range: 1-7 hours
Median: 1 hour
Range: 1-3 hours
Get Fast, Accurate Results with GoodHire
With GoodHire, you'll get fast turnaround times and reliable results. Our screening platform provides visibility into the progress of your reports, including estimated delivery times, status alerts, and automatic notifications when results are returned. 
To further streamline your background check process, our platform delivers capabilities that automate repetitive and complex tasks, such as candidate e-consent, bulk ordering, automated adjudication and results filtering, and a built-in adverse action workflow. 
Ready to try GoodHire for your business? Schedule a call to learn how our advanced background check platform can help you screen and hire faster.
---