GoodHire's Consistently High Net Promoter Score Tops the Industry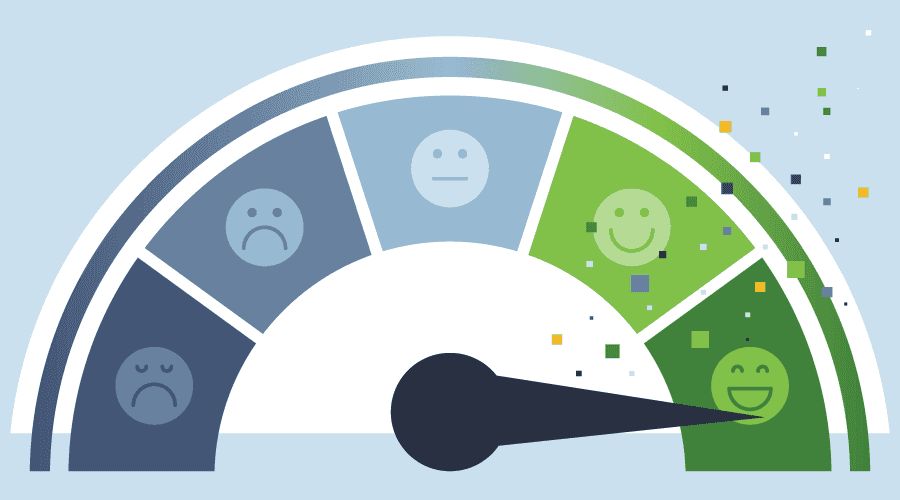 A Net Promoter Score (NPS) is used by thousands of companies to measure customer experience satisfaction and the likelihood a customer would refer the business to others. GoodHire's is +63, surpassing the software industry NPS average of +41.
Find out what NPS means, how it's measured, and why it's so important to us at GoodHire.
---
"On a scale of 1-10, how likely are you to recommend GoodHire?" 
According to recent data, GoodHire's current Net Promoter Score is +63, a score that has remained consistently high over the last two years. We're proud to share that this surpasses the software industry NPS average of +41, and places GoodHire in the company of some of the world's top brands in terms of customer satisfaction.
What is a Net Promoter Score & Why Does it Matter?
The Net Promoter Score (NPS) is used by thousands of companies and is a proven way to measure customer experience satisfaction and the likelihood that a customer would refer the service to someone. A high Net Promoter Score is a strong indication that a company takes customer feedback and satisfaction seriously, and goes above and beyond the industry standard to do so.
GoodHire measures NPS because "Customer Delight" is one of our Company values, and we need continuous feedback from customers to deliver and improve upon the exceptional support, services, and customer experiences that GoodHire provides. The NPS is a key top-level metric for GoodHire, and one for which the entire organization is held accountable. 
Here's how it's measured: Customers are asked how likely they are to recommend a product or service, on a scale of 1-10, and why. Those who give a rating of 9 or 10 are considered promoters, those who give a rating of 7 or 8 are considered passives, and those who give a rating of 6 or below are considered detractors. Subtracting the percentage of detractors from the percentage of promoters provides the Net Promoter Score.
GoodHire's Scores Are on Par With Other Leading Companies
Companies known for their excellent customer satisfaction have Net Promoter Scores in the high 50s or higher. These include Trader Joe's, National Park Service, USAA, Navy Federal, Southwest, and Tesla. Like GoodHire, these brands invest in customer satisfaction, and it shows.
Of course, Net Promoter Score can vary by industry. Multichannel banks, investment firms, and airlines have average Net Promoter Scores between 10-20. Yet, Navy Federal has one of the highest overall scores—1.8 times higher than that of the next highest rated multichannel bank. We are humbled to share that GoodHire's Net Promoter Score similarly surpasses the software industry average of 41.
GoodHire Monitors User Satisfaction in Multiple Ways
GoodHire uses different tools to both track NPS and keep a pulse on user satisfaction, which helps us better understand user satisfaction as well as respond to concerns or issues quickly.
Internal NPS Software
NPS software within the GoodHire platform continuously collects feedback from customers. Our current Net Promoter Score is +63 overall, and has been consistently high over the years—surpassing the software industry average by more than 20 points.
G2
G2 is a third-party review site for business software and services. Reviews and user satisfaction data come directly from GoodHire's customer base, and are based on their own use of the product. In addition to collecting reviews and publishing user satisfaction scores, G2 measures GoodHire's Net Promoter Score, which is currently +84.
TechValidate
TechValidate, an independent research organization, surveys our customers annually to better understand how they benefit from using GoodHire, as well as to measure user satisfaction and capture direct feedback. The most recent survey shows 95% of customers are likely to recommend GoodHire, giving us an NPS of +60 in 2020, up from +46 in 2019. 
Customers Love GoodHire's Ease of Use, Customer Support, and Fast Turnaround Times
We love hearing from our customers to better understand what it is about GoodHire that makes our company, product, and services different from other background check vendors. Here's what our customers have to say:
"The GoodHire platform has had a very positive impact on our organization. The ease of using the platform and fast turnaround times has helped to reduce our time to fill and consequently increase our bottom line in some areas." — Daniel J. on TechValidate
"GoodHire is an efficient service that meets all our needs for background checking but above and beyond that the customer service is amazing. Our customer rep is very responsive, very helpful, and goes above and beyond to ensure any issue or question we have is immediately resolved. I couldn't ask for anything more." — Emily C. on G2
"Our overall experience has been great. The dashboard is very straightforward and easy to follow. GoodHire provides tools, resources and regular updates regarding compliance. With everything going on due to the pandemic, their customer support is very responsive and has resolved all issues we were experiencing. We are a very satisfied customer." — Kristina S. on TechValidate
GoodHire's Simply Better Background Checks Keep Our Customers Happy
In a crowded space, our continued focus on delighting our customers and leveraging technology to make background checks easier and more user-friendly is what sets GoodHire apart. We'd like to thank our incredible customers for their feedback, and the GoodHire team for their dedication to great customer satisfaction and support. We are truly grateful for each of you.
Disclaimer
The resources provided here are for educational purposes only and do not constitute legal advice. We advise you to consult your own counsel if you have legal questions related to your specific practices and compliance with applicable laws.
---