Do GPAs Matter On Resumes? What To Consider In The Recruitment Process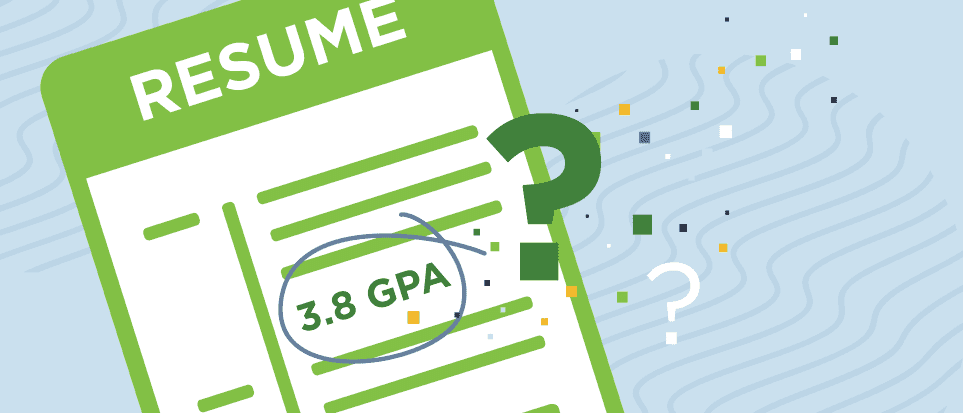 More than half of employers still screen job candidates by their Grade Point Average (GPA). Should you? Find out what you should consider when deciding whether to ask candidates for their GPA and how including Education Verification in your background check can help you make informed hiring decisions.
---
When employers are considering new candidates for job positions, they may run into questions concerning GPAs—questions that candidates may have, too:
Should a GPA be included on a resume or job application?
Does a GPA matter for getting a job?
How important is a GPA?
The answers, of course, depend on several criteria, including your company's hiring policy, the hiring circumstances, and the types of positions for which you're hiring.
Some companies have already taken a stance about the importance of asking for GPAs. Nearly a decade ago, Google's Senior VP of People Operations boldly stated that GPAs are essentially useless information, as it doesn't relate to anyone's overall success in their job and at the company. While this decision may work for some companies, it may not work for all. 
In fact, nearly 57% of employers still screen candidates by their GPA. While this is a significant decrease from 2019 (73.3%) and 2020 (63%), it still accounts for more than half of employers that still deem this information necessary during the screening process.
So, should you ask candidates for their GPAs when applying for jobs at your company? Here are some circumstances you may want to consider.
If You're Hiring For Internships 
Many employers participate in internship programs where they hire candidates who are typically still in school working toward their degree or certificate. This is usually a temporary hire—paid or unpaid—to give students an opportunity to get real-life work experience in a particular field or trade. Internships also create opportunities to train and prepare interns for a full-time position at the company or elsewhere upon completion of their education.
Because internship candidates may have minimal (or no) work experience, their GPA may be one of the few indicators or reflections of their qualifications and work ethic. Setting a GPA threshold can help narrow down the pool of candidates who may be considered more qualified.
However, in these instances, employers may also want to consider additional factors such as:
Personal and educational achievements
Participation in organizations (school, professional, or community)
Honors
Cover letter, and more
Ultimately, deciding whether to ask for a GPA when hiring for internships, and its relative importance for consideration of a position, is up to each company. However, to eliminate confusion among candidates who aren't sure whether to include their GPA, make it a point to communicate whether you want that information on their application and/or resume.
If You're Hiring For Entry-level Positions
Like internships, candidates applying for entry-level positions may also not have a lot of professional work experience. In many instances, employers seeking to hire for these types of positions may be looking for candidates who have recently graduated from college, completed training in their field, or have very few years of work experience—anywhere from one to three years. With these hires, companies may also be more willing to invest in training to help them grow in their position and/or gain professional experience.
With minimal work experience to review and consider, you may find that a GPA is helpful in hiring for entry-level positions and narrowing down the pool of qualified candidates. That's because it can speak to desirable traits in a candidate, such as work ethic, organization, and effort.
Also, similar to internship positions, employers may also want to consider additional information provided on candidates' resumes, cover letters, and job applications to make the most informed screening and hiring decisions. Once you decide whether candidates' GPAs are relevant to the positions you're hiring for, be sure to clearly state that you want it included in their application.
If You're Hiring For Mid- Or Senior-level Positions
Mid- or senior-level positions typically require candidates who have been in the workforce for several years—anywhere from five to eight or more years, respectively. This most likely means candidates have been out of school and/or training for just as many years, if not more.
For these positions, GPAs may not be relevant to employers, as candidates actually have tangible work experience, applicable skills, a certification or license, and professional references to consider during the screening process. What's more, many career experts say that candidates should leave their GPA off of their resumes if they are more than three years out of college. As a result, many candidates may not even consider putting their GPA on their resume—just the school they attended and degrees or certificates earned.
There are, of course, exceptions for those who obtain higher-level degrees while in the workforce, such as law degrees, an MBA, or a training certificate. In these instances, you may want to seek candidates' GPAs, as their performance in school is more directly related to the skills needed for specific roles or promotions (like transitioning from a mid-level position to a senior-level or management one).
Looking Beyond The Number
While GPAs on resumes and job applications can be helpful for employers, it's also important to look beyond the number. That's because a simple GPA doesn't provide context or explain certain circumstances for each candidate. Some examples might include:
Their curriculum was particularly easy or extremely difficult
They may have suffered a personal setback during their education that affected their overall GPA
Their personal background may impact their GPA
GPAs may be calculated differently based on their school
That's why employers may want to consider additional information provided by the candidate as well as conduct thorough screenings like Criminal Background Checks, Education Verification checks, and Professional Reference Checks. Why? The more accurate information you have, the more you'll be able to paint a clearer picture about the candidate—all of which help you identify more qualified candidates and make more informed hiring decisions.
Making The Decision
For employers deciding whether to seek out candidates' GPAs, you should determine how much it actually affects their overall qualifications for the position. In other words: How much does it matter?
You may find that for some positions, like internships and entry-level jobs, a GPA is helpful information when finding and hiring qualified candidates. For other positions, like mid- to senior-level ones, a GPA is no longer all that relevant.
Or, you may decide that GPAs aren't useful for any position you hire for. No matter your decision, be sure to communicate when GPAs are required so you're not leaving candidates in the dark (or automatically disqualifying them if they don't provide it).
Employers can also confirm additional information about candidates' backgrounds with Education Verifications through GoodHire. With these screenings, employers can ensure candidates are being honest on their resumes by verifying:
Universities, colleges, or vocational schools attended
Dates attended
Type of degree or certificate obtained
Major
Graduation date
Even without a GPA, Education Verification can help you hire qualified candidates, mitigate risks of hiring candidates with false credentials, and protect your company against liability claims.
It's a good idea to verify your candidate's educational claims. GoodHire offers Education Verification checks and hundreds of employment screening services.
Disclaimer
The resources provided here are for educational purposes only and do not constitute legal advice. We advise you to consult your own counsel if you have legal questions related to your specific practices and compliance with applicable laws.
---