A Guide To Mandatory COVID Vaccines In The Workplace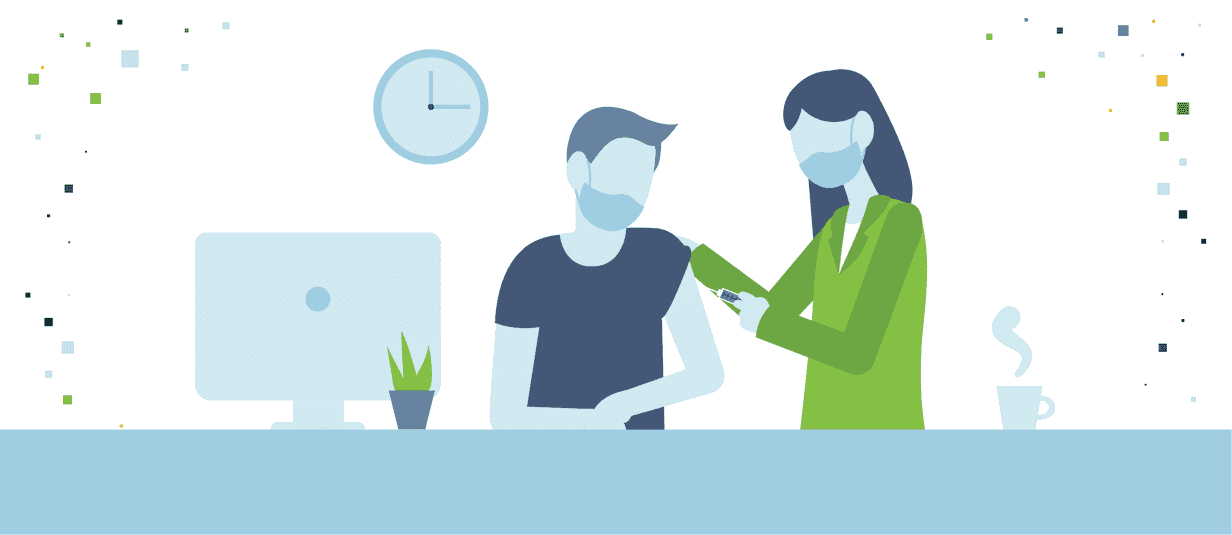 Many employers are wondering whether or not they should mandate employees or incoming candidates get the COVID-19 vaccine. Is the COVID-19 vaccine mandatory for everyone, and is it legal to require employees get vaccinated?
Get answers to common questions employers and employees have about vaccination and the workplace.
---
With COVID-19 vaccines now available in the United States since January, many employers are considering making the coronavirus vaccine a requirement for current employees or a prerequisite for incoming candidates.
This possibility brings up a number of questions for people on both sides of the hiring desk.
In this guide, we'll empower you with everything you need to know about the COVID-19 vaccine and regulations surrounding mandatory vaccination so you can make the best decision for your company. 
COVID Vaccine In The Workplace 
After the White House chief medical advisor announced that by early summer, the COVID-19 vaccine would be widely available and distributed, industries across the board may be considering whether or not to require their employees to get the vaccine.
Here are answers to the two most commonly asked questions about COVID vaccinations in the professional world.
Legal Precedent for Making Vaccinations Mandatory at Work
The precedent was set in 2009 when the Equal Employment Opportunity Commission (EEOC) said that US employers could require employers to be vaccinated against the flu. Exceptions to this fall under the Americans with Disabilities Act and Title VII of the Civil Rights Act of 1964. 
The Pros of Mandatory Covid Vaccines in the Workplace
The greatest advantage to vaccinating all employees is obviously the peace of mind both employers and their staff will be able to achieve. 
Other benefits of instituting a mandatory COVID-19 vaccine protocol include:
The Cons of Mandatory Covid Vaccines in the Workplace 
One negative potential drawback to mandating the COVID vaccine is that some employees will feel that their free will is being taken away. 
According to data gathered in a March 2021 survey by The Harris Poll: 
Encouraging Rather than Demanding Vaccination at Work
Employers who would like to have their entire team vaccinated can always encourage, rather than mandate, employee vaccination. Employers could also consider incentivizing their workers to get the vaccine.
Learn more about paying employees for time-off to get vaccinated, as well as guidance from the CDC about creating supportive policies for employees.
When it comes down to it, employers will need to take time to weigh the potential benefits against the potential drawbacks of mandating the vaccine in the workplace—this means if you are currently an employer without a game plan, it's time to start making one.  
Everything You Need To Know About The COVID-19 Vaccine
What is a Vaccine?
Vaccines prevent diseases by teaching your immune system to recognize and attack germs that cause a certain disease without exposing you to the disease. 
Vaccines contain trace amounts of a severely weakened or killed virus, enough to trigger your immune system into action but not enough to make you sick. That way, you can develop immunity to a disease without having to have the disease. 
How Does the COVID-19 Vaccine Work?
The Pfizer and Moderna COVID-19 vaccines are an innovative response to vaccination. A normal vaccine would offer trace amounts of the disease to help our body become immune.

But the Pfizer and Moderna COVID-19 vaccines (also called the COVID-19 mRNA vaccine) use the power of mRNA. mRNA is the body's messenger—it's like a microscopic set of instructions that teaches cells to make proteins. In fact, in a single cell of your body, you have over 200,000 mRNA molecules.

A COVID-19 mRNA vaccine teaches our cells to make a harmless COVID imposter cell for our immune system to learn to recognize and destroy.
Different from COVID-19 mRNA vaccine is the recently developed Johnson & Johnson COVID vaccine. This vaccine uses more traditional technology, specifically known as an adenovirus. By modifying the existing adenovirus, the vaccine makes sure the resulting adenovirus doesn't have the capability to reproduce in the body. This is how the body protects itself from COVID-19. This vaccine also only requires one dose.
Who Can Get the Vaccine? 
President Biden has directed all states to make adults eligible for the vaccine by May 1st, 2021. As of March 24, nearly every state has announced plans to meet the President's directive.
The CDC continues to update its guidelines to local, state, and federal governments on vaccine rollout recommendations. Depending on the state in which you reside, the COVID-19 vaccine is available to select groups of people, but many states have already opened it up to anyone age 16+.
To help you plan for your future workplace health and safety policies, you'll find the most up-to-date information about vaccinations in your area from your local health department.
Currently, the CDC recommends that these groups (1a-1c) be first in line to receive the vaccine.
How Safe is the Vaccine?
You want to ensure your workplace is a safe space for all of your employees. So as you consider whether you can make the vaccine mandatory, you may also be concerned about the vaccine's safety. 
Thankfully, you have no reason to worry. Here's everything you need to know about the safety of the COVID-19 vaccination:
According to the COVID-19 Prevention Network, scientists developing the vaccine didn't take any shortcuts or cut any corners. They note that most vaccines take up to a decade to develop because of limited resources and the time it takes to obtain funding for the next phase of vaccine creation. 
It took less than a year to develop the COVID-19 vaccine, thanks to ample funding from the United States government. In fact, the US invested over $12 billion in developing the safest and most reliable vaccine possible.
According to a February 2021 article from Harvard Health Publishing, the overall effectiveness of the COVID-19 vaccine has been reported to be in the range of 70-95%, which is "well above the average effectiveness of the flu vaccine."
Statistics for the effectiveness of the different vaccines currently available include:
How is the Vaccine Made?
Under the rules of the US Food and Drug Administration (FDA), all vaccines must go through four phases of clinical research.
Navigate COVID Vaccines In The Workplace With GoodHire 
As the COVID-19 vaccine becomes widely available in the US, employers may be considering mandating that all employees get vaccinated in order to continue working for them. While a mandatory vaccination policy is not officially required, it may become a reasonable accommodation to bringing people back into their office or workplace safely. 
In an ever-changing pandemic landscape, employers may decide to ramp up hiring now that vaccinations are becoming more widely available. Luckily, GoodHire provides better employment screening services and FCRA-compliant background checks to help businesses screen their new employees. 
Looking for pre-employment screening and background checks? GoodHire's top-rated background check platform is easy to use and FCRA compliant. GET STARTED
---