Navigating The Return To Work In A Post-Pandemic Economy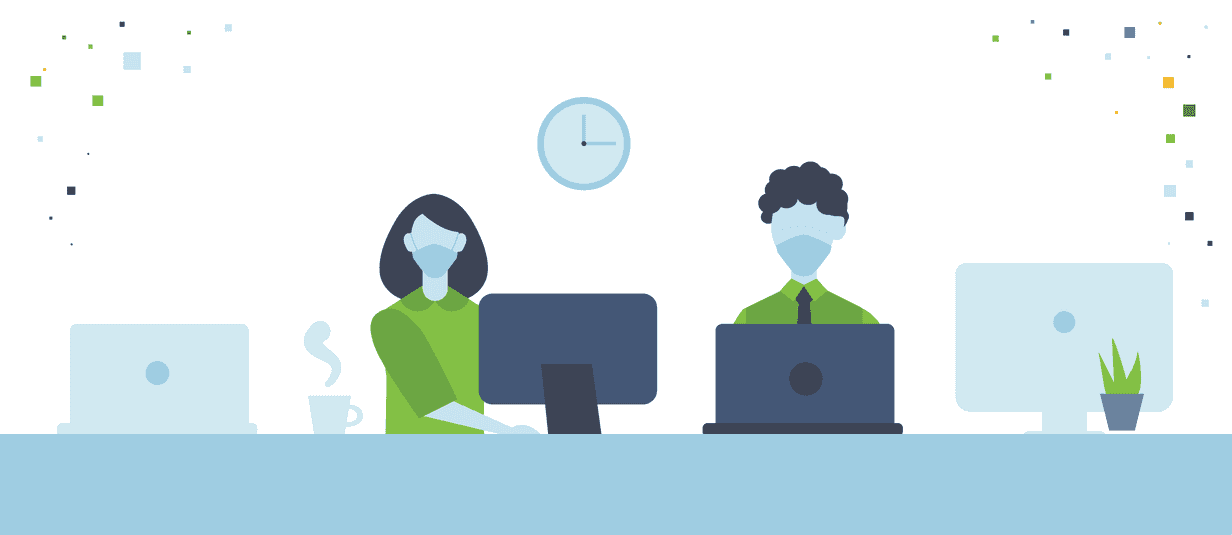 More than a year after the COVID-19 pandemic hit, many businesses are reopening and returning to "business as usual." But what will that look like? Find out how US employers are navigating the return to work in 2021, how employees feel about it, and how to ease the transition from remote work to an on-site or hybrid working model.
---
More than a year ago the COVID-19 pandemic sent the country—and the world—into a tailspin. Now, there now seems to be a light at the end of the tunnel, as about 46% of Americans believe that the worst part of the pandemic is behind us and are ready to move forward. 
And the number of Americans vaccinated has steadily increased. As of May 17th, 122,999,721 people have been fully vaccinated, according to the CDC. 
That's 37% of the population.
The current U.S. unemployment rate is 6.1%, which is still higher than pre-pandemic levels, but is at a much more stable level than the 14% rate we saw at the height of the pandemic. 
This means that more and more businesses are starting to reopen and return to "business as usual," and many need to bring current employees back to the office as well as recruit new employees. 
As an employer, you may be faced with hiring remote workers, in-person workers, or those who choose to pursue a hybrid work model. As the economy picks back up and you're hiring more candidates, employee screenings and background checks will continue to be a critical step before hiring a new team member. 
What will your new workplace model look like? Read on to learn more about how American employees and their employers feel about navigating the return to work in 2021, along with tips for how to ease the transition from remote to an on-site or hybrid working model. 
Employers & Employees Look At Hybrid, Remote Models
Seventy-seven percent of CEOs, COOs, and HR and finance leaders stated that they'd be returning to a hybrid work model 12 months from now, according to a comprehensive report by the LaSalle Network. 
Hybrid models may look like:
Hybrid 1 – Entire teams remain fully remote, other teams work fully on-site
Hybrid 2 – Certain team members remain remote, while other employees of the same team work on-site
Hybrid 3 – Individuals work remotely part of the week and in-person the rest of the week
While employers may yearn for the days when they could have all employees on-site, not all employees are ready to make that leap. Many would like to continue working from home indefinitely. 
According to research from the Pew Research Center, 54% of employees say that if given the option, even if everyone is fully vaccinated, they'd prefer to keep working from home after the pandemic. 
While research shows younger workers and parents are having a harder time working from home, those who are successfully working from home say the benefits of this new work environment include:
Having the technology and equipment they need to do their job (87%)
Meeting deadlines and completing projects on time (80%)
Having adequate workspace (77%)
Being able to get work done without interruptions (68%)
Feeling motivated to do work (64%)
The Pew Research Center found that 65% of people who are working remotely say that using remote technologies like video conferencing or instant messaging are good substitutes for in-person contact. 
This begs the question: Will the workplace ever look the same again?
Your New Workplace
Whether you choose to have your employees come back into the office, work remotely, or both, there are a few steps employers can take to make everyone feel as comfortable as possible during this transition.
As the world returns to normal, employers can:
Outline a clear, concise plan for returning to the office, as well as an exit plan if COVID numbers spike again. 
Be prepared to accommodate a more flexible work environment. 
According to an online survey of over 2,000 office workers across 10 countries conducted by commercial real estate company JLL, 66% of employees are expecting to be able to work from different locations post-pandemic.
JLL found that 1 in 3 employees are asking for less dense work environments and the top two expectations of employees are for spaces that provide a direct connection to the outdoors as well as spaces that "foster socialization." 
47% of respondents said they expect their employer to support their technological needs with the right remote tools, and 36% said they expect their employer to support an allowance so they can set up the proper work environment.  
Continue implementing heightened sanitary practices like installing spray disinfectant units around the office and hands-free toilets and sinks in the bathroom. Change out air filters regularly and continue to screen employees for signs of sickness before they enter the office. 
No matter which work model your company implements, flexibility and transparency are going to be critical factors going forward for both new hires and veteran employees. With about 70% of workers feeling uneasy about returning to office, it's to be expected that employers will continue to adopt safety precautions to make their staff comfortable. In addition to the above, it's predicted that most employers will encourage frequent hand washing, social distancing, and wearing masks in office. 
Return To Work Smoothly With GoodHire 
As employees return to the office and new individuals seek out either in-person or remote employment, it will be more important than ever for employers to run background checks.
More than 80,000 employers have trusted GoodHire's competitively priced, FCRA-compliant background checks to hire smarter and faster. 
In fact, 78% of customers say GoodHire is easier than other employee background check providers and 71% say they spend less time processing background checks with GoodHire than they did with previous vendors. 
GoodHire can set your company up for success no matter your specific needs—depending on the size of your business, you can choose GoodHire's basic, standard, or premium background checks, or customize as many packages as you need for your business. 
Ready to get your workplace fully functioning again? Give us a try and see why employment screening with GoodHire is simply better.
disclaimer
The resources provided here are for educational purposes only and do not constitute legal advice. We advise you to consult your own counsel if you have legal questions related to your specific practices and compliance with applicable laws.
---