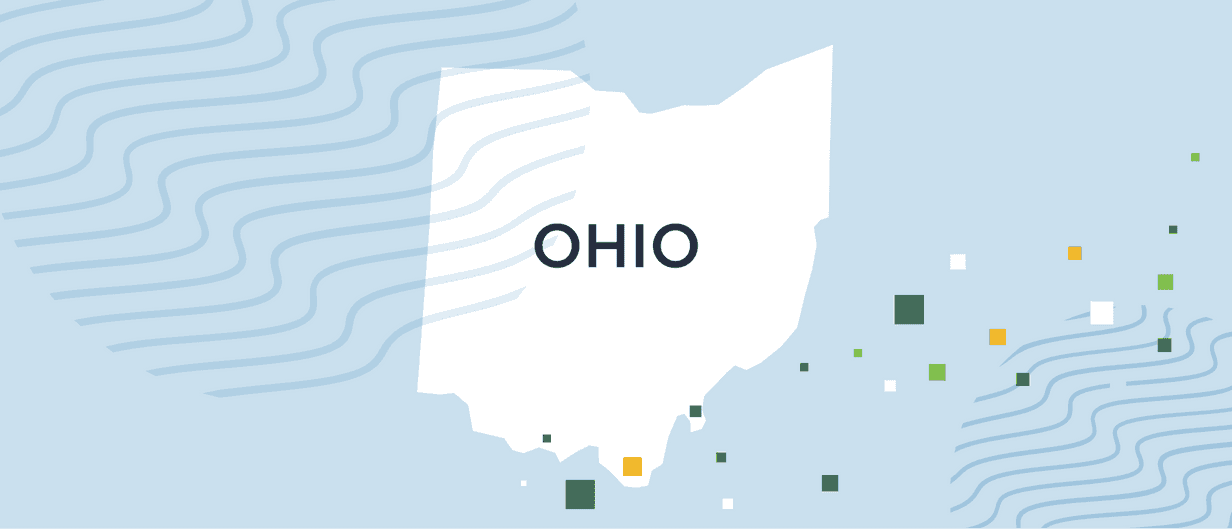 Pre-employment background checks can be used as a tool to provide employers with key information about a job candidate's identity, criminal, employment, and education history, and qualifications. But, navigating Ohio background check requirements and staying compliant with fair hiring laws can be challenging. Learn more about what an Ohio background check entails, how to get one, and what laws may affect your search.
---
Employers often use background checks to assist in making informed hiring decisions by identifying candidates that are a good fit for their organization. In Ohio, employers may conduct background checks themselves, or work with a third-party provider that offers a range of screening options to help you access the information you need and get fast, accurate, compliant results. Read on for more about how Ohio employers may use pre-employment background checks and how to conduct them at your organization.
What Is An Ohio Background Check?
An Ohio background check is a screening used by employers to learn more about job candidates, volunteers, and independent contractors during the hiring process. 
An Ohio background check for employment  may include:
National, federal, state, and county criminal background checks to look for felony and misdemeanor convictions
Employment and education verification to confirm a candidate's work history, degrees, and credentials
Credit checks to review a candidate's credit history, including collections and bankruptcies
Motor vehicle record checks to learn more about a candidate's driving history and license status
Civil court checks to search for civil judgments including lawsuits and bankruptcies
Criminal background checks may be required by law for certain positions: childcare or elder care workers, for example. Credit checks are common for positions in banking and finance or those with fiscal responsibility. Driving records are required for commercial driving positions regulated by the Department of Transportation, and may be advisable for any employee who drives on the job. 
How Far Back Does A Background Check Go In Ohio?
How far back an employment background check in Ohio can legally go depends on two factors: the type of background check you are conducting, and whether you're working with a Consumer Reporting Agency (CRA) or searching on your own. 
Background checks conducted through a CRA are governed by the federal Fair Credit Reporting Act (FCRA), which applies a seven-year lookback period to arrests that did not lead to convictions, liens, collections, civil judgments, and bankruptcies. These time limits do not apply to positions with a salary of $75,000 or more and searches conducted by employers themselves (rather than through a CRA). Under the FCRA, criminal convictions may be reported indefinitely, regardless of the age of the record. 
Motor vehicle record abstracts in Ohio, for both commercial and non-commercial drivers, go back three years.
Verifying a candidate's education, credentialing or licensing, and employment history, for example, can go back as far as necessary if conducted without the help of a CRA. A CRA may limit these searches to seven years of history. 
FBI vs BCI Background Checks In Ohio
The FBI and the Ohio Bureau of Criminal Investigation (BCI) both provide fingerprint-based criminal background checks for employment in Ohio. What's the difference between an FBI background check in Ohio and a BCI Ohio background check?
Both FBI and BCI fingerprint-based criminal background checks are conducted through the Ohio BCI. Both screenings match fingerprints with state and county arrest records. A BCI search is limited to the state of Ohio; an FBI check searches nationwide.
Positions that require fingerprint-based criminal history searches may specify an FBI search, BCI search, or both. As an example, counselors, social workers, and marriage and family therapists in Ohio may be required to undergo FBI and BCI criminal background checks. The same is true for licensed, certificated, or credentialed school employees and registered nurses seeking licensure.
If you're hiring for a position that requires fingerprint-based background checks, you may want to consider working directly with the FBI or BCI. Most CRAs, including GoodHire, do not offer fingerprint-based criminal background searches.
Partnering with a CRA may provide you with a more complete and accurate criminal history of job candidates. Fingerprint background checks have limitations due to incomplete, outdated, or inaccurate data, much of which is based on arrests. Because arrests do not always lead to convictions, reviewing a candidate's arrest record may be misleading or lead to unconscious bias in the hiring process.
CRAs use a combination of private databases and direct courthouse access to source actual court records focused on final dispositions rather than arrests. CRAs often limit the scope of information contained in background reports as well, so employers only consider information that is FCRA compliant. This may help you reduce unconscious bias in your hiring process and ensure candidates are treated equitably.  CRAs are also likely to deliver faster results. A background check with BCI can take 30 days or longer to complete, with no option to expedite. Though timing can vary with a CRA as well, criminal background checks commonly turn around in one to three business days.
Ohio Background Check Laws
Employers conducting background checks in Ohio must comply with the FCRA, while also being careful to comply with state and local background check laws. 
Ohio has a statewide ban-the-box law that applies to all public sector employers. The Ohio Fair Hiring Act (HB 56) prohibits public sector employers from asking about an applicant's criminal background on a job application. Under the law, public sector employers are prohibited from asking about an applicant's criminal background until a conditional job offer has been made. Additionally, before taking adverse action based on information found in an Ohio criminal background check, public sector employers must first conduct an individualized assessment.
Additional rules apply to candidates with sealed court records. People who have been convicted of a crime or who have forfeited bail may have their records sealed to the public. Ohio background check laws prohibit employers from asking about a candidate's sealed records, and candidates are allowed to respond to questions as if sealed convictions or bail forfeitures never occurred. 
Many cities and counties in Ohio have local screening laws that may apply to you and your candidates based on location, such as fair hiring and ban-the-box laws. When in doubt, employers may wish to comply with the strictest laws to avoid potential liability.
County Resources
BUTLER COUNTY
Located north of Cincinnati, Butler County is home to 390,357 Ohioans. The county's most populous cities are Hamilton, Middletown, Upper Arlington, and Oxford, where 18,800 of the town's 23,535 residents study at Miami University, ranked among the top 50 national public universities by US News & World Report.
Public Information & Records:
CUYAHOGA COUNTY 
Cuyahoga County is a large urban county that includes Cleveland, home of the Browns, the Cavaliers, the Guardians, and the Rock & Roll Hall of Fame. More than 1.2 million residents call Cuyahoga County home, with most living in Cleveland, Parma, and Lakewood. Major employers in the Cleveland area include the world-famous Cleveland Clinic, Progressive Insurance, and paint company Sherwin-Williams.
Public Information & Records:
Local ban-the-box laws apply to public sector employees in both Cuyahoga County and the city of Cleveland.
FRANKLIN COUNTY
Franklin County is the most populous in Ohio with more than 1.3 million residents. Its county seat, biggest city, and the capital of Ohio is Columbus, followed by Dublin, and Grove City. The area is one of the largest universities in the US, Ohio State University, with nearly 60,000 undergraduate and graduate students, supporting a lively arts, theater, museum, and cultural scene, as well as a bustling local economy.
Public Information & Records:
A local ban-the-box law applies to public sector employees in Franklin County.
HAMILTON COUNTY 
Hamilton County, is home to Cincinnati, ranked the place to live in Ohio by US News & World Report, citing its museums, professional sports teams, and wide selection of restaurants as proof of its livability. With a population of 304,548, Cincinnati is by far the largest city in Hamilton County, followed by Delhi and Riverside.
Public Information & Records:
Local ban-the-box laws apply to public sector employees in both Hamilton County and the city of Cincinnati.
LICKING COUNTY 
Located 40 minutes east of Columbus and named for the Licking River that runs through it, Licking County has 178,519 residents, nearly 50,000 of whom live in the county seat, Newark. It is known for a series of Native American earthworks, remnants of which still exist, and for the rural and small-town feeling it has retained throughout the years. After Newark, its most populous cities are Pataskala and Heath.
Public Information & Records:
A local ban-the-box law applies to public sector employees in the city of Newark.
LORAIN COUNTY 
Lorain County is part of the Cleveland metropolitan area. It's home to 312,964 residents, many of whom live in its largest city, Lorain. Once known as "Steel City" for the steel mill that supported the town, Lorain is now the site of Ford Motor Company's Lorain Assembly Plant. Other notable cities include North Ridgeville and Avon Lake. Lorain County is also home to Oberlin College and Conservatory.
Public Information & Records: 
LUCAS COUNTY
Roughly 270,000 of Lucas County's 431,279 residents live in Toledo, also known as "Glass City" for its history as a commercial glassmaking center. Lucas County is bordered on the east by Lake Erie and on the southeast by the Maumee River, providing a fair amount of waterfront—and even beachfront—access, unusual in a landlocked state. Among the brands that call Toledo home: Jeep, which originated in Toledo as Willys-Overland Motors in 1945. 
Public Information & Records:
A local ban-the-box law applies to public sector employees in Lucas County.
MAHONING COUNTY
The largest city in Mahoning County, population 228,614, is Youngstown. Located halfway between Cleveland and Pittsburgh, Youngstown sits squarely in the nation's Rust Belt, but it's working to revitalize its economy. Youngstown State University brings an infusion of 11,000 students into the area each year, which has helped to fuel a resurgence of businesses downtown.
Public Information & Records:
A local ban-the-box law applies to public sector employees in the city of Youngstown.
MONTGOMERY COUNTY
Montgomery County is the fifth-most populous county in Ohio with 537,309 residents. Its largest city is Dayton, followed by Kettering, and Huber Heights. The Dayton area is known as the birthplace of aviation, thanks to hometown heroes Orville and Wilbur Wright. It's currently home to the Wright-Patterson Air Force Base, which employs more than 27,000 people. 
Public Information & Records: 
A local ban-the-box law applies to public sector employees in the city of Dayton.
STARK COUNTY 
Stark County is located south of Akron, near the center of the triangle created by Cleveland, Columbus, and Pittsburgh. Its largest city, Canton, is home of the Pro Football Hall of Fame and birthplace of the National Football League. Other cities in Stark County include Massillon and Alliance. Stark County's major industries are education and health services; manufacturing; trade, transportation, and utilities; professional and business services; and leisure and hospitality.  
Public Information & Records:
Local ban-the-box laws apply to public sector employees in the cities of Alliance, Canton, and Massillon.
SUMMIT COUNTY 
Named for being the highest point on the Ohio and Erie Canal, Summit County is an urban county south of Cleveland. The county's biggest city, Akron, was once known as the "Rubber Capital of the World," and is headquarters to the Goodrich Tire Company and the Goodyear Tire & Rubber Company. Akron also features an historic arts district and is the hometown of NBA superstar LeBron James.
Public Information & Records: 
Local ban-the-box laws apply to public sector employees in both Summit County and the city of Akron.
TRUMBULL COUNTY 
Located north of Youngstown in the northeastern part of the state, Trumbull County is home to 201,977 residents. Its largest city and county seat is Warren, the first US city to have streetlights. Warren is also the birthplace of Packard automobiles. After Warren, Trumbull County's largest cities are Niles, Hubbard, and Cortland. 
Public Information & Records: 
A local ban-the-box law applies to public sector employees in the city of Warren.
Get An Ohio Background Check With GoodHire
Employers in Ohio looking to conduct background checks for more informed hiring decisions–while also navigating legal compliance–can simplify the process by working with a qualified CRA, like GoodHire. GoodHire offers 100+ screening options for employers, using an easy-to-use online platform with FCRA-trained support, making the process easy to navigate from start to finish. To learn more about background checks with GoodHire, reach out to our sales team.
Disclaimer
The resources provided here are for educational purposes only and do not constitute legal advice. We advise you to consult your own counsel if you have legal questions related to your specific practices and compliance with applicable laws.