FCRA Compliance Fails And Other Important HR Lessons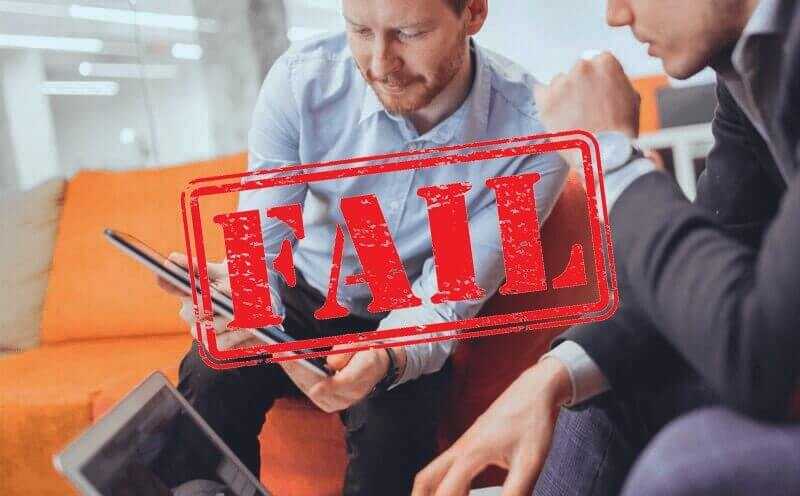 Do your company's pre-employment background checks comply with the Fair Credit Reporting Act (FCRA)? Outsourcing to a reputable background screening provider can help ensure compliance with federal laws, but employers are ultimately responsible for meeting FCRA requirements such as sending pre-adverse action notices.
Learn how to avoid the most common FCRA background-check violations.
---
Update: With recent FCRA decisions pointing in confusingly different directions, don't bank on leniency from the courts. You don't want to be the employer facing a class-action lawsuit involving every applicant who ever got a non-compliant disclosure form. That means this post (originally published in April) is more relevant than ever. Read it to learn from others' mistakes – and make sure your employment background check service does, too. 
Most people find compliance topics eye-crossingly complicated. And about as entertaining as writing performance reviews for members of the official paint-drying watchers team.
But there's a certain suit-clad species whose sensory receptors tingle at the slightest mention of  disclosures, authorizations, and adverse action notices.
They're known as the plaintiff's bar. And you do not want to attract their attention.
Yet companies of all sizes continue to fall prey to seemingly small FCRA compliance missteps, which result in a frenzy of expensive legal actions.
At the same time, new ban-the-box laws taking effect around the country contain provisions that differ from established FCRA procedures. And EEOC enforcement of Title VII violations isn't going away.
If there's one overarching lesson HR departments should take from 2017's first quarter, it's this: Compliance with hiring rules – whether the FCRA, ban-the-box laws, or EEOC guidance – helps you avoid an ocean of potential trouble.
Let's break that general guidance down into bite-sized takeaways you can put in place right now.
1. Get FCRA Disclosure and Authorization Right

Before screening a job applicant through a background check company, the FCRA requires employers to do two things:
Provide "clear and conspicuous" disclosure of their intent to run a background check that may impact the hiring decision
Get the job applicant's authorization (consent) for the background check
In other words, you have to tell the job applicant that you'll run a background check and get their permission to do it. Seems easy, right? 
Employers tend to get tripped up in the details, though. And so do their background check vendors.
Here's a recent example. In a class-action lawsuit, a court held that including a liability waiver in the disclosure notice is a big no-no. In fact, it called that approach a "willful violation" of the FCRA.
What's the big deal with the waiver? Well, the FCRA states that the form must consist "solely of the disclosure that a consumer report may be obtained for employment purposes." That teeny word – solely – means you can't include anything other than the required disclosure language on the form. No liability waiver. No other information. No extra anything.
Now that the court has labeled this a willful violation, the company could be on the hook for statutory damages of up to $1,000 per violation – plus punitive damages, attorney's fees, and court costs. 
Need a refresher on exactly what's allowed? Take a spin through this recap of FTC advice.
2. Pay Attention to Adverse Action Notice Requirements
Sadly, disclosure and authorization aren't the only FCRA mistake employers are making.
UPS recently found itself the target of a class-action lawsuit for another all-too-common error: Not following FCRA adverse action requirements.  
The lead plaintiff in the case claims that UPS pulled an employment offer after running a background check. That's fine, except for one detail: UPS didn't tell him why he lost the offer or send him a copy of his background check as required by the FCRA.
Here, too, the FCRA lays out a specific process – called adverse action – that employers have to follow before turning down a job candidate based on background check information.
You can get more specific details – including an adverse-action checklist – in this ebook, but the main steps include:
Sending a pre-adverse action notice, which includes a copy of the background check results and the document A Summary of Your Rights Under the Fair Credit Reporting Act
Waiting long enough (typically five business days) for the candidate to respond to inaccuracies or provide more detail
Sending a final adverse action notice that includes information about the company that ran the background check, an explanation that the background check information resulted in the decision not to hire, and the candidate's right to dispute the information.
UPS claims that it did follow the adverse action steps. And it asked the court to throw out the suit.
The company says the adverse action mistake – if it had occurred, which UPS isn't admitting – is just a "bare violation" of the statute. No real harm done, because the plaintiff isn't claiming that any of the information in the report was inaccurate.
Anyone who has ever had a job offer yanked back without explanation might disagree with the no concrete injury claim.
How the court will decide remains to be seen. 
3. Understand New Ban-The-Box Laws
Los Angeles' ban-the-box law took effect in January – and turned heads around the country. One of the strictest recently enacted, LA's fair-hiring law requires that private employers with more than 10 employees tread carefully when it comes to job candidates' criminal records.
The LA law bans questions about criminal history from job applications (and interviews). In fact, background checks and questions about criminal history can only take place after a conditional employment offer.
But it strictly mandates how to respond if a criminal record turns up. To comply, employers must conduct written assessments of the nature of the offense, the time since it occurred, and the nature of the position sought.
A SHRM article earlier this year pointed out that many new ban-the-box laws contain provisions tougher than or different from federal laws, particularly the FCRA.
That doesn't mean you're off the hook for federal compliance, though. In fact, you may need to figure out how to comply with both your local or state law and the federal statute – even if they conflict.
Sound like an impossible task? It's certainly not easy. But this step-by-step decision guide, from GoodHire's own FCRA Attorney and Analyst Elizabeth McLean, can help you sort out your options.
With ban-the-box laws in place in more than half the states and more than 150 cities and counties, it's worth spending a few minutes pinpointing your compliance requirements.
4. Get to Know Individualized Assessment
If the nature-time-nature pattern spelled out in the Los Angeles ban-the-box law sounds familiar, you clearly know your EEOC guidance.
For years, the agency has pushed employers to avoid blanket bans on hiring people with criminal records. Blanket policies, the agency says, have a disparate impact on minorities due to their overrepresentation in our criminal justice system.
And disparate impact flies directly in the face of Title XII of the Civil Rights Act, which prohibits discrimination based on race, color, religion, sex and national origin.
What the EEOC suggests instead of a ban is an individual assessment of candidates with criminal records that takes into account – you've got it – the nature of the offense, the time since it occurred, and the nature of the position.
The guidance hit the books years ago. But it was just that – guidance. Employers who didn't follow the guidance weren't breaking the law. They simply opened themselves up to the risk of EEOC enforcement action.
The compliance picture looks a lot different today. At least 70 jurisdictions (including LA) have written individualized assessment requirements into their ban-the-box or fair hiring laws.
That means nature-time-nature should sound soon sound familiar to everyone who conducts or reviews employment screening. 
Opportunities for Improvement
Hiring laws change. Enforcement priorities shift. If you haven't updated your background check policies or employee handbooks lately, add it to your list for this quarter.
Not sure you need to? Take this 60-second quiz to find out whether your compliance expertise will keep you out of trouble – or if you're gonna need a bigger (compliance) boat. 
disclaimer
The resources provided here are for educational purposes only and do not constitute legal advice. We advise you to consult your own counsel if you have legal questions related to your specific practices and compliance with applicable laws.
---