Top 10 Latest Innovations to GoodHire's Background Check Services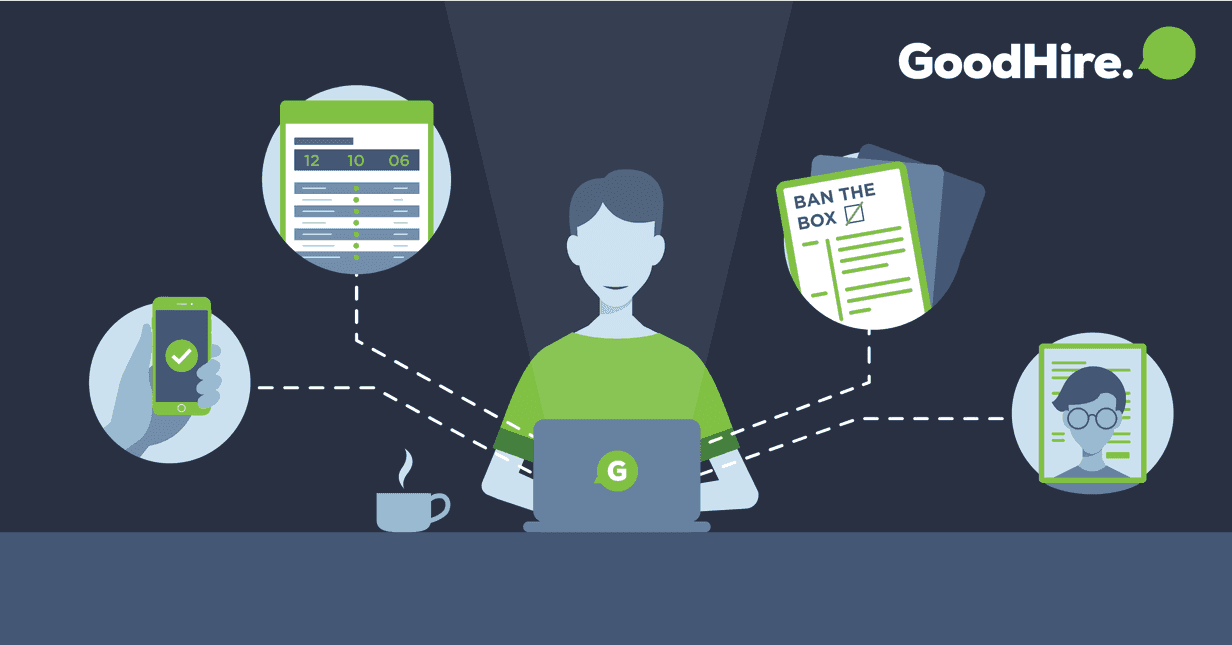 At GoodHire, we continually work to improve our background screening services for employers. Recently we added enhanced compliance support, new service offerings and workflow improvements to automate and streamline your background check process. Here a few highlights of the 10 most important new services and enhancements we added in 2017.
---
GoodHire is proud to help more than 70,000 businesses build great teams through an easy-to-use platform, industry-leading compliance, an award-winning candidate experience, and excellent U.S. customer support—in fact, we just celebrated the opening of our new operations center in Omaha, Nebraska, where our highly-trained "Goodies" help ensure your employment background checks go smoothly.
Our Product, Design, and Engineering teams have continued to add many great innovations and improvements to the GoodHire application and API throughout the year to ensure our background check products and services not only meet our customers' needs, but also exceed their expectations.
While we accomplished a LOT this year across 23 major releases, here are a few highlights of the most important new services and enhancements we added during the last year:
Enhanced Compliance Support
We're making it easier for customers to stay compliant among increasing EEOC oversight and the ever-changing legal landscape, while still having the ability to make fair hiring decisions based on accurate records.
Local level adverse action handling – This truly innovative feature provides a step-by-step guide for our users through the complex web of federal, state, and local Ban-the-Box and fair hiring laws to make sure that adverse action is handled promptly, follows FCRA guidelines and local regulations, and treats candidates fairly and with respect.
Modular consent forms – We enhanced our online consent forms to automatically pull in the correct language and legal disclaimers applicable for the employer and candidate's state of residency across our background check, drug screens, and motor vehicle record check consent forms.
New Service Offerings
We've expanded many of our search and record check capabilities to enable customers to quickly and easily complete comprehensive employment screening.
ID verification – Through a partnership with Identity.com, we now offer employers a way to make sure that all of the inputs (name, date of birth, address) provided by candidates for our background checks are validated by verifying the identity of the candidate so you can trust their background check results.
Alias name search – We now have the ability to search for criminal records across multiple names concurrently, including nicknames and maiden names, as well as additional aliases we uncover in the Social Security Number Trace.
Statewide criminal records checks – For certain states, we can now look for criminal records in courts across the entire state with a single search.
10-year county criminal checks – For employers with specific screening requirements around the length of criminal records searches, we added the ability to order a 10-year look-back for records (as opposed to the standard 7-year search).
Workflow Improvements
We know how important it is for our customers to automate and streamline as many aspects of the background check workflow as possible, so we continue to add new features and enhancements to further simplify the screening process and manage our customers' unique organizational structures.
Invoice payments by credit card and ACH (Q1) – A small, but important enhancement for our customers using our invoicing system is the ability to pay invoices via credit card and ACH (coming in early 2018), along with the option for auto-payment.
Billing codes – Customers can define a custom set of billing codes to attach to each order (e.g., by department, location, or project) for easier cost allocations.
Multiple location support – Customers with multiple locations can assign users to individual locations, several locations, or as account administrators for all locations for complete visibility into their screening program.
New partner integrations – This past year, we added BambooHR, Breezy, Jobvite, and Smart ERP to our growing list of integrated HR Tech partners to make the hiring process more seamless.
While 2017 was a great year for GoodHire, 2018 is already shaping up to be just as exciting! We have a number of major initiatives in development that we are certain will help our customers get even more out of their employment screening programs, while staying ahead of the complex hiring legal landscape. Stay tuned!
disclaimer
The resources provided here are for educational purposes only and do not constitute legal advice. We advise you to consult your own counsel if you have legal questions related to your specific practices and compliance with applicable laws.
---