4 Tips To Improve Background Screen Turnaround Times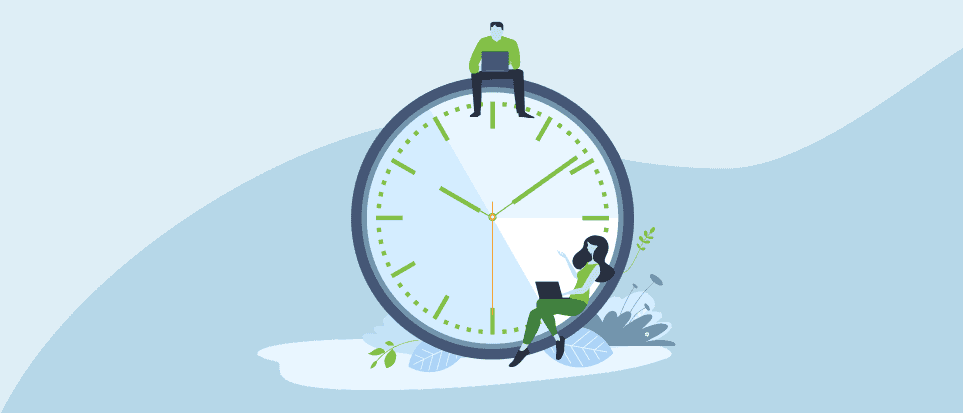 Are your background check turnaround times as fast as they could be? When providers use outdated information sources or inferior technology, it may take longer to get screening results, which can slow down your hiring process.
Here are four steps you can take to get your results back faster and improve your time-to-hire.
---
In the hiring landscape, background checks may seem like a commodity—many providers offer this critical service—however, not all providers' turnaround times are comparable. Some providers may use inferior technology or access outdated data sources, which impacts the on-time delivery of accurate results. Further, you should know about steps you can take to get your results back more quickly, and improve your time-to-hire. 

Here are four things to consider when reviewing your background check turnaround times, and steps you can take to help improve them.
1. Use A Provider That Hosts Digitized Records & Uses Technology To Create Efficiencies
If your background check provider is pulling disorganized data from disparate, potentially unreliable sources, without an automated way to identify, classify, and filter record data, it may impact their background check turnaround times (and put your company at risk). 

Choose a provider that works to reduce turnaround times by finding new data sources and automating access to them. At GoodHire, we curate and host over a billion records from over 2,100 different sources, which gives us instant access to up-to-date, high-quality data from local, state, and federal sources. Further, our Data Team regularly evaluates and adds new data sources to our offering to continually improve our coverage and turnaround time. Over time, this means our turnaround times get faster.

To further speed turnaround times, we've designed our platform to process data through automated filters that evaluate every single record and apply a set of rules that determine whether or not an offense can be compliantly reported, based on the candidate and employer's location. We also have an in-house FCRA-certified quality assurance team who manually review results to ensure maximum possible accuracy and efficiency. Reliable results delivered the first time means it's less likely your candidate will file a dispute and slow the screening process.
2. Audit Your Screening Packages To Ensure You're Not Over-Screening
Over-screening candidates adds additional time by requiring—and waiting for—screens you may not need. Understanding the types of checks to use for your industry and employee position types will help you select and use the right screening packages and set your expectations for turnaround times. 

Conduct an audit of your screening policy and packages and partner with your provider to create the right screening packages so you can avoid over-screening, or under-screening, which may lead to avoidable risk and potential future legal issues. Most companies use several screening packages for different position types.

At GoodHire, we offer hundreds of screening options, and our FCRA-certified, in-house support team can work with you to customize the right screening packages for your needs.

3. Have The Right Information Ready
The background check can start sooner if you come prepared with needed candidate information and will improve your screening turnaround times. This information, if it's available at the start, saves time and helps mitigate incorrect details.

Criminal history checks, credit background checks, education checks, and driving history checks all require different personal information from the candidate. As an employer, it's up to you to know what those requirements are so you can have it ready when you request the screening from your CRA at the start of the screening process. 

A provider that does the hard work for you also saves time. GoodHire only requires a candidate's name and email address to start a background check—then the candidate completes the rest of their information. We also offer integrated, electronic consent, which makes it easy for candidates, speeds up turnaround times, and helps mitigate litigation risk.
4. Integrate With An Applicant Tracking System (ATS)
If you use an applicant tracking system (ATS), consider working with a background check provider that integrates with your platform. If available, the ATS uses your candidate's details (name, address, DOB, email address) to initiate the background check order, further speeding the process and reducing turnaround times. 

Access to a reliable and easy-to-use ATS equips your hiring process with capabilities like: 
Launch background checks from within your existing workflow
Eliminate manual candidate forms, streamlining and reducing errors
Secure connection to screening results
Real-time result notifications and status updates
Shared information and results access with the candidate
SHRM offers up helpful advice about modern ATS solutions, stating that "now these systems are designed with extended hiring teams in mind, with welcoming interfaces, automated functions, and collaborative tools that require minimal technical support." 
Are Your Turnaround Times As Fast As They Could Be?
If you're not satisfied with your background check turnaround times, give GoodHire a try. Our advanced platform speeds and simplifies the background check process, and 85% of background checks are delivered in less than one minute. 

Find out how background checks with GoodHire are simply better.  TALK TO SALES

63% of customers say they experience faster turnaround times with GoodHire, according to a 2020 TechValidate survey.
Disclaimer
The resources provided here are for educational purposes only and do not constitute legal advice. We advise you to consult your own counsel if you have legal questions related to your specific practices and compliance with applicable laws.
---