Employment Gaps: What Hiring Managers Should Look For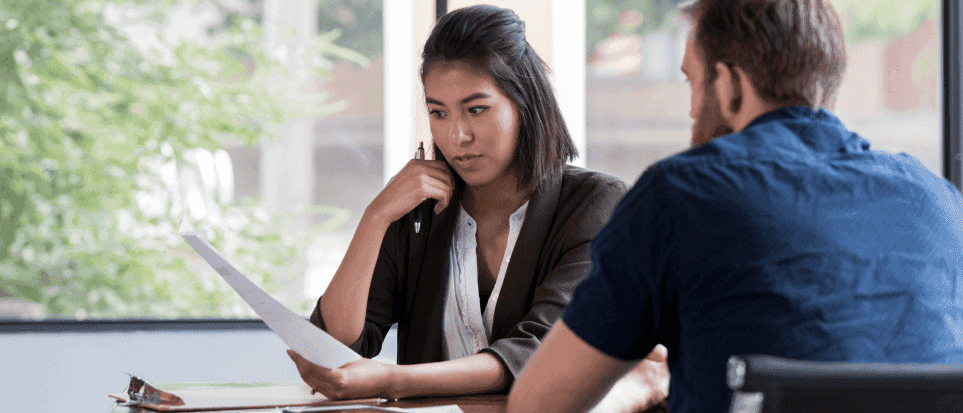 When reviewing a candidate's resume, should gaps in employment be considered a red flag? Getting more information can help you evaluate the reason for a gap so you don't pass over a qualified applicant.
Find out what questions you can ask about employment gaps, what to look for when you notice gaps in employment, and how employment verification checks can help.
---
When searching for the perfect candidate or candidates for open job positions, hiring managers have to look through multiple lenses. You need to ensure candidates are qualified, have the right skills, align with company values, pass a criminal background check, and much more. But there is one more hurdle recruiters often run into: Gaps in employment on candidates' resumes. All of which might raise questions, including:
Should gaps in employment be considered a red flag? 
Should they impact whether a candidate is hireable? 
How should you evaluate these types of candidates? 
What questions can you ask them about their employment gaps?
More often than not, gaps in employment are still stigmatized and may be viewed as a negative feature on a resume. One recent study from ResumeGo revealed that candidates with work gaps on their resumes have a 45% lower chance of landing a job interview. And the larger the gap, the lower the chances of candidates securing interviews for positions.
However, a piece of paper with employment history can only reveal so much. That's because resumes don't shed light on why the employment gaps exist and whether that impacts a candidates' qualifications for the job. As a result, you may be missing out on exceptional candidates or not giving them a fair chance at employment.
Here, GoodHire is sharing what to look for when you notice gaps in employment and how employment history checks can help you make smart hiring decisions.
The Length Of Employment Gap(s)
Just as you look at the length of previous job stints, and overall length of job history, it's important to consider the length of a candidate's employment gap:
If it's a few months or less than a year, that could indicate the candidate took some time off for personal or health-related reasons. 
If the employment gap is a year or longer, there could be several reasons why. As a result, it's important to not jump to a conclusion and assume the candidate simply wasn't working during their gap or gaps in employment.
If a resume reveals several employment gaps that last different amounts of time, it could indicate that a candidate moves jobs quickly and may not be best suited for long-term employment.
You should also consider that longer employment gaps are a significant hurdle for candidates. One study found that those with a work gap longer than two years see a significant drop-off in interview callbacks—from 9.8% (2-year gap) down to just 3.1% (5-year gap). So, if the candidate has other desirable skills and work experience, it may be worth exploring further. 
With any employment gap—no matter the length or number of them—it's crucial to remember they don't paint an accurate picture of a candidate's overall qualifications.
The Reason For Gaps In Employment
Because the length of an employment gap may not reveal specific details, hiring managers should consider the reasons behind them. Some of the most common reasons for explaining gaps in employment include:
Supporting family members
Health issues
Starting and/or raising a family
Additional education or training
It's also important to consider current or previous economic and/or unemployment conditions. Due to the ongoing COVID-19 pandemic, the US unemployment rate is high—6.3% as of January 2021—and millions of people are without work. During the 2008 recession, unemployment climbed to 7.2%, the highest since January 1993. 
An employment gap may also exist because a candidate was laid off due to reasons beyond their control, including:
Cost reduction
Company downsizing
Company shutting down or going out of business
Mergers
Buyouts
Relocating, and more
Some candidates may be forthcoming with their reasons for employment gaps and address them in their resume or cover letter, and may provide good reasons for gaps in employment. Of those who do, they receive nearly 60% more interview requests. However, those who don't explain their gaps in employment may still have a strong explanation that is worth addressing. 
To explore a candidate's reasoning, simply point out the gap(s) and ask them to explain further. Then, you can use that additional context in your decision-making process. However, hiring managers need to ensure that any question (or follow-up questions) you ask about gaps in employment are not related to protected classes such as:
Age
Sex
Gender
Disability or illness
Family status
National origin
Pregnancy
Religion
Veteran status
Verified Employment History & References
Another way to help assess a candidate's reliability is by verifying their employment history and job-related experiences. This acts as another means to confirm that the information on their resume and job application is accurate and honest. With a third-party employment history verification, such as GoodHire's, you'll get reliable information about candidates.
During these checks, current and previous employers are contacted directly to confirm employment details, like start and end dates and job titles. GoodHire also offers International Employment Verifications for candidates who have worked outside the US. Keep in mind that using a Consumer Reporting Agency (CRA) like GoodHire requires employers to inform candidates of their plans to run a background check and get their permission to do so. 
Finally, checking a candidate's references can also provide more details and context about their work experience and relevant skills. Professional Reference Checks give you more opportunities to get additional insight into how well a candidate works with others, how they function in a workplace, and any other information that can help strengthen their qualifications or reveal that they may not be a great fit.
The short of it? If an applicant's work history and references are strong, they can help compensate for employment gaps on their resume.
Hire The Right Candidates With Employment Verification From GoodHire
As you can see, for candidates with employment gaps on their resume, it may be worth some additional exploring to determine their qualifications.
Be sure to set aside any negative biases or thoughts toward employment gaps and never assume the reasoning behind them. While that may take some extra time, you can still streamline the entire hiring process with Employment Verifications through GoodHire. With Employment Verifications, you can:
Confirm candidates' work history
Mitigate risk of hiring someone with false credentials
Help ensure you only move forward with candidates that are qualified and trustworthy—two must-haves despite any gaps in employment
Free up valuable time spent verifying applicants, and much more
Find out how Employment Verifications with GoodHire can improve your hiring and screening process.
Disclaimer
The resources provided here are for educational purposes only and do not constitute legal advice. We advise you to consult your own counsel if you have legal questions related to your specific practices and compliance with applicable laws.
---