Failed Drugs Tests And Next Steps For Employers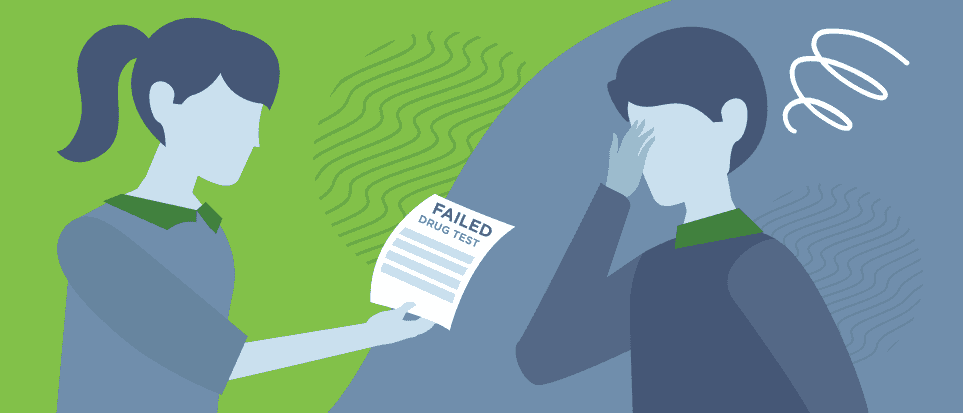 Workplace drug testing can help employers maintain a safe work environment. But if a job candidate or employee fails a drug test, you should ensure compliance with your company drug testing policy and applicable laws. Learn what you should know about failed drug tests and potential next steps to maintain a fair and compliant drug testing program.
---
Types Of Failed Drug Tests
A drug test determines whether a person has certain illicit drugs or controlled substances in their system. There are several types of drug screenings an employer may conduct, including: 
Saliva testing which has a detection period of five to 48 hours and is an inexpensive way to identify current or recent drug use. They're slightly less accurate than other testing methods, but there's little chance of tampering because they can be supervised. Instant tests can produce results in a few minutes, while lab results may take several days.
Urine testing is a low-cost, non-invasive method for detecting recent and historic drug use. It's highly accurate, but because it's unmonitored, there's an increased risk of tampering. Turnaround time is typically two to three days.
Hair follicle testing is a two-step process for detecting historical drug use that can identify substances used up to 90 days earlier. Hair follicle testing is tamper-resistant and highly reliable, but due to its high cost, it's usually reserved for safety-sensitive industries. 
Blood testing shows recent or current–not historical drug use. It has a detection period of one to two days, and because a health professional collects blood samples, the risk of tampering is low. Results are very accurate, but testing is expensive, and it can take up to a week to receive results.
How Often Do People Fail Drug Tests?
In 2022, the chances of failing a drug test were 4.6% among the US combined workforce, according to Quest Diagnostics. The combined workforce includes workers in the private sector and employees subject to federal drug testing mandates, such as pilots, truck drivers, nuclear power industries, and more. Positive drug tests reached their highest rate since 2001 — up 30% from an all-time low between 2010-2012.
Quest's review of the data showed increases in positive tests for employees who work in national security and public safety. Marijuana, amphetamine, and cocaine use increased among federal employees in safety-sensitive roles, and marijuana use in the general workforce was up 9.1% year over year.
With failed drug test rates increasing, it's important to understand the context surrounding a positive result and next steps. It's also possible for prescription and over-the-counter medications to return false positives. 
What Happens After A Failed Pre-Employment Drug Test?
In general, if a job offer is contingent upon a candidate passing a drug test, employers may rescind the offer if the candidate fails a drug test. However, you must follow the proper steps to comply with both federal and state pre-employment drug testing laws.
Before taking any action, you should review your company's drug testing policy and follow those guidelines. Next, you must adhere to all applicable laws. Federally, the Civil Rights Act of 1964 prohibits employers from selecting individuals for drug testing based on protected classes, such as race, religion, or national origin. The Americans With Disabilities Act of 1990 prohibits discrimination against job candidates based on previous drug use or enrollment in a rehabilitation program. It also makes it illegal to single out people for drug testing because they appear to be under the influence. Behavior that seems to be substance-induced may be related to a disability, illness, or medical condition.
Because the consequences of failing a drug test vary by state, it's also important to follow state guidelines in response to a candidate's failed pre-employment drug screen. For example, in Alaska, employers can use a failed drug test as grounds for not hiring a candidate. However, that candidate has the right to explain a positive drug test to the employer in a confidential setting. Employers in Alaska can also refuse to hire a candidate if they don't submit to a drug test.  If you decide not to proceed with an employment offer for a candidate or transfer or promotion of an employee due to a failed drug test, you must follow the adverse action process, as required by the federal Fair Credit Reporting Act (FCRA).       
What Happens After A Failed Employee Drug Test At Work?
Where allowed by law, some employers may choose to conduct random or periodic drug testing of employees throughout their duration of employment. Others may test employees after an accident, upon returning to work after a violation, or when an employee shows signs of substance abuse. The consequences of failing a drug test at work vary based on company policy and applicable federal and state guidelines. 
For example, some government-regulated workplaces must adhere to the Drug-Free Workplace Act of 1988 if they receive federal grants or contracts of $100,000 or more. Other employers with a zero-tolerance drug policy may terminate employees for failing a drug test if the state allows it. 
In other states, like Vermont, companies can't terminate employees after their first positive drug test if they agree to seek treatment. In Iowa, employees have the right to explain a failed drug test at work before an employer takes action.
If you decide to terminate an employee because of a positive drug test provided by a consumer reporting agency, like Goodhire, the FCRA requires that you follow the adverse action process which includes notifying the employee that the failed drug test for their job resulted in their dismissal and in certain instances provide the employee with an opportunity to respond.
On the other hand, employees who believe a drug test produced a false positive should speak with the hiring manager and contact the lab where the test was taken to discuss prescribed medications and supplements they've recently used with the Medical Review Officer. If they've been using a substance known to produce a false positive, the MRO may order an additional test called a "confirmatory test" before providing a conclusive result. 
What happens if you fail a drug test after the confirmatory test? The Family and Medical Leave Act of 1993 allows employees of public sector organizations and certain private sector organizations to take up to 12 weeks of unpaid leave to seek treatment for substance use disorders. The law applies to employees who have worked for the employer for at least a year with 1,250 hours during the last 12 months.
What Makes People Fail A Drug Test?
A drug test may come back positive for many reasons — some obvious and some not-so-obvious. Here are several situations that may result in a failed drug test.
Drug or alcohol consumption can produce a positive test.  
Medications, such as antidepressants, NSAIDs, and decongestants may result in a false positive.
Foods like hemp seeds, poppy seeds, and coca tea can trigger a false positive. 
Substances, including mouthwash, hand sanitizer, and CBD oil may produce a false positive. 
How Long Do Failed Drug Screenings Stay On Record?
It depends on the employer. In general, the results of a failed pre-employment drug screen or  failed drug screen for a current employee are confidential between the company that requested the test and the individual who took it. 
However, the results of drug tests for employees who work for the Department of Transportation are kept on file in the Drug and Alcohol Clearinghouse generally for five years. Candidates must consent to allow an employer to view their records in the Drug and Alcohol Clearinghouse. However, candidates who don't provide consent cannot hold safety-sensitive jobs.
FAQs On Failed Drug Tests
Understanding the rules around failed drug tests can help you make compliant employment decisions. Here are some answers to commonly asked questions about failed drug tests.
Does Failing A Drug Tests Disqualify You From Employment?
In general, if a job is contingent upon passing a drug test, a failed drug test can disqualify a candidate from the position. However, employers must follow the proper procedures when rescinding an employment offer or terminating an employee to remain compliant with federal and state regulations.
Does A Failed Drug Test Show Up On A Criminal Background Check?
In general, no. Convictions for drug-related charges may show up on a criminal background check, but the results of employment drug screenings generally will not appear on a criminal background check.
Does A Failed Drug Test Go On Your Record?
A failed drug test may be noted in the records of the employer that requested it, but they typically keep this information confidential. However, the results of a positive drug test for certain positions, such as those regulated by the Department of Transportation, may be available for future employers to see. DOT drug test results remain in the Drug and Alcohol Clearinghouse generally for five years.
What To Do If You Fail A Drug Test
If an employee fails a drug test, you should follow applicable company, state, and federal guidelines. Depending on the state, job candidates and employees may have the right to explain a positive drug test before an employer can take action. Job candidates and employees should be prepared to provide a list of all prescription and non-prescription medications they're taking if they believe the test resulted in a false positive. 
How To Explain Failed Drug Tests
When you receive the results of a drug test, you will only see a positive or negative indication. A positive result does not provide context around how the drug got into the person's system, how much the person took, when they took it, or whether they have an addiction. Rest assured, a Medical Review Officer (MRO) confirms the results of every drug test ordered by GoodHire, so you can be confident your drug test results are accurate. 
If employers decide not to hire a candidate or to terminate an employee on the basis of a positive drug screening result provided by a consumer reporting agency like GoodHire, employers must provide the candidate or employee with a pre- and final adverse action notice as outlined by the FCRA. 
When facing challenging hiring decisions, you may consider other steps such as reviewing Equal Employment Opportunity Commission (EEOC) guidance. Because the information that may be used in hiring decisions can vary between states, employers should consult with their legal team to help ensure you are following best practices as you screen and hire new employees.
Know All Your Options With GoodHire's Pre-Employment And Employee Drug Testing
Working with a CRA to conduct your organization's drug testing can help you maintain a safe work environment and reduce the risk of accidents and injuries, while supporting compliance with applicable federal and state regulations.
GoodHire offers multiple drug screening options, including 4- to 10-panel, tests to meet the testing needs of your company. A Medical Review Officer (MRO) verifies all results to ensure the highest possible accuracy. We also offer other screening options to help you create a comprehensive background check program. Get started.  
Disclaimer
The resources provided here are for educational purposes only and do not constitute legal advice. We advise you to consult your own counsel if you have legal questions related to your specific practices and compliance with applicable laws.
---