A State By State Look At The US Nursing Shortage During The Pandemic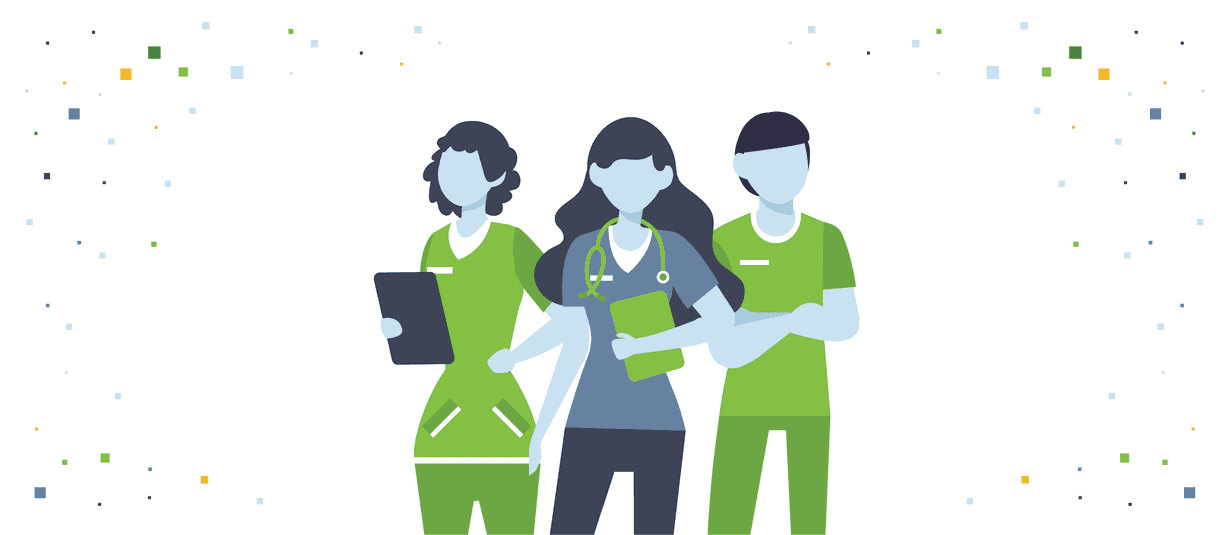 As the pandemic continues, already understaffed healthcare facilities across the country continue to feel overburdened—and a nursing shortage is making the situation more dire. In this article, we'll look at the nursing shortage numbers by state, why there's a nursing shortage, and suggestions for employers on how to address it.
---
Is Your State Experiencing A Nursing Shortage?
The COVID-19 pandemic upended nearly every workforce in the country, including the healthcare industry. Nurses have been working longer, more stressful shifts, leaving the already depleted nursing field stretched even thinner. Today, as the economy slowly begins to recover from the effects of the pandemic, the nursing shortage is still prevalent. 
The nursing shortage worsened as a result of the pandemic, with 20% of National Nurse Associations reporting increased rates of nurses leaving the workforce in 2020.  According to the American Association of Colleges of Nursing, the US will need more than 200,000 new nurses per year until 2026 to replace retiring nurses. Otherwise, it's estimated that by 2030, the nurse workforce could see a shortage upwards of 13 million.
In this brief guide, we'll outline how nurses are contributing to the labor shortage, why there is a dearth of qualified nurses ready to hire, and how companies can incentivize nurses to come on board.
State-by-State: Understanding The Current Nursing Shortage
To illustrate just how understaffed health care facilities are around the country, we've outlined the top 10 states with a nursing shortage, comparing the state's overall population to the number of nurses per 1,000 citizens.  
The top 10 states experiencing a nursing shortage—based on the most recent data from the Bureau of Health Workforce Database—are:
In addition to these nursing shortages across states, there are also major cities that are experiencing a nursing shortage in particular.
Larger cities, with more hospitals and higher concentrations of people, typically need more nurses than small to mid-sized cities. But even small towns are experiencing a nursing shortage. Why?
Why Is There A Nursing Shortage?
The current nursing shortage is not new. In 2019, nursing was ranked as the third most in-demand job of any profession in the country, right behind application software development and medical services manager. 
Based on research from the Bureau of Labor Statistics, the demand for qualified nurses will increase faster than the need for any other profession in the coming decade. 
Reasons for the nursing shortage, which has been an issue long before the pandemic, include:
This last bullet point is particularly notable. According to the US Census Bureau, by 2030, for the first time in US history, older people are projected to outnumber children. By 2030 all baby boomers will be older than 65, expanding the age of the older population. One in every five US citizens will be of retirement age—this places a significant amount of Americans in an age group that tends to require more medical services. 
Lingering Pandemic Concerns 
Post-pandemic, the environment for re-hiring employees looks promising, on its face. This is for two key reasons:
Vaccines – According to the latest data from the CDC (July 12), a total of 159,675,163 Americans have been fully vaccinated. That's 48 percent of the country's population. 
No more restrictions – As of July 6, based on data as reported by state governments, all US states, except Hawaii, have lifted all COVID-19 restrictions. 
Businesses are hiring, yes, but workers are not filling these slots. 
Nurses considering a return to work and those who are considering joining the nursing field are weighing the cons of this industry that were brought to light during the pandemic. Beleaguered nurses had to grapple with pandemic burnout, like the rest of the country, as well as poor working conditions and medical supply shortages while hospitals filled with sick and dying COVID-19 patients throughout 2020.  
In addition to this, everyone currently re-entering the workforce also has to deal with two primary concerns: 
Virus concerns – A recent survey conducted by National Retail Federation and Prosper Insights & Analytics revealed that 1 in 10 employed consumers said nothing would make them feel comfortable working in an environment around other people after the pandemic.
Lack of childcare – According to Georgetown University's FutureEd think tank, only 60% of the 200 largest US school districts were fully reopened the week of April 27, and many child-care centers are still operating at limited capacity. During summer, employees of all fields have to figure out where their children will go if they are re-entering a work environment. This concern is particularly prevalent for nurses who work shifts beyond the standard 9-5. 
How To Incentivize Nurses
Nurses who worked through the pandemic are tired, and those who are considering joining this industry have witnessed just how difficult it is to operate on the frontlines during a global crisis. 
That's why it is up to health care facilities to create a more desirable work environment to incentivize qualified candidates to come fill their open positions. Companies should consider implementing the following:
Honoring the Practice of Nursing – Nurses went through the wringer during the pandemic. Companies looking to onboard new nursing staff should prove upfront that they respect and value their hard-working nurses.
Offer Holistic Support – Post-pandemic, companies need to prove that they will offer mental, physical, and emotional support for new and veteran employees. This may look like enhanced sick leave, flexible work hours, or child care provisions. 
Establish a Supportive Culture with Background Checks – Healthcare facilities that utilize thorough background checks are demonstrating their value to potential employees and promoting a trusted work culture. By creating a screening system for candidates, employers can staff their businesses with those who can contribute positively to the work environment and create a community of support and compassion, even when times are tough. Qualified candidates will also feel more confident working for a company that has verified all other workers are qualified, too. 
Hire Smarter, Faster With GoodHire
As the country begins to recover from a global pandemic, companies in every industry, including the already short-staffed healthcare field, are fiercely trying to re-staff their workplaces.
GoodHire helps health care facilities hire qualified candidates, faster. 
With GoodHire, you can start your healthcare background checks more quickly, candidates can complete the required forms more easily, and your company will get more accurate results with much less time and resources spent. Especially in the healthcare industry, you want to be certain that your candidates are qualified in order to mitigate risks to patients and ensure employee safety. 
Disclaimer
The resources provided here are for educational purposes only and do not constitute legal advice. We advise you to consult your own counsel if you have legal questions related to your specific practices and compliance with applicable laws.
---