What Do MVRs Reveal About Drivers License Classes?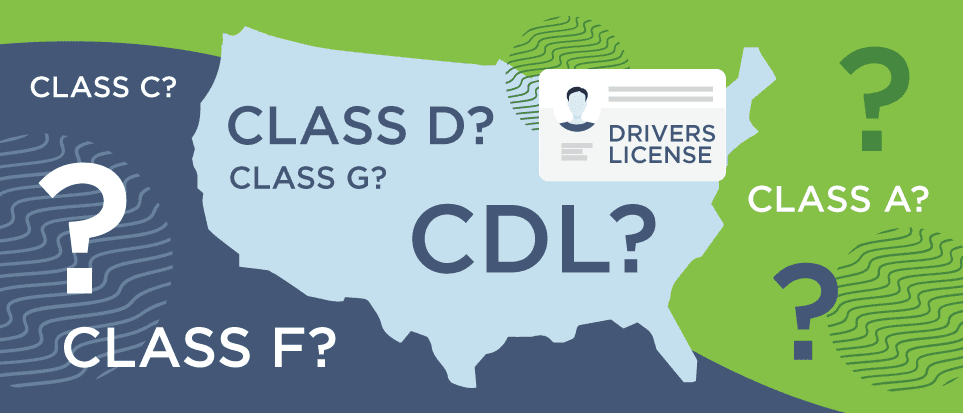 Running a motor vehicle report (MVR) check, or driving record check, is an important step in hiring any employee whose job will include driving. An MVR check verifies a candidate's driver's license status, driver license class, and driving record.
Learn the different types of commercial and non-commercial drivers license classes and how to read the results of an MVR check.
---
A candidate's motor vehicle report (MVR) can provide insight into a host of issues. It can tell you whether a candidate has a history of moving violations, unpaid parking tickets or DUI convictions. It can also help you verify their driver's license status and the class of driver's license they hold. Making sense of different drivers license class types can be confusing: What class is a regular drivers license? What is a normal drivers license class for a delivery truck driver?
Drivers license classes vary from state to state. They indicate whether a person is licensed to operate commercial vehicles, and what weight of vehicle they're qualified to drive. Knowing a candidate's driver's license status and class is helpful for any prospective employee who might drive on the job—even if they may only drive occasionally for work. 
But for candidates who will drive regularly and/or use commercial vehicles at work, verifying their driver's license class is essential, both for compliance and safety reasons. And since the cost of commercial drivers license training programs can range anywhere from $3,000-$7,000, hiring someone who already has the necessary driving skills and license class can save you a lot of time and money.
What Are The Different Types Of Drivers License Classes?
The class of license you require for a particular position will depend on the type of driving the position requires. Although each state assigns its own coding system to drivers license classes, most states divide these classes into commercial and non-commercial licenses. These categories may be further broken down by lettered or numbered classifications. The most common letters used are A, B, C, D, E, F, and M. You may also come across the letters G, I, and L. 
For a bit more insight into common meanings behind this alphabet soup, read on.
Commercial Drivers Licenses (CDL)
If your organization operates large, heavy vehicles for commercial purposes or to transport hazardous materials, the employees who drive them most likely require a commercial license. The Federal Motor Carrier Safety Administration (FMCSA) has developed and issued standards for state testing and licensing of CDL holders. Before you begin reviewing MVRs to verify your candidates' drivers license classes, take a moment to consider which class of license might apply to your vehicle(s). A large passenger van, for example, may not require the same license class as a tractor-trailer or delivery truck. 
CDLs are divided into three classes: A, B, and C.
class A
Class A applies to big trucks: combination vehicles with a gross combination weight rating (GCWR) of 26,001 pounds or more, including a towed unit with a gross vehicle weight rating (GVWR) of 10,000 pounds or more. Examples include tractor-trailers, tanker vehicles, livestock carriers and flatbed trucks. Drivers with a Class A license may also drive most Class B and Class C vehicles.
class B
Class B applies to single vehicles with a GVWR of 26,001 pounds or more, or any vehicle towing less than 10,000 pounds. This category may include straight trucks, box trucks (think delivery trucks), large buses, and dump trucks. Class B CDL holders are also typically able to drive Class C vehicles.
class C
Class C applies to vehicles that don't fit Class A and Class B definitions and are either designed to transport 16 or more passengers (including the driver) or are transporting hazardous materials. 
Non-commercial Drivers Licenses
Non-commercial drivers licenses are issued state by state. As a result, non-commercial drivers license class descriptions are much more of a mixed bag. In some states, a non-commercial license enables its holder to drive nearly every type of non-commercial vehicle. Other states may have different drivers license classes or certifications for drivers who want to drive motorcycles or scooters or to operate limousines or taxis. Check with your state's department of motor vehicles for a full explanation of the drivers license classes and other requirements in your state. 
Although the letters used below aren't applied in every state—or applied the same way from one state to another—here is a general guide to a few commonly-used drivers license classes:
Class D and E
Class D and E: In many states, a Class D or E license is a "regular" or "normal" non-commercial drivers license. It's for drivers of ordinary passenger vehicles, light-duty trucks, or passenger vans that seat up to 15 people including the driver. 
class F
Class F: Where it exists, Class F may include the ability to drive "combination vehicles," meaning trucks, trailers, truck tractors—or any combination of vehicles with a GCWR of 26,001 pounds or more, provided the GVWR of the vehicle(s) being towed is greater than 10,000 pounds.
class G
Class G: Class G enables the driver to operate any single motor vehicle with a GVWR of 26,000 pounds or less.
class I
Class I or Instruction (various codes): Each state seems to have its own code for learner's permits, so check with your DMV for details. In Wyoming, it's Class I; in Georgia, it's Class P. In any case, the holder is not fully licensed to drive but is licensed to learn.
class L
Class L: In Illinois, a Class L license entitles you to drive any motor-driven cycle with an engine smaller than 150cc.
class M
Class M: Class M typically applies to two-wheeled vehicles. A Class M license may cover all two-wheeled vehicles or may distinguish between motorcycles and mopeds, scooters, or motorized bicycles. In California, for example, an M1 license applies to any motorcycle or two-wheeled vehicle; an M2 license is for motorized bicycles or mopeds only.
State or local governments may have special commercial or non-commercial license classes or designations, or separate certification requirements, that apply to specialized vehicles like ambulances, school buses, farm equipment or watercraft. Again, check with your motor vehicles department for details.
Understanding Candidates' MVRs
Running an MVR check, or driving record check, is an important step in the hiring or training process, particularly if you're hiring for a position that requires operating heavy vehicles and equipment or transporting hazardous materials. An MVR check efficiently verifies a candidate's driver's license status, as well as driver license class—and that's essential when you're filling any job that requires driving. MVR checks may reveal critical information on a candidate's driving record, including different types of traffic violations as well as motor vehicle felonies, which can further help you make informed hiring decisions.
Working with an FCRA-compliant consumer reporting agency like GoodHire can make the process of accessing and interpreting MVR results easier. To start a check, you'll need to gather the candidate's name, license number and state of issue, and get the candidate's consent—this can be completed easily through the GoodHire platform. 
Using this information, GoodHire can run an MVR check on your candidate and deliver results in a standardized format that's easy to understand, removing at least a little of the mystery involved in MVR codes. MVR checks are a key part of a comprehensive background check and can be key to vetting a job candidate's qualifications and ensuring that you meet legal requirements, maintain safety standards, and avoid problems down the road. 
Disclaimer
The resources provided here are for educational purposes only and do not constitute legal advice. We advise you to consult your own counsel if you have legal questions related to your specific practices and compliance with applicable laws.
---