Revoked, Suspended, Expired: Why License Status Matters To Employers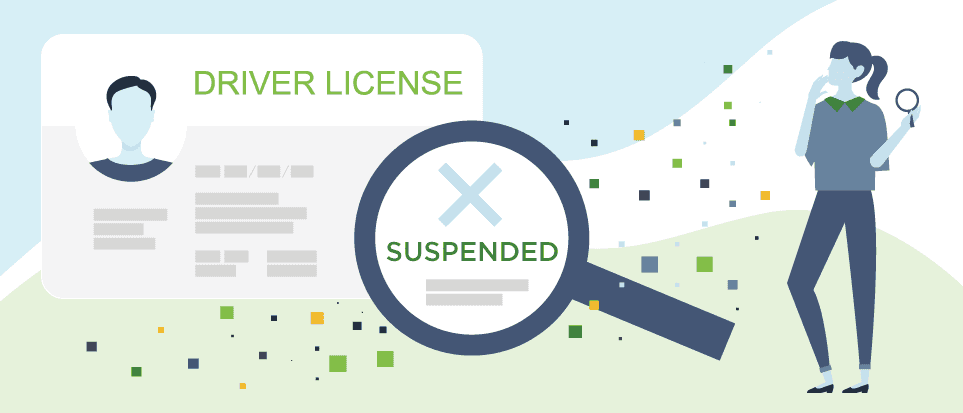 Before hiring a delivery driver, salesperson, or any employee who will operate a motor vehicle for your business, conduct a motor vehicle record or MVR check to make sure they're in good standing as a driver. Learn when to conduct an MVR, what an MVR reveals, how to read an MVR, and what to do if you find something unfavorable on a candidate's MVR.
---
Checking a candidate's driver's license status might be an obvious move when you're hiring a delivery driver, but that's not the only time you should take this information into account. If you're considering a candidate who'll need to operate a motor vehicle for any kind of business purpose, you need to know they're in good standing as a driver. This includes salespeople who drive company vehicles on sales calls, contractors who transport goods, and even volunteers who take people to and from events. 
Are they driving with an expired license? Was their license revoked? Do they have the correct class of license for the job? Verifying this information does more than assess a candidate's legal eligibility to operate a vehicle: Their driving—good or bad—can affect safety, liability, and even your organization's public reputation. How does a driver's license check affect your hiring process? Your journey begins with an MVR.
How Does An MVR Work? What's Included? 
A motor vehicle record, or MVR check, provides a range of information related to a person's driving history. It typically shows current driver's license status along with accident reports, suspended licenses, and traffic violations, including reckless driving or hit and run. You can access a candidate's MVR directly through the department of motor vehicles in the state that issued the license or enlist the help of a consumer reporting agency (CRA) like GoodHire. 
Either way, you'll need written permission from the candidate to run an MVR. The Fair Credit and Reporting Act (FCRA) maintains strict disclosure and authorization requirements for conducting background checks. GoodHire maintains a library of background check forms and notices for employers, including an FCRA-compliant candidate disclosure and authorization.
Along with a signed authorization, you'll need the following information:
The state that issued the license
Candidate's full name
Driver's license number
In some states, birth date
What will an MVR reveal?
Here's a short list of things you might learn from a GoodHire Motor Vehicle Record Search:
Driver's license status – Is the candidate's license current, expired, suspended or revoked? 
Moving violations, including everything from speeding tickets to negligent driving.
Suspensions or restrictions that may affect a candidate's ability to drive legally.
Driver's license class, indicating which types of vehicles they are licensed to drive.
Felony and/or misdemeanor convictions, such as a DUI (driving under the influence).
What Do The Terms On An MVR Mean? 
On the upside, an MVR can provide a range of detailed information on a candidate's driving history. On the downside, that information isn't always easy to interpret. The American Association of Motor Vehicle Administrators has compiled an entire dictionary of codes commonly used in MVRs, but even with this information, working through the details in an MVR can be cumbersome. For the code averse, GoodHire creates standardized, easy-to-read MRV reports that can help take some of the hieroglyphics out of the process. 
Focusing in on terminology that relates to driver's license status, here is a short list of terms that may pop up in the course of reviewing a candidate's MVR, along with quick descriptions of what these terms typically mean: 
CANCELLED
Driving privileges are cancelled due to unfulfilled eligibility requirements and/or missing information.
DENIED
The driver did not meet all of the requirements during the application process and was denied a license.
DISQUALIFIED
The driver has failed to maintain their license requirements. 
EXPIRED
The expiration date on the license has passed without renewal.
INVALID
The driver's license type or class is not valid within that specific state.
LIMITED
Limits on a driver's license may be as routine as requiring corrective lenses for vision or as severe as a temporary "hardship" permit that allows a driver to continue driving in limited circumstances following a DUI conviction.
NONE
No license is currently in force.
PENDING
The individual has filed an application and is waiting for results. 
REVOKED
A revoked license indicates that driving privileges have been terminated, often due to a medical condition or repeat DUI convictions.
SURRENDERED
The driver has voluntarily surrendered their license.
SUSPENDED
A DMV suspended license means driving privileges have been revoked temporarily for legal reasons. In some cases, the individual may be allowed to drive under special circumstances—for example, to go to school or work.
VALID
The license is valid without limitations. 
WITHDRAWN
The license is currently not valid due to issues such as unpaid fees or an incomplete application. 
As you can see, the results of a driver's license check will help you determine the status of a candidate's license and should shed some light on their ability to drive safely and legally while at work.
What If I Find Something Unfavorable? 
You may find information in an MVR—related to license status or otherwise—that causes you to question whether or not to hire a candidate. Before you take action, be aware of laws and regulations that may apply. While a reliable CRA like GoodHire can help you access relevant, timely background information on a candidate, the responsibility for having a fair and legal hiring process belongs to you, the employer.
Establish company policies for employee screenings. Your standards should be clearly defined and consistently applied. These can include legal requirements, such as having a valid driver's license in order to drive a company vehicle, and any requirements your insurance company may have regarding employees driving on the job.
Follow steps outlined in the FCRA. In addition to requiring disclosure and consent, the Fair Credit Reporting Act provides a clear process for employers to follow when taking adverse actions like declining to offer a job. Be sure to follow these steps to avoid problems with compliance or liability.
Consider EEOC guidance on fair hiring practices. What if you discover your candidate has a conviction for DUI? Simply finding a conviction on a candidate's driving record—for DUI or any other offense—may not be reason enough to decline. When a background check reveals that a candidate has a record, such as a motor vehicle felony, you should follow the Equal Employment Opportunity Commission's guidance to ensure that the nature and gravity of the offense are taken into account, along with the time that has passed since the conviction, and the nature of the job held or sought. Again, clear and consistent policies are essential. 
Get help with compliance. Navigating the rules surrounding MVRs and other types of background checks can be complicated. GoodHire's background check compliance guide offers a series of employer checklists and information to help you stay compliant with regulations on background checks. 
What Else Do I Need To Know About MVRs?  
MVRs and other background checks can provide valuable information about a candidate. But how you manage the information contained in background checks can be a reflection on your organization. It's smart to perform a yearly internal audit to ensure that all of your hiring and screening processes, including MVRs, conform to current regulations and guidance. This will help you prevent discrimination in your hiring, maintain clear and consistent hiring policies, and lessen the chances of employment-related lawsuits.
Sorting through fair hiring laws and practices can be a job in itself. Regulations are constantly shifting and may vary from location to location. GoodHire brings the background check services and tools employers need together, so you can stay compliant and access the information you need to make smart hiring decisions.
Disclaimer
The resources provided here are for educational purposes only and do not constitute legal advice. We advise you to consult your own counsel if you have legal questions related to your specific practices and compliance with applicable laws.
---