Arizona Background Checks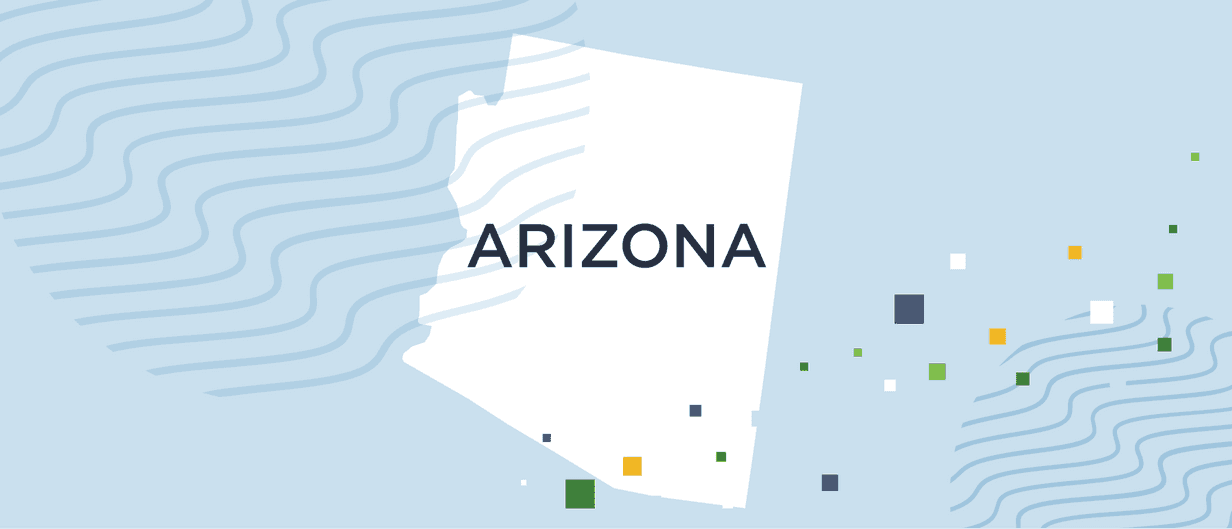 Pre-employment background checks can help Arizona employers learn more about their job applicants' work experience, education, qualifications, criminal history, driving records, and more. While the state of Arizona does not restrict private-sector employers from conducting background screenings on job applicants, employers may still need to navigate federal, state, and local laws to ensure a fair hiring process. Learn more about conducting pre-employment background checks in Arizona.
---
The information you gain from a pre-employment background check can help you hire with confidence.  Reviewing an applicant's history, experience, and qualifications can provide added clarity to your hiring process, but conducting pre-employment background screenings can be challenging for employers. This post covers the basics of what goes into a background check for employment, what you may learn from background screening, how long the screening process takes, and laws that affect Arizona background checks. Also, learn how working with a consumer reporting agency (CRA) can streamline the background screening process and deliver fast, reliable, compliant results.
What Is An Arizona Background Check?
Arizona employers use pre-employment screenings to gain additional insight into the background of a job applicant, contractor, or volunteer. Comprehensive background checks may include the following:
National, federal, state, and county criminal background checks
Education and license verifications
Driving record (MVR) checks
Credit reports 
Employment verifications
Identity verification
Employers may choose specific screenings based on the position. For example, credit checks are more common for jobs in finance or for jobs that involve fiscal responsibility. MVR checks are a best practice whenever employees or volunteers may be driving on the job; they also may be required for commercial driving positions that are regulated by the US Department of Transportation. 
Employers may conduct background screenings on their own, but many choose to partner with a CRA for background checks in Arizona. A qualified CRA, like GoodHire, can offer a range of background screening services, including criminal background checks, employment and education verification, MVR checks, and more. Working with a CRA can also make the Arizona background check process simpler, faster, and may deliver more reliable results as well. 
Why Employers Need Background Checks In AZ
Making informed hiring decisions is important to maintaining a safe and productive workplace. Employment background checks in Arizona provide key findings that may include: 
Misdemeanor and felony convictions
Driver's license status and driving history
Job history and references
Education and degree verification
Professional license verification
Credit payment history and bankruptcies
Detection of illicit substances
Industry requirements 
In some cases, employers may be required by law to conduct certain background screenings. As an example, Arizona operators, owners, applicants, volunteers, and family members in home-based childcare centers must submit to fingerprint-based background checks through the FBI and Arizona Department of Public Safety, as well as searches of the National Crime Information Center (NCIC), National Sex Offender Registry (NSOR), and Arizona Sex Offender Registry.
Similarly, workers in residential care facilities, nursing homes, and home health agencies must provide fingerprint clearance cards from the Arizona Department of Public Safety as a hiring requirement. 
Employers who are required to conduct fingerprint-based background checks may want to work directly with the Arizona Department of Public Safety to obtain them as CRAs typically don't offer fingerprint-based services. Also, private-sector employers that are not legally required to conduct fingerprint-based criminal background checks are not eligible to search the Arizona Department of Public Safety database.
How Long Does A Background Check Take In Arizona?
Turnaround times on a background check in Arizona depend on the scope of the search and whether you choose to conduct the search yourself or work with a qualified CRA.
Conducting your own background checks can be labor intensive. Finding and contacting multiple government agencies, past employers, educational institutions—then waiting on results—can be time-consuming. Additionally, searching county court records sometimes requires in-person visits to the local courthouse. Screening multiple job applicants only multiplies the workload—and lengthens your timeline.
CRAs provide a single point of contact for multiple background check searches, simplifying the process for employers. Turnaround times for employment background checks typically range from one to five business days. CRAs often have access to databases that provide fast, accurate results: GoodHire's platform, for example, curates and hosts more than a billion records from more than 2,100 regularly updated sources, and continuously evaluates new sources for the most up-to-date data.
Arizona Background Check Laws
Fair hiring laws at the federal, state, and local levels can affect the way your organization handles pre-employment background screenings. Arizona background check laws are intended to prevent discrimination and provide a fair chance to applicants who have a history of criminal convictions or other adverse information in their past.
Both public and private sector employers in Arizona must comply with the anti-discrimination provisions of the Arizona Civil Rights Act (ACRA). Under the ACRA, employers are not prohibited from conducting Arizona criminal background checks, but they are required to inform job applicants that a past conviction will not automatically rule them out as a candidate if they are asked to disclose conviction information on a job application.
Enacted in 2021, Arizona SB1294 seals certain criminal records for people who have served their sentences, been found not guilty, or who have never been charged with a crime. After records are sealed, an applicant may state that they have never been arrested for, charged with, or convicted of the crime in question. Exceptions apply when an applicant's criminal history would prohibit them from holding a job, for example if someone applying for a job in elder care was convicted of abusing a vulnerable adult.
Arizona's statewide ban-the-box law bars some state agencies from asking about an applicant's criminal history on a job application unless state or federal law prohibits an applicant from being hired due to prior criminal conduct. Applicable state agencies may only inquire about criminal history after an initial job interview has been conducted. This law does not apply to private-sector employers.
Many cities and counties in Arizona have local fair hiring laws as well. Phoenix, Tempe, Glendale and Tucson each have ban-the-box laws that apply to public sector employees, as do Coconino and Pima counties (See "County Resources" below).
If your organization works with a CRA for pre-employment background screenings, you must also comply with requirements outlined in the Fair Credit Reporting Act (FCRA): 
Employers must obtain written consent from the job applicant prior to running a background check.
Applicants have a right to review information obtained through a background check, along with contact information for the agency that provides it.
Applicants have the right to dispute inaccurate information in their background check.
Employers must follow the adverse action process if they decide not to offer a job to the candidate.
Complying with federal, state, and local fair-hiring laws can be complicated. When in doubt, employers may wish to follow the strictest guidelines to avoid potential liability. By staying up-to-date on laws and restrictions, and ensuring screening processes are compliant across the board, CRAs like GoodHire help employers reduce risk.
County Resources
The following resources may be helpful for employers conducting pre-employment background checks in ten of Arizona's largest counties.
APACHE COUNTY
Home to the iconic Monument Valley, Apache County is famous for its red sand desert and towering sandstone buttes. Most of Apache County is occupied by the Navajo Nation and Fort Apache Indian Reservation. Its 71,875 residents live in 12 cities and towns, including Cottonwood and Eagar. Its county seat is St. Johns.
Public Information & Records:
COCHISE COUNTY
Named for the Native American chief, Cochise County borders southwestern New Mexico and the Mexican state of Sonora. Roughly 44,000 of the county's 127,450 residents live in its most populous city, Sierra Vista, site of the University of Arizona College of Applied Science and Technology and neighbor to US Army post Fort Huachuca. 
Public Information & Records:
COCONINO COUNTY
Coconino County encompasses 18,661 square miles, making it the second largest county by area in the contiguous US. Coconino County contains parts of the Grand Canyon National Park and is home to five of the state's 22 federally recognized Native American nations. Among the county's largest employers is Northern Arizona University in Flagstaff, the city where 75,038 of the county's 145,101 residents live. The famously artsy community of Sedona straddles the line between Coconino and Yavapai counties.
Public Information & Records: 
A local ban-the-box law applies to public sector employees in Coconino County.
MARICOPA COUNTY
Maricopa County is far and away the most populous in Arizona. With 4,420,568 residents—many of whom are concentrated in Phoenix, Mesa, Chandler, and Scottsdale—Maricopa County is thriving. Phoenix is home to the state capital as well as growing high-tech, business services, and renewable energy sectors. Nearby Chandler is a hub for self-driving cars. Queen Creek, located primarily in Maricopa County, was the US Census Bureau's third fastest-growing city with a population of 50,000 or more in 2021.
Public Information & Records: 
Local ban-the-box laws apply to public sector employees in Glendale, Phoenix, and Tempe.
MOHAVE COUNTY
Located in the northwestern corner of Arizona, Mohave County includes parts of Grand Canyon National Park, Lake Mead National Recreation Area, Grand Canyon-Parashant National Monument, and the Kaibab, Fort Mohave, and Haulapai Indian reservations. About a quarter of Mohave County's 217,206 residents live in its most populous city, Lake Havasu City. Other notable cities include Bullhead and the county seat, Kingman.
Public Information & Records
NAVAJO COUNTY
Almost two-thirds of Navajo County is Indian reservation land, including Navajo Nation, Hopi Indian Reservation, and Fort Apache Indian Reservation. The county's population is 106,717. The county seat is Holbrook and its largest city is Show Low, where residents enjoy a small-town community atmosphere surrounded by mountains and forest.
Public Information & Records:
PIMA COUNTY
Most of Pima County's over 1 million residents are centered around Tucson, the state's second most populous city. In addition to being a major commercial hub, Tucson is home to the University of Arizona, ranked among the top 50 public universities by US News & World Report with nearly 47,000 undergraduate and graduate students in attendance. Organ Pipe Cactus National Monument, Ironwood Forest National Monument, and Saguaro National Park show off Pima County's natural beauty.
Public Information & Records:
 Local ban-the-box laws apply in Pima County and the city of Tucson.
PINAL COUNTY
Situated between Arizona's two most populous counties, Pinal County is experiencing suburban sprawl from Phoenix to the north and Tucson to the south, though it retains much of its rural character. With a population of 425,264, Pinal County is the third most populous county in the state. Rapid growth has made Maricopa the largest city whose boundaries lie entirely within Pinal County, but the unincorporated San Tan Valley is actually home to more residents.
Public Information & Records: 
YAVAPAI COUNTY
Yavapai County calls itself the "mountain heart of Arizona," though its terrain ranges from the mountains of the Grand Canyon to the desert. Its most populous city is Prescott, where 45,827 of the county's 236,209 residents live. Other cities include Cottonwood and West Sedona. Located roughly 100 miles from Phoenix, Prescott began as a gold and silver mining town and is now considered a center of trade for the region.
Public Information & Records:
YUMA COUNTY
Yuma County is one of the driest and sunniest places in the US, averaging nearly 300 days of sun every year. Nearly half of the county's 203,881 residents live in Yuma, the most populous city followed by San Luis, and Fortuna Foothills. Yuma County borders the Mexican state of Sonora, Baja California, and the US state of California.
Public Information & Records:
Get An Arizona Background Check With GoodHire
GoodHire offers more than 100 screening options for employers in Arizona. Our comprehensive suite of background checks enable employers to make timely and informed hiring decisions, while our built-in compliance tools simplify adherence with federal, state, and local laws. Our online platform is easy-to-use and built for efficiency and accuracy. Ready to run a background check in Arizona? Get started today.
Disclaimer
The resources provided here are for educational purposes only and do not constitute legal advice. We advise you to consult your own counsel if you have legal questions related to your specific practices and compliance with applicable laws.