Indiana Background Checks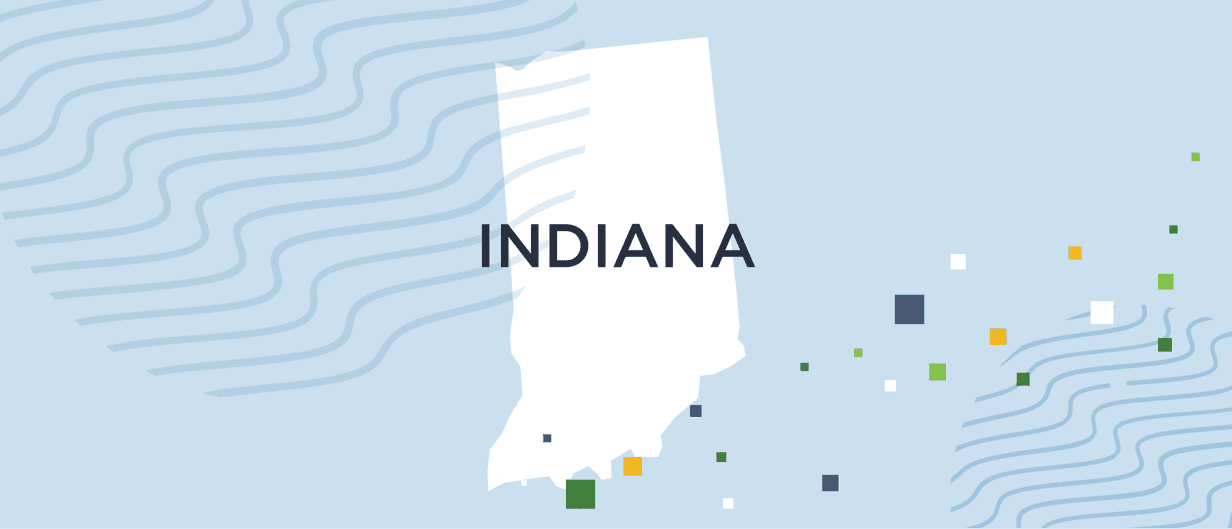 An Indiana background check for employment may be used by employers to look into a candidate's history to verify their qualifications and eligibility for a position. Designed to help employers make more informed hiring decisions and mitigate risk, they can provide insight into a candidate's criminal background, education, work history, driving records, and more. 
From criminal and driving records, to education and employment verification, Indiana employers can use pre-employment background checks to learn more about a candidate's history. But navigating federal, state, and local background check laws can be a challenge. This guide covers what employers need to know about how an Indiana background check works, what is included, how it is conducted, and the fair hiring laws and regulations that apply in Indiana.  
What Is An Indiana Background Check?
A background check in Indiana searches an individual's history, such as their criminal records, motor vehicle reports, education, and past employment. Background checks are typically used by employers and organizations to screen candidates and volunteers to determine if they are qualified for a position and to verify information on a resume or job application. In many cases, an Indiana background check can also help hiring managers gather additional information about a candidate, such as their professional references. 
The information gathered in a pre-employment background check may also be used by Indiana employers to help mitigate risk and potential liability claims, protect company assets, and promote safer workplaces. In some cases, an Indiana background check may be required by law. For example, the state of Indiana mandates childcare workers to submit to both federal and Indiana criminal background checks, while Indiana school bus drivers must pass both criminal and driving record checks, plus take a drug test. 
Here is a closer look at some of the most common types of state of Indiana background checks:
Criminal background check to reveal criminal history information, including felony or misdemeanor convictions. 
Driving record check to review a candidate's motor vehicle record, which may include citations, violations, and both current and resolved license suspensions. This screening may be more commonly used for positions that involve driving on the job.
Education verification to validate a candidate's academic background, including schools attended, degrees obtained, dates of attendance, and graduation dates. This screening may be more commonly used for positions that require specific degrees or educational backgrounds. 
Employment verification to confirm past job titles, previous employers, and employment dates. 
Credit checks to look into a candidate's credit report, including payment history, collections, and bankruptcies. This screening may be more commonly used for positions with financial responsibility, where allowed by law. 
Drug testing to screen a candidate for the presence of controlled substances, including illicit drugs and prescriptions. This screening is commonly used for positions that involve safety, such as law enforcement, or where required by law, such as commercial trucking. 
How Long Does A Background Check Take In Indiana?
Turnaround times for background checks in Indiana can vary, but typically depend on the scope of the search, the type of searches needed, and who is conducting the background check. For example, a limited Indiana criminal background check can be performed online or requested by mail, but it only reveals felonies and Class A misdemeanors. More detailed Indiana State Police background checks, like a fingerprint criminal record search, may take more time.  
When an employer handles background checks directly, they will likely need to request information from a variety of public record sources, including court records, county clerks, the Indiana Bureau of Motor Vehicles (BMV), and the Indiana State Police. Other types of non-public records, including employment verification and reference checks, require a more hands on approach and can be time consuming when handled directly.
Employers that choose to partner with a trusted Consumer Reporting Agency (CRA), such as GoodHire, often experience a more streamlined, efficient process when conducting pre-employment background checks. GoodHire's access to many types of public records and databases, along with courthouses across the US, speeds up the process and delivers more accurate results. From criminal history and driving records to professional reference checks and even international background checks, Goodhire offers many different types of background screenings, making it simple to perform multiple types of pre-employment checks at once. 
How Far Back Does An Indiana Background Check Go?
How far back an Indiana background check can go depends on what type of background check is being conducted, the scope of the search, and who is performing the check. Lookback periods may also be limited by federal, state, or local laws. For example, under Indiana state law a person's criminal history is stored until either a) they pass away or b) reach 99 years old, while having been crime-free since age 84 years. 
Employers that partner with a background check provider, such as GoodHire, are also required to comply with the federal Fair Credit Reporting Act (FCRA). Under the FCRA, arrests and non-convictions older than seven years cannot be reported on a criminal background check for employment. On the civil side, under the FCRA, paid tax liens, collection accounts, suits and judgements older than seven years also cannot be included, along with bankruptcies older than 10 years. However, these look-back periods may not apply if the position has a salary of more than $75,000 or when verifying employment and education history.
Indiana Background Check Laws
There is one statewide ban-the-box law that applies to Indiana public sector employers in the state's Executive Branch. In addition, Indiana employers are required to comply with all federal and Indiana background check requirements designed to protect candidates from discrimination during the hiring process. Indiana employers may wish to follow the strictest laws to reduce potential legal risks.
Executive Order 17-15 applies to the state's public sector employers in the Executive Branch conducting background checks in Indiana. The order prohibits Executive Branch agencies from asking candidates about convictions or criminal history on an initial job application (unless a conviction of a particular crime would preclude the candidate from employment in the specific role for which they applied).
Under this statewide law, Indiana employers may request a candidate's "limited criminal history" from the Indiana state criminal record repository during the hiring process. This  includes misdemeanor and felony cases prosecuted in the state of Indiana.. To be reported, cases must include a disposition, unless the arrest or criminal charge occurred less than one year before the date of the request. Employers must request a "limited criminal history" directly from law enforcement, such as the Indiana State Police. A third party background check service provider cannot be used to obtain this specific Indiana state "limited criminal history" report, but Indiana criminal cases may still be obtained by background check service providers directly from county courts.
This law is designed to help ensure accurate reporting of a candidate's criminal history. Under this statewide code, a criminal record provider cannot knowingly include information on a criminal record report that fails to reflect material changes made in official records 60 or more days before the report was delivered. Additionally, under this code, criminal history providers may not knowingly provide a report that contains  expunged criminal records or records that are restricted from public disclosure or removed from public access.
Under Senate Bill 312, Indiana counties, cities, and towns are prohibited from passing their own ban-the-box laws that are more restrictive than state or federal law. Indiana was the first state in the US to enact this type of legislation, which is designed to make it simpler for employers that operate across the state of Indiana to comply with employment laws. 
Employers that choose to use a CRA to conduct pre-employment background checks are required to comply with the federal FCRA. Under this act, employers must provide a candidate with written disclosure of their intent to do the background check. In addition, the candidate must provide their consent to the background check in writing. If an employer finds something on the background check and decides not to hire a candidate based on something discovered on a background check, they must follow the adverse action process.
County Resources
Allen County
Over 385,000 people live in Allen County. Located in the north east corner of the state, Allen County is the third-most populous county in Indiana, home to the city of Fort Wayne, the second largest city in Indiana. 
Public Information & Records
Hamilton County
Hamilton County is home to nearly 350,000 residents and is the second-most populous county in Central Indiana. The county is home to the Carem, Fishers, and Noblesville, three of Indiana's largest cities. 
Public Information & Records
Lake County
Lake County is the second-most populous county in Indiana with over 497,000 residents. Lake County is part of the Chicago metropolitan area and located in the northwestern portion of the state. It is bordered by both Lake Michigan and a portion of the Indiana Dunes.
Public Information & Records
Marion County
Located in central Indiana, Marion County is the largest county in the state and has a population of more than 977,000 residents. Indianapolis, the state's capital and Indiana's largest city is located in Marion County. A special arrangement called Unigov consolidates the city of Indianapolis with Marion County. 
Public Information & Records
St. Joseph County
Sometimes called St. Joe County, this Indiana county is located in the northern part of the state and borders Michigan. St Joseph County is home to more than 273,000 residents and is part of the "Michiana" metropolitan area. Major cities include Mishawaka and South Bend. 
Public Information & Records
How To Get A Background Check In Indiana
Indiana employers can work with a trusted CRA, such as GoodHire, for more accurate reporting and faster turnaround times. With more than 100 screening options, an easy-to-use online platform, and automated workflows, GoodHire helps streamline the entire background check process — all while helping employers navigate complex federal, state, and local compliance regulations. Get started today, or reach out to our sales team to see how we can meet your specific Indiana background check needs. 
Disclaimer
The resources provided here are for educational purposes only and do not constitute legal advice. We advise you to consult your own counsel if you have legal questions related to your specific practices and compliance with applicable laws.