Maryland Background Checks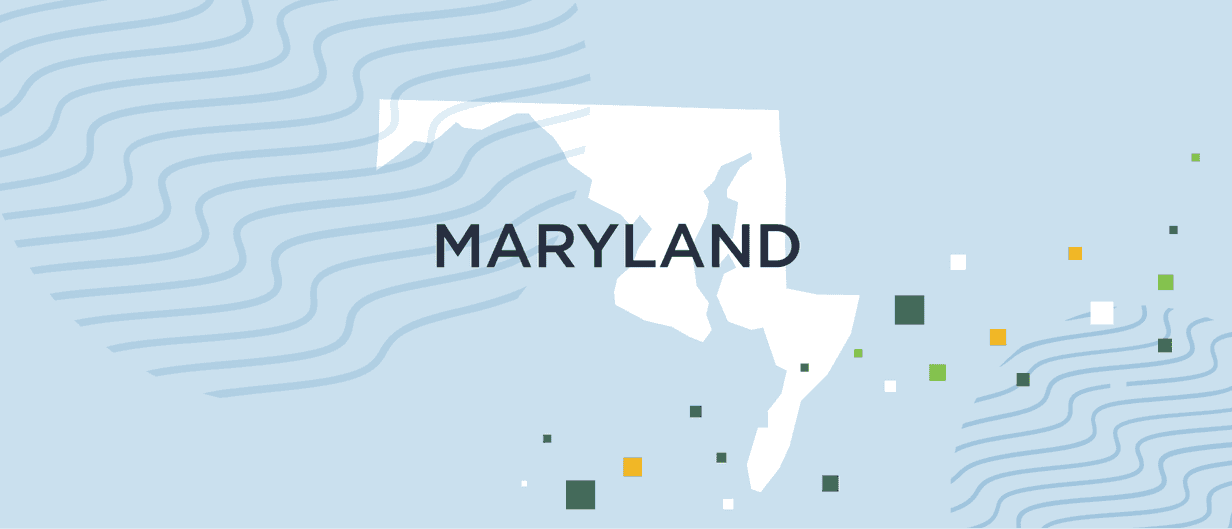 Conducting pre-employment background checks during the hiring process can help companies make informed hiring decisions and reduce risk by revealing important information about job applicants. However, employers must be careful to conduct background screenings in accordance with federal, state, and local laws. Keep reading for an overview of Maryland background checks and laws.
---
What Is A Maryland Background Check?
Organizations may use background screenings to investigate job candidates or volunteers. Specific types of Maryland background checks may vary depending on the position in question, but common pre-employment background screenings in Maryland include:
Criminal background checks are used to search national, federal, state, and county records to see if an applicant has a criminal history. Criminal background checks may be more extensive for certain jobs, such as those involving vulnerable populations like  seniors or children. For example, employment in Maryland childcare facilities requires a comprehensive criminal record check that includes searching the state sex offender registry, state child abuse and neglect registry, the National Sex Offender Registry, and conducting an FBI fingerprint check. State criminal records checks are requested through the Maryland Criminal Justice Information System (CJIS), which maintains a central repository of records. 
Civil court checks examine court records for lawsuits, bankruptcies and foreclosures, and other civil disputes. Such checks are most often used when hiring for management or finance-related positions.
Driving record checks search Maryland motor vehicle records to reveal an applicant's license status, driving history, moving violations, and DUIs or similar offenses. These checks are commonly used for jobs that involve operating vehicles or machinery. 
Credit checks review a candidate's credit history. Generally used for finance-related positions, a credit check may reveal collections, bankruptcies, and payment history. 
Employment verifications determine whether a candidate's work history, such as dates of employment and position, is accurate.
Education verifications confirm schools attended, dates of attendance, and degrees obtained.
How Far Back Do Maryland Employment Background Checks Go?
How far back an employment background check in Maryland can legally go depends on two factors: the type of background check you are conducting and whether you're working with a consumer reporting agency (CRA) or searching on your own. CRAs are limited to a seven-year lookback period for many types of records, while employers conducting their own searches are not. 
If you work with a CRA to obtain background checks, the Fair Credit Reporting Act (FCRA) limits reporting to seven years on arrests that did not lead to convictions, liens, collections, and civil judgments. Bankruptcies are limited to 10 years. This seven-year limit does not apply for jobs that have a salary of $20,000 or more, nor to searches conducted by employers themselves (rather than through a CRA).
Employers conducting checks without the help of a CRA may go back as far as needed to verify education, employment history, credentialing, or licensing. Here's how far back other types of Maryland background checks can go:
How to Get A Maryland Background Check
Wondering how to get a Maryland background check? Employers can choose to search Maryland records directly or use a qualified CRA, like GoodHire. Doing it yourself may seem like the best way to save money, but in reality, it can cost you extra time, effort, or even the ideal candidate by slowing down the hiring process. 
For example, to conduct a criminal records search on their own, employers must complete the required documentation, apply to register, and wait for their application to be approved. Once approved, you must arrange to obtain the candidate's fingerprints, submit a request for the individual's criminal records, and wait for the results. Businesses conducting MVR checks must submit a letter of authorization from the job candidate and either complete an MVA Request for Record form or subscribe to one of the MVA's online services to access records. 
Time-consuming processes like these can significantly slow down background checks and could even cost you a qualified candidate. What if another employer offers your top choice a job while your background screening is still in process?
But delays are only one of the risks of DIY background screenings. You'll also need to stay on top of federal, state, and local laws regarding background checks; ensure you get the correct authorizations from job candidates; and follow all the steps the law requires. 
Using a CRA, like GoodHire, can save you valuable time and money, while also providing peace of mind with legal compliance. Our online platform simplifies the background screening process for both hiring managers and job candidates, while our built-in compliance features automate key steps such as background check review workflows and initiating adverse action. Additionally, our proprietary databases, access to over a billion regularly updated public records, and relationships with courthouses nationwide help speed turnaround times for background checks.
Maryland Background Check Laws
Employers conducting background checks in Maryland must comply with the FCRA. This federal law regulates when employers can perform background checks, how to get a candidate's consent for a background check, how to inform candidates of the results, and steps to follow if you decide not to hire an individual as the result of a background check. 
Employers should also be careful to comply with Maryland background check laws. There are several state laws regulating criminal background checks in Maryland as well as credit checks and other types of checks. 
Public employers for the State of Maryland may only inquire into criminal history after the applicant has been interviewed.
Public and private employers with 15 or more employees may not require a candidate to disclose whether the candidate has a criminal record or has had criminal accusations brought against them before the initial interview. The employer may require the applicant to disclose this information during the first in-person interview. There are exceptions where allowed by state or federal law, and for employers that provide programs, services, or direct care to minors or vulnerable adults. 
CRAs are prohibited from reporting:
Bankruptcies more than 10 years old 
Collections accounts more than seven years old
Lawsuits, judgments, and paid tax liens over seven years old 
Records of arrest, indictment, or conviction over seven years old
Positions with salaries expected to equal or exceed $20,000 are exempt from these restrictions.
The Job Applicant Fairness Act prohibits employers from using a candidate's credit report to deny employment, terminate employment, or determine compensation or other terms of employment. Exceptions are allowed where required by state or federal law, for certain banks and credit unions, and for investment advising entities registered with the Securities and Exchange Commission. 
Employers can request a credit report or credit history if 1) an offer of employment has been made and 2) the employer has a bona fide, job-related reason for seeking the information and informs the applicant in writing of the request. Employers are assumed to have bona fide reasons for requesting credit reports for:
Managerial jobs
Jobs that have access to employees' or customers' personal information
Jobs that have access to confidential business information such as trade secrets
Jobs that provide expense accounts or corporate credit cards
Employers are prohibited from asking job applicants or employees for their usernames, passwords, or any other method of accessing the individual's personal accounts, including social media accounts. 
Many cities and counties in Maryland have local screening laws that may apply to you and your candidates based on location, such as fair hiring and ban-the-box laws. When in doubt, employers may wish to comply with the strictest laws to avoid potential liability. 
County Resources
The following resources can help you learn more about obtaining background check information in some of the largest counties in Maryland. All state records can be searched on the Maryland Courts website.
Anne Arundel County
Bordered by the Chesapeake Bay, Anne Arundel County has 588,261 residents and over 533 miles of coastline. Water makes up 173 of its 588 square miles, making it the nation's sailing capital and home to the U. Naval Academy. Glen Burnie, Severn, Odenton, and Annapolis are the most populous cities; Annapolis is the county seat and the state capital. 
Public Information & Records: 
City of Baltimore 
As an independent city, separate from any Maryland county, Baltimore is home to more people than any other city in Maryland with a population of 585,708 in just 80 square miles. Featuring many historical sites and museums, it's just 40 miles northeast of Washington, DC. 
Public Information & Records
The city of Baltimore has a ban-the-box law.
Baltimore County
Maryland's third-most populous county has 854,535 residents in 682 square miles. Its biggest cities are Dundalk, Towson, and Catonsville. Healthcare and higher education are its major employers; the county is also known for miles of parks and beaches. 
Public Information & Records: 
Carroll County
Bordered on the north by Pennsylvania, Carroll County enjoys the best of both worlds as a largely rural area that's convenient to Baltimore, Gettysburg, and Washington, DC. Named for Charles Carroll of Carrollton, the last surviving signer of the Declaration of Independence, it has 172,891 residents in 453 square miles. Eldersburg and Westminster are the most populous cities.
Public Information & Records: 
Charles County
Just 20 miles southeast of Washington, DC, this county on the Southern Potomac River offers plenty of opportunities for water sports: 185 of its 643 square miles are water. A population of 166,617 works primarily in healthcare and government jobs. The largest city, Waldorf, is home to many historic sites; John Wilkes Booth famously escaped through Waldorf after shooting President Lincoln. 
Public Information & Records: 
Frederick County
This affluent, rapidly growing county in Northern Maryland borders Pennsylvania and Virginia. Professional and healthcare workers dominate among its 271,717 residents. Frederick County's 660 square miles are home to a thriving historical downtown and many Civil War sites. Frederick is the biggest city. 
Public Information & Records: 
Harford County
Occupying 437 square miles, Harford County is located on the Chesapeake Bay and combines urban areas with rural charm. Healthcare is a major employer for its 260,924  residents. Bel Air is the largest city and county seat. 
Public Information & Records: 
Howard County
Howard County's median household income of nearly $125,000 makes it one of the top 10 most affluent communities in America. It has 332,317 residents in 250 square miles; Columbia is the largest city, followed by Ellicott City, the county seat. Healthcare, government, and education are key industries in the county, which also features many historical sites, cultural events, and outdoor recreation spots. 
Public Information & Records: 
Montgomery County
The state's most populous county has over one million residents in 491 square miles and is among the most ethnically and culturally diverse areas in the US.  Bordering the District of Columbia, it's an important business and biotech research center that is home to many national museums and federal government agencies. Healthcare and government are major employers; Germantown, Silver Spring, Gaithersburg, and Rockville are the largest cities. 
Public Information & Records: 
Montgomery County has a ban-the-box law.
Prince George's County
The 482 square miles of Prince George's County run the gamut from rural areas to the Beltway
bordering Washington, DC. The second-most populous county in the state, it's home to many federal governmental facilities, as well as award-winning parks, recreational spots, and historic sites. Government is the major employer for Prince George's County's 967,201 residents; Bowie, Clinton, and Chillum are the most populous cities.
Public Information & Records: 
Prince George's County has a ban-the-box law.
St. Mary's County
Settled in 1634, St. Mary's County was the site of the first Maryland Colony and the first capital of the Colony of Maryland. It's still home to some of the nation's oldest buildings. The population of 113,777 includes many commuters to DC; military, defense contractors, and higher education are also major employers. Lexington Park and California are the biggest cities in the 357-square-mile county. 
Public Information & Records: 
Washington County
Bordered by Pennsylvania, Virginia, and West Virginia, Washington County was the first county in the nation to be named for George Washington, then a Revolutionary War general. Famed for Civil War sites, 18th-century structures, historic stone bridges, and national and state parks, it has 154,705 residents in 457 square miles. Hagerstown is the largest city and the county seat.
Public Information & Records:
Get A Maryland Background Check With GoodHire
Pre-employment background checks are an important tool in the hiring process for many  employers. Screening a job candidate's background can help you select the ideal hire while reducing your risk of legal liability. Although it's possible to conduct a Maryland background check on your own, doing so can be time-consuming and creates potential legal risk. A third-party background check company like GoodHire can simplify the background screening process.
With more than 100 background screening options, GoodHire provides a comprehensive and FCRA-compliant suite of services for your background check needs. Our easy-to-use online platform and in-house compliance experts take the guesswork out of a challenging task. To learn more about background checks with GoodHire, contact our sales team.
Disclaimer
The resources provided here are for educational purposes only and do not constitute legal advice. We advise you to consult your own counsel if you have legal questions related to your specific practices and compliance with applicable laws.