Mississippi Background Checks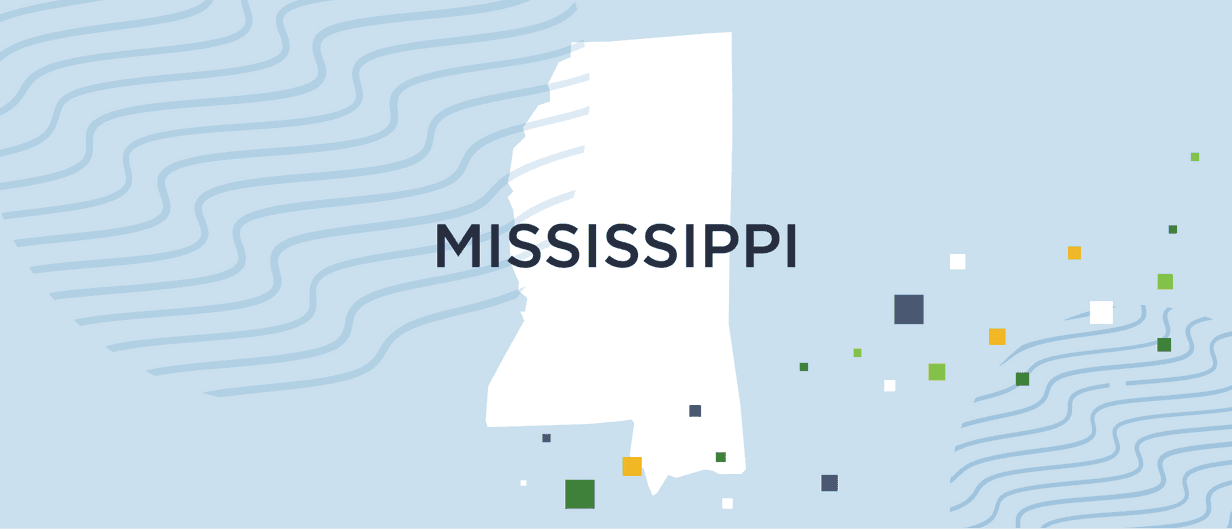 Conducting a Mississippi background check can help employers mitigate risk and support informed hiring decisions by providing information about a candidate's criminal history, education, work experience, driving records, and more.
---
Many employers use Mississippi employment background checks to help them assess a candidate's qualifications, experience, and eligibility for a position. However, maintaining compliance with federal and state laws regulating how employers can use background checks can be complicated. This guide explains how a Mississippi state background check works, what information it shows, and what human resources teams must know to comply with relevant hiring laws.
What Is A Mississippi Background Check?
A Mississippi background check gathers information from public sources such as criminal records and motor vehicle records, as well as prior employers and schools, to help determine whether a job candidate is qualified for a role. Employers and organizations can choose different types of background screenings depending on their organizational needs or the requirements of the position. 
Commonly used background checks include criminal history searches, employment and education verification, motor vehicle record checks, and professional license verification. Reviewing the results of a Mississippi state background check can help employers verify information on a job application or resume, screen candidates to mitigate risk, and support a safer workplace.
What Shows Up On A Mississippi Background Check?
What shows up on a Mississippi employment background check will depend on what searches are conducted. For example, Mississippi requires fingerprint- and name-based state and national criminal background checks for some positions, such as healthcare, daycare, nursing home, and elder care workers. But juvenile court records and criminal records that have been expunged will not appear on a Mississippi background check.
Here's a closer look at what different background screenings may show:
How Long Does A Background Check Take In Mississippi?
How long a background check takes in Mississippi will vary depending on the scope of the search, the types of background screenings performed, and who is conducting the background check. When employers conduct Mississippi background checks themselves, it typically involves requesting information from multiple sources of public records, including court records, county clerks, and state agencies such as the Mississippi Driver Service Bureau and Mississippi Department of Public Safety (which maintains criminal records). Other types of background screenings, such as employment verifications and reference checks, may require contacting former employers directly, which can be time-consuming for a busy HR team. 
Partnering with a trusted consumer reporting agency (CRA), like GoodHire, can make the pre-employment background check process more efficient. GoodHire's expertise and access to public records, databases, and court records delivers faster, more accurate results.
How Far Back Does A Background Check Go In Mississippi?
How far back a Mississippi state background check goes depends on the type of background check and whether the employer is working with a CRA or conducting the background screening themselves.
There are generally no state or local laws restricting how far back a Mississippi criminal background check can go. However, employers working with a CRA must comply with the federal Fair Credit Reporting Act (FCRA). The FCRA limits reporting of arrest records and non-convictions to a lookback period of seven years during criminal history checks for employment. Individuals in Mississippi can petition to have certain misdemeanors and felonies, including arrest records and convictions, expunged from their criminal records. Expunged records will not appear on a background check. Juvenile or "youth court" records are usually closed and cannot be accessed without a court order.
The FCRA also imposes a seven-year lookback period for civil suits and judgments, paid tax liens, and accounts in collections. Bankruptcies have a lookback period of up to 10 years. However, FCRA lookback limits may not apply when candidates are applying for positions paying $75,000 or more. The FCRA does not limit employment and education history lookback periods. Motor vehicle records reports in Mississippi go back three years.
How To Get A Mississippi Employment Background Check
To get a Mississippi background check, employers can choose to search records directly or use a qualified background check provider to handle the process for them. Under the Mississippi Public Records Act § 25-61-2, public records belong to the public and, with a few exemptions, can be accessed by anyone who requests them.
Employers can choose to conduct certain Mississippi background checks online, such as the State of Mississippi Sex Offender Registry. However, online access to public records isn't always an option as not all records have been digitized. Requests for motor vehicle records must be submitted by mail and a name-based criminal records check through the Mississippi Department of Public Safety involves having the candidate complete a release form and waiting for up to 30 days for results.
An experienced background check provider can streamline the background check process considerably. With access to accurate, comprehensive data sources, CRAs can gather background check information quickly. For example, GoodHire uses a nationwide network of professional court runners to get records from courthouses efficiently. Working with an FCRA-compliant CRA also provides peace of mind, knowing they account for applicable laws and regulations to enable you to make informed hiring choices.
How Much Does A Mississippi Background Check Cost?
The cost of a Mississippi state background check can vary depending on the screenings performed and whether an employer does the screenings themselves or enlists a CRA. For example, GoodHire background check packages start at $29.99. By comparison, performing one Mississippi MVR check directly costs $11, and each Mississippi criminal background check costs $32. Partnering with a CRA that can efficiently manage a variety of background checks and conduct bulk screenings can deliver both time and cost savings for employers.
Mississippi Background Check Laws
Mississippi does not currently have any statewide or local ban-the-box laws. Employers in Mississippi can ask about a candidate's criminal record at any stage of the hiring process, including on the job application. However, there are other applicable laws relating to criminal records and Mississippi background checks.
This law allows individuals to petition for expungement of convictions for certain non-violent felonies from public records five years after completing all terms and conditions of their sentence. First offenders convicted of misdemeanors that are not traffic violations can also petition to have that conviction expunged from public records. Individuals can also petition for expungement of arrests that did not result in charges, for which charges were dropped, or for which the case was dismissed.
Once a conviction has been expunged, candidates do not have to report it when an employer or job application asks questions about their criminal history. However, an employer can ask if a candidate has had an order of expunction entered. 
Mississippi employers can require job applicants to submit to drug and alcohol screenings as a condition of applying for employment. Refusing to take the test, or a confirmed positive test, can be used as a basis for denying employment. Choosing to conduct drug and alcohol tests is voluntary for employers, but employers who opt to do such testing must follow Mississippi Code § 71-7-3. Among other things, this law requires notifying applicants in writing when they apply for a job that drug testing may be required. Applicants may also be asked to sign a statement confirming that they have read and understand this notice. 
This law requires candidates for jobs with any school or department under the purview of the Mississippi Department of Education to undergo a fingerprinting criminal background check. Candidates may be employed before the background check is conducted, as long as they sign a statement acknowledging that disqualifying results of a background check could result in immediate dismissal.  
Childcare facilities (including homes licensed as childcare facilities) must perform a fingerprint criminal records check, sex offender registry check, and child abuse registry check on all prospective employees and anyone living in the home. Individuals can begin working at the facility before the background check is completed but cannot be left alone with children until the Mississippi State Department of Health confirms their suitability for employment.
This law requires hospitals, nursing homes, personal care homes, home health agencies, hospices, and healthcare staffing firms to perform a fingerprint criminal records check on any new employee who provides care or services directly to patients. Employers must also check with the appropriate professional licensing agency to see if the candidate has faced disciplinary action. Employees can be hired and provide direct patient care pending the results of the criminal background check. Disqualifying records will result in voiding employment offers or contracts.
Employers that use the services of a CRA for Mississippi employment background checks must comply with the FCRA. This federal law requires employers to notify the candidate in writing of your intent to perform a pre-employment background check and receive their consent in writing before moving forward. In addition, an employer who opts not to hire a candidate because of information in a background screening report must follow the adverse action process.
County Resources
The resources below provide more information about relevant laws and public records in some of Mississippi's largest counties:
DeSoto County
DeSoto County was named for Spanish explorer Hernando De Soto. Its population of 170,890 are employed primarily in healthcare, retail, and transportation. De Soto County is on Mississippi's northwestern border and considered part of the Memphis metro area. Southaven, Olive Branch, and Horn Lake are the largest cities.
Public Information & Records
Harrison County
Home to over 60 miles of shoreline and 198,570 residents, Harrison County is known for its coastal living. Over 400 of Harrison County's 976 square miles are covered by water. Gulfport, the biggest city, is also the state's chief port and connects with the Gulf of Mexico. With nine hospitals and plentiful outdoor recreation opportunities for visitors, healthcare and hospitality are the county's major industries.
Public Information & Records
Hinds County
The most populous county in Mississippi, Hinds County has 244,596 residents in 877 square miles. Its largest city is the state capitol, Jackson, which sprawls into neighboring Rankin County. Healthcare is the major industry, along with retail and education, as Hinds is home to several colleges and universities.
Public Information & Records
Jackson County
Bordering Alabama on the east, Jackson County is named for former president Andrew Jackson. At 1,043 square miles (321 of which are covered by water), it's the largest county in Mississippi; its largest cities are Pascagoula, Gautier, and Ocean Springs. Manufacturing, healthcare, and retail are the primary employers of Jackson County's 140,850 residents. 
Public Information & Records
Rankin County
Partly rural and partly urban, Rankin County is one of Mississippi's fastest-growing areas. National forests, a reservoir, and a river in its 806 square miles give Rankin County's 147,930 residents plenty of outdoor activities to choose from. Jackson (which is partly in Hinds County) is the biggest city; healthcare, retail, and manufacturing are the major employers.
Public Information & Records
Get A Mississippi Background Check With GoodHire
Employers can speed their hiring process by partnering with a trusted screening provider, like GoodHire, for background checks. GoodHire offers over 100 screening options with faster turnaround times and more accurate reporting to meet Mississippi employers' needs. Intuitive workflows and an easy-to-use online dashboard streamline the background check process, while compliance tools support HR professionals navigating federal and state compliance laws. Get started with Mississippi background checks today or contact GoodHire's sales team to learn how we can meet your background screening needs.  
Disclaimer
The resources provided here are for educational purposes only and do not constitute legal advice. We advise you to consult your own counsel if you have legal questions related to your specific practices and compliance with applicable laws.