Virginia Background Checks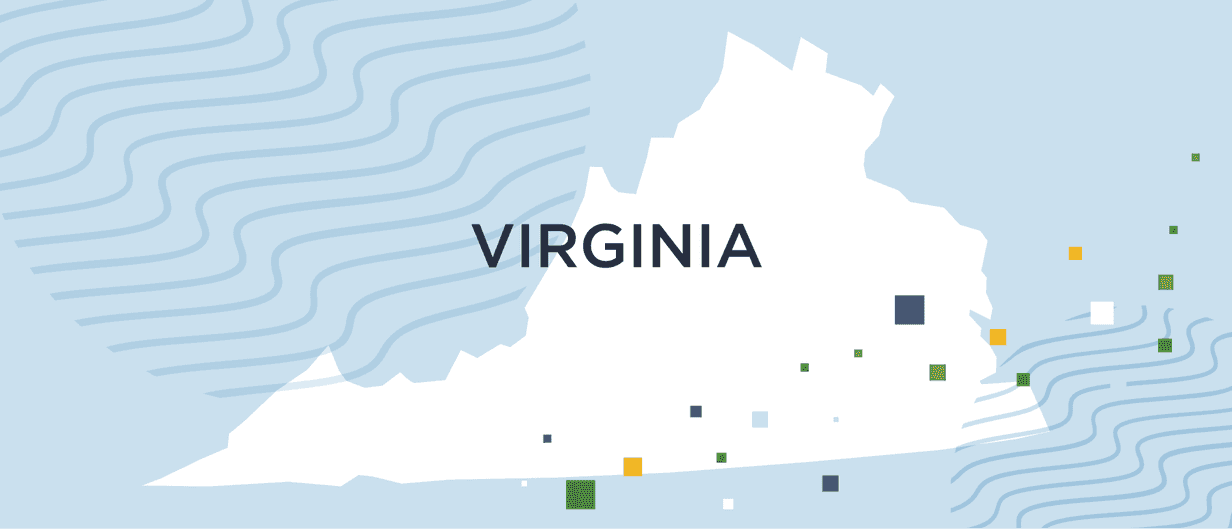 Proximity to Washington DC, a plethora of local jurisdictions, and state laws affecting the use of pre-employment background checks can make Virginia a challenging climate for employers. Understanding the nuances of employment screenings and working with a qualified consumer reporting agency can streamline the process and simplify compliance.
---
Virginia employers may use background checks to gain insight into a candidate's qualifications and history before onboarding them as an employee or volunteer.  At the same time, employers must comply with multiple federal, state, and local laws that affect pre-employment screening, including restrictions on when they may inquire into a candidate's criminal background and what information they may consider as part of the hiring process.
In this guide, we'll review what goes into a background check in Virginia, how far back employers can look, state laws that affect the screening process, and local resources that may help Virginia employers get a handle on local jurisdictions. 
What Is A Virginia Background Check?
A Virginia state background check may include any number of screening reports that search for information about a job candidate or prospective volunteer. A background check in Virginia may reveal information on a candidate's educational and professional qualifications, criminal history, driving record, credit background, and more.
In some cases, employers may be legally required to conduct certain background checks in Virginia. For example, both public and private school employees in Virginia must submit to fingerprint-based criminal background checks through the Virginia State Police and the FBI. Employers of commercial drivers regulated by the US Department of Transportation (DOT) must review a candidate's MVR reports before they hire and annually thereafter, among other DOT requirements.
Even when a VA background check is not legally required, it can help employers make informed hiring decisions, whether the priority is safe driving on the job, protecting children and other vulnerable populations, safeguarding finances, or simply promoting a safe work environment. 
While conducting your own background screening is an option, many employers choose to work with a qualified consumer reporting agency (CRA), like GoodHire, to conduct pre-employment background checks. CRAs have access to thousands of databases and a network of court runners to provide accurate reports with speed, saving employers both time and money. A professional background check provider may also help employers remain compliant with federal, state, and local laws while providing a single point of contact for multiple background screenings.
Common Virginia Background Checks
What types of background checks do employers typically run? Choices may depend on the organization's screening policy, industry, and the position being filled. Following are a few common background screenings employers in Virginia might run.
Virginia Background Check For Employment
Virginia employers may use a range of different background screenings to learn more about job applicants before they hire. The following reports are commonly used in a VA background check for employment:  
Criminal background checks
Education, licensing, and employment verification
Credit checks
Motor vehicle record (MVR) checks
Sex Offender Registry search
Global Watch List search
A qualified screening provider can provide a comprehensive background check for employment that includes all of the screening reports you may need while helping you comply with federal, state, and local regulations.
Virginia Criminal Background Check
Criminal background checks for employment include searches of national, federal, state, and county databases for felony and misdemeanor convictions and pending cases. Here's how each of these searches break down:
National criminal background checks search nationwide databases to find records from state and local jurisdictions. When a record is returned in a national search, employers can follow up by searching the appropriate state or county jurisdiction.
Federal criminal background checks search US district and appellate courts for records of federal crimes.
Statewide criminal background checks in Virginia may search state courts, police, and law enforcement records.
County criminal background checks search county court records, which generally contain the most accurate and comprehensive information on charges, dispositions, and sentencing. A single candidate may require multiple county background checks if they've lived and worked in more than one location.
Virginia State Police Background Check
Virginia employers can request a Virginia criminal records check directly from the Virginia State Police, as this entity maintains a central database of criminal records for the state. The Central Criminal Records Exchange provides criminal background checks for law enforcement, approved civil service and care agencies, and private employers.
Approved agencies including childcare providers, assisted living facilities, home care agencies, and hospital pharmacies may request name-based criminal records searches that show convictions only. Foster care agencies, security guard companies, public school boards, and volunteer fire and rescue departments (among others) may request complete criminal record information, including convictions, pending and dismissed charges. The Virginia State Police can also conduct fingerprint-based state and federal (FBI) searches for agencies that require them.
Virginia Credit Check
Virginia employers may wish to check an applicant's credit report for information on bankruptcies, collections, loan defaults, and credit history. Credit checks are used primarily for positions that involve managing finances, handling money, or dealing with sensitive information such as clients' personally identifying information or credit card numbers. Credit checks may be included as part of a comprehensive pre-employment background screening through a CRA.
How Far Back Does A Background Check Go In Virginia?
The lookback period on background checks in Virginia varies depending on the type of check you're conducting and the scope of the search. For example, when checking education or employment history you may go back as far as necessary to verify information. Motor vehicle records (MVRs) from the Virginia Department of Motor Vehicles show up to seven years of driving history.
Although some states limit how far back employers can look at an applicant's criminal history record, there is no 7 year background check law in Virginia. Some information, including felony and misdemeanor convictions and arrests, remain part of a person's criminal record indefinitely in Virginia.
However, employers that work with a background check provider, also called a CRA, to conduct criminal background checks must comply with the federal Fair Credit Reporting Act (FCRA). According to the FCRA, arrests and non-convictions more than seven years old may not be reported on a criminal background check for employment. The FCRA also limits reporting of bankruptcies older than 10 years and civil suits, civil judgments, collection accounts, and paid tax liens beyond seven years. The FCRA seven-year restriction does not apply to candidates applying for positions that pay more than $75,000 per year.
Virginia Background Check Laws
Virginia Code § 18.2-250.1
Both private and public sector employers are prohibited from asking about arrests, criminal charges, or convictions related to the simple possession of marijuana. When asked to disclose information about arrests, criminal charges, and convictions, an applicant may exclude information about these offenses. This law does not apply to the distribution or intent to distribute marijuana. Learn more.
Virginia Code § 40.1-28.7:5
Employers may not require applicants or employees to provide social media usernames or passwords, or ask to be added to a candidate's list of social media contacts. Learn more.
Virginia Code § 19.2-392.2
Employers may not require job applicants to disclose information about expunged, pardoned, or otherwise erased records. Learn more.
Ban-the-Box Laws
Virginia Code § 15.2-1505.3 prohibits public sector employers in Virginia from asking about an applicant's criminal history or pending criminal cases on a job application or before an initial interview. Law enforcement, local school boards, and other "sensitive" positions are exempted from this restriction. Learn more.
Executive Order No. 41 prohibits public sector employers within Virginia's executive branch from inquiring into an applicant's criminal history before the applicant is deemed eligible for employment and is being considered for a position. Employers must make individualized assessments before deciding not to offer a job. Learn more.
In addition to statewide laws, local county and city ban-the-box laws may affect when you can inquire about past criminal history or conduct a criminal background check during the hiring process. Local laws may also limit what information you may consider and how you proceed with adverse actions such as deciding not to hire. For more information on statewide and local ban-the-box laws in Virginia, see "City and County Resources," below.
Virginia employers that use reports from consumer reporting agencies, like GoodHire, must also comply with the FCRA. The FCRA requires employers to obtain written permission from the job applicant before proceeding with pre-employment background screening. Employers must follow the adverse action process should the information discovered in the background check lead to a decision against hiring. If adverse action is taken, applicants must also receive the name and address of the agency providing the report along with a copy of the report. Applicants have the right to dispute information in the report if they find inaccuracies. 
When in doubt, employers may want to follow the strictest laws to avoid potential liability. 
City & County Resources
The state of Virginia is divided into 95 counties and 38 independent cities. In Virginia, cities and counties are considered co-equal levels of government, so independent cities like Richmond and Virginia Beach exist on their own without a county affiliation. This section includes resources for 13 of Virginia's largest counties and independent cities. 
City of Alexandria
The independent city of Alexandria is officially home to 159,467 residents, but it's also part of the larger Washington, DC metropolitan area that includes the suburbs in adjacent Fairfax County. Alexandria offers a mix of new and old, with one of the nation's most charming Old Town shopping districts as well as some of the federal government's largest operations, including the US Department of Defense, the US Patent and Trademark Office, and the headquarters of the National Science Foundation. 
Public Information & Records:
A ban-the-box law applies to public sector employees in the city of Alexandria.
Arlington County
Across the Potomac River from the District of Columbia, Arlington County is an integral part of the Washington DC metropolitan area. Arlington county's 238,643 residents enjoy an urban-suburban lifestyle in the fifth highest-income county in the US by median family income. Arlington County is home to the Pentagon, Reagan National Airport, global headquarters for Boeing and Raytheon, and the future co-headquarters of Amazon. 
Public Information & Records:
Ban-the-box laws apply to public sector employers in Arlington County.
City of Chesapeake
The independent city of Chesapeake is part of the greater Virginia Beach metropolitan area. Located near Chesapeake Bay and the Atlantic Ocean on the Atlantic Intracoastal Waterway, Chesapeake is the second most populous independent city in Virginia. Top employers in Chesapeake include Canon, Chesapeake Regional Healthcare, and the corporate headquarters of Dollar Tree.  
Public Information & Records:
Chesterfield County 
Located south of Richmond, Chesterfield County is a patchwork of small cities like Ettrick and Bensley, and suburbs of Richmond like Woodlake, Brandermill, and Bon Air. Chesterfield County's major employers include HCA Virginia Health System, UPS, and Amazon. 
Public Information & Records: 
Fairfax County
More than one million residents live in Fairfax County, making it Virginia's most populous jurisdiction. Fairfax County is part of the greater Washington DC metropolitan area and is home to the Central Intelligence Agency and the National Counterterrorism Center. Educational opportunities at public George Mason University support a growing tech sector: 25% of the jobs in Fairfax County are technology-related, with 8,800 technology companies calling the county home.  
Public Information & Records: 
A ban-the-box law applies to public sector employers in Fairfax County.
Henrico County
Henrico County surrounds Virginia's capital city of Richmond on three sides: to the east, north, and west. Richmond was part of Henrico County until it became an independent city in the late 19th century. Henrico County is among the most populous in the state and news site Stacker ranked two Henrico County communities, Short Pump and Innsbrook, among the 50 best places to live in 2022.
Public Information & Records:
Henry County
Set in the foothills of the Blue Ridge Mountains, Henry County offers its residents plenty of opportunities for outdoor recreation and a relaxing quality of life. Its major city is Martinsville, home to NASCAR Cup racing at the Martinsville Speedway. Major employers include Walmart and Eastman, a specialty materials manufacturer. 
Public Information & Records:
A ban-the-box law applies to public sector employers in Henry County.
Loudoun County
Over the last three decades, the population of Loudoun County has nearly quadrupled. With 420,959 residents, Loudoun County occupies the area northwest of metropolitan DC and includes the community of Leesburg, the county seat. Loudoun County has a thriving tech sector, employing 15% of private employees in the county. Loudoun supports nearly $100 million in biomedical research each year through the Howard Hughes Medical Institute's Janelia Research Campus. 
Public Information & Records:
Montgomery County
Montgomery County is home to Virginia Tech, Virginia's third largest public university and the county's largest employer. Nearly 100,000 residents call Montgomery County home; more than 37,000 of these residents may be undergraduate, graduate, and professional students at Virginia Tech.
Public Information & Records: 
Ban-the-box laws apply to public sector employers in the city of Blacksburg and in Montgomery County.
Norfolk County
Although it was once a county, Norfolk is now an independent city in the coastal Virginia Beach metropolitan area. Just over 238,000 residents live in Norfolk, which is home to the largest naval station in the world, Naval Station Norfolk, and a NATO Strategic Command Headquarters. Shipping company Maersk Line, Limited, has a base of operations in Norfolk.
Public Information & Records:
A ban-the-box law applies to public sector employers in Norfolk County.
Pittsylvania County
Pittsylvania County and the neighboring independent city of Danville are located on the North Carolina border, about 90 minutes from Durham. Virginians in search of a quiet lifestyle, surrounded by nature, find refuge in Pittsylvania communities like Mount Hermon, Hurt, and Chatham. Top employment sectors are manufacturing, healthcare, and retail. Pittsylvania County is also home to one of the world's largest uranium deposits.
Public Information & Records:
A ban-the-box law applies to public sector employers in Danville.
Prince William County
Prince William County is part of the greater Washington DC metropolitan area, located west of Fairfax County and South of Loudoun County on the Potomac River. Along with its county seat (and independent jurisdiction) Manassas, Prince William County supports an economy based in science and technology, including strong life sciences and biotech, information technology, and specialized logistics sectors. Nearly half a million people call Prince William County home.
Public Information & Records: 
A ban-the-box law applies to public sector employees in Prince William County.
Roanoke County
Together with the independent city of Roanoke, Roanoke County in southwestern Virginia makes up one of the state's largest metropolitan regions. The county has a population of 96,929 residents, who work for diverse employers that include Roanoke County Schools, Wells Fargo, Roanoke County, and Kroger. Although much of the county is rural or undeveloped, most people live in the suburbs of Roanoke and Salem. 
Public Information & Records: 
A ban-the-box law applies to public sector employers in Roanoke County.
Rockingham County
Located in western Virginia in the Shenandoah Valley, Rockingham County has 83,757 residents who, joined with the 51,814 residents of the city of Harrisonburg, populate the Harrisonburg metro area. The area's largest employer is James Madison University, a public research university with more than 20,000 students.
Public Information & Records: 
A ban-the-box law applies to public sector employers in Harrisonburg.
City of Virginia Beach
Virginia Beach is the most populous city in the commonwealth with nearly 460,000 residents. Although Virginia Beach is known as a resort destination, it's also home to two military bases—Naval Air Station Oceana-Dam Neck and Joint Expeditionary Base Little Creek-Fort Story—as well as the Christian Broadcasting Network and Virginia Wesleyan University. Affordability, a relaxed atmosphere, and an abundance of waterfront property make Virginia Beach an appealing place to live.
Public Information & Records:
A ban-the-box law applies to public sector employees in the city of Virginia Beach.
Get A Virginia Background Check With GoodHire
Conducting pre-employment background checks that are efficient, accurate, and compliant in Virginia can be challenging for any HR team. A qualified CRA, like GoodHire, can help ease the administrative burden and speed the hiring process. GoodHire offers multiple background screening options for employers, with built-in compliance workflows to streamline screening so you can hire with confidence.
Disclaimer
The resources provided here are for educational purposes only and do not constitute legal advice. We advise you to consult your own counsel if you have legal questions related to your specific practices and compliance with applicable laws.