Remote Onboarding Challenges: Verifying Identity From Afar & More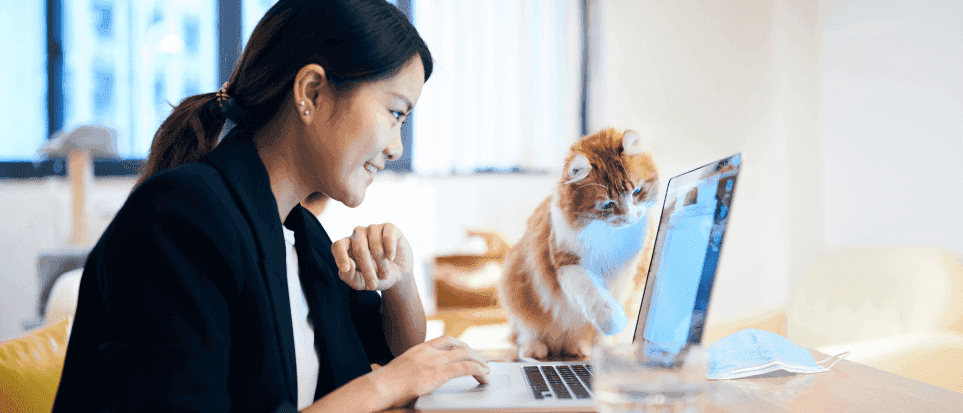 When hiring for remote work, employers' screening, hiring, and onboarding processes must be as fair, accurate, and compliant as those for on-site employees. But remote screening and hiring can make it harder to confirm identities, creating additional risks.
Using the right tools and processes can simplify remote candidate screening and employee onboarding while protecting your company.
---
The COVID-19 pandemic has changed the way we work. Currently, nearly 71% of the workforce is working from home because of the ongoing pandemic. And it's likely many will continue to work from home long after the pandemic; companies like Square and Twitter have already offered employees the opportunity to work from home permanently, and many employers are expected to follow suit.
Of course, these changes have impacted employers in more ways than one. Many have been forced to adapt to virtual work environments—which also means remote job applications, hiring, screening, and onboarding processes for candidates and employees. But just because the hiring environment has changed, employers still need to remain diligent when it comes to screening and virtual onboarding. Why? 
For one, 69% of employees will stay with a company longer if they have a good onboarding experience. Beyond that, though, employers need to ensure their remote screening, hiring, and onboarding processes are just as fair, accurate, and compliant as ever before. That's because remote screening and hiring can create an additional risk for employers, as it may be more difficult to actually confirm who they're hiring. 
But with the right tools and processes, you can make remote candidate screening and employee onboarding simple, effective, and accurate—all while protecting your company along the way.
Remote I-9 & Identity Verification Checks
Identity verification is crucial to any hiring process, but it can be a challenge when done remotely. Of course, this has always been the case for remote employment positions, like freelancers and contractors. But for companies accustomed to in-person onboarding, it's not as simple as asking a candidate to bring documentation to the office to verify their identity.
Identity verification should go beyond a form I-9 verification—which all employers must complete for candidates to verify their identity and authorization to work in the US. Relying solely on remote I-9 verification may not be enough, as candidates may be using a false identity in order to obtain a job. Additionally, issues like mistaken identity and ID theft can cause even more obstacles for employers and candidates.
However, with an identity verification check, employers can assess whether the information they're receiving in a background check actually belongs to the candidate. Without it, companies may be left vulnerable to hiccups that can be costly, like:
Hiring a candidate who is falsifying their identity
Denying a job offer to a candidate who's been a victim of mistaken identity or identity theft
Losing valuable time due to delays in the hiring and screening process
Missing out on good candidates due to poor screening experiences
So, how does GoodHire's Identity Verification work? Identity Verification uses knowledge-based authentication questions and a one-time passcode to verify the candidate's information (like legal name, date of birth, and address). This is similar to the ID verification process consumers go through when checking their credit score or applying for a credit card. 
Next, candidates will be asked those questions only they should know the answer to in order to verify that they are, in fact, the valid owner of the SSN they provided. If they fail this process, you're alerted of the results, and GoodHire will walk you through the proper next steps.
Remote Employee Screening & Onboarding Documents
Hiring new employees typically comes with a lot of paperwork, which is typically signed in-person as part of the onboarding process. However, with many companies operating partially or completely remote, handling onboarding documents electronically can be highly challenging for employers and candidates. As many as 25% of companies say they plan to offer remote work as a permanent benefit post-pandemic, indicating that virtual work environments are here to stay and will continue to grow.
When it comes to the employment screening process, using a professional background check provider like GoodHire can make this entire workflow seamless for all candidates, but it's especially ideal for remote hiring. Since all documentation is completed through GoodHire's secure online platform, such as candidate-provided personal information and consent, you don't have to deal with lengthy email chains, hard-to-read documents, missed signatures, and more. 
For additional onboarding documents that need to be signed for your company—like contracts, non-disclosure agreements, payroll information, and tax documents—consider using an e-signature tool like DocuSign or HelloSign. That way, employees don't have to download any extra software or print and scan their own documents with sensitive information.
Remote Training & Onboarding Checklist
Once you successfully screen and hire remote employees, it's time to tackle the next challenge: training and official onboarding. Consider creating a company-wide remote onboarding checklist so nothing is lost or overlooked, and the new hire experience isn't hindered just because everything is virtual. 
Start with an essential checklist that includes tasks like:
Equipping employees with the right technology
Sending them a welcome gift
Introducing them to the company tools
IT and security training
Sending them a virtual copy of an employee handbook
Setting up introductory meetings with fellow coworkers, teams, and management
Scheduling regular check-ins, and more
From there, think of any training that would typically be done in-person or hands-on and create digital versions of them—such as presentations about the company culture and values. To make new employees feel more welcome and engaged, consider setting up group trainings and investing in online interactive course training tools. 
Don't forget to set specific goals and expectations for employees, as it can be difficult for new hires to navigate their new role—especially without in-person interaction and engagement.
Create A Seamless Screening & Remote Onboarding Experience With GoodHire
Screening and remote onboarding new employees doesn't have to be more difficult than traditional in-person hiring. Make a great first impression for your remote candidates with GoodHire's mobile-friendly, award-winning candidate workflow that allows candidates to complete their background check from any device, wherever they're located. 
Plus, our full suite of employment screening services, including Identity Verification, gives you the confidence you're hiring the most qualified remote employees for your company. 
Disclaimer
The resources provided here are for educational purposes only and do not constitute legal advice. We advise you to consult your own counsel if you have legal questions related to your specific practices and compliance with applicable laws.
---