Should You Rescind A Job Offer Based On A Credit Check?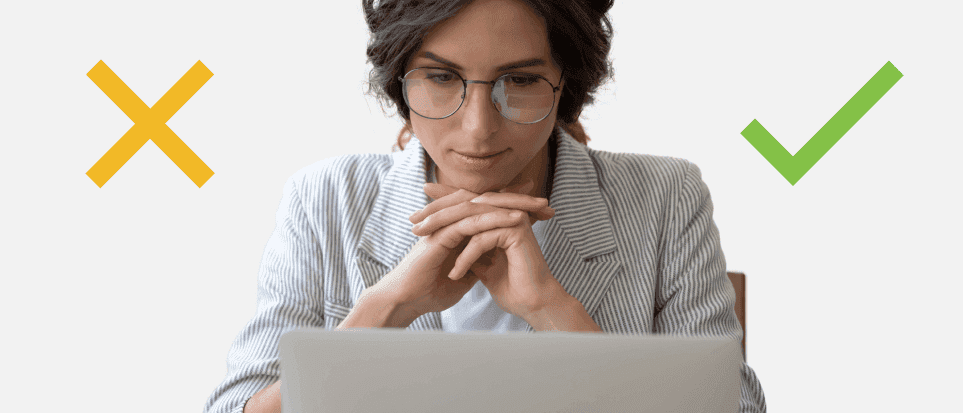 Background credit checks can help protect employers from hiring candidates who could pose a risk of theft, embezzlement, or fraud. But should you rescind a job offer based on an unfavorable credit check?
Find out what to consider when making this decision and the proper steps to take to protect your company, protect candidates, and uphold fair and legal hiring practices.
---
It's a situation employers and candidates inevitably face during the screening and hiring process: The application and cover letter are impressive, a few rounds of interviews are conducted successfully, a job offer is presented which may be conditional on the results of a pre-employment background check. 
And if those screenings yield unfavorable results about a candidate—such as a history of criminal activity, DUIs, or other red flags—you may wish to rescind your job offer, as that candidate may no longer be qualified for the position. While these types of rescinded job offers may be a bit more straightforward, there are scenarios in which the answer is a bit murkier—like when an employment credit check is part of the screening.
Currently, nearly 25% of HR professionals perform credit or financial checks during the hiring process—and one in seven people have stated employers didn't hire them because of negative results. Because, while employers may wish to rescind a job offer due to the results of a credit check, the question becomes: how do you determine whether you should?
That's why GoodHire is sharing ways employers can approach rescinding job offers based on the results of a credit background check and the proper steps to take during the process.
Why Credit Checks Are Important
Before deciding whether to rescind a job offer based on a credit check, it's important to understand why these types of checks are important in the first place. Some positions in industries like accounting, finance, public service, government, or trading typically require the employee to manage, handle or have access to large amounts of money, including:
Company budgets and accounts
Company credit cards
Buying and trading, and more
As a result, employers essentially want to know and understand candidates' personal history with finances to help ensure they're hiring qualified people with the utmost integrity and fiscal responsibility. Background credit checks can help protect employers from hiring candidates who could pose a significant risk to the company through potential theft, embezzlement, fraud, and accepting bribes.
---
More Than 100,000 Employers Trust GoodHire For Better Background Checks
talk to Sales
---
When Credit Check Results Are Unfavorable
When credit background checks are conducted on candidates, credit scores are not reported. Instead, you'll receive a line-by-line credit history with information about open and past accounts, which may be less detailed than what a lender would receive on a loan or credit card application. Employment credit checks report up to seven years of history for credit information and up to 10 years of history for bankruptcies.
Details that employers learn through credit checks may include: 
Mortgage loans
Student loans
Auto loans
Credit card debt
Loan balances
Late/missed payment history
Foreclosures
Bankruptcies
Liens
Any items sent to collections
If a credit check reveals signs of a candidate's mishandling of their finances, it could indicate they wouldn't be the best fit for a role in which they would be responsible for company finances or handling cash. 
When more context is needed
However, it's important to note that an unfavorable credit check may not provide all of the context surrounding the candidate's situation that should be considered before deciding whether to rescind a job offer. An individualized assessment should be conducted to learn more. Some of those instances may include:
The candidate could be a victim of mistaken identity or identity theft, during which a fraudster used stolen data to open up lines of credit under the candidate's name.
The candidate may have unresolved errors on their credit report.
The candidate may be dealing with a personal situation that has taken a toll on their financial situation (COVID-19 pandemic, supporting a loved one, loss of job or home, separation or divorce, etc.).
So, to answer the question of whether you should rescind a job offer: It's a case-by-case situation.
You should consult your company's employment screening policy, and, if necessary, your own legal counsel. It's also considered a best practice to conduct an individualized assessment before finalizing a decision not to hire, as recommended by the Equal Employment Opportunity Commission's guidelines.
Next steps
If you decide to rescind the job offer based on the credit background check, a pre-adverse action letter must be sent, as outlined by the FCRA, to the candidate with a copy of the background check and a copy of "A Summary of Your Rights Under FCRA" (download templates and forms here). 
The candidate will then have a chance to review the credit report for accuracy and respond to any of your questions regarding the information found in the report. If the candidate believes the results are inaccurate, they have an opportunity to dispute the findings. For example, if they believe there is fraudulent activity on their credit report.
If, after that step, you decide to hire the candidate, you've completed the background check process and the offer still stands. However, if you decide not to move forward with the hire, you'll need to complete the adverse action process by sending a final adverse action notice to the candidate.
When Credit Check Results Aren't Accessible
There may be instances in which an employer or a third-party screener like GoodHire runs a credit check that returns no results. In these cases, candidates may have what's called a credit freeze, which denies anyone access to their credit information, including lenders, credit institutions, and background check companies (also known as consumer reporting agencies, or CRAs). 
Anyone can freeze and unfreeze their credit—typically within one to three business days—at any time. (In some cases, a PIN may be provided to the CRA in order to access the credit data and complete the report.) 
Many people freeze their credit to prevent anyone from opening new lines of credit under their name if they suspect their personal information has been exposed in a data breach. While credit freezes don't impact a person's credit history, it may prevent screeners from accessing credit information that may be required as part of an employment background check.
So, when you're deciding whether to rescind a job offer: Extra steps should be taken.
Because candidates will be notified of (and must consent to) their upcoming credit background check, they can communicate with you or the screener about when the check will be conducted. That way, the candidate can unfreeze their credit for the necessary credit check and freeze it again once complete. 
Take The Right Next Steps With Credit Background Checks Through GoodHire
Whether you decide to rescind a job offer due to a credit check will greatly depend on your company policy and relevance to the position you're hiring for. But knowing which proper next steps to take during the process is important to protect your company, protect candidates, and uphold fair and legal hiring practices.
GoodHire is an expert in employment screening compliance and will:
Walk you through GoodHire's process for credentialing your company to perform background credit checks
Help you follow federal, state, and local laws that apply to your company and candidates
Disclaimer
The resources provided here are for educational purposes only and do not constitute legal advice. We advise you to consult your own counsel if you have legal questions related to your specific practices and compliance with applicable laws.
---