What Employers Need To Know About FCRA Credit Check Requirements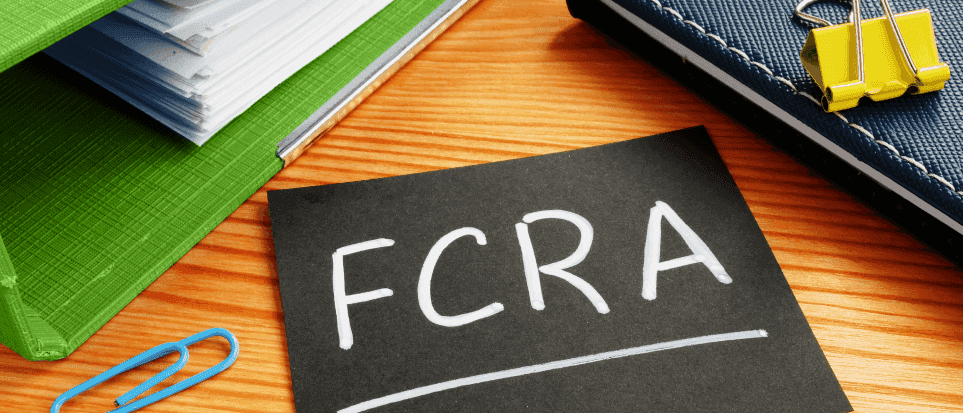 Employment credit checks are a necessary part of background screening for jobs managing or handling money. But employers conducting these credit checks must comply with the Fair Credit Reporting Act (FCRA) as well as state and local laws.
Learn how hiring a compliant consumer reporting agency (CRA) to conduct credit checks can mitigate risk for your company.
---
Credit checks are a necessary part of the screening process for specific jobs and fields. Positions that typically require a credit background check include roles where employees are responsible for managing finances or handling large amounts of money; have access to trade secrets; or work in certain industries like financial services.  
But conducting credit background checks (or any other type of background check) requires careful compliance with a federal law called the Fair Credit Reporting Act, also known as the FCRA. And employment screening companies like GoodHire require companies to undergo additional credentialing in order to qualify for employment credit checks. 
GoodHire is sharing what employers need to know about the FCRA and credit checks, and why hiring a compliant consumer reporting agency (CRA) to conduct credit checks is a wise investment for your company.
What Is the FCRA?
The FCRA went into effect in 1970. It's a federal law initially passed to protect consumers' personal financial information on their credit reports. Because of its broad language, the FCRA covers  both traditional credit bureaus and CRAs like GoodHire that conduct background checks for employers. Both CRAs and employers have important responsibilities to meet FCRA requirements.
The ultimate intention of the FCRA is to protect consumers by giving them the right to:
Be informed when background and credit checks are performed
Give consent for said screenings
Review results from background checks and dispute any inaccuracies
Know when their background check information is used in any employment decisions—like hiring, not hiring, not promoting, or termination 
What Are Applicable Requirements For Employment Credit Checks?
Credentialing for credit reports
Before employers can run credit checks, the company must be credentialed first. Credentialing is the verification process that provides documentation to the CRA showing that your business is legitimate and eligible to receive credit report information.
While CRAs may require different information from your business, the process only needs to be completed once and typically takes between three to five days. You'll need to submit an application and provide documentation, and an on-site inspection of your primary place of business may be required. 
Your company may be exempt from the onsite inspection if it is:
Publicly traded and regulated by the SEC
Listed in the FINRA publication OTC Bulletin Board (OTCBB)
Regulated by an agency listed in Section 621(b) of the FCRA
A licensed insurance provider
A 501(c)(3) non-profit organization
Certified by the Small Business Administration for participation in an SBA-administered program
Certified by the Department of Transportation for participation in the DOT Disadvantaged Business Enterprise Program
A hospital or operates in a medical-related field or facility
A franchise RV or auto dealership
State & local laws apply
Employers also need to be aware of local state and city laws that may apply to employment credit checks. Currently, 10 states have passed laws which prohibit certain employers from running credit reports at all, or limit how and when they may be used to make hiring or other employment decisions.
If you use GoodHire, we'll help you navigate the web of federal and local hiring laws during the screening process, but you'll want to consult with your legal counsel to make sure you qualify to purchase and use employment credit credit checks due to the complex nature of laws that limit the use of credit history in employment decisions. 
FCRA compliance requirements
Once credentialed, employers must remain compliant with the following requirements:
FCRA-Permitted Purpose: Employers must certify to the CRA that they are requesting background check information for employment purposes, which may include making employee hiring or retention decisions. 
Disclosure: Anytime a background check is performed—for candidates or current employees—employers have to provide written disclosure informing candidates that a check will be performed. It's also important to note this disclosure has to be presented on its own—not attached to or combined with any other paperwork.
Consent: Employers must get signed consent from candidates before running background credit checks.
Results: As part of the adverse action process, if an employer decides not to hire a candidate or intends to make any other adverse employment decision (such as denying a promotion or firing an employee), the employer must first provide a copy of the background check to the candidate along with a pre-adverse action notice, followed by a final adverse action notice after the required waiting period (typically five business days).  If the candidate believes information on their background check is inaccurate, they have a right to dispute this information with the CRA, which must reinvestigate the information within 30 days.
What Happens If FCRA Laws Are Violated?
Unfortunately, FCRA violations are common—and fines can be costly and lawsuits can damage a company's reputation and brand. One study revealed a 100% increase in lawsuits filed under the FCRA from 2009 to 2018—many of which were class-action lawsuits.
To put that into context, just one FCRA violation can result in $100 to $1,000 in statutory damages, and when companies screen hundreds or thousands of candidates, one class-action lawsuit could pose a potential for hundreds of thousands of dollars or more in damages, not to mention the cost of attorneys' fees. 
Common FCRA violations
Improper disclosure
Not getting written consent
Not sharing results when taking adverse action
Not providing a summary of rights when taking adverse action
Other adverse action issues, such as not abiding by the necessary waiting period between pre- and final adverse action
Conduct Compliant Credit Checks With GoodHire
One of the best ways to avoid FCRA violations and ensure fair hiring practices? Hire an FCRA-compliant employment screening provider like GoodHire.
Whether we're helping employers become credentialed, running thorough and accurate credit checks, or guiding you through post-screening next steps, we help you maintain compliance every step of the way.
GoodHire provides simply better employment screening for you and your candidates. Learn more about credit checks and get started today.
GoodHire Is A Leader In Compliance
Get peace of mind with built-in compliance features.
talk to Sales
Disclaimer
The resources provided here are for educational purposes only and do not constitute legal advice. We advise you to consult your own counsel if you have legal questions related to your specific practices and compliance with applicable laws.
---