Minnesota Background Checks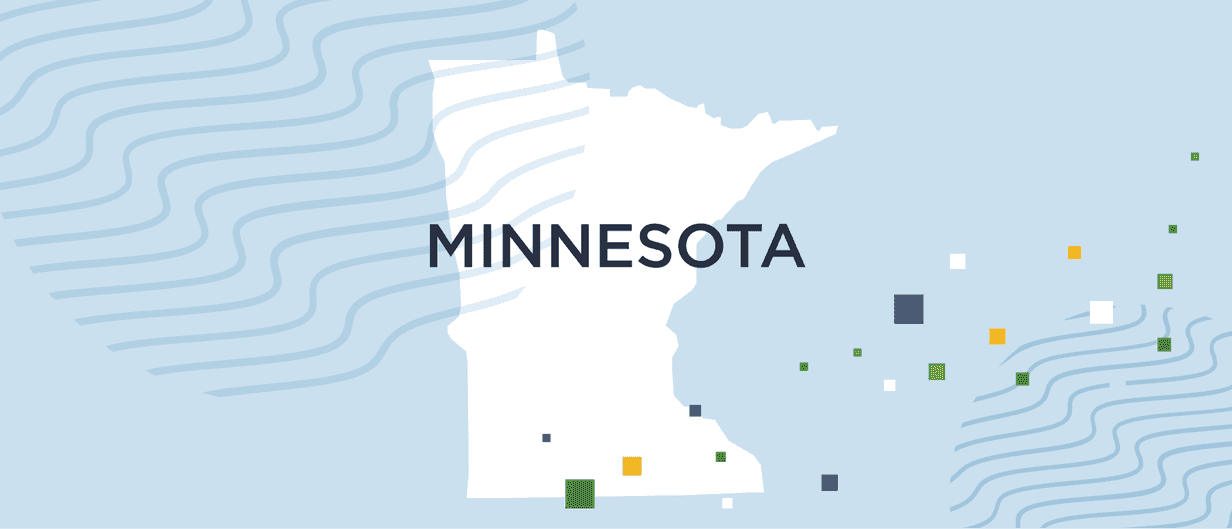 Employee background checks can help you verify a candidate's qualifications and criminal history to help ensure a safer workplace and hire with greater confidence. Read on to learn what employers need to know about running background checks in Minnesota while remaining compliant with fair hiring laws.
---
In Minnesota, background checks can help employers make more informed hiring decisions by providing insights into a candidate's criminal, credit, employment, and education background. Employers who use pre-employment screenings as part of their hiring process must comply with federal, state, and local laws while conducting searches. Here's what you should know about background checks in Minnesota.
What Is A Minnesota Background Check?
Employers in Minnesota use various types of background checks to verify a candidate's education or past employment, learn about their criminal history, review their driving record, or check credit. Employer background checks are often specific to the position: For instance, an employer may conduct a credit check for a position in finance or check driving records for a delivery job.
In Minnesota, some employers are required to perform background checks on employees in specific jobs. Examples include firefighters, police officers, and private security officers. Minnesota public schools are required to conduct background checks on employees who will have contact with children as part of their jobs. Children's service providers may also run background checks on workers who provide care, treatment, education, training, instruction, or recreation services. 
As in all states, Minnesota organizations that receive grants funded by the Corporation for National and Community Service are required to complete state and federal criminal history checks and a search of the predatory offender database on employees who will work with vulnerable individuals including the elderly, disabled people, or children. 
Employers can run employment background checks in Minnesota by directly contacting state and local agencies, schools and past employers, or they may choose to work with a consumer reporting agency (CRA), like GoodHire. A qualified CRA can help employers streamline the background check process while helping to ensure they remain compliant with federal, state and local fair hiring laws. Commonly conducted employment background checks in Minnesota include:
Criminal background checks to search a candidate's criminal history by searching federal, national, state, and county criminal databases.
Civil court checks to search federal, upper, and lower civil courts for lawsuits, bankruptcies and foreclosures, restraining orders, civil domestic violence, and more.
Credit checks to review information on a candidate's credit history, including collections, bankruptcies, and foreclosures, which may be most relevant to positions handling finances.
Driving record checks to search state motor vehicle records for information about a candidate's license status and driving-related violations for positions that include operating vehicles or machinery.
Employment verification to confirm that a candidate's stated work history is accurate.
Education Verification to confirm educational institutions, dates of attendances, and degrees and certifications earned.
Minnesota Predatory Offender Registration Check to search the state database of predatory offenders, particularly for jobs involving work with children and the elderly.
How Far Back Do Background Checks Go In Minnesota?
For background checks conducted by a CRA, the federal Fair Credit Reporting Act (FCRA) limits the look-back period for some information commonly found in criminal, civil, and credit background checks to seven years. This includes criminal arrest records, civil suits, and bankruptcies but not criminal convictions, which may be reported indefinitely. 
Positions paying $75,000 or more are not subject to the FCRA's look-back limitation and may go back further than seven years. Additionally, convictions shown in public criminal records in Minnesota go back as far as 15 years following the completion of a sentence. 
Juvenile criminal records are considered private and can only be released for purposes stated in Minnesota § 299C.095, which does not include employee background checks
Certified driving records from the Minnesota Department of Public Safety Driver and Vehicle Services provide a complete driving history for as long as a driver has been registered in Minnesota; non-certified records show five years of convictions only. Non-criminal driving record information provided by a CRA will be limited to 7 years of history under the FCRA unless the $75,000 salary threshold is met.
Employers verifying education and employment history may go back as far as necessary to find the information they need. However, education and employment history verified by a CRA will be limited to seven years of history under the FCRA unless the $75,000 salary threshold is met. 
Minnesota Background Check Laws
Because the information contained in employee background checks can influence decisions about hiring or promotion, Minnesota has a statewide ban-the-box law that affects both public and private sector employers running criminal background checks, which includes the following regulations:
Both private and public sector employers must wait to run criminal history checks in Minnesota. Employers may not inquire into a candidate's criminal history until they have been selected for an interview or, if a job offer would be extended without conducting an interview, before a conditional offer of employment is made.
Public sector employers are limited on which criminal records they may consider. Public sector employers in Minnesota may not consider the following:
Records of arrest that did not result in conviction
Annulled or expunged convictions
Misdemeanor convictions for which no jail time is imposed
Public sector employers must also follow guidance on adverse action. Employers are required to make an individualized assessment of a candidate's background. And, if a public sector employer or licensing authority denies a job or license, they must notify the candidate in writing with the following information:
The reasons for denial or disqualification
How the candidate may file a complaint or grievance
The earliest date the candidate may reapply
Assurance that evidence of rehabilitation will be considered when they reapply
Employers hiring in Minnesota must also follow federal rules under the FCRA. These rules require employers to obtain written permission from candidates before running background checks. Before taking adverse action, including the final decision not to extend an offer of employment, employers must provide a pre-adverse action notice that includes a copy of the candidate's background check results and a summary of their FCRA rights.   
Federal regulations, Minnesota state laws, and local ban-the-box laws in Minneapolis and St. Paul can make compliance a complex proposition. When in doubt, employers should apply the strictest law that applies to any given locality. Compliance is a common reason employers decide to work with a professional background screener to help manage their background checks. Working with a CRA, like GoodHire, helps ensure your background check process is compliant at every level.
County Resources
In addition to the resources listed below, the state of Minnesota offers a statewide search of criminal court records, including county records, through Minnesota Court Records Online (MCRO). 
ANOKA COUNTY
Anoka County offers a picturesque mix of suburban and rural small-town life north of the Twin Cities. With nearly 365,000 residents, Anoka County is home to the Twin Cities eighth largest suburb, Blaine. Its county seat, Anoka, calls itself the Halloween Capital of the World.
Public Information & Records:
DAKOTA COUNTY
Located in the southeast corner of the Twin Cities metro area, Dakota County is the third-most populous county in Minnesota with roughly 440,000 residents. Its largest cities are Lakeville, Eagan, and Burnsville.
Public Information & Records:
HENNEPIN COUNTY
Home to Minnesota's largest city, Minneapolis, Hennepin County is also the headquarters for corporate giants United Health and Target. Nearly 1.3 million residents call Hennepin county home. After Minneapolis, Bloomington, Brooklyn Park and Plymouth are the county's most populous cities; the Minneapolis suburbs of Eden Prairie and Edina are frequently ranked as among the nicest in the state.  
Public Information & Records:
A local ban-the-box law applies to public sector employees in the city of Minneapolis.
OLMSTEAD COUNTY
Nearly three-quarters of Olmstead County's 163,000 residents live in its largest city, Rochester, which is home to the Mayo Clinic and one of the largest IBM facilities in the nation. 
Public Information & Records:
RAMSEY COUNTY
Ramsey County is both the smallest and most densely populated county in Minnesota with a population of just over 552,000. It's the home of Minneapolis' twin city, St. Paul, as well as the large suburbs of Maplewood and Roseville. St. Paul is the second best city in the US for public parks: 99% of its residents live within a 10-minute walk of a park.
Public Information & Records:
A local ban-the-box law applies to public sector employees in the city of St. Paul.
SCOTT COUNTY
Self-described as the fastest-growing county in Minnesota, Scott County has a population of just under 151,000 and is part of the Twin Cities metropolitan area. Named for the Shakopee-Mdewakanton Indian Reservation that falls entirely within the county, the city of Shakopee is the county seat and the largest city in Scott County.
Public Information & Records:
ST. LOUIS COUNTY
St. Louis County is the largest US county by area east of the Mississippi River. Its county seat is Duluth, about 150 miles north of St. Paul on the shores of Lake Superior. St. Louis County has a population of just over 200,000 residents and its largest city is Hibbing.
Public Information & Records:
STEARNS COUNTY
Stearns County's largest city, St. Cloud, is a college town with four colleges located in its vicinity: St. Cloud State University, St. Cloud Technical College, the College of St. Benedict, and St. John's University. Stearns County has just over 158,000 residents and is considered part of the Twin Cities metropolitan area.
Public Information & Records:
WASHINGTON COUNTY
East of St. Paul, Washington county has nearly 270,000 residents. Its largest cities—Woodbury, Cottage Grove, and Oakdale—are thriving suburbs. Money Magazine ranked Woodbury among the best places to live in America for a recent "building spree" and a job market that's expected to grow 10% by 2025.
Public Information & Records:
WRIGHT COUNTY
Wright County is the second fastest growing county in Minnesota by population with just over 141,000 residents. This largely agricultural county is also part of the Twin Cities metro area. Its largest cities are Otsego and St. Michael. 
Public Information & Records:
Get A Minnesota Background Check With GoodHire
Navigating the federal, state, and local laws governing background checks in Minnesota can be overwhelming for employers. Gain peace of mind by using a third-party background check provider, like GoodHire. GoodHire offers 100+ screening options for employers, saving you time and effort while maintaining compliance from start to finish. To learn more about our  fast, accurate background checks, reach out to our sales team. 
Disclaimer
The resources provided here are for educational purposes only and do not constitute legal advice. We advise you to consult your own counsel if you have legal questions related to your specific practices and compliance with applicable laws.