Pennsylvania Background Checks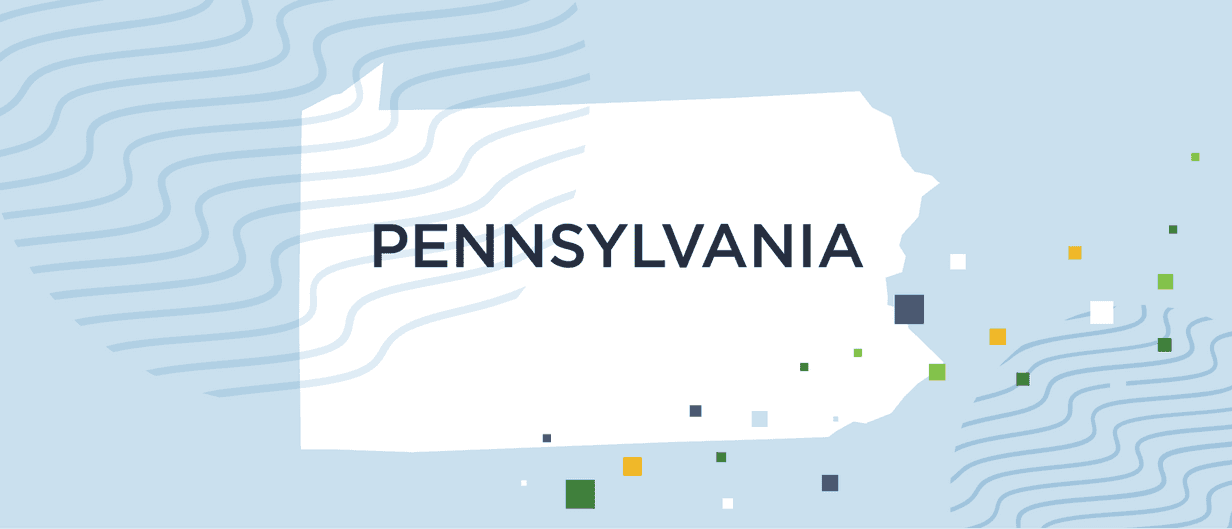 Many Pennsylvania employers use background checks as part of their pre-employment screening process. Background checks may be used as a tool to help make smarter hiring decisions that protect the organization's reputation, employees, and customers. Employers must follow federal, state, and local statutes governing background screenings, proper handling of their findings, and respect for the privacy of job candidates and employees. The following is an overview of what employers should know.   
What Is A Pennsylvania Background Check?
Pennsylvania employers and public agencies use background checks for a wide variety of purposes, such as gauging the reliability of job candidates; qualifying and monitoring operators of heavy equipment, motor vehicles, and firearms; and safeguarding the welfare of children and other vulnerable individuals. 
Pennsylvania background checks often include criminal records searches using the Pennsylvania Access to Criminal History (PATCH) online database, but also may rely on national records searches or even an FBI criminal history clearance.
Common Use Cases For Pennslyvania Background Checks
Pennsylvania's private employers and public agencies routinely run comprehensive pre-employment background checks, which includes criminal background checks, but Pennsylvania background checks can take many other forms:
PA State Police Background Check
The Pennsylvania State Police operates and maintains Pennsylvania Access to Criminal History (PATCH), an online database used in background checks by many state agencies and municipalities. PATCH contains information on convictions and arrests statewide. PATCH is routinely used by state law enforcement agencies to check suspects' criminal histories, but PATCH checks are also required of all prospective school employees, contractors who work in contact with children, foster parents, elder care providers, and others with direct access to vulnerable individuals. 
Pre-Employment Credit Check
Common for certain financial and business-related roles, a pre-employment credit check does not report a candidate's credit scores, but may include information on their current and past employers, notifications of bankruptcy, credit and payment history, any bills turned over to a collection agency, and other credit inquiries made on the candidate. A pre-employment credit check generates a "soft inquiry" entry on the candidate's credit report, which does not affect their credit scores.  A local fair hiring law restricts the use of pre-employment credit checks by employers doing business in Philadelphia.
Motor Vehicle Record (MVR) Check
All Pennsylvania companies that employ commercial drivers subject to DOT regulation must conduct motor vehicle record (MVR) checks and substance-abuse screenings on all operators as part of pre-employment screening, and at regular intervals during their employment, per U.S. Department of Transportation (DOT) requirements. Employers also may perform MVR screenings (with consent of applicant or employee) on new hires and employees who drive company vehicles or who use their own cars in the course of company business.
Volunteer Background Check
Volunteers who donate their time to Pennsylvania departments and organizations that help children, seniors or other at-risk individuals must first consent to a criminal background check. The Pennsylvania State Police PATCH system waives its customary processing fees for volunteers who request background checks using a special request form created for that purpose. 
Additionally, there are several types of criminal background checks in Pennsylvania that must be conducted directly through state or federal agencies. Employers may still work with a third-party background check provider, like GoodHire, to conduct preliminary searches for employment purposes prior to conducting checks through these databases and law enforcement agencies.
FBI Background Check
FBI criminal background checks are required of job candidates applying to work in positions with access to children and other vulnerable persons, and of applicants for licenses in financial fields.
Financial Services Background Checks
The Pennsylvania Department of Banking and Securities, which regulates financial-services in the Commonwealth, requires a Pennsylvania State Police criminal background history check and an FBI Fingerprint Check for all individuals applying for financial services licenses including financial advisers, securities traders, mortgage lenders and brokers, and providers of check-cashing and pawnbroker services.
Pennsylvania Child Abuse History Clearance
Pennsylvania Child Protective Services regulations require three background checks for all new hires at public and private schools, child care facilities, and contractors serving those institutions. In addition to the Pennsylvania State Police criminal history check and FBI Criminal History Clearance, job candidates must also submit a Pennsylvania Child Abuse History Clearance application. Required application forms may be obtained online and submitted using the state Department of Human Services' Child Welfare Portal or via mail. All three screenings required by child protective services must be updated every five years.
Pennsylvania Gun Background Check
The Pennsylvania Instant Check System (PICS) is an electronic database that enables gun dealers and law enforcement officials to check whether an individual is legally barred from purchasing or possessing a firearm. PICS findings that might prevent a gun sale include past convictions on a variety of felonies and weapons-related charges, findings of mental incompetency, and fugitive status. (A gun background check is not part of a pre-employment background check. GoodHire does not offer Pennsylvania gun background checks.)
How Far Back Does A Background Check Go In Pennsylvania?
State law places no restrictions on how far back a Pennsylvania criminal background check can search, and permits employers to consider relevant convictions, no matter how old, when making a hiring decision. However, the Pennsylvania Clean Slate law, described in greater detail below, blocks public access to information for most misdemeanor criminal convictions more than 10 years old, and any arrests that didn't lead to a conviction. This means those incidents should not appear in Pennsylvania background check results or be considered in hiring decisions.  
Pennsylvania does not restrict how far back a Motor Vehicle Record (MVR) check can look, but violations typically remain on state driving records no more than 10 years. (Even if they "fall off" a motor vehicle record, convictions for felony DUI and other motor vehicle-related felonies may stay on your criminal record permanently and will appear in criminal background checks.)
Similarly, other than in Philadelphia, where use of credit checks in pre-employment background checks is restricted (see below), Pennsylvania does not limit how far back a credit check can look. The federal Fair Credit Reporting Act (FCRA) forbids reporting bankruptcies that are older than 10 years and paid tax liens or any collections accounts that are older than seven years.
Pennsylvania Background Check Laws
Pennsylvania has several state laws that limit the use of pre-employment background checks, including:
Public and private employers in the Commonwealth are forbidden from refusing out of hand to hire persons with criminal records, and requires employers to:
Consider only felony and misdemeanor convictions in the hiring process. Summary offenses and misdemeanor or felony arrests and court proceedings that did not lead to a conviction must be disregarded.
Assess whether any conviction uncovered in a criminal background check specifically affects the applicant's suitability for the position to which they have applied.
This ban-the-box provision forbids asking about criminal history on applications for public service jobs in state departments under the governor's authority. The law permits Pennsylvania departments to conduct a criminal background check only after an applicant has been given a conditional job offer. An offer of employment or promotion may be rescinded based on a background check only if the findings have direct bearing on the job in question.
Passed in 2018, it automatically blocks information on misdemeanor criminal convictions that are 10 or more years old, as long as any court orders of restitution have been met. This means those convictions cannot appear in a Pennsylvania background check or be considered as part of a hiring decision. 
In addition to these statewide laws, many Pennsylvania cities and counties have adopted local fair hiring laws that further restrict background check procedures in their jurisdictions. This can create confusion for employers who operate in multiple locations around the Commonwealth, or who employ remote workers living all across the state. When in doubt, employers should apply the strictest law that applies to any given locality.
Employers in Pennsylvania must also comply with the federal Fair Credit Reporting Act (FCRA). The FCRA requires employers to get permission from candidates and employees before conducting background checks, outlines the required steps for notifying candidates of background check results, and requires that employers follow a two-step adverse action process in order to give candidates an opportunity to respond to background check findings that may lead to a decision against hiring or promoting them. 
County Resources
Allegheny County
Located in southwestern Pennsylvania, Allegheny County's 730 square miles include the city of Pittsburgh and surrounding metro area. Known as the historic heart of America's steel industry, the county has emerged in the 21st century as a center for healthcare, education and high-tech development. It is the state's second-most populous county with 1,250,578 residents.
Public Information & Records: 
 Allegheny County has a ban-the-box law. Learn more.
Berks County
Reading, the largest city in Berks County, is famous as the historical home to the Reading Railroad, made famous by the Monopoly game. Considered part of the Philadelphia metro area, Berks County occupies 856 square miles and has a population of 428,849.
Public Information & Records: 
The city of Reading has a ban-the-box law. Learn more.
Bucks County
Located to the northeast of Philadelphia and bordering New Jersey to its east, Bucks County encompasses the suburb of Levittown, a planned community that straddles four municipalities; Croydon, another suburb that lacks a municipal government; and the borough of Doylestown (the county seat). The county spans 604 square miles and is home to 646,538 people.
Public Information & Records:
Chester County
This southeastern Pennsylvania county covers 750 square miles and serves as a suburb to Philadelphia, to its east, and to Wilmington, Del., to its south. Including the borough of West Chester (the county seat) and the city of Coatesville, Chester County has a population of 534,413.
Public Information & Records:
Cumberland County
Occupying 545 square miles to the west of Harrisburg, Cumberland County is home to several of the state capital's suburbs as well as the city of Carlisle. Cumberland County is the fastest-growing county in Pennsylvania, with a population of 259,469.
Public Information & Records: 
Dauphin County
Home of Harrisburg, Pennsylvania's capital city and sixth-largest municipality, Dauphin County encompasses 525 square miles and has a population of 286,401.
Public Information & Records: 
Delaware County
Located southwest of Philadelphia and within its metropolitan area, Delaware County is home to 576,830 people and spans 184 square miles, comprising the townships of Upper Darby and Haverford and the city of Chester.
Public Information & Records: 
Erie County
Occupying 799 square miles in the northwestern corner of the Commonwealth, astride its namesake Great Lake, Erie County includes the cities of Erie and Corry and has a population of 270,876.
Public Information & Records: 
Lackawanna County
Located in the northeastern region of the Commonwealth, Lackawanna County has a population of 215,896 and occupies 459 square miles. It includes the cities of Scranton and Carbondale, which takes its name from the coal mining industry that drove the county's economy in the 19th century. Mining still makes up a small portion of its economy, but today the county's biggest job sectors are manufacturing, healthcare, and education services.
Public Information & Records: 
Lancaster County
Known the world over as the heart of "Pennsylvania Dutch Country," Lancaster County spreads across 944 square miles and is home to 552,984 people. Aside from their popularity with tourists. The county and its seat, the city of Lancaster, also support thriving manufacturing and healthcare industries.
Public Information & Records: 
Lancaster County has a ban-the-box law. Learn more.
Lehigh County
Taking its name from the Lehigh River, whose valley it occupies, Lehigh County's 345 square-mile expanse includes Pennsylvania's third-largest city, Allentown, and a portion of the city of Bethlehem, which it shares with adjoining Northampton County. Montgomery County's population is 374,557.
Public Information & Records: 
The cities of Allentown and Bethlehem have ban-the-box laws. Learn more.
Luzerne County
Northeastern Pennsylvania's Luzerne County, which includes the cities of Wilkes-Barre and Hazleton, is an 890 square-mile expanse with a population of 325,594. A historic center of anthracite coal mining, the county became a manufacturing center in the mid-20th century and today is a major center of warehousing services.
Public Information & Records: 
Montgomery County
Extending across a 483 square-mile area, Montgomery County includes suburbs of adjacent Philadelphia and part of Valley Forge National Historical Park, which commemorates the ordeal of George Washington's troops' encampment in the bitter winter of 1777-1778. Encompassing the city of Norristown and the townships of Abington, Lower Merion and Upper Merion, Montgomery County has a population of 856,553.
Public Information & Records: 
Montgomery County has a ban-the-box law. Learn more.
Northampton County
Spread out over 370 square miles in eastern Pennsylvania, Northampton County borders New Jersey and forms part of a metropolitan area comprising Easton, its county seat; Bethlehem, which lies partially within Northampton County and partially in neighboring Lehigh County; and Allentown, Lehigh County's largest city. Northampton County's population is 312,951.
Public Information & Records: 
 Northampton County and the city of Bethlehem have ban-the-box laws. Learn more.
Philadelphia County
Pennsylvania's most populous county and the hub of its largest metropolitan area, Philadelphia County had a population of 1,603,797. The county and city of Philadelphia occupy the same 134 square-mile area, and share consolidated government court systems.
Public Information & Records: 
Philadelphia County and the city of Philadelphia have ban-the-box laws. There is also a ban on testing many job candidates for marijuana use. Learn more.
Westmoreland County
Located southeast of Pittsburgh and home to the towns of Murrysville, Latrobe and Greensburg (the county seat), Westmoreland County is believed to have more than 100 abandoned coal mines across its 1,028 square-mile area. Remnants of the county's role in the rise of the Pennsylvania steel industry, their economic role in the 21st century is filled by industries including health care and social services, manufacturing, and retail. Westmoreland County's population is 354,663.
Public Information & Records: 
York County
Occupying 904 square miles in South-central Pennsylvania's Susquehanna River valley, York County has a population of 456,438. York County is sometimes called the Snack Food Capital of the World, as home to five major snack food bakeries, including Snyder's of Hanover, Martin's Snacks and Stauffer Biscuit Company, originator of animal crackers.
Public Information & Records:
The city of York has a ban-the-box law. Learn more.
Get A Pennsylvania Background Check With GoodHire
Background checks are vital to the hiring practices and public welfare policies of private and public employers across Pennsylvania. Compliance with FCRA, and fair chance hiring and ban-the-box laws throughout the Commonwealth, can be daunting for both small businesses and large companies alike as the consequences of compliance mistakes can be costly.
Pennsylvania employers can gain peace of mind by using a third-party background check provider, like GoodHire. GoodHire offers FCRA-compliant background check services with an easy-to-use online platform that simplifies the process for both hiring managers and job candidates. Our built-in compliance features automate key steps such as background check review workflows and initiating adverse action. GoodHire's in-house compliance team is also available to answer your questions.
Disclaimer
The resources provided here are for educational purposes only and do not constitute legal advice. We advise you to consult your own counsel if you have legal questions related to your specific practices and compliance with applicable laws.