Tennessee Background Checks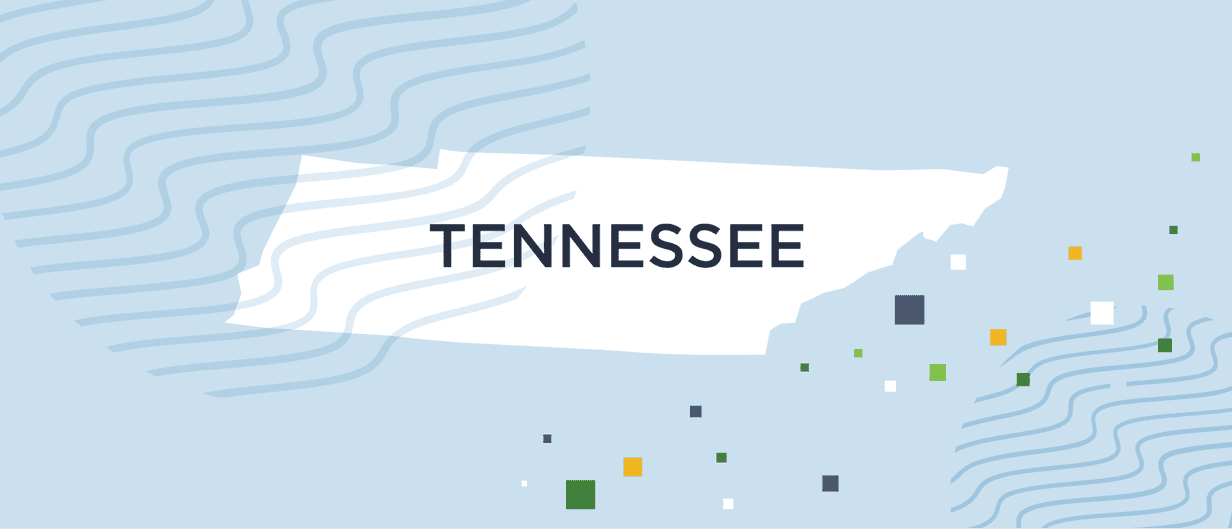 Tennessee employers use pre-employment background checks to verify a candidate's qualifications and employment history, learn about their criminal record, gain insight into legal and credit issues, and even check their driving record. While these screenings can be an essential tool for informed hiring, employers must also comply with federal, state, and local laws to ensure compliance. 
---
A Tennessee background check can provide additional insight during the hiring process, to help you maintain a safe and productive workplace. Whether you decide to manage the screening process yourself or choose to work with a qualified consumer reporting agency (CRA), there are  multiple background check options to consider. Following is a guide to background checks in Tennessee—what they include, how they're conducted, and which federal, state, and local laws you should take into account for compliance.
What Is A Tennessee Background Check?
Employers may use any number of background checks to learn more about job candidates or volunteers before hiring and periodically as part of an ongoing employee screening program. Here are some of the Tennessee background checks employers may conduct:
National, federal, state, and county criminal background checks to look for felony and misdemeanor convictions
Employment and education verification to confirm a candidate's work history, degrees, and credentials
Credit checks to review a candidate's credit history, including collections and bankruptcies
Motor vehicle record checks to learn more about a candidate's driving history and license status
Civil court checks to search for civil judgments including lawsuits and bankruptcies
The types of screenings you choose as part of a Tennessee background check for employment may depend on the position in consideration. Positions that involve working with children, the elderly, and other vulnerable populations often require a criminal background check that includes a search of the national sex offender database. Any employee who may be driving on the job is a candidate for a motor vehicle record check, since moving violations or a history of accidents and DUIs may create concerns related to safe driving or insurance. Civil court and credit checks are most applicable to jobs that involve finance or management. 
It's possible to conduct many of these screenings yourself, using government and independent agencies as a resource. But many employers choose to work with a CRA, like GoodHire, instead. These third party providers of background checks manage the screening process more quickly and efficiently, while also helping you ensure compliance with your legal obligations.
What Is A TBI Background Check?
The Tennessee Bureau of Investigation (TBI) provides statewide criminal background checks to the general public and qualified CRAs. TBI maintains a centralized database of criminal history information for adults in the state of Tennessee called TORIS (Tennessee Open Records Identification Services). It provides statewide name-based criminal background searches on adults through online or mail-in requests. 
TBI makes fingerprint-based searches of Tennessee and FBI records available through a third-party company, IdentoGO. If you require a fingerprint-based criminal records search, be aware that most CRAs don't provide fingerprint-based services. 
What Shows Up On A TBI Background Check?
A TBI background check shows a history of adult criminal activity within Tennessee–typically misdemeanor and felony arrests and convictions; out-of-state data does not appear. Juvenile criminal records are excluded unless the subject was tried as an adult in  criminal court.
Fingerprints are not required to obtain a TBI background check. If you don't require a fingerprint-based search, you can submit a name-based criminal records request through the TORIS system or via mail. In this process, the Bureau determines whether the subject of your search has a criminal record in Tennessee and, if so, forwards a copy of their record. 
Certain qualified organizations, such as government agencies and those that work with children or vulnerable populations, may require a fingerprint-based search of TBI records. These organizations possess an originating agency identifier (ORI) number to authorize this type of background check. When job candidates submit to fingerprinting at IdentoGO locations, they provide the associated organization's ORI number and results are then sent directly to the organization.
If you conduct a TBI background check through a CRA, the results must be in accordance with the requirements of the federal Fair Credit Reporting Act (FCRA). Along with requirements on obtaining written consent and handling adverse action, the FCRA places restrictions on how far back CRAs may report certain types of records about a candidate. 
The FCRA applies a seven-year lookback period to arrests that did not lead to convictions, liens, collections, and civil judgments. Bankruptcies are limited to 10 years. These time limits do not apply to searches conducted by employers themselves (rather than through a CRA). Under the FCRA, criminal convictions may be reported indefinitely, regardless of the age of the record. 
How Long Does A Background Check Take In Tennessee?
Turnaround times for background checks in Tennessee can vary significantly depending on the scope of your search and whether you choose to handle the background check yourself or work with a CRA. A qualified CRA may have access to proprietary databases containing millions of records to speed the background check process. Credit checks, national criminal database searches, and sex offender registry searches are among the screenings that are typically completed in a day.
Background checks that require human interaction usually take longer to complete. For instance, contacting past employers or verification attendance at multiple educational institutions can take up to a week or longer. National and statewide criminal records searches are usually done through online databases, but county records sometimes require in-person visits to a courthouse. The information you gain from conducting these types of searches may be invaluable, but it may also extend the time needed to complete the background screening.
Conducting your own employee background checks is often the most time consuming. Finding the right sources of information, filling out application and payment forms, waiting for and following up on results—these steps can take days or even weeks, and generally require your active attention. Working with a CRA will likely shorten your turnaround time while also saving you time to manage your regular responsibilities. 
Tennessee Background Check Laws
Employers that use pre-employment background screenings in Tennessee must comply with federal, state, and local fair hiring laws. These laws help ensure the information found during a criminal background check in Tennessee—or any other pre-employment screening—doesn't unfairly prevent a candidate from obtaining a job.
Tennessee has three background check laws that apply statewide:
Applicants and employees of local boards of education, charter schools, and childcare programs must agree to the release of all criminal records, supply fingerprints, and submit to a criminal history records check conducted by both the TBI and FBI. This regulation applies to any person applying for or holding a position as a teacher or any other worker with proximity to school children. Background checks must be conducted prior to employment and at least every five years thereafter.  
County and municipal law enforcement agencies are prohibited from releasing the personal identifying information, including home street address, Social Security number, and telephone number, of individuals who have been arrested or charged but not convicted. This restriction does not apply to CRAs.
Tenn. Code. Ann. § 50-1-1003 restricts an employer's ability to access the private internet or social media accounts of their employees and job applicants. Under this law, employers may not ask employees or applicants to disclose their passwords, add the employer to their list of contacts, or access a personal account in the employer's presence. Taking adverse action or penalizing employees for failing to take any of these actions is also not allowed.
A ban-the-box law also applies to public sector employees in Tennessee. Under Senate Bill 2440, public sector employers hiring for positions that require a criminal background check under federal law, or that disqualify candidates based on the commission of an offense under federal or state law, must notify job applicants that a criminal background check is required to be considered for the position.
Where criminal background checks are not required by law, public sector employers may not inquire about criminal history on an application form. Covered employers can conduct background checks after applications are screened, but they must provide an opportunity for candidates to explain their criminal history, and also must take into consideration the following:
The duties and responsibilities of the position
How the candidate's criminal history may affect their ability to do the job
The time that's passed since conviction or release
The candidate's age when they committed each offense
The frequency and seriousness of each offense
Rehabilitation and good conduct since the offense
The public policy benefits of employment for job candidates with criminal histories
Any criminal histories obtained by an employer should remain confidential unless otherwise required or expressly permitted by law.
Additionally, all employers (both private and public sector) in Tennessee must comply with the FCRA, which requires written consent from candidates before conducting background screening through a CRA. Employers must also follow FCRA guidelines for adverse action if they decide not to hire based on information found during background screening. 
Finally, some cities and counties in Tennessee have local screening laws that may apply to you and your candidates based on location (see County Resources, below). Faced with different federal, state, and local regulations, employers may wish to comply with the strictest laws to avoid potential liability.
County Resources 
DAVIDSON COUNTY
Davidson County is in the heart of Middle Tennessee. With a population of 715,884, Davidson County is the second most populous county in Tennessee. Its largest city and county seat is Nashville, the state capital. Known for its music scene, hot chicken, and a growing start-up culture, Nashville comprises nearly all of Davidson County, accounting for all but 10,000 of its residents. Nashville and Davidson County have a consolidated government known as the Metropolitan Government of Nashville and Davidson County. 
Public Information & Records: 
A local ban-the-box law applies to public sector employers for the city of Nashville. 
HAMILTON COUNTY
The 366,207 residents of Hamilton County are centered in Chattanooga and East Chattanooga, the county's most populous cities. It was twice named the Best Town Ever by Outside magazine, based on its access to rock climbing, mountain biking, hiking, boating, fishing, rafting, hang gliding and spelunking in the Great Smoky Mountains and on the Appalachian Trail. 
Public Information & Records
Local ban-the-box laws apply to public sector employers for the city of Chattanooga and for Hamilton County.
KNOX COUNTY
The third most populous county in Tennessee, Knox County is home to 478,971 residents, nearly 200,000 of whom live in its largest city, Knoxville, followed by Brentwood and Farragut. Although Knoxville supports a range of industries, it may be best known for the University of Tennessee, Knoxville. With nearly 30,000 students and a legion of devoted football and basketball fans, UT Knoxville is one of the area's largest employers. 
Public Information & Records
MONTGOMERY COUNTY
Montgomery County lies 50 miles northwest of Nashville near the border with Kentucky. Its population is 220,069 and its largest city–and only incorporated municipality–is Clarksville. A few of Clarksville's largest employers are appliance maker LG, Bridgestone Tires, Google, and yearbook company Jostens. The nearby Fort Campbell Military Reservation, a US Army installation that straddles the Tennessee-Kentucky border, is an economic mainstay.  
RUTHERFORD COUNTY
At the geographic center of Tennessee, Rutherford County is home to 341,486 residents. Its most populous cities are Murfreesboro, LaVergne, and Plainview. Murfreesboro has been Tennessee's fastest growing major city since the 1990s and is currently the largest suburb of Nashville.  
Public Information & Records
SHELBY COUNTY
Shelby County is the state's largest and most populous county with 929,744 residents. Its county seat is Memphis, known worldwide as the home of the blues and the birthplace of rock and roll. With a population of nearly 650,000 residents, Memphis is the county's largest city, followed by Bartlett and Germantown.
Public Information & Records
Local ban-the-box laws apply to public sector employers for the city of Memphis and for county government employers in Shelby County.
SULLIVAN COUNTY
Sullivan County is located on the northeast border of Tennessee in what's known as the "Tri-Cities" region. Nearly 160,000 residents call Sullivan County home. Its most populous cities are Kingsport and Bristol. Kingsport is considered one of the nicest places to live in the state. 
Public Information & Records 
SUMNER COUNTY
Sumner County is part of the greater Nashville metropolitan area. Nearly 60,000 of its 196,281 residents live in Hendersonville; its second most populous city is Gallatin with 44,335 residents. Sumner County is growing but manages to retain a small-town charm. Money magazine named Hendersonville the 16th best place to live in the US in 2021-2022 for its burgeoning local economy, outdoor activities, and historic character.  
Public Information & Records
WILLIAMSON COUNTY
Williamson County is the wealthiest county in Tennessee. Its 247,726 residents are centered in Franklin (population 85,316), Brentwood Estates, and Nolensville. Williamson County was known for tobacco and hemp cultivation in the 19th century; today it's home to more than 40 major corporations with national or international headquarters here, including Mitsubishi and Nissan North America.  
Public Information & Records 
WILSON COUNTY
Located 20 miles east of Nashville, Wilson County is home to major corporations and Cumberland University as well as state parks and modern suburbs. Wilson County's 147,727 residents are spread out between picturesque, fast-growing suburbs like Mount Juliet, Lebanon, and Green Hill.  
Public Information & Records
Get A Tennessee Background Check With GoodHire
As a Tennessee employer, working with a qualified CRA can streamline the background check process while helping you more easily navigate legal compliance. GoodHire offers 100+ screening options for employers, searching criminal history, credit history, motor vehicle records, and more. Our easy-to-use online platform and FCRA-certified support team make the process simple from start-to-finish. To learn more about background checks with GoodHire, reach out to our sales team. 
Disclaimer
The resources provided here are for educational purposes only and do not constitute legal advice. We advise you to consult your own counsel if you have legal questions related to your specific practices and compliance with applicable laws.