The Future of Hiring for Diversity & Inclusion: 10 Tips to Implement Now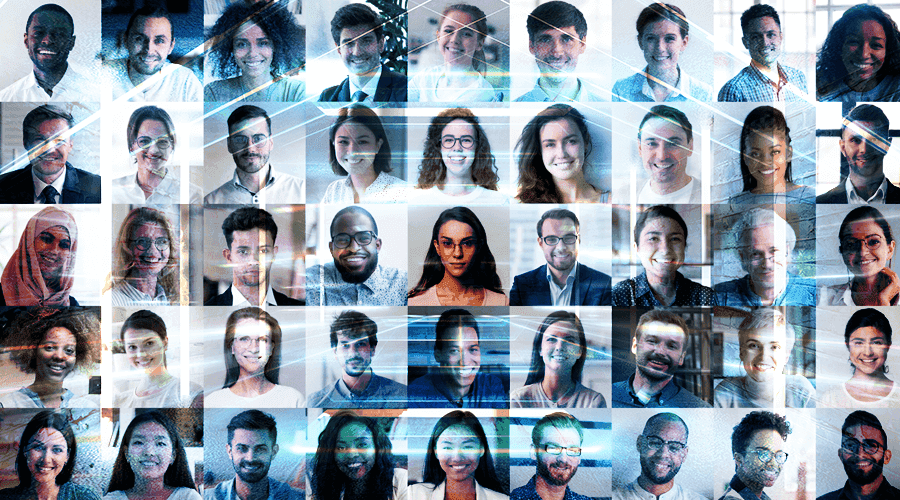 To create innovative teams and remain competitive now and in the future, companies must change their hiring strategies and corporate culture to be more diverse and inclusive. How can employers reduce hiring bias and improve diversity, equity, and inclusion? An expert shares his top strategies and tips that you can start implementing today to prepare for tomorrow.
---
Diversity and inclusion continues to be top of mind for many HR and recruitment professionals this year. Companies recognize they must change their strategies in order to create innovative, strong-performing teams that will help them remain competitive now—and in the future. 
At The GoodHire Summit: Prepare for the New Future of Hiring, Dean Delpeache from Fiix Software provided his best strategies and tips to improve diversity, equity, and inclusion. Here are his top insights, broken down into bite-sized tips that you can implement right away.
1. Define Your Must-have Qualifications
A male candidate will apply to a role when he only has 60-70 percent of the qualifications, while a female candidate will typically only apply to positions if they possess 90-100 percent. Lay out your must-have skills and qualifications, as well as those that are simply nice-to-have, so you can attract a more diverse applicant pool.
2. Use Gender-neutral Language in Your Job Descriptions
Gender-neutral language in your job descriptions can encourage more diversity among applicants. For instance, say you're looking for an "exceptional leader," rather than "strong leader." "Strong" is a masculine-coded word that may discourage women from applying. A simple word change can encourage a more diverse group of candidates to apply.
3. Add an Equity Statement
Add an equity statement to the bottom of your job descriptions and career website pages. Dean says candidates have cited this as one of their reasons for applying to Fiix Software, and shares their equity statement as an example:
"We recognize that people come with a wealth of experience and talent beyond just the technical requirements of a job. If your experience is close to what you see listed here, please still consider applying. Diversity of experience and skills combined with passion is a key to innovation and excellence; therefore, we encourage people from all backgrounds to apply to positions. Please let us know if you require accommodations during the interview process."
4. Utilize Partnerships & Networks to Source Talent
There are many local groups, like the Black Professionals in Tech Network, that can provide you with a pipeline of candidates from marginalized groups. Partner with them to build a more diverse talent pipeline and get more involved in the communities you wish to recruit.
5. Keep "Two in the Pool"
A study found that when there was only one woman or minority candidate in a pool of four finalists, their odds of being hired were statistically zero. But adding one more woman or minority candidate led decision makers to consider hiring a woman or minority candidate. If you want to diversify your workforce, you need to have a diverse group of finalists.
6. Conduct Blind Resume Reviews
Consider using software to remove names from resumes so you can reduce bias in your screening process. If budget isn't available for that, you may also consider having multiple people review the candidate shortlist to ensure that you bring the right talent into your interview process.
7. Utilize Situational Exercises
A job simulation or situational exercise during your interview process is a great way to assess your candidate's skills in a more objective way. This may include pair programming for software developers or presentations for salespeople. Dean says, "This looks at the candidate's skills versus just their interviewing style or ability, or seeing if they jive with the interviewer. It's a great way to eliminate bias in the interview process."
8. Use Structured Interviewing
Structured interviewing involves asking candidates similar questions so you can better compare their answers. Dean suggests attaching a score to each candidate's answer, so you can tally up the scorecard at the end to determine the most qualified candidate. In the event your hiring manager wants to move forward with a candidate who scored lower, you can challenge that decision and get to the root reason for that choice. 
9. Diversify Your Hiring Panels
Dean shared data from Fiix Software which found that men and women were equally represented at each stage of their recruitment process. However, only 12.5 percent of female candidates were being hired. Once they dug deeper, they found that women were only hired when there was another woman on the hiring panel. They have since recommended more diverse hiring panels in order to see better outcomes. 
10. Encourage Sponsorship to Promote Internal Mobility
Sponsorship is a powerful tool to promote internal mobility. Sponsors create project opportunities for employees to showcase their talent throughout the organization so others can see their qualifications and skills. 
Dean expands, "Sponsorship is not mentorship. A mentor advises a mentee, but sponsors advocate for their protégés. While a mentor could be anyone in a position of experience, a sponsor is someone who is in a senior level or director level position. Mentors help build career vision, but sponsors assist with internal mobility through the organization." 
Diversity & Inclusion is About Reducing Bias
Diversity and inclusion is about creating equitable processes that reduce bias for people from underrepresented groups. Dean shares, "We're hiring people who are qualified, skilled, and talented, just like anyone else. We want those people to come into our organization and bring their experience, creativity, and innovation to produce great business outcomes. Let's create a world where diversity, equity, and inclusion is the new normal."
Want to learn how GoodHire can help you create a more equitable recruitment process? GET A DEMO
Disclaimer
The resources provided here are for educational purposes only and do not constitute legal advice. We advise you to consult your own counsel if you have legal questions related to your specific practices and compliance with applicable laws.
---