Diversity & Inclusion Strategies to Take You to the Next Level in 2020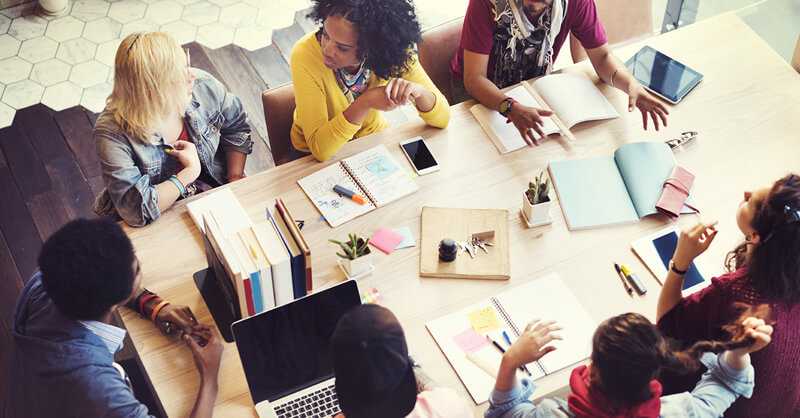 A company-wide commitment to diversity and inclusion is essential to attract and retain talent today. Two-thirds of job candidates actively look for diverse, inclusive companies when seeking new roles. What can you do to build a truly diverse and inclusive workplace?
In this on-demand webinar, experts share their best practices for taking your D&I efforts to the next level.
---
Diversity and inclusion (D&I) continues to be an important topic in 2020. Our world is diversifying and by 2065, the United States population won't have any single ethnic or racial majorities. Your job candidates and employees expect their workplaces to be representative of the world around them. Over half (57 percent) of employees believe their companies need to improve diversity, and two-thirds (67 percent) of candidates will actively seek out diverse companies when they're looking for new roles. If you want to be able to attract and retain talent in 2020 and beyond, it's imperative that you invest in D&I.

GoodHire recently hosted a webinar around diversity and inclusion strategies to share key ways employers can take their efforts to the next level. We were joined by Greenhouse's Gary Davis, Lean In's Emma Macan Roberts, and LGBTQ Connections' Ian Stanley Posadas, who shared incredible insights. 

Here are a few of the lessons learned:
1. Co-create a Culture of Belonging
Before we can recruit for a more diverse workforce, we need to create a culture of belonging that will attract, welcome, and retain a more diverse workforce. Ian suggests we "focus on bringing current employees together for connection, support, and to build momentum for a culture that authentically embraces diversity." 

Employee resource groups and affinity groups are a great place to start to create a culture of belonging and elevate different perspectives. Work alongside women, people of color, LGBTQ professionals, people with disabilities, and other groups to co-create a culture of belonging.

Gary says you can find opportunities to enhance and refine your current company culture through surveys and focus groups. Include questions to help you learn if employees feel that they can be vulnerable (i.e. psychological safety) and be themselves. Use those insights to prioritize initiatives, build out training, and make adjustments to how people are participating in the recruitment process.

Emma suggests creating clear guidelines around what a safe and respectful environment looks like. There should be rules for respectable, civil behavior, and consequences for disrespectful behavior.
2. Dig In to Your Data
Many organizations track important people data like offer acceptance rates, promotion rates, and voluntary and involuntary turnover. Gary suggests you combine that data with demographic data to see if there are disparities by gender identity, race or other categories like ability or age. When you pay attention, you may be able to mitigate and close those gaps over time.

If you don't have the type of demographic data you're looking for, Ian urges you not to guess. "When certain identities aren't part of EEOC surveys, you can add an optional demographic question to other climate or employee surveys given at other times."

Emma emphasizes the importance of putting metrics to goals, and holding people accountable. Let's say your candidate experience survey finds that men and women report very different interview experiences. Hold your hiring managers accountable for providing a more consistent experience with unconscious bias training and a structured interview process.

Missed the webinar? Watch it on-demand and learn about these strategies and more from our expert panelists. Watch Now.
3. Understand There is No "One-Size-Fits-All" Approach
Lean In's Women in the Workplace Report found that 73 percent of women experience microaggressions in the workplace. Emma adds, "This is everyday discrimination that might seem insignificant in isolation, but layer up to be death by 1000 papercuts, and a lot of that is rooted in bias." 

When we look from an intersectional perspective, Black women, women with disabilities, and lesbian women are treated far worse. They face more barriers to advancement, get less support than other groups, and are far more likely to hear demeaning remarks about themselves or others like them.

Ian echoes this sentiment, adding that "if those identities are marginalized, alienated, or not represented, it can compound the feelings that certain environments are not for us." He shared that nearly half of LGBTQ employees are not out or open about their identity in the workplace. Gary adds that researchers found that 61 percent of professionals admit to "covering" or diminishing aspects of their identity at work. When people don't feel psychologically safe, they have to debate or negotiate how authentic they can be in their environment, at the sake of their careers.

This is important to keep in mind as you create your D&I program. If you're working to attract and retain more women, it's important to do the work to also attract and retain people of color, the LGBTQ community, and professionals with ability differences. Women fall into each of those groups as well, and what a Black woman needs to feel comfortable in your workplace may not be the same things a trans woman needs.
Diversity & Inclusion Work is Never Truly Finished
Diversity and inclusion work is a journey, with room for continual improvement and evolution. As our panelists stated, there is no "state of arrival" or "finish line." But there are real benefits to companies that are doing the work. Diverse, inclusive companies are more likely to capture new markets, hit financial goals, and see more revenue — but this does require a real dedication to D&I. 

During the webinar, Ian shared his grandmother's words of wisdom, "Show me how you're spending your time and your money, and I'll tell you what you value." The companies that truly value diversity and inclusion will be able to demonstrate their commitment and win the war for talent.

For more great insights, check out the webinar recording: Diversity & Inclusion Strategies: Take D&I To The Next Level
Disclaimer
The resources provided here are for educational purposes only and do not constitute legal advice. We advise you to consult your own counsel if you have legal questions related to your specific practices and compliance with applicable laws.
---