GoodHire Now Integrates With Workday to Streamline Hiring Workflows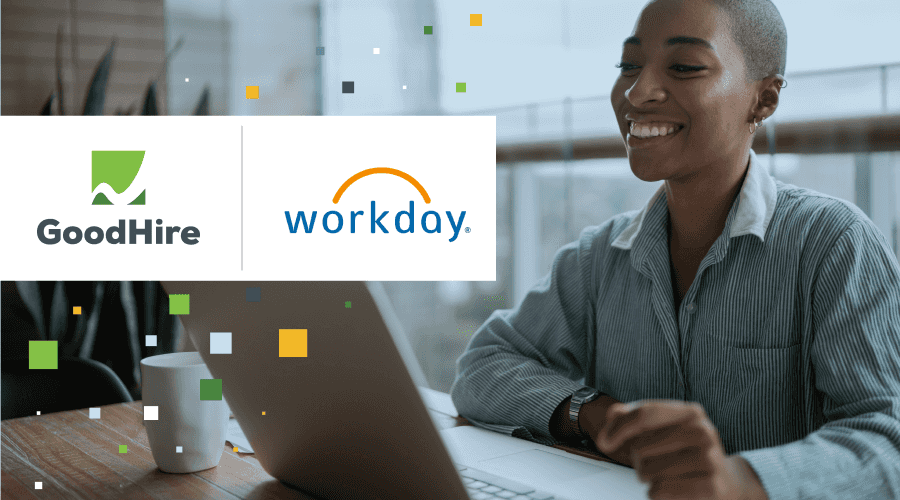 Good news for Workday customers who want to streamline their background screening process: GoodHire now integrates with Workday to improve efficiency and time-to-hire. This new integration enables teams to order background checks, receive real-time status updates, and easily access results, all without leaving Workday. 
Learn more about adding GoodHire to your Workday workflow.
---
GoodHire now offers an integration with Workday to better support HR professionals by enabling them to easily launch GoodHire background checks from within their Workday workflow. This bi-directional integration gives Workday customers access to the hundreds of background screening services GoodHire offers without leaving their Workday environment. 
Tailor the Integration to Your Workflow Needs
The GoodHire integration is highly customizable to your organization's workflow and needs. For example, you can choose to automate background check orders based on rules you set, automatically triggering a background check at a certain stage of the process. You can also choose to order background checks manually if that's what you prefer. 
HR professionals who spend their day in Workday will appreciate the time savings this integration offers. Instead of logging into GoodHire and manually entering the candidate's information each time you need to launch a background check, you can now automatically create background check orders directly from the candidate information in Workday. 
The Workday integration also makes it easier for employers to monitor the status of background checks. Users can view lists of completed background checks, quickly check report status, and access completed background screening reports, all from links within Workday. GoodHire syncs background check packages from the connected GoodHire account every five minutes, so your information is kept up to date. 
With no need to log into GoodHire and cross-reference, HR teams can use fewer tools during the hiring process. This not only saves significant time, but also reduces the risk of human error. 
Speed Time-to-Hire & Improve Efficiency
GoodHire customers already enjoy the benefits of a background check platform packed with features that make employment screening easier and more efficient while helping employers comply with federal, state, and local screening laws. We offer custom filtering options, a wide range of employment screening options and packages, and built-in compliance workflows. 
Integration with Workday allows employers to access all these tools and features without ever leaving the Workday application. Customers also have access to GoodHire's FCRA-trained customer support team for employer-related and candidate support. 
How to Get Started 
Workday customers without a GoodHire account should contact our Sales Associates to learn more. 
Existing GoodHire customers should contact their Customer Success Manager to discuss enabling this integration. GoodHire customers who don't have an assigned manager should contact GoodHire's Customer Support team for more information about enabling the integration. 
GoodHire works with you to customize your Workday integration based on the way you want to work. We provide the expert support necessary to ensure you have everything you need to get the integration live. 
More Integrations, More Options
GoodHire's integration with Workday is part of our ongoing commitment to making hiring easier by expanding the technology options available to employers. We already offer integrations with over 50 ATS systems, and in 2022, we're prioritizing investment in developing even more integrations. By building more integrations with popular HRIS and ATS solutions, we can help our customers recruit, screen, and hire the qualified employees they need more easily.   
disclaimer
The resources provided here are for educational purposes only and do not constitute legal advice. We advise you to consult your own counsel if you have legal questions related to your specific practices and compliance with applicable laws.
---