How Long Does An International Background Check Take?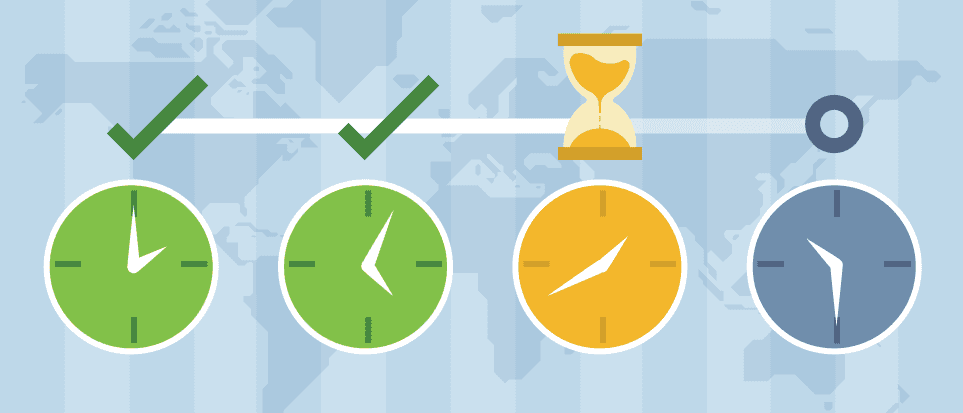 If you're hiring employees outside the US, you should know that international background checks typically take longer than screenings for US-based candidates. Learn how long international background checks take, including Canada background checks and overseas background checks, and why working with GoodHire can help you complete international background checks quickly while remaining compliant.
---
In the US, more and more companies are expanding their recruitment strategies internationally—a tactic that can provide several benefits for employers. But to keep the hiring and screening process as efficient as possible, employers should be aware that international background checks typically take longer than screenings for US candidates. 
So, how long does an international background check take? The short answer: It depends. That's why GoodHire is breaking down what you need to know about how long international background checks take based on which they're conducted in.
For Canada Background Checks
It's very common for organizations in the US to conduct background checks in Canada. Many companies have locations throughout Canada and the US, which means recruiting and hiring Canadian employees, too. In these instances, employers will have to conduct an International Background Check. But what does that process look like in Canada?
(RCMP) Criminal Record Check
The Royal Canadian Mounted Police (RCMP) is a criminal record search performed against the RCMP's Canadian Police Information Centre (CPIC). Results of this screening typically come back in the same day, and in many cases as few as 15 minutes if no results are found (i.e., the candidate doesn't have a criminal record).
Canada Employment Verification
Timing on this screening can vary due to the nature of the verification process. That's because other individuals (like HR managers or administrators) may be needed to verify the information. Also, if a candidate lists several previous employers on their resume, it can take more time to verify each. Typically, employers order more than one employment verification per candidate to confirm their most recently held positions. This may increase the time spent verifying info, working through discrepancies, contacting people, etc.
Canada Education Verification
The turnaround time can also vary for this type of screening. Background check providers typically perform Education Verification checks by accessing registrar databases of the institutions being verified. In some instances, screeners may need to contact additional people to confirm the information provided by the candidate.
Canada Motor Vehicle Search
Timing for a Canada Motor Vehicle Search varies, but it typically returns results quickly since the information is gathered through databases. For this screening, candidates only have to provide their license number, license province, and license country—all of which are used to find the candidate's complete driving records.
GoodHire offers International Background Checks as an add-on service, making it easy to screen global candidates when you need to. TALK TO SALES
For Overseas International Background Checks
The timing of international background checks can vary greatly. Timing also depends on the type of screenings you order for candidates and from which country. When conducting International Background Checks, employers need to be aware of these differences to ensure the hiring process is still as streamlined as possible.
International Criminal Background Checks
First, in order to conduct International Background Checks, employers may need to meet specific requirements to do so—a process that may take a day or two. Further, certain countries may have an additional application checklist that requires further form submissions before the screening can start.
Once candidate details have been submitted, employers can expect turnaround times to range from four or five days for some countries; while others may average seven to 11 days. Countries that have extensive privacy protection laws can take up to 20 days to complete.
International Employment Verification
Turnaround time for International Employment Verification is typically five to 10 business days, but can be completed faster, depending on how quickly the information is verified, or longer depending on how many employers a candidate lists. This type of background check is performed to verify previous work experience for international candidates. It provides results including employers' names, dates employed, and positions or titles held. 
International Education Verification
The time it takes to conduct an International Education Verification check is typically five to 10 business days depending on specific institutions, but may be completed faster. This background screening verifies an international candidate's education, including:
Institution name
Attendance dates
Completion date
Any degrees, majors, or grades obtained
Conduct Timely & Accurate International Background Checks With GoodHire
Recruiting international candidates can be incredibly beneficial for companies. However, it's crucial to understand the differences in screening processes and how much additional time it may take to conduct international background checks.
At GoodHire, our specialists work diligently to ensure efficiencies in every international screening ordered, and help you every step of the way by:
Enabling you to conduct screenings in different countries.
Providing information about additional required forms for each country.
Remaining compliant with international data protection laws.
Answering questions and addressing concerns.
GoodHire offers 100's of screening services. Start screening your international candidates with our fast, reliable background check platform. LEARN MORE ABOUT INTERNATIONAL CHECKS
Disclaimer
The resources provided here are for educational purposes only and do not constitute legal advice. We advise you to consult your own counsel if you have legal questions related to your specific practices and compliance with applicable laws.
---