Georgia Background Checks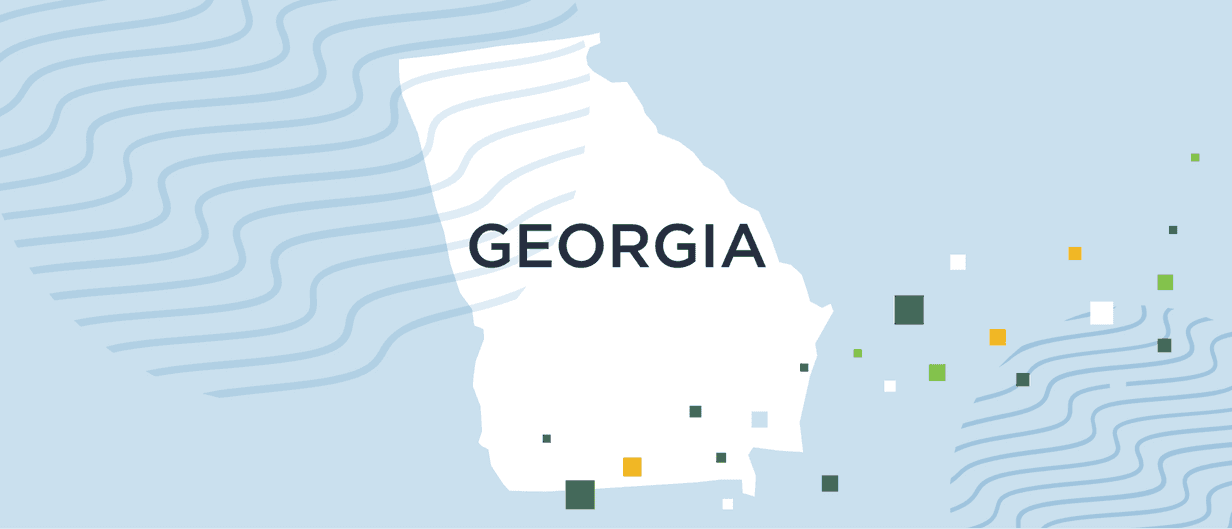 Performing a pre-employment background check can reveal valuable information about the education, work experience, criminal history, and driving record of a job applicant. Employers can use this knowledge to make more informed hiring decisions and mitigate risk. Background checks in Georgia must comply with state, local, and federal laws regulating employment background screenings. 
---
Conducting background checks enables Georgia employers to hire qualified applicants with confidence. This article reviews the most common types of employment background checks in Georgia, what information they uncover, how long they take, and the state laws employers need to know about before they perform background checks. 
What Is A Georgia State Background Check?
Employers and other organizations in Georgia may conduct pre-employment background checks on job candidates, employees, and volunteers. Sometimes, specific background screenings are required by law. For example, state and national fingerprint-based criminal records checks are mandatory for employees and volunteers at long-term care homes. Other common elements of a Georgia background check include:
Criminal background checks may search national, federal, state, and county records to determine if a candidate has prior criminal history. In Georgia, employers cannot access restricted or sealed records. Sealed records include juvenile records, expunged records, and most sentences successfully completed under Georgia's First Offender Act. However, sentences completed under the First Offender Act may be included in a Georgia state criminal background check if 1) they involve certain violent crimes and 2) the position involves working with vulnerable populations, such as elderly people, children, or people with mental disabilities. (See the "Georgia Background Check Laws" section below for more details.)
Employment verification contacts former employers to verify that an applicant is portraying their work history and experience accurately  
Education verification searches school records to confirm schools attended, attendance dates, and any degrees earned.
Civil court checks examine the records of upper and lower civil courts to find information such as small claims or personal injury cases involving the individual, as well as any restraining orders, judgments, or liens. 
Credit checks of a job applicant's credit history show bankruptcies, collections, and foreclosures. A background check in Georgia typically uses credit checks, as well as civil court checks, for jobs where an individual is responsible for, or has access to, an organization's financial information.
Drug screening tests for the presence of prescription and illicit drugs. Georgia employers who have a drug-free workplace program can enjoy discounts on workers' compensation insurance. However, to satisfy the requirements, you must conduct drug screening on job candidates who have received conditional offers of employment.   
Driving records checks search Georgia state motor vehicle records to report licenses held, license status, accidents, moving violations, and any serious or felony offenses that required assessing points on the driving record. Also called motor vehicle record or MVR checks, these searches may be used to assess whether a candidate is a good fit for driving-related jobs.  
How Long Does A Background Check Take In Georgia?
Turnaround times for a Georgia background check vary depending on the scope of the search; the responsiveness of the company, school, or agency involved; the type of background check; and whether you attempt to search for the information on your own or use a consumer reporting agency (CRA) that provides background screening services. However, the following guidelines can help you estimate how long it may take to receive your background check results.
Criminal background checks: One to two business days, or longer
Employers can obtain criminal background records from the Georgia Bureau of Investigation (GBI)'s Georgia Crime Information Center (GCIC) using the Georgia Applicant Processing Service (GAPS). The GBI conducts only fingerprint-based background checks. Once the fingerprints are completed and the request is submitted, GAPS generally provides the criminal records within 24 to 48 hours, although it may take longer in some cases. Employers looking for fingerprint-based checks should consider working directly with GBI since most CRAs, including GoodHire, do not offer that type of screening. 
Civil court background checks: One to two business days, or longer
The time frame needed to complete Georgia civil court background checks will vary depending on whether the specific court makes records available online. Courts that require calling, writing to request information, or visiting in-person will take longer to return results. 
Motor vehicle records checks: One business day to a few weeks 
Georgia accepts MVR requests online, which means you may receive results in as little as one day, although it can take longer. For example, if you need a certified copy of a document, it must be requested by mail and then mailed to you. 
Employment verification and education verification: Three to five business days
Typically, education and employment background checks are completed in under five days, although this can vary based on how responsive the school or employer is to the request. 
Drug testing: One to six business days
Drug tests have different turnaround times depending on the specimen used, testing method, and whether the results are reviewed by a lab. A saliva drug test is generally the fastest, delivering results within three days. Lab review to confirm a positive test may take an additional three days.
You can achieve faster results from your background checks by initiating the screening as early in the hiring process as the law allows. Additionally, verifying you have accurate candidate information, such as full names, Social Security numbers, and dates of birth, is important. Using a trusted CRA, like GoodHire, can also improve the efficiency of your background screening process. GoodHire has access to over a billion regularly updated public records, as well as relationships with courthouses nationwide—all of which helps speed turnaround times for background checks.
How Far Back Do Employment Background Checks Go In Georgia?
There are no restrictions on how far back employers can search when conducting criminal background checks in Georgia. However, there are several considerations for other types of background checks. When working with a CRA, the federal Fair Credit Reporting Act (FCRA) restricts background check results to seven years for arrests that did not lead to convictions. These FCRA limits do not apply when conducting background checks yourself, without the help of a CRA.
Criminal record information: Although Georgia restricts the type of criminal records that can be reported in an employment background check (see "Georgia Background Check Laws," below, for more information), it does not limit how far back employers can look when searching criminal records. Typically, employers search criminal records going back seven years; for some sensitive positions, you may want to extend your search further. 
Civil court checks: Georgia employers typically conduct a search of upper and lower civil court records going back seven years. If the position involved has a salary of $75,000 or more, you may be able to expand the search to the past 10 years. 
Employment and education verification: Checks of employment and education can go back indefinitely. If you use a CRA to conduct these checks, they may be limited to seven years.
MVR checks: Employers searching Georgia motor vehicle records can request records going back three years (the time frame required for positions regulated by the Department of Transportation), seven years, or the person's lifetime. 
Georgia Background Check Laws
Georgia has several employment background screening laws that apply statewide. 
Employers that deny employment based on criminal records received through the GCIC must inform the candidate that the record came from the GCIC, what information was contained in the report; and how the record influenced the employer's hiring decision.
The record of an exonerated first offender can be disclosed for employment purposes and may be used to disqualify a person from employment if the individual is seeking a job with a school, long term care facility, or organization caring for children, seniors, or people with mental disabilities and the person was prosecuted for sexual battery, incest, pimping, pandering, or violating GA Code 16-5-8, which involves exploiting or intimidating seniors or people with disabilities. 
The Georgia Long-term Care Background Check Program affects owners, administrators, directors, managers, direct access employees, and volunteers of adult day centers, assisted living communities, home health agencies, hospice, intermediate care facilities, nursing homes, personal care homes, and private home care facilities licensed by the Georgia Department of Community Health (DCH) that have direct access to patients or patients' financial information. These individuals must undergo a fingerprint-based criminal background check through the Georgia Bureau of Investigation (GBI) and the Federal Bureau of Investigation (FBI). (Licensed healthcare professionals are exempt from the background screening requirement if the facility has verified that their license is in good standing.) 
Georgia's ban-the-box law, which applies to government entities of the State of Georgia, forbids inquiring into criminal history until after the initial employment application. Criminal history cannot be used to automatically disqualify candidates (exemptions are made for sensitive positions). Candidates must also be allowed to discuss their records with the employer, correct any inaccuracies, and provide evidence of rehabilitation.  
In addition to following these state laws regarding Georgia criminal background checks, all employers in Georgia must comply with the FCRA. This federal law requires obtaining consent from applicants and employees before a background check is conducted and stipulates how employers must inform candidates of their background screening results. It also specifies the adverse action process employers must follow to allow job applicants to view background check results that might lead a company to deny employment. 
Many cities and counties in Georgia have local screening laws that may apply to you and your candidates based on location, such as fair hiring and ban-the-box laws. When in doubt, employers may wish to comply with the strictest laws to avoid potential liability.
County Resources
Use the resources below for more information about a specific Georgia county or city's background screening laws. 
Chatham County
This seaside county of 296,329 people borders the Atlantic, the Savannah River, and the Ogeechee River; some 206 of its 632 square miles are water. Waterfront city Savannah is its best known and biggest city, as well as the county seat. In addition to its role as an industrial and transportation center, Chatham County attracts thousands of tourists to Savannah's Southern charm, as well as Tybee Island, historic districts, waterways, and beaches. 
Public Information & Records: 
Cherokee County
This inland county in the northern part of Georgia is named for the Cherokee people who lived there when the county was created in 1831. Close to Atlanta and with good public schools, this fast-growing county is home to many bedroom communities. Cherokee County has 266,620 residents in 421 square miles; Woodstock and Canton (the county seat) are the most populous cities. 
Public Information & Records:
Cherokee County has a ban-the-box law.
Clayton County
This north central Georgia county is part of the Atlanta metro area and has a population of 297,595 in 141 square miles. Forest Park, Riverdale, and College Park are its most populous cities. Transportation is a major industry in Clayton County, home to the Hartsfield–Jackson Atlanta International Airport, one of the busiest airports in the world. The county is also the site of the home in Gone with the Wind. 
Public Information & Records:
Cobb County
Occupying 339 square miles 766,149 in the Atlanta metro area, Cobb County is one of 10 Georgia counties that were originally home to the Cherokee tribe. Roswell, county seat Marietta, and Smyrna are the biggest cities in this generally affluent and diverse county. 
Public Information & Records:
DeKalb County
The fourth-most populated county in the Atlanta metro area, with 764,382 residents in 267 square miles, DeKalb County has one of the region's most diverse populations. The north central Georgia county is home to Emory University; Brookhaven and Dunwoody are the largest cities.
Public Information & Records:
Dougherty County
Once famous for cotton plantations fed by the Flint River, this southwest Georgia county became a center of the Civil Rights movement in the 1960s. Today, healthcare and education are major industries. Dougherty County has a population of 85,790 in 328 square miles; Albany is the biggest city, the only incorporated city, and the county seat. 
Public Information & Records:
The city of Albany has a ban-the-box law.
Fulton County
Snuggled in the foothills of the Blue Ridge Mountains, Fulton County is home to 90 percent of the city of Atlanta—the county seat and state capital. After Atlanta, the next-biggest cities are Sandy Springs and Roswell. The only county in Georgia with more than 1 million people, Fulton County has 1.06 million residents in 526 square miles. A hub for transportation and logistics, Atlanta has thriving industries including finance, telecommunications, healthcare, media, and technology. 
Public Information & Records:
Fulton County has a ban-the-box law, as does the city of Atlanta. 
Macon-Bibb County
With a population of 157,346 in just 55 square miles, Macon-Bibb County is known as "The Heart of Georgia" due to its location near the center of the state. It's a consolidated city-county; Macon is the county seat and the main city in the Macon metro area. Cotton was the foundation of the county's early economy, and the area is still largely rural, although retail, service, and healthcare are growing industries. 
Public Information & Records:
Macon-Bibb County has a ban-the-box law.
Muscogee County
Located on the central western border of Georgia, Muscogee County borders Alabama and the Chattahoochee River. Its county seat and only city is Columbus (the third-largest city in Georgia), with which it is a consolidated city-county. Fort Benning, an Army base, is a major economic force in the county, which has 206,922 residents in 216 square miles. 
Public Information & Records:
The city of Columbus has a ban-the-box law.
Richmond County
Bordering the Savannah River and the South Carolina state line, this east-central Georgia county is famous as the home of the Masters Tournament, held at the Augusta National Golf Club annually since 1934. Healthcare, manufacturing, and the military are also key industries in Richmond County, which boasts 206,607 residents in 324 square miles. Augusta, the county seat, is consolidated with the county.
Public Information & Records:
Both Augusta-Richmond County and the city of Augusta have a ban-the-box law. 
Get A Georgia Background Check With GoodHire
Performing background checks can help organizations adhere to industry regulations, protect their customers and employees, and safeguard their reputations. Employers must conduct these screenings in compliance with FCRA requirements and state and local background check laws. You can help ensure your Georgia background check process is legally compliant by enlisting an experienced, third-party provider like GoodHire.
GoodHire offers more than 100 background screening options, delivering background check reports with speed, accuracy, and service. Our online platform is easy-to-use, with built-in, automated workflows to save you time and help you remain compliant. To learn more about background checks with GoodHire, contact our sales team, set up an account and get started today.
Disclaimer
The resources provided here are for educational purposes only and do not constitute legal advice. We advise you to consult your own counsel if you have legal questions related to your specific practices and compliance with applicable laws.