Michigan Background Checks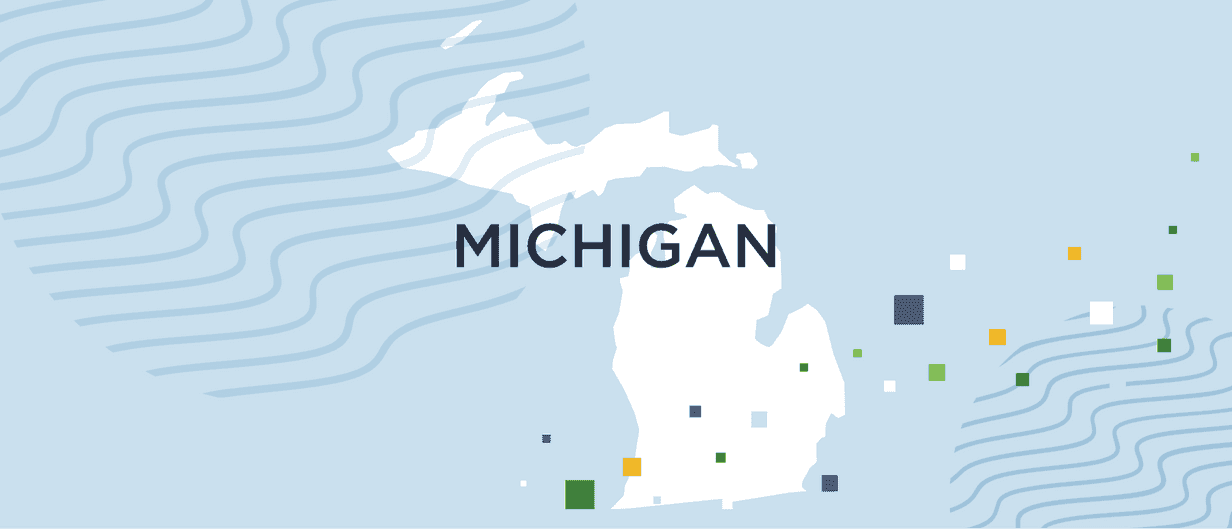 Michigan employers use background checks to verify qualifications and learn more about a candidate's criminal, credit, and driving history. In the process, you must navigate a range of federal, state, and local laws designed to encourage fair hiring and protect the candidate's rights. Learn more about how employers can use background checks in Michigan while remaining legally compliant.
---
During the hiring process, many employers seek additional insight into the candidate's criminal history and work experience—to ensure they're a good fit for their organization and help safeguard their workplace. Employers may conduct background checks themselves, or work with a third-party provider that offers a range of screening information into a candidate's criminal history, credit, driving record, and more. 
In this guide, learn how Michigan employers use background checks as part of their hiring processes while remaining compliant with federal, state, and local fair-hiring laws. Conducting background checks that are accurate, efficient, and compliant helps you achieve greater clarity while maintaining a process that's fair for all parties.
What Is A Michigan State Background Check?
Individual employers may choose any number of background checks to help gather information about job candidates or volunteers. Among the Michigan background checks employers commonly run: 
National, federal, state, or county criminal background checks to search for past felony or misdemeanor convictions.
Civil background checks to search for judgments including lawsuits and bankruptcies; most relevant for financial and management positions.
Credit checks to reveal a candidate's credit history including collections and bankruptcies.
Employment and education verification to confirm work experience and educational credentials.
Driving records to verify license status and check for moving violations; most relevant for positions involving driving a company vehicle or operating machinery.
Some positions involving children, the elderly, and other vulnerable populations require background checks in the state of Michigan that are conducted through the state's Department of Licensing and Regulatory Affairs. A comprehensive background check including FBI fingerprints is mandatory for licensees, program directors, childcare staff members, unsupervised volunteers, and adult household members in childcare homes at licensed childcare centers. Employees, contractors, and anyone with clinical privileges at a nursing home, hospice, county medical care facility, Medicare-certified home health agencies, psychiatric hospitals, and some hospitals may also require a state and federal fingerprint-based criminal history check if they have direct access to patients.
Private security officers, law enforcement, transportation workers, government employees, and teachers are other professions that may require specific background checks or investigations.
Some checks, such as FBI fingerprint-based searches, may not be available  through consumer reporting agencies (CRAs). However, state, federal, national, and county criminal background checks are—as are motor vehicle records checks, credit checks, and searches of sex offender and government watch lists. Unless required by law to work through a government agency, most organizations can work with a CRA to get fast, accurate reports that suit their job requirements.
How Long Does A Background Check Take In Michigan?
Turnaround times vary depending on the type and scope of your background check, as well as whether you're performing your own checks or working with a CRA. Doing your own background research generally adds time to your process, especially if you need to contact multiple agencies, mail in request forms, or pick up physical records yourself. Contracting with a professional background screener or CRA generally delivers faster results, as they may have access to databases that can speed the search process. For example, GoodHire curates and hosts more than a billion individual records from more than 2,100 federal, state, and local databases to shorten turnaround times while providing accurate information. 
Whether you work with a CRA or search on your own using Michigan's Internet Criminal History Access Tool (ICHAT), a Michigan state criminal background check can often be completed within a day, as can motor vehicle records. The timeline for county court records—including criminal and upper or lower civil court cases—is more variable. If county court records are not digitized and require an in-person visit to the courthouse, for example, it may take several days or more than a week to complete your search. Verifying employment or education may take a week or longer, depending on the number of sources and how easy they are to contact.
How Far Back Does A Background Check Go In Michigan?
Although some states limit the look-back period for employment background checks to seven years, the state of Michigan does not. However, several factors may impact how far back results may appear, including state law, record-keeping standards, and compliance with the Fair Credit Reporting Act (FCRA).
Although criminal convictions may stay on a candidate's criminal record in Michigan indefinitely, a series of "Clean Slate" bills passed in 2021 have begun to limit how employers access certain criminal records: 
Similarly, some information on driving records in Michigan are time limited. Records of tickets go back seven years, while convictions for felonies, such as driving while intoxicated, remain indefinitely.
If you work with a CRA to obtain background checks, the FCRA limits reporting to seven years on arrests that did not lead to convictions, liens, collections, civil judgments, and bankruptcies. This seven-year limit does not apply for jobs that have a salary of $75,000 or more, nor to searches conducted by employers themselves (rather than through a CRA).
If you're not using a CRA, several background searches are unlimited in their time scope. Employers may go back as far as needed to verify education, employment history, credentialing, or licensing. However, if a CRA is providing these services, the scope may be limited to seven years.
How To Get A Background Check In Michigan
You can conduct a name-based criminal history search yourself through the ICHAT tool, maintained by the Michigan State Police's Criminal Justice Information Center. You may also search county criminal and civil court records using the county resources provided below.
While you may be able to perform some candidate background checks yourself, many employers choose to outsource these services to a consumer reporting agency instead. Working with a CRA, like GoodHire, streamlines the process and saves you time by providing a single source for criminal and civil court checks, credit histories, motor vehicle records, and more. Additionally, a qualified CRA can help ensure legal compliance when conducting checks, which can be critical to avoiding fines and potential lawsuits.
Background Check Laws In Michigan
Compliance can be complicated, as employers must follow a number of federal, state, and local background check laws in Michigan. These include federal regulations set out in the FCRA and Equal Credit Opportunity Commission (EEOC) guidance under Title VII of the Civil Rights Act, as well as a state-wide fair hiring law that applies to public sector employees. Michigan employers must also follow applicable county- and city-wide ban-the-box laws. See county resources, below, for specifics.
All employers in Michigan using a CRA to conduct background checks must comply with FCRA requirements. These include:
Notifying candidates that you will use background checks as part of the hiring process
Obtaining written consent from candidates before conducting background checks
Following the adverse action process when deciding not to extend an offer of employment.
EEOC guidance prohibits discrimination on the basis of race, national origin, color, sex, religion, disability, genetic information (including family medical history), or age (40 or older)—and it applies to employers throughout the US. In order to avoid a disparate impact on certain protected classes, the EEOC recommends that employers do not consider arrests not leading to conviction and that employers conduct a job-specific individualized assessment before denying a job applicant based on a criminal conviction.
The state of Michigan has a ban-the-box law that applies to criminal background checks for public sector employees. Public employers in Michigan may only inquire into criminal history after an initial interview or conditional offer of employment has been extended. Initial job applications may ask for affirmation of good character but may not inquire into past felony convictions.
During pre-employment background checks, Michigan employers may not inquire about misdemeanor arrests that did not lead to convictions (including pending misdemeanors), although they may inquire about misdemeanor convictions and felony arrests.
Aims to address gender wage inequality by restricting  an employer's ability to inquire into a candidate's salary history or current salary. Among this directive's key restrictions:
Employers may not ask a candidate for their current salary or salary history until after a conditional offer of employment is made.
Employers must refrain from discovering a candidate's salary or salary history using public databases.
Employers must take care to avoid inadvertently uncovering salary history while gathering other information about a candidate.
Compensation information may be requested or verified prior to a conditional job offer being made if the candidate has provided the information voluntarily or if the information is required by law.
The state of Michigan restricts the use of personal identifying information on court records in an effort to protect privacy. However, effective April 1, 2022, employers and CRA employees may access birth dates on criminal records for identity matching purposes, as long as they have the candidate's consent.
Complying with federal, state, and local fair hiring regulations can be a challenge for employers. Where multiple laws exist, employers may wish to follow the strictest guidelines. Sometimes, though, simply tracking all of the applicable regulations can be difficult. Working with a background screener that follows all federal, state, and local requirements simplifies the process and can help to ensure that you're both current and compliant. 
County Resources
Learn more about obtaining background check information in some of Michigan's largest counties in the resources below.
Clinton County
The population of this southern Michigan county is nearly 80,000. Its most populous city is the county seat, St. Johns, but Clinton County also includes parts of two larger cities, Lansing and East Lansing. St. Johns and its surrounding area began farming mint during the early 20th century for use in medicines and Wrigley chewing gum and now celebrates its heritage as "The Mint Capital of the World."
Public Information & Records:
A local ban-the-box law applies to public sector employers in East Lansing.
Genesee County
Genesee County's population center is Flint, the birthplace of General Motors as well as the United Auto Workers union. The county's population is 406,211, making it the fifth most populated county in Michigan. Flint is home of the Alfred P. Sloan Museum, Flint Institute of Arts, and Flint Jazz Festival.
Public Information & Records:
A county-wide ban-the-box law applies to public sector employers in Genesee County.
Ingham County
Ingham County, population 284,900, is home to Michigan's state capital, Lansing, and Michigan State University, located in East Lansing. Lansing calls itself "America's Best Big Small City" and one of its suburbs, Okemos, was named the sixth best place to live in the US by Niche.com.
Public Information & Records:
A local ban-the-box law applies to public sector employers in East Lansing.
Kalamazoo County
Kalamazoo is the largest city and county seat of Kalamazoo County, with a population of 261,670. The cities Highland Park and Pavilion Township also fall within Kalamazoo County. Kalamazoo is the home of Western Michigan University and the headquarters of medical technology company Stryker. 
Public Information & Records:
A local ban-the-box law applies to public sector employers and vendors for the city of Kalamazoo.
Kent County
Kent County is part of the greater Grand Rapids metropolitan area and is considered West Michigan's economic and manufacturing center. With a population of 657,974, Kent County is Michigan's fourth most populous county. Its most populous cities are Grand Rapids with just over 200,000 residents, followed by Wyoming, Forest Hills and Walker. 
Public Information & Records:
A local ban-the-box law applies to all public and private sector employers in Grand Rapids.
Livingston County
Livingston County is part of the greater Detroit area, but it also offers easy access to Lansing, Ann Arbor, and Flint. With a population of 193,866, Livingston County is made up of small towns, including Hamburg, Green Oak, and Brighton. 
 Public Information & Records:
Macomb County
Macomb County sits north of Detroit. With a population of nearly 900,000, it's the third most populous county in Michigan. Its 27 cities, townships, and villages include Warren, Sterling Heights, and Clinton Township.
Public Information & Records:
Muskegon County
Part of the greater Grand Rapids area, Muskegon County (population 175,824) is strategically located on the western shore of Lake Michigan. Historically, Muskegon County and its largest city, Muskegon, grew as the result of logging and shipping, and later manufacturing to supply the state's auto industry. Its second largest city is Norton Shores.
Public Information & Records:
A county-wide ban-the-box law applies to public sector employers in Muskegon County.
Oakland County
Oakland is the second most populous county in Michigan, with a population of 1.2 million that includes its largest cities, Troy, Farmington Hills, Rochester Hills, Southfield, and Royal Oak. Oakland County is headquarters to Automation Alley, a World Economic Forum Advanced Manufacturing Hub for North America and Industry 4.0 knowledge center promoting innovation and public-private partnership.
Public Information & Records:
A county-wide ban-the-box law applies to public sector county employees in Oakland County.
Ottawa County
Located in Michigan's lower peninsula, approximately equidistant between Detroit and Chicago, Ottawa County is a popular vacation destination. Ottawa County has a population of 296,200. Its largest city is Georgetown Township, followed by Holland Township, and its county seat, Grand Haven.
Public Information & Records:
Washtenaw County
Home to Ann Arbor and the University of Michigan, Washtenaw County counts a significant number of college students among its 372,258 residents. In addition to U-M, Eastern Michigan University, Washtenaw Community College, and Concordia University Ann Arbor are all located here. The county seat is Ann Arbor, which is the county's largest city, followed by Ypsilanti. 
Public Information & Records:
A local ban-the-box law applies to public sector employers in Ann Arbor.
A local nondiscrimination ordinance applies to public and private sector employers in Ypsilanti.
Wayne County
The most populous county in Michigan with nearly 1.8 million residents, Wayne County is home to some of the state's largest cities: Detroit, Dearborn, Livonia, and Canton. The Detroit area's long history as an epicenter of American car manufacturing continues with Ford Motor Company's headquarters in Dearborn. Wayne County is also the most diverse in the state.
Public Information & Records:
A local ban-the-box law applies to public sector employees in Detroit.
Get A Michigan Background Check With GoodHire
Employers looking to conduct background checks for job candidates can streamline their efforts and receive fast, accurate, compliant results working with GoodHire. GoodHire offers 100+ screening options for employers, using an easy-to-use online platform with FCRA-compliant support, making the process easy to navigate from start to finish. To learn more about background checks with GoodHire, reach out to our sales team.
Disclaimer
The resources provided here are for educational purposes only and do not constitute legal advice. We advise you to consult your own counsel if you have legal questions related to your specific practices and compliance with applicable laws.