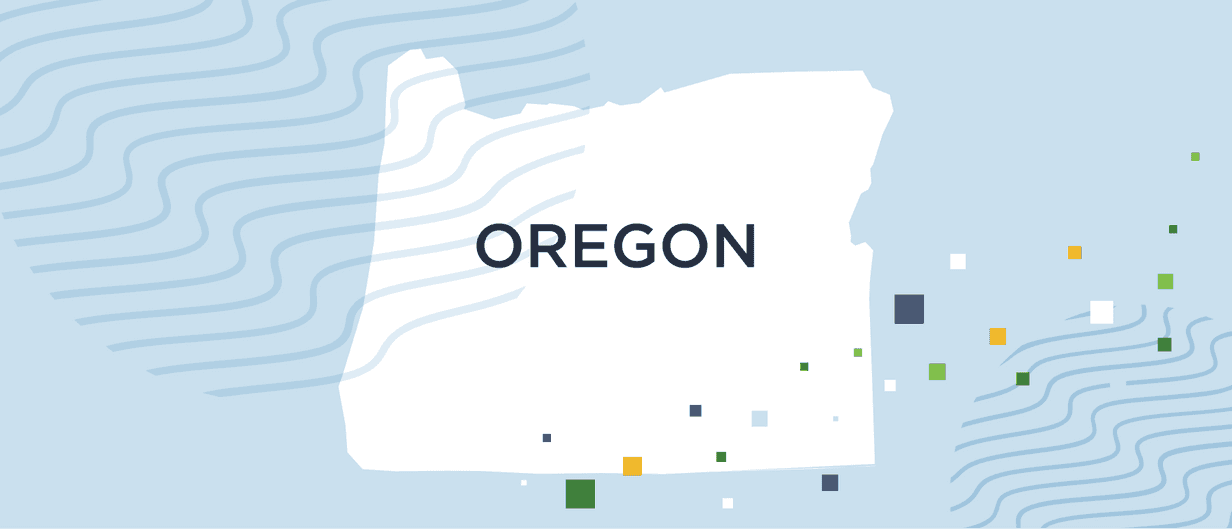 Pre-employment background checks in Oregon may be used by employers to help verify a candidate's qualifications and eligibility for a role. This may include criminal record searches, employment and education verification, and motor vehicle record checks. While background checks can help employers make informed hiring decisions, it's important to remain compliant with applicable federal, state, and local laws during the hiring process. 
---
When bringing on new employees or volunteers, an Oregon background check may provide insight into a candidate's history, beyond what they put on their application or resume. Employers can screen candidates directly or choose to work with a trusted consumer reporting agency (CRA). This guide to Oregon background checks takes a deeper look into how an Oregon background check works, what is included, how it is conducted, and which federal, state, and local laws may apply. 
What Is An Oregon Background Check?
An employment background check in Oregon may be used to screen candidates or volunteers during the hiring process. It may include a candidate's criminal record, employment history, educational background, driving records, credit history, and more. The information provided by the different reports can help your organization make more informed and fair hiring decisions. 
Additionally, certain types of background checks, such as criminal records and motor vehicle reports, can help Oregon employers protect their organization against potential liability claims, safeguard company assets, and create a safer workplace. 
Common Oregon Background Checks
There are several types of employment background checks in Oregon that employers may choose to conduct when screening candidates. Here is a closer look at some of the most common types of background checks. 
Oregon Background Check For Employment
An employment background check in Oregon may include one or multiple background screenings, including:
Criminal background check to reveal criminal history information, including felony or misdemeanor convictions and pending criminal cases. 
Employment verification to validate previous employers, job titles, and employment dates. 
Education verification to confirm a candidate's academic background, including dates of attendance, degrees obtained, and graduation dates.
Driving record checks to review a candidate's driving history, including license status and class, moving violations, suspensions, and restrictions, and vehicle-related criminal convictions such as DUIs. This screening may be more commonly used for positions that involve driving on the job.
Credit checks to assess a candidate's credit history, including payment history, collections, and bankruptcies. This screening may be more commonly used for positions with financial responsibility, where allowed by Oregon state law. 
Drug testing to screen a candidate for the presence of controlled substances, including illicit drugs and prescriptions.
Oregon Criminal Background Check
An Oregon criminal background check may be important for employers that want to ensure a safe workplace and may be required by law for certain types of industries, such as public safety and childcare. A criminal record search may show different types of information, including felony criminal convictions like aggravated assault, kidnapping, and theft. A criminal report may also include misdemeanor criminal convictions, such as disorderly conduct, public intoxication, trespassing, and vandalism. 
When conducting an Oregon criminal background check, employers must follow Oregon's statewide ban-the-box law as well as other federal, state, and local regulations when conducting and using criminal background checks for employment purposes. 
Oregon State Police Background Check
An Oregon State Police background check can be requested through the Oregon State Police, Criminal Justice Information Services (CJIS). When allowed by law, individuals can access their own criminal records through CJIS; third parties, such as employers, can also request records. When you request your own records, it results in a fingerprint-based search of the Oregon Computerized Criminal History Repository, however when requesting a candidate's records, the search is only name-based. 
Requesting someone else's criminal record, such as an Oregon criminal background check, triggers a 14-day waiting period. During this time, the person in question is notified of the request and will have the chance to review the record for accuracy. When an employer requests this information as part of the hiring process, they are also required by Oregon law to give the candidate advance notice. 
It is important to note that Oregon State Police background checks only reveal information about Oregon criminal records. If you need to check a candidate's criminal history in other states, you will have to conduct additional screenings. Oregon State Police background checks show convictions along with arrest records less than a year old for charges that were not acquitted or dismissed. On the report, you will see the arrest date, offense, arresting agency, court of origin, and disposition information. 
Oregon Drug Testing
Oregon drug testing can help employers meet industry regulations and help maintain a safe workplace. Drug screening provides evidence of recent use of specific prescription and illicit drugs. Lab-based urine tests offer multiple panel options to screen for different types of substances. 
Drug testing may also be used when required by the federal government, such as DOT background checks for commercial drivers. 
How Long Does A Background Check Take in Oregon?
Turnaround times for Oregon background checks typically depend on the type and scope of the search and who is conducting the screening. For example, when employers conduct screenings on their own, criminal records in Oregon can take 14 days to process. Other types of public records may need to be requested online, over the phone, or in person which may require contacting courts, county clerks, and law enforcement agencies. Other types of records, such as employment verification and reference checks can also be time consuming when handled directly. 
Oregon employers looking for a more streamlined, efficient process often choose to work with a qualified CRA, like GoodHire, for pre-employment background checks. With access to many types of public records and databases, along with close relationships with courts across the US, GoodHire offers more accurate results and speeds background check turnaround times. Plus, GoodHire can help your organization stay compliant with federal, state, and local laws. 
GoodHire has access to many types of databases and public records, plus relationships with courthouses across the US — all of which help speed turnaround times (and return thorough results) for background checks.
How Far Back Do Background Checks Go In Oregon?
How far a background check in Oregon can go varies depending on the type of check you're conducting and the scope of the search. The lookback period may also be limited by federal, state, or local laws. While 7-year background checks are common in some states, Oregon doesn't limit reporting of felony or misdemeanor convictions to seven years. However, arrest records obtained from the Oregon State Police background checks, may be limited to just one year. 
However, employers that work with a background check provider, like GoodHire, to conduct criminal background checks must comply with the federal Fair Credit Reporting Act (FCRA). According to the FCRA, arrests and non-convictions more than seven years old may not be reported on a criminal background check for employment. 
The FCRA also limits reporting of bankruptcies older than 10 years and civil suits, civil judgments, collection accounts, and paid tax liens beyond seven years. The FCRA seven-year restriction does not apply to candidates applying for positions that pay more than $75,000 per year.
When verifying employment and education history, employers may go as far back as necessary.
Oregon Background Check Laws
Oregon employers conducting employment background checks must remain legally-compliant with all federal, state, and local laws. These laws include the federal FCRA, and ban-the-box and fair hiring laws designed to help protect job candidates from discrimination during the hiring process, especially if information surfaces during an Oregon criminal background check. 
Laws related to background checks can vary across Oregon's different cities and counties. Employers that are unsure of Oregon background check laws may wish to comply with the strictest laws to avoid potential liability. 
Some of Oregon's key hiring laws related to background checks include:
In Oregon, all public and private employers must follow a ban-the-box law. Under this law, employers can only look into a candidate's criminal history after the first interview for the job. If there is not an interview as part of the hiring process, the employers must wait until a conditional offer is made before running a background check. Certain counties and cities in Oregon also have their own ban-the-box laws.
This Oregon law helps protect a candidate's credit history. With only a few exceptions, employers are not legally permitted to obtain or use any information about a candidate's credit history during the hiring process. If someone's credit is "substantially job-related," such as for positions that require access to sensitive financial information, an employer may be able to look into a candidate's credit report. Other exceptions included public safety positions, jobs that require credit checks by law, and federally-insured banks or credit unions. 
Under this statewide law, which helps protect candidates during the hiring process, Oregon employers are not permitted to ask a candidate about their salary history before making an offer. They also cannot seek this information from previous employers during employment verifications or reference checks. The law also does not allow employers to use past wages in order to determine compensation for the new role – even if the candidate shares information about previous salaries or wages with the employer. 
When conducting a background check through a CRA, you must follow federal FCRA requirements. For example, employers must provide written disclosure to the candidate of your intent to do the background check. You are also required to get a candidate's consent to the screening in writing and provide them with a summary of rights. In the event the candidate is not hired based on information that showed up in their background checks, employers must follow the adverse action process. 
County Resources
Use the resources below to learn about ban-the-box laws and  public records in some of Oregon's largest counties:
Clackamas County
With a population of over 421,000 people, Clackamas County is the third-most populous county in Oregon. Parts of the cities of Portland and Tualatin are in Clackamas County and some of the county's cities also extend into neighboring Multnomah and Washington counties. Important industries include agriculture, commerce, manufacturing, timber, and tourism. There are many outdoor recreational activities, and Clackamas County is home to the only year round ski resort in the US. 
Public Information & Records
Deschutes County
Located in central Oregon, nearly 200,000 people live in Deschutes County. More than half of county land is owned by the United States Forest Service, and there are two nationally-protected areas in Deschutes County, the Newberry National Volcanic Monument and part of the Deschutes National Forest. With easy access to the Cascade Range and four destination resorts, the county's key industry is outdoor recreation. Other important industries include agricultures, lumber, and ranching. 
Public Information & Records
Douglas County
Douglas County is home to more than 111,000 residents. There are several nationally-protected parks and forests in Douglas County. Forest products are the county's top industry, with nearly 30% of the labor force in the timber industry and more than 1.8 million acres covered in timber. Agriculture is also an important industry in the county, with field crops, livestock, and wine orchards. The county has many park and recreation areas, including Crater Lake National Park, Oregon Dunes National recreation Area, and Wildlife Safari. There are also scenic drives, beaches, and historic districts, wineries, and museums. 
Public Information & Records
Jackson County
Jackson County is home to more than 223,000 people and is named for President Andrew Jackson. The city of Medford is the county seat and largest city. The county has several nationally-protected areas, including the Cascade-Siskiyou National Monument. Key industries include agriculture, healthcare, lumber, manufacturing, and tourism. Jackson County offers many activities, including arts and cultural attractions, outdoor recreation, parks, and wineries. 
Public Information & Records
Lane County
More than 382,000 people live in Lane County. The county is home to several nationally-protected forests and a wildlife refuge, along with beaches, trails, and waterfalls. Longtime key industries include agriculture and timber, and the county is experiencing growth across manufacturing, printing and publishing, services, and technology. Lane County also has many recreation and cultural activities, including museums, watersports, cycling, food tours, and beer, distillery, and wine tasting trails.  
Public Information & Records
Linn County
More than 128,000 people reside in Linn County, which is located in Oregon's WIllamette Valley. Agriculture is an important industry in the county while other  key industries include lumber, manufacturing, and mining. The county is home to Carpenter Mountain, one of the highest elevations in the western Cascades. The county also has cultural attractions, historic landmarks, museums, and many outdoor activities. 
Public Information & Records
Marion County
Marion County is home to more than 345,000 residents. Its county seat is Salem, which is also Oregon's state capital. The county has three nationally protected areas, including national forests and a wildlife refuge along with many state parks, gardens, museums, and cultural attractions. Key industries include agriculture, education, food processing, government, lumber, and manufacturing. 
Public Information & Records
Multnomah County
More than 815,000 residents reside in Multnomah County, Oregon's most populous county. The county seat is the city of Portland. Parts of two nationally-protected areas, the Columbia River Gorge National Scenic Area and Mount Hood National Forest, are located in the county. Key industries include manufacturing, tourism, transportation, and trade. The Port of Portland, one of the largest ports on the west coast, is located in the county. Popular Portland-area attractions include museums, parks, and historic landmarks. 
Public Information & Records
Local ban-the-box laws apply to public sector employers in the county of Multnomah and the city of Portland and all Portland private sector employers with six or more employees.
Washington County
Home to more than 600,000 people, Washington County is Oregeon's second most-populous county. Its county seat and largest city is Hillsboro. Part of the Tualatin River National Wildlife Refuge, a nationally-protected area is located in the county. Agriculture, electronics, food processing, lumber, and manufacturing key county industries. Nike headquarters is based in the county, along with Columbia Sportswear, Leupold & Stevens, and Reser's Fine Foods. 
Public Information & Records
Yamhill County
Yamhill County is part of the Portland-Vancouver-Hillsboro area and has more than 107,000 residents. Both a nationally-protect forest and wildlife refuge are located in the county. Key industries include agriculture, education, logging and timber products, and manufacturing. The county is a top producer of barley, dairy, horticulture, and wheat, and more than one-third of the land is covered in commercial timber. There are also over 80 wineries and 200 vineyards, making Yamhill County a key placer in Orgegon's wine industry. 
Public Information & Records
Get An Oregon Background Check With GoodHire
Oregon employers looking for a turnkey pre-employment background check process can benefit from working with a qualified CRA, like GoodHire. GoodHire offers more than 100 screening options while helping your organization easily navigate federal, state, and local legal regulations, ensuring compliance every step of the way. 
Our easy-to-use online platform and automated workflow streamline background check process, while providing accurate results and fast turnaround times. Get in touch with our sales team to learn how your organization can get started with an Oregon background check.
Disclaimer
The resources provided here are for educational purposes only and do not constitute legal advice. We advise you to consult your own counsel if you have legal questions related to your specific practices and compliance with applicable laws.