Nursing Background Checks: A Complete Guide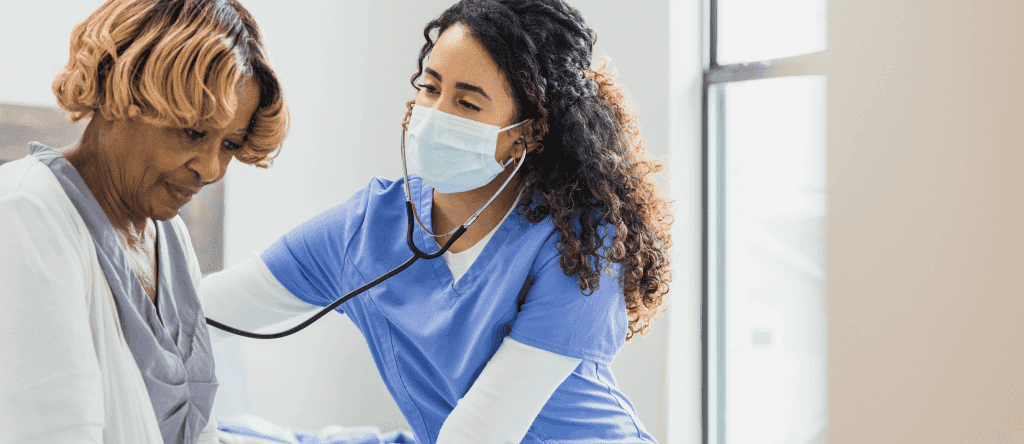 Nurses play a significant role in the healthcare system and their patient's care, and making poor hiring decisions can have potentially disastrous consequences. Background checks help you build a nursing team you can trust, maintain patient safety, and mitigate risk.
In this article, we'll discuss background check requirements and criminal records, nursing license disqualification, and how to get a nursing background check.
---
What Is A Nursing Background Check?
A nursing background check is a screening service that may be used to verify an individual's identity, past employment, education, and professional license. It may also reveal an individual's criminal history, sanctions, or drug use.
An effective nurse background screening program can help licensing boards, nursing schools, and employers make informed decisions about which individuals are most suited to work in nursing roles.
What Does A Background Check Look For?
Comprehensive background checks for nurses generally include many different screening services in order to protect patient safety and maintain compliance. A nurse background check may include the following screenings:
A Social Security Number (SSN) Trace searches the national credit bureaus to verify that the Social Security number is valid, and matches the legal name and date of birth given by the candidate. It also returns all associated names, aliases, and counties on record. 
The Nationwide Criminal Databases Search searches thousands of digital databases across the US to report infractions, misdemeanors, felony convictions, and pending cases that may have occurred at the state and county level.
The Sex Offender Registry Search combs a sex offender registry that spans all US states and territories, and includes hundreds of thousands of offender records nationwide.
A Domestic Watch List Search scans US government lists for criminals on the run from the law, including the FBI's Most Wanted and the Office of Foreign Assets Control (OFAC) No Fly List. 
The County Criminal Court Search searches at the county level and returns infractions, misdemeanors, and felonies, such as DUIs, DWIs, assault, theft, and burglary.
A Professional License Verification verifies any domestic professional license for nurses; results include the license issue date, expiration date, credential title, and current status. 
Education Verification verifies attendance dates, majors, and degrees earned for any high school, college, university, or vocational school in the US. 
Employment Verifications verify previous positions, including dates employed and job title.
Drug screening tests for the presence of commonly abused prescription and illicit drugs in a person's system. 
A Healthcare Sanction Check searches more than 1,000 government sources and lists any penalties, suspensions, or punitive or disciplinary actions taken against a healthcare professional. These include the federal Health and Human Services Office of Inspector General (OIG) Exclusion, System for Award Management (SAM), and Office of Foreign Asset Control (OFAC) lists.
What Charges Can Stop You From Being A Nurse?
Most state nursing boards conduct criminal background checks to look into an applicant's past before issuing a license, as do many healthcare organizations prior to hiring. This leads many to wonder, "Can you be a nurse with a felony?"or "Do hospitals hire nurses with misdemeanors?" In many cases, the answer is yes. A misdemeanor or felony charge doesn't necessarily disqualify an individual from being a nurse, though convictions may require a more thorough review by the regulatory board. 
For example, the California Board of Registered Nursing can deny licenses to applicants convicted of murder, rape, grand theft, or an offense that requires Tier II or Tier III sex offender registration. They may also deny or revoke licenses if an individual is convicted of a misdemeanor or felony related to nursing, including fraud, theft, or violence. Registered nurses who are convicted of a crime are entitled to participate in an administrative hearing before the Board can impose sanctions.
In Florida, however, kidnapping, murder, manslaughter, assault, sexual abuse, and other serious charges are considered disqualifying offenses and the applicant will be considered unfit for the job.
As disqualifying offenses can vary by state, check your local licensing board requirements for a complete list of charges that can stop someone from being a nurse. 
Additionally, schools and healthcare organizations often run their own background checks and have their own criteria that may bar an individual from enrollment or employment. There may be cases where convictions found on a background check for nursing school aren't considered for enrollment, but may hinder a candidate's ability to become licensed or employed. 
Disqualification For Nursing License
In addition to criminal history, state nursing boards may disqualify an individual for nursing licensure for various reasons, including license discipline, incomplete educational requirements, exam failure, or license non-renewal.
Nurse licensing requirements can vary by license type and state. For example, Registered Nurses (RNs) require more training than Licensed Practical Nurses (LPNs), though there's generally not a difference in RN vs LPN background check requirements as they relate to criminal history. See your relevant state board requirements for more information.
The National Council Licensure Examination (NCLEX) background check requirements also vary by license type, and individuals will be disqualified from a nursing license if they do not pass the appropriate exam. Registered nurses must pass the NCLEX-RN, and Licensed Practical Nurses must pass the NCLEX-PN.
Level 1 vs Level 2 Background Check For Healthcare Workers
As a part of a comprehensive background check for healthcare workers, a Healthcare Sanctions Check screens nursing candidates to ensure they are in good standing and not excluded from participating in any federal healthcare program. Level 1 and Level 2 each includes a search of the OIG Exclusion List and SAM database. Each additional search level checks additional federal- and state-level sources for a more extensive search. The healthcare sanctions search level used depends on the position and risk involved.
Level
Sources checked
OIG/SAM
OIG Exclusion List & SAM
Level 1
OIG Exclusion List & SAM 
+ Federal Sources (GSA, DEA, FDA, PHS, ORI, TRICARE and OFAC-SDN data)
Level 2
OIG Exclusion List & SAM 
+ Federal Sources (GSA, DEA, FDA, PHS, ORI, TRICARE and OFAC-SDN data) 
+ State Sources (Medicaid Exclusion lists)
A Level 2 background check for healthcare workers expands on a Level 1 check by searching databases maintained by 38 states, listing individuals that have been excluded from Medicaid coverage and their grounds for doing so. A Level 2 search also includes states' lists of individuals who are ineligible for Medicare coverage because they voluntarily opted out of the program. In addition to Level 1 and Level 2, a Level 3 healthcare sanctions check expands the search further to include State Board Disciplinary Actions sources and state abuse registries.
How Long Does A Nursing Background Check Take?
Nursing background check turnaround times vary depending on the type and number of searches ordered, geographic location of candidates, and whether relevant county court records are digitized. 
Turnaround times can also vary by provider. At GoodHire, we work to reduce turnaround times by finding new data sources and automating access to them. Our typical turnaround times for background check services are as follows:
Social Security Number Trace: Instant
Nationwide Criminal Databases Search: Instant if clear, or 1-3 business days
Sex Offender Registry Search: Instant if clear, or 1-3 business days
Domestic Watch List Search: Instant if clear, or 1-3 business days
County Criminal Court Search: 1 to 3 business days
Professional License Verification: 3 to 5 business days
Education Verification: 3 to 5 business days
Employment Verifications: 3 to 5 business days
Drug screening – 10 panel: 3 to 5 business days
Healthcare Sanction Check: 1 hour if clear; or 1 to 3 business days
State & Federal Laws To Know
There are many necessary steps needed to screen candidates in the healthcare field, and it's important that each complies with various federal, state, and local laws and regulations. For example, there are state, county, and local ban-the-box laws that govern when and how employers can ask about criminal records. And there are new drug laws and marijuana legalization efforts regularly cropping up across jurisdictions that affect drug screening.
Employers must also comply with the Fair Credit Reporting Act (FCRA) when you use a third-party screener to perform nursing background checks. The FCRA requires employers to provide a background check disclosure and authorization forms before a screening is conducted. If an employer considers denying or terminating employment based on background check results, you must follow the adverse action process, which includes providing the candidate or employee with a copy of the background check results.
Put a screening policy in place that takes federal and local laws into consideration, and follow it so you screen all candidates for a given role in the same manner. This can help ensure that your organization uses nursing background checks consistently and compliantly to make informed hiring decisions.
How To Get A Nursing Background Check
There are several ways to get a nursing background check, including:
Visiting State or County Superior Court or Sheriff's Office. You can visit your local superior court to request a criminal record search report for that specific county, or request a criminal search from your State Bureau of investigation. However, county records will exclude criminal activity in other counties, and not all state departments contribute criminal record information to a centralized state database. Again, you may find incomplete or outdated information.
If you use the DIY approach, use caution. There are free background check services advertised on the internet, and while it may be tempting to search these online public databases, they may not be compliant to use for employment purposes.
Checking the OIG sanctions database. The OIG's sanctions database can be searched online to identify individuals with listed exclusions. Matching results can sometimes be verified with a Social Security number, but not consistently. Social Security numbers are not available for every entry in the exclusions list, and candidates may provide an inaccurate Social Security number to avoid detection.
Using an accredited background screening provider. The easiest way to get a comprehensive nursing background check is to use a screening provider that will adhere to all screening regulations and compliance standards. This can help you build a fair, consistent screening practice that enables you to make more informed decisions and maintain compliance.
Maintain Patient Safety & Compliance With Nursing Background Checks From GoodHire
Background checks can help your healthcare organization hire qualified nurses that provide a high quality of care and keep your patients safe. They can also help you maintain compliance with federal, state, and local laws and regulations pertaining to the healthcare industry. Take care to thoroughly conduct this important step in your hiring process.
GoodHire's employment screening services and healthcare sanctions checks can help you streamline and simplify the process through thorough searches, accurate results, easy-to-read reports, and monitoring alerts. For more details, talk to sales.
Disclaimer
The resources provided here are for educational purposes only and do not constitute legal advice. We advise you to consult your own counsel if you have legal questions related to your specific practices and compliance with applicable laws.
---