Top 5 Reasons Companies Choose GoodHire: TechValidate 2021 Survey Results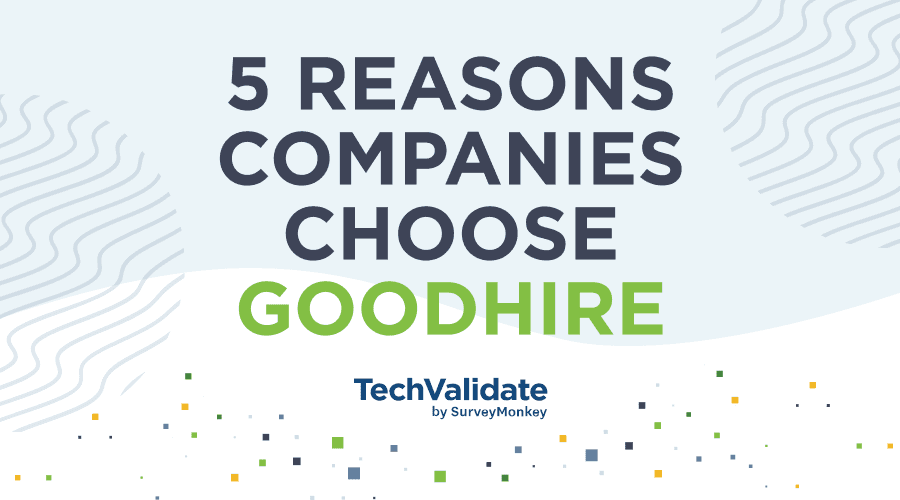 For the third year in a row, independent research organization TechValidate surveyed GoodHire's customers at small, mid-sized and large companies to find out why they choose GoodHire over other background screening providers. 
Keep reading to get the highlights from the October 2021 customer survey and to find out the top five reasons customers choose GoodHire.
---
By regularly surveying GoodHire's customers, TechValidate helps us better understand what challenges employers face when screening job candidates, and why they selected GoodHire over other background check companies to help them solve those pain points. The survey results and feedback we receive helps our team identify ways to improve upon our services for both existing customers and new prospects alike. Here's what we learned.
Employers' Top Background Screening Challenges 
First, the survey asked users for the biggest challenges they faced with other background check providers, before switching to GoodHire:
46% were frustrated by slow turnaround times
33% were unhappy with customer service and support
17% felt pricing was too high
17% said other providers offered a poor candidate experience
How GoodHire Solves Screening Problems
We were happy to learn that switching to GoodHire's background screening services resolved many of the issues users were facing. For example:
69% say they have experienced faster turnaround times since they began using GoodHire
56% are able to hire and onboard candidates faster
49% report a simplified screening workflow
47% say they now have a better candidate experience
41% say they're enjoying better customer service
Faster, Better Hiring
In today's competitive employment environment, receiving accurate background check results quickly can help you hire top candidates before your competition does. Three years running—in 2019, 2020 and 2021—ease of use and faster turnaround times have been the number one and number two reasons customers choose GoodHire.
"GoodHire is easy to use for both the employer and candidate, [and] has one of the fastest turnaround times I have seen throughout my HR career."

– Steven Valdez, HR Coordinator, Staff Power Global
Interestingly, the number three reason customers chose GoodHire in this year's survey—a better candidate experience—was not a top five concern last year. However, in the current job-seeker's market, providing a positive candidate experience is increasingly important. Some 79% of users say GoodHire's candidate experience is superior or best-in-class. 
Automated Compliance Features Reduce Risk
GoodHire's built-in features such as automated adjudication and integrated adverse action rules help customers mitigate risk. According to the survey results, 64% of our customers feel more confident that their organization is compliant with background screening laws since they began using GoodHire, and 60% feel more confident that their background check results are accurate. 
"GoodHire provides trustworthy results and a process that means my team spends much less time going through results and more time on recruiting."

– Emily Cooper, Managing Director, Illinois Science & Technology Coalition
It's All About the Customer
We're pleased to learn that customers consider our platform easy to use—but sometimes, they still need customer support. More than two-thirds of survey respondents say GoodHire's customer support is more responsive than other background screening companies they have used, and 81% rate our customer support as superior or best-in-class. 
"The GoodHire platform has made it easy to contact support when there is an issue. They are always so helpful and kind."

– Sommer Franks, HR Coordinator, ORS Nasco
"As we head into 2022, our customers continue to face new hiring challenges. We're here to help," said Max Wesman, GoodHire's COO. "Getting feedback from our users helps us keep innovating, improving the user experience, and adding new features to further streamline our customers' hiring process." 
To discover how customers use GoodHire, read our Customer Stories and learn how companies of all sizes benefit from our platform. Wondering how you can benefit from better background checks with GoodHire? Schedule a demo. 
disclaimer
The resources provided here are for educational purposes only and do not constitute legal advice. We advise you to consult your own counsel if you have legal questions related to your specific practices and compliance with applicable laws.
---