GoodHire vs. Checkr: 2021 Comparison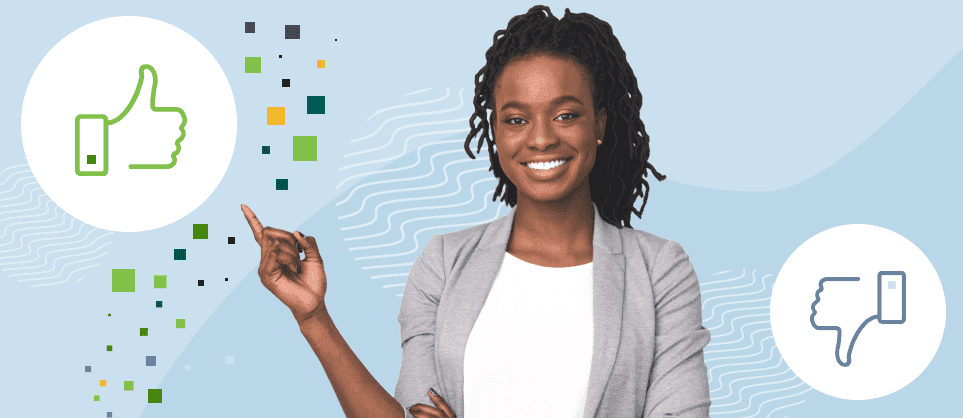 How can you choose the right background check company for your business? Find out how GoodHire and Checkr compare and learn how to evaluate a background check company by researching key factors, including customer support, compliance, ease of use, customization, and pricing.
---
Background checks can serve many purposes, but one of the most common is to screen potential job candidates during the hiring process. With a background check, employers can verify a job candidate's identity, criminal record, education, employment history, and other details that can help you determine whether they're a good fit. 
But not all background check companies are created equal, so it's crucial to choose the right one for your business. In this review, we'll provide user feedback from G2, the leading software review platform, that shows a direct head-to-head comparison for GoodHire vs. Checkr. 
We'll also cover some important information on how to evaluate a background check company in 2021 using key factors, including customer support, compliance, and pricing. 
User Feedback
G2 has gathered customer reviews and satisfaction scores from GoodHire and Checkr to provide straightforward information employers can use to make better decisions about the background check technology they use. 
GoodHire recently earned G2's 2021 Spring Leader badge and ranks highest among background check companies in the industry. In comparing GoodHire vs. Checker in 2021, G2 shows GoodHire ranking higher than Checkr across the board, including the following areas:
Ease of doing business with
Ease of use
Quality of support
Meets requirements
Ease of admin

Ease of setup
Another software review platform, Capterra, highlights more product features for GoodHire than Checkr, and GoodHire ranks higher among actual customers in customer support and value for money. 
Background Check Meta-Analysis
Another effective way to analyze background check providers is to read technology reviews in online and industry publications that may provide additional insight from a third-party evaluator. 
To provide an objective approach to comparing the best background check companies in 2021 , GoodHire compiled background check reviews from eight leading publications, then added up their scores across all review platforms to create a comprehensive analysis. 
This analysis is helpful because it includes data from all eight review sources in one place, helping you save time with your research. 
To calculate and chart the scores, we gave companies with a #1 ranking +10 points, companies with a #2 ranking +9 points, and so on. Then we added up all of the points gathered from rankings from each review site to provide a total score.
How To Evaluate A Background Check Company
Review comparisons from websites like G2, Capterra, and online publications can be a great starting point to help you narrow your list of top options. But before you settle on whether to use GoodHire or Checkr, it's important to do some additional research to make sure the one you select is the right fit.
Key considerations for this process include user feedback, which we've already discussed, as well as quality of customer support, compliance, and pricing and services.
User review websites like G2, Capterra, and Consumer Affairs can give you an excellent view of the experiences of former and current customers. In addition to ratings and rankings, digging into the actual reviews can also help you identify which features are most important to you and how each company performs in customer interactions.
Additionally, organizations like the Better Business Bureau can provide insight into accreditation and industry ratings. Finally, industry leaders like the Society for Human Resource Management (SHRM) and the Professional Background Screening Association (PBSA) can give you expert guidance from professionals who deal with the hiring process, including background checks.
Here's how to evaluate background check companies based on customer support, compliance and pricing and services.
Customer Support
A responsive customer support team is important not only for employers performing background checks, but also for job candidates who are being checked, relieving the burden from your team from having to field candidate questions.
If you or your job candidates experience issues with the process, need to follow up on a background check, or have questions, getting a quick and accurate response can save you time, which is so critical when you're ready to onboard a great candidate. 
As you're comparing screening providers, here are some indicators of a quality customer support operation to look out for:
Training: As you navigate the complexities of background check compliance, you'll want to work with support representatives who are certified in understanding the Fair Credit Reporting Act (FCRA) and how the law affects you.
Availability: Make sure you understand what your options are for contacting customer support, and how easily they are to reach. Does the background check provider offer US-based support during the hours you need them? What is their response time? How quickly can they resolve your issues?
Dedicated Support: If your company is a high-volume hirer, having a dedicated account manager can help ensure personalized and consistent support when you need it. 
According to G2, GoodHire maintains a rating of 9.5 out of 10 across 125 customer reviews for its quality of support. In contrast, Checkr's rating is 7.9 out of 10 across 49 reviews.  
Compliance 
Working with a screening provider that prioritizes compliance helps ensure a legal background check, and also gives you confidence in the process. 
You want to work with a screening company that understands the complex laws and regulations governing background checks, including the FCRA, Equal Employment Opportunity Commission (EEOC) guidance, and Ban-the-Box laws currently in place in 180+ local jurisdictions.
You can get an idea of how each company handles compliance by researching its history with compliance issues, whether it has been a part of FCRA-related lawsuits, and how frequently.
You'll also want to get an idea of which compliance features each company offers, because, ultimately, a robust compliance strategy can help you mitigate the risk of lawsuits, improve your time to hire and more. A provider's integrated compliance features can ease the burden of compliance on your hiring team, helping you navigate complex laws based on relevant jurisdictions. 
Data Reliability & Background Check Dispute Rate
Part of a screener's compliance process is ensuring that the data is reliable and that the results are accurate, up-to-date, and legally reportable. One way to assess a company's data reliability is its dispute-change rate. 
If a candidate disputes information on a background check, consumer reporting agencies are required to reinvestigate to verify the information, including whether or not it belongs to the applicant—and remove it if it can't be verified. The dispute-change rate is expressed as a ratio of the number of candidate disputes that resulted in changes to the report relative to the total number of background checks run.
A low dispute rate shows that a screening provider uses reliable data, has a system in place to safeguard accuracy, and delivers correct information when you need it—the first time. GoodHire's dispute rate, for instance, is .05 percent. 
While some background screening companies increasingly rely on artificial intelligence to reduce the manual work involved in the screening process, GoodHire maintains an expert team of human reviewers to ensure that all criminal records reported to employers are accurate, complete, and up-to-date, and that they may be compliantly reported and considered by employers during the hiring process. 
Because automating too much of the background check process can negatively impact the accuracy of results, ultimately costing people jobs and increasing the likelihood of lawsuits against both the screening provider and the employers that use their services (especially in the gig economy, where AI-powered checks are popular), GoodHire understands that you can't take the human out of human resources, even in the world of HR technology. 
GoodHire's proprietary Compliance by Design framework offers a balance between automation and human expertise, which provides low-risk, fast, accurate, and fair results.
In order to avoid costly litigation and compliance headaches, it's imperative to understand how your chosen background check company manages its compliance and the processes it uses to deliver accurate data and results.
Pricing & Platform Value
Whether you're a high-volume hirer or hire new employees infrequently, how much a background check service costs is important to your bottom line. Additionally, you want to make sure you're getting good value for your money. 
While the price of a basic screening package may be comparable for GoodHire and Checkr, you'll want to take into consideration all of the other factors that make a good background check experience. 
That can include platform features and capabilities, additional screening services and options, background checks tailored for specific industries and types of positions, flexibility to customize packages, volume discounts and more. 
For example, in addition to national criminal background checks, you may require employment credit checks, verifications of employment and education, driving record checks and MVRs, healthcare sanctions checks, or even an international background check for candidates who have studied or worked abroad. 
You'll also want to look for flexibility in the services that background check companies provide, including the ability to customize your screening package to add or remove checks depending on your requirements. 
Finally, some background check companies provide bulk discounts for high-volume hiring needs. If your company recruits heavily, a background check provider, such as GoodHire, that provides discounts for those high-volume needs can save you money. 
The Bottom Line
When comparing the best background check companies in 2021, it's important to research several options before settling on one. Each company provides different services, and also has different standards for compliance, customer support, customization, and pricing.
It's also important to consider user feedback, such as comparison results from platforms like G2 and Capterra, to get an idea of what other employers and job candidates have experienced and how that might impact your decision. 
GoodHire excels on many fronts compared with other background check companies, especially with compliance, customer support, services, and platform features. As you're comparing all of your options, get a quote and a demo with GoodHire to see how we can deliver the services your company needs.
disclaimer
The resources provided here are for educational purposes only and do not constitute legal advice. We advise you to consult your own counsel if you have legal questions related to your specific practices and compliance with applicable laws.
---